SWEDISH SOUTH ASIAN STUDIES NETWORK

---

Newsletter 50:
18 March 2005
SASNET News:
• SASNET meetings with South Asian ambassadors in Stockholm
On 16–17 March 2005 SASNET's Staffan Lindberg and Lars Eklund travelled to Stockholm in order to network with the recently appointed new ambassadors to Sweden from India (Mrs. Deepa Gopalan Wadhwa), Sri Lanka (Mr N. Sikkander) and Bangladesh (Mr. Sabihuddin Ahmed), in separate meetings. Both Ms. Wadhwa and Mr. Sikkander assumed duties as ambassadors to Sweden during the month of February 2005, whereas Mr. Ahmed arrived a few months earlier.
Discussions were held on the prospects of increasing academic exchange in the fields of research and education between universities in Sweden and their respective country, and the role SASNET might have in facilitating these efforts. More information.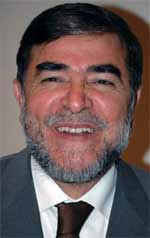 ---
Best regards,

Staffan Lindberg Lars Eklund

SASNET/ Swedish South Asian Studies Network
SASNET is a national network for research, education, and information about South Asia, based at Lund University. The aim is to encourage and promote an open and dynamic networking process, in which Swedish researchers co-operate with researchers in South Asia and globally.
The network is open to all sciences. Priority is given to co-operation between disciplines and across faculties, as well as institutions in the Nordic countries and in South Asia. The basic idea is that South Asian studies will be most fruitfully pursued in co-operation between researchers, working in different institutions with a solid base in their mother disciplines.
The network is financed by Sida (Swedish International Development Cooperation Agency) and by Lund University.

Postal address: SASNET – Swedish South Asian Studies Network, Scheelevägen 15 D, S-223 63 Lund, Sweden
Visiting address: Ideon Research Park, House Alfa 1 (first floor, room no. 2042), in the premises of the Centre for East and South East Asian Studies at Lund University (ACE).
Phone: + 46 46 222 73 40
Fax: + 46 46 222 30 41
E-mail: sasnet@sasnet.lu.se
Web site: http://www.sasnet.lu.se
Staff: Staffan Lindberg, director/co-ordinator & Lars Eklund, webmaster/deputy director
Back to SASNET


---