SWEDISH SOUTH ASIAN STUDIES NETWORK

---
Lund University Centre for Sustainability Studies (LUCSUS), Lund University: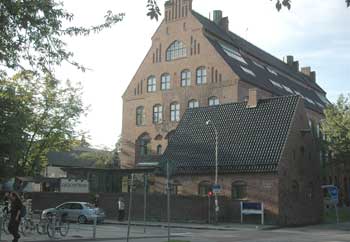 Postal address: LUCSUS, Box 170, SE-221 00 Lund, Sweden
Visiting address: Geocentrum 1, Sölvegatan 10, 4th floor
Web page: http://www.lucsus.lu.se/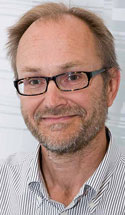 Contact person: Director, Professor Lennart Olsson, phone: +46 (0)46 222 05 11
Till 1 January 2005 LUCSUS was called the Centre for Environmental Studies, MICLU. The change of name coincides with the centre moving out from being part of the Faculty of Natural Sciences into becoming an independent centre at Lund University.
The role of the centre, established in January 2000, is to be a centre for environment related activities at Lund University in basic education and post-graduate studies as well as research.
LUCSUS is a multidisciplinary centre that works with information and contact activities with respect to the environment and sustainable development, and works together with all faculties at the university. The objective is to promote cooperation across faculty boundaries and facilitate contacts between researchers and PhD-students from different departments. It also provides information on courses and programmes in environmental science from different subjects, and promotes environmental awareness in different disciplines and programmes. Another task is to further contacts between researchers and the society outside academia.
SASNET has held several joint seminars with LUCSUS, see http://www.sasnet.lu.se/lundactiv.html
Research connected to South Asia

Associate Professor Stefan Anderberg is LUCSUS Co-Director, with a PhD in Social and Economic Geography. His research interests are Land use development, Landscape planning, Regional and urban metabolism (material flow analysis), Industrial ecology, and International environmental cooperation. During the period 1996–1998, he was member of the Advisory Board for the Damodar Valley Project, Center for the study of Man and Environment, based in Kolkata, India. More information on the Damodar Valley Project.
Currently, Dr. Anderberg is actively working to initiate a collaboration project with an Indian university, Mahatma Gandhi University in Kottayam, Kerala, where he has established contacts.
In October 2010, he was awarded SEK 200 000 a one-year research grant from Sida/SAREC's Developing Country Research Council, for a project entitled "Electronic waste recycling in developing countries - How to make globalization more compatible with sustainable development?". More information.


Master's Programme
LUCSUS is the host of the international masters programme LUMES (Lund University International Master's Programme in Environmental Studies). Every year, the masters programme attracts students from many countries all over the World, including South Asia. More information on LUMES.
LUCID – Lund University Centre of Excellence for Integration of Social and Natural Dimensions of Sustainability

LUCID is a new research programme in Sustainability Science funded by a Linnaeus grant, sponsored by The Swedish Research Council for the period 2008–2018. Linnaeus Grants are awarded to exceptionally strong environments performing research of the highest international quality and aiming at innovative research.
The Centre is administered through LUCSUS, but gathers together seven disciplines from four faculties for together developing the scientific field "Sustainability Science". LUCID aims at creating completely new and unique synergies across natural and social sciences in order to develop new integrated theories and methods for addressing complex sustainability issues. The research will offer theoretical, methodological and practical contributions to the broad and emerging field of sustainability science. The programme received its grant the 18th of June 2008. The programme has made it possibel to recruit 15 PhD candidates with differebt backgrounds. They started their assignments at LUCID on 1 April 2009.
More information about LUCID.

AGESI – Arena for Global Equity and Sustainable Issues
LUCSUS is hosting the Lund University network of AGESI (Arena for Global Equity and Sustainability Issues). It was launched in November 2004 as a forum for collaboration on Global Equity and Sustainability Issues between a number of social sciences and humanities. In establishing co-operation between several of the university's existing research traditions, this theme emphasises a central dimension within the field conventionally referred to as 'Environment and Development Studies,' while articulating a specific profile for sustainability studies in Lund. Behind the initiative lay a venture by Lund University to make Sustainable development a prioritized research area.
AGESI project co-ordinator: Sabina Andrén
Web page: http://www.lucsus.lu.se/html/agesi.html
Trans-disciplinary lecture/seminar series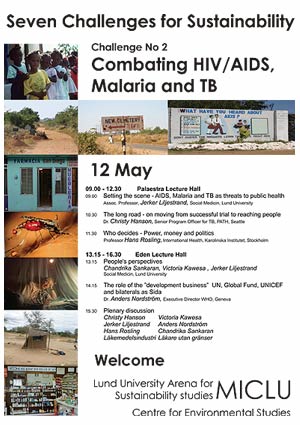 In 2004 the centre arranged a trans-disciplinary lecture/seminar series and a PhD course called "Seven challenges for sustainability". During a number of events during the spring and autumn MICLU focused on seven important challenges for the future, many of them of high relevance for South Asia. Prominent guest speakers were invited to each event, dealing with • Global Climate Change; • Combating HIV/AIDS, TB and Malaria; • Global Food Security; and • Deforestation and Biodiversity. More information on the 2004 seminar series "Seven Challenges for Sustainability".
Since September 2005, LUCSUS and AGESI has organised a series of Lunch Seminars as an Arena for interdisciplinary gatherings on Global Equity and Sustainability Issues, called "LUCSUS Lunch Seminars – Arena for Global Equity and Sustainability Issues". Every Thursday, students and the public meet for an interesting seminar. Venue for the seminars is Geocentrum 1, Sölvegatan 10, ground floor. More information on the LUCSUS Lunch Seminar series.
Lund University Development Research Day
Development Research Day is annual event organized at Lund University by different departments. It is a full day of guest lectures, debates and presentations open for all students, teachers and researchers interested in issues related to developing countries. Go for the programme for the 2009 Development Research Day, focusing on "Development and Conflicts over Resources in Africa".

Lund Sustainability Forum 2005
On 20–21 April 2005 the LUMES Programme had its first reunion for alumnis since the start in 1997. Some 300 students from some 70 countries reassembled in Lund to share their experieces. The conference was open to public and consisted of key note addresses, panel discussions and a number of parallel sessions. The Director of LUCSUS, Lennart Olsson, opened the conference with a presentation of the "Millennium Development Goals – Are they possible and desirable?", followed by some provocative key note addresses related to The Millennium Goals by Tim O'Riordan (CSERGE, University of East Anglia, UK), Professor Carl Folke (Dept. of Systems Ecology, Stockholm University), the former Swedish Minister of Finance Allan Larsson, and Uno Svedin (FORMAS, The Swedish Research Council for Environment and Agricultural Sciences and Spatial Planning)
In the panel sessions several lectures related to Third World development were held. Among them lectures by Ola Rosling on "Global Health – what's at stake and what's our response?", Lennart Olsson on "What is the Concensus in Climate Change in Science, Politics and Implementation?" and Annica Young Kronsell on "Gender in the Development Discourse".
More information on Lund Sustainability Forum 2005.
2008 Workshop on Legal Empowerment of the Poor
Lund University Centre for Sustainability Studies (LUCSUS) organised a workshop titled "Legal Empowerment of the Poor" on Wednesday 8 October 2008. The workshop followed the recent launch of a report by the High Level Commission on Legal Empowerment of the Poor, showing that four billion people – the majority of the world's people – are excluded from the rule of law. The report was made by a group comprising 30 high level commissioners from across the world and co-chaired by former U.S. Secretary of State Madeleine K. Albright and Peruvian economist Hernando de Soto. It calls on governments, international institutions and civil society to make legal empowerment a top agenda item in the fight against global poverty. The participants in the Lund seminar included Prof. Boel Flodgren, Dept. of Business Law, Lund University School of Economics and Management; Prof. Håkan Hyden, Dept. of Sociology of Law; and Prof. P-O Östergren, Dept. of Social Medicine and Global Health who talked about "International to national linkages – spatial justice". Prof. Göran Djurfeldt, Dept of Sociology; and Prof. Lennart Olsson, Founding Director of LUCSUS discussed " Society – nature linkages – environmental justice". Naresh C. Singh, Executive Director of the Commission on Legal Empowerment of the Poor, took part via video link in the concluding panel discussion on how to move the LEP agenda forward. More information.