SWEDISH SOUTH ASIAN STUDIES NETWORK

---
Newsletter 54:
15 August 2005
• 2005 World Water Week at Stockholm of great interest for South Asia


The 2005 World Water Week is held in Stockholm, Sweden 21–27 August. It includes the 15th Stockholm Water Symposium with the the overall theme "Drainage Basin Management. Hard and Soft Solutions in Regional Development." The Stockholm World Water Week has become a valuable meeting point and platform for the world's water community, and includes topical plenary sessions and panel debates, scientific Stockholm Water Symposium workshops, seminars and side events organised by different international organisations. A large number of delegates come from South Asia. More information on the World Water Week.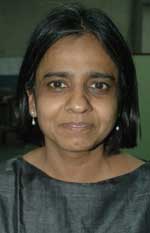 The 2005 Stockholm Water Prize will also be awarded. The 2005 award will be given to the New Delhi based Centre for Science and Environment (CSE), for its efforts to build a new paradigm of water management, using traditional wisdom of rainwater harvesting and advocating the role of communities in managing their local water systems. The Director of CSE, Ms. Sunita Narain (photo to the left) will be present to receive the $150,000 Prize from HM King Carl XVI Gustaf of Sweden on Thursday 25 August. More information on the award.
Several of the panel sessions cover issues of specific relevance to South Asia, including those on "Hydraulic Infrastructure as a Platform for Economic Growth", and "Can we Meet International Water Targets Without Fighting Corruption?". The session involving most South Asian researchers is however the one called "The Political Economy of Defecation: Tales of Water and Excreta, and The Imperative of Rainwater. Harvesting, Reuse and Recycling in Cities of the South". The panel is chaired by Dr. A Vaidyanathan from Madras Institute of Development Studies, Chennai, India, and includes papers presented by Sunita Narain, S.V. Suresh Babu and R.K. Srinivasan from the Centre for Science and Environment in New Delhi, as well as K.V. Raju from the Institute For Social And Economic Change in Bangalore. The session will be held on Sunday 21 August, 13.00–17.00.
As a side event a new book on "Climate Change and Water Resources in South Asia", published by Taylor & Francis, will be launched at a ceremony on Wednesday 24 August, at lunchtime. The book has been edited by Dr. Monirul Mirza, Adaptation and Impacts Research Group (AIRG), Environment Canada, and Dr. Q.K. Ahmad, Chairman, Bangladesh Unnayan Parishad. More information on the book.
• Haellquist memorial collection now being catalogued
A Karl Reinhold Haellquist memorial collection is presently being established at the Lund University's Asian Library, located within the premises of the Centre for East and South East Asian Studies and SASNET, in the Alfa 1 building at Ideon Research Village in Lund. The renowned Swedish scholar Karl Reinhold Haellquist who passed away in 2000 was a historian specialised on South Asia and for more many years working at the Nordic Institute of Asian Studies (NIAS) in Copenhagen. His wife Inger Sondén Haellquist has donated 5 000 volumes from her late husband's private library. It is currently being catalogued and a minor part of it is already accessible. More information.
• Professorship position in Sanskrit at Oslo University
A Professorship position in Sanskrit has been announced by the Department of Culture Studies and Oriental Languages, University of Oslo. The person appointed must have a completed doctoral degree in Sanskrit Studies or equivalent, and relevant academic publications (relevant disciplinary areas include Sanskrit philology, historical Indo-Aryan and/or Dravidian linguistics, history of religions and Sanskrit literature). Furthermore applicants must within two years acquire a sufficient mastery of the Norwegian language to be able to perform all the duties appropriate to the post of professor at the University of Oslo. Deadline for applications: 1 November 2005.
• Time to apply for positions at University of Toronto
The Department of Historical Studies at the University of Toronto at Mississauga invites applications for three positions: A tenure-stream Assistant Professor position in the History of Islam; an Assistant/Associate Professor position in Buddhism; and an Assistant/Associate Professor position in South Asian Religions. The selected candidates will be expected to contribute to a new undergraduate program in the History of Religions on the Mississauga Campus and to growing research-intensive doctoral programs in the Graduate Department and Centre for the Study of Religion and/or the Department of History on the St. George Campus of the University of Toronto. Deadline for applications to all three positions is 15 September 2005. The appointment will begin 1 July 2006; an appropriate doctoral degree must have been earned by that date.
• NCI offers full semester program for Nordic students in Hyderabad
The Nordic Centre in India organises a full semester program for Nordic students at the University of Hyderabad from the Fall 2005. The Nordic Centre has made an arrangement with the University of Hyderabad to allow 15 Nordic students to be admitted there, and to take courses on various social science and humanities subjects. In most cases these should count towards degrees accepted at home. The first batch of students will be admitted for the autumn of 2005, the next for the spring semester of 2006. More information.
• Kolkata winter course on Forced Migration, Racism, Immigration and Xenophobia
A 15-day residential course on "Forced Migration, Racism, Immigration and Xenophobia" is held in Kolkata, India, in the winter 2005-06. The short-term winter course, to be organised by the Mahanirban Calcutta Research Group (CRG), is intended for younger academics, refugee activists and others working in the field of human rights and humanitarian assistance for victims of forced displacement. The course will be preceded by a two and a half month long programme of distance education. Experiences of providing relief, rehabilitaion, and resettlement for the victims of the Tsunami in the Andaman Islands and Tamil Nadu will be included in the course. More information.
• South Asia on the schedule for CEAS courses in Göteborg
The Centre for Asian Studies (CEAS) at Göteborg University runs a programme on basic and intermediate level (1–20 credits and 21–40 credits) in Asian studies, which includes teaching on South Asia. In the Fall 2005 a new beginner's 20 credits course will run. A C-level 20 credits course in Asian Studies (Fördjupningskurs) is also run in the Fall 2005.
CEAS also organised a 10 credits course on "Women in Asia; Religion, Politics and Development" during the Spring 2005. Students at Chalmers University of Technology in Göteborg have a chance to participate in a 5 credits course called "Women and development in Asia". A course that is part of the 10 credits CEAS course on Women in Asia.
In the Spring 2006 the Centre for Asian Studies plans for a new course called "South Asia today"..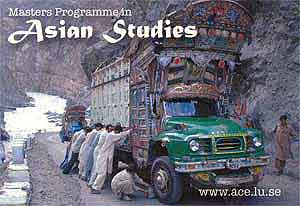 • Masters programme in Asian studies for the third time in Lund
A 60 credits (three semesters) Masters Programme ("Magisterutbildning med bredd") in Asian Studies has been successfully run at Lund University since the Fall 2003. The programme is divided into two tracks, one for East and South East Asian studies, and one for South Asian studies, and is administered by the Centre for East and South-East Asian Studies (ACE) at Lund University. The first group completed their programme in December 2004, whereas the second group is carrying out field work in South Asia during the Fall 2005. A third group of Masters students commence with their programme in September 2005.
• Lund University course on Natural Hazards and Natural Disasters
The Division of Water Resources Engineering at the School of Civil Engineering, Lund University, plans for a 5 credits doctoral course on Natural Hazards and Natural Disasters during September and October 2005. The course will be led by Dr. Monirul Mirza, originally from Bangladesh but currently working within the Adaptation Impact and Research Group at the Instute for Environmental Studies, University of Toronto, Canada. It deals with risks to society from natural hazards and disasters, and how society adapts to those risks. More information on the course (as a pdf-file).
• Courses on Indian religions at Lund University
Since 2001 the Indic Religions Division, Centre for Theology and Religious Studies, Lund University, has offered several South Asia related courses, including 20 credits half-time courses in Elementary Sanskrit, and a number of specialised 5 credits courses on Bhagavadgita; Western Buddhism; Yoga and Meditation in Indian religions; Tantra and Tantrism; Jainism, Non-violence and Vegetarianism; and Astrology and Divination in Indian religions. During the Fall 2005 the Indic Religions Division arranges a 5 credits course on Tantra and Tantrism, and a new 5 credits course on Indic Philosophies.
In the Spring 2006 a 5 credits course on the Bhagavadgita will be held and a 5 credits course on Western Buddhism.
A 5 credits course on Sikhism will most probaly be introduced from the Fall 2006. It will the first course on Sikhism at any Scandinavian university, and the teaching will be carried out by Kristina Myrvold, researcher specialised on Sikh studies.
During the Fall 2005 the section for Islamology at the Centre for Theology and Religious Studies, Lund University, will again arrange a 5-credit course on Local Islam: Islam in South and South East Asia.
• International course on Conservation and Management of Historic Buildings at Lund University
The Dept of Housing Development and Management, Division of Construction & Architecture, Lund Institute of Technology; Lund University, regularly arranges Sida-sponsored short courses directed to planners, architects, civil engineers, administrators and others working with construction, housing and human settlements. A postgraduate training course on Conservation and Management of Historic Buildings will again start start in September 2005 in collaboration with the Department of Architectural Conservation and Restoration, Lund University. The first three-weeks part is held in Lund, and the course then continues with a two-weeks tour to Africa or Asia in the spring 2006. More information.
• Uppsala University courses on Postcolonial Natures and Political Ecology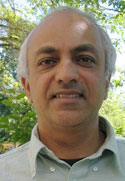 The Dept. of Cultural Anthropology and Ethnology, Uppsala University, offers two 5 credits Masters level courses in the field of Environmental history and political ecology in the Fall 2005. Courses drawing much from south Asian experiences. The first course is titled "Postcolonial Natures", and will run during September-October. Teacher: K. Sivaramakrishnan, Professor of Anthropology and International Studies, University of Washington, Seattle, USA (photo to the right). Preliminary arrangements have been made to also include Arun Bandopadhyay, Nurul Hasan professor of history, Calcutta University, and Dr. Suparna Gooptu, reader, Department of History, Calcutta University, as teachers in the course. The second course is titled "Political Ecology", and will run from November 2005 to January 2006.
• Uppsala Masters programme on War and Peace in the Name of God
The section for History of Religions at the the Dept of Theology in Uppsala organises a four semesters part-time (40 credits) Masters programme on Religion in Conflict and Reconciliation, called "War and Peace in the Name of God" in collaboration with the the Uppsala based Life & Peace Institute. A new programme starts in September 2005, and involves studies and fieldwork in Europe, Africa and Asia (Hyderabad, India).
• Folk high school students from Tomelilla go to India as usual
A one-year undergraduate social science course on India/South Asia, giving 10 academic points, has been arranged by Österlens folk high school im Tomelilla since 2001 The course is run in co-operation with the Department of Sociology at Lund University. A new course starts in August 2005, with field work in south India during January–April 2006. After an initial common course at Kerala the students visit different places in India and Bangladesh where they make individual field work. The students give regular reports through Internet travel diaries. More information.
• Bangalore conference on Enculturing Law
A conference on "Enculturing Law: New Agendas for Legal Pedagogy" was held in Bangalore, India, 11–13 August 2005. The conference was organised by the Centre for the Study of Culture and Society in collaboration with the Alternative Law Forum and the National Law School of India University, Bangalore. It aimed at addressing some of the critical problems facing contemporary legal education, especially legal education in large parts of the global South. CSCS set up a program for Law, Society and Culture in 2003 with the specific purpose of enhancing law teaching, research and scholarship in India. Venue: National Law School of India University Campus, Bangalore.
• South Asia related papers at Finnish conference on religion
The Finnish Society for the Study of Religion and the Donner Institute are jointly organising a conference entitled "Exercising Power: The Role of Religions in Concord and Conflict", 17–19 August 2005. The conference is sponsored by the European Association for the Study of Religions, EASR. Some South Asia related papers are presented. Prof. Gudmar Aneer, Dept. of Religion, Dalarna University, Falun, on "Is There Such a Thing as a Religious Policy? The Role of Religion in the Policy of Akbar the Great Mogul"; Dr. Dagmar Hellmann-Rajanayagam, Ludwig-Maximilians-Universität, München, Germany, on "Heroes and Martyrs: An Ambivalent concept in ambivalent conflicts", and Dr. Måns Broo, Åbo Akademi, on "Rhetorics of Violence in the Texts of Bhaktivedanta Swami". Venue: Linnasmäki Conference Center, Turku (Åbo).
• Stockholm conference on pluralism in Balochistan
The 3rd international conference on Balochistan with the theme "Pluralism in Balochistan" will be held in Uppsala 18–21 August 2005. Balochistan has throughout history been one of the important meeting points between the Indian Subcontinent and the Iranian Plateau. Today's Balochistan is divided between Iran, Afghanistan and Pakistan, and the conference highlights various aspects of plurality in present day Balochistan. Researchers present papers with a focus on socioeconomic, religious, linguistic, literary and cultural plurality in Balochistan. The conference is jointly organised by Prof. Carina Jahani, Iranian Studies division at the Department of Linguistics and Philology, Uppsala University; and Dr. Agnes Korn, Vergleichende Sprachwissenschaft, Universität Frankfurt, Germany. Venue: Ihresalen, Thunbergsvägen 3 G, Engelska parken, Humanistiskt centrum, Uppsala. More information.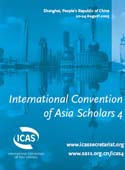 • 1500 Asian studies scholars draw to the ICAS4 conference in Shanghai
The Fourth International Convention of Asia Scholars (ICAS) will be held 20–24 August 2005 in Shanghai, China. ICAS 4 is hosted by the Shanghai Academy for Social Sciences (SASS) and is expected to draw more than 1 500 specialists in the field of Asian Studies, hereby being one of the largest regular gatherings of scholars whose research centers on Asia and/or Asians, especially in the humanities and social sciences.
• Buddhist studies conference in London
The 14th Conference of the International Association of Buddhist Studies will held in London, 29 August – 3 September 2005. The Conference, hosted by the School of Oriental and African Studies (SOAS, University of London) and the British Museum, includes panels on issues like "Studies of Gandharan Buddhist Manuscripts", "The Art History of Early Indian Buddhism", "Buddhist Sanskrit Manuscripts from Central Asia", and "Newar Buddhism".
• Kathmandu conference on Ethnicity in Nepal
A conference on "Negotiating Ethnicity in Nepal's past and present" is held in Kathmandu, Nepal, 12–14 September 2005. The conference, organised by Social Science Baha in collaboration with the Center for Nepal and Asian Studies (CNAS) of Tribhuvan University, Kathmandu, and the Institute of World Society Studies, University of Bielefeld, Germany, deals with ethnicity formation in Nepal since 1990. Immediately after the "spring awakening", the image of a multicultural, multi-religious and multi-lingual Nepalese society emerged as a powerful counter-project to the official rhetoric describing Nepal in an assimilative and homogenising language during the Panchayat period. However, the project to depict the Nepalese society as 'multicultural' has proven to be an embattled ground where diverse visions, strategies and grievances have come to intersect and to contest each other. The aim of the conference is to understand these negotiations and specifically to grasp the dynamics of 'ethnicisation' and 'de-ethnicisation' in Nepal's past and present. More information.
• Mumbai host for Ninth Annual Global Forum for Health Research
The ninth Annual Global Forum for Health Research will be held in Mumbai, India. 12–16 September 2005. The theme for the forum, that usually gathers around 700 participants from a broad range of constituencies, will be "Poverty, equity and health research". The Global Forum for Health Research was established as an independent international foundation in Switzerland in 1998. The annual Forum meeting is one of its most prominent activities to focus attention on the neglected health research needs of developing countries. It is widely recognized as "the" annual gathering on health research.
• Central Asia conference in Krakow
The Ninth Conference of the European Society for Central Asian Studies (ESCAS) is held at the Jagiellonian University in Krakow, Poland, 12–14 September 2005. The theme for the conference, co-organized by the Institute of Oriental Philology of the Jagiellonian University and the Foundation "Institute for Strategic Studies", will be "Central Asia: The Local, the Regional and the Global". Panels and paper topics relating to all aspects of humanities and social sciences on Central Asia are welcome in particular such as: * history & archaeology; * sociology & anthropology; * language & literature; * religion & philosophy; * folklore studies & ethnography; * civil society & human rights; * political sciences & economics; * environment & development; * regional, cross-regional & trans-national studies. The geographic domain of Central Asia according to the definition of the ESCAS includes the northern parts of Afghanistan. More information.
• Oxford Conference on Education and Development
The United Kingdom Forum for International Education and Training (UKFIET) invites for its 8th International Conference on Education and Development in Oxford 13–15 September 2005. The theme for this year's conference is 'Learning and Livelihood', as suggested by the UN Decade of Education for Sustainable Development (2005-2014). It will include a symposium on "Education and the Quality of Life: Perspectives from South Asia", convened by Baela Raza Jamil, Pakistan, and Jyotsna Jha, India.
• Two-week workshop on Tamil Epigraphy at Sorbonne
A two-week workshop on Tamil Epigraphy is arranged by the French École Pratique des Hautes Etudes at Sorbonne, 3–14 October 2005. The workshop is intended for students and researchers with little or no previous experience with the discipline, and aims at studying a selection of Tamil epigraphic texts from the Chola, Pallava, Pandya and Vijayanagara dynasties (7th to 16th centuries). Venue: Salle d'histoire, Ecole Pratique des Hautes Etudes, Section des Sciences historiques et philologiques, 17 rue de la Sorbonne, Paris. Deadline for registration is 15 September 2005. More information (as a pdf-file)

• The University of Wisconsin-Madison's 34th Annual Conference on South Asia
will be held 6–9 October 2005. The Conference is sponsored by the university's Center for South Asia, and usually attracts over 500 scholars and other interested parties every year. The 2005 conference features over 70 academic panels and roundtables as well as association meetings and special events ranging from performances to film screenings. More information.
• New Delhi conference on Politics of Culture in Contemporary China & India
A conference on "Politics of Culture in Contemporary China & India" is held in New Delhi 21–22 October 2005. It is organised by the Institute of Chinese Studies, a research programme of the Centre for the Study of Developing Societies (CSDS) in Delhi. The sessions will be organized around the following themes: I Categories of Cultural Analysis; II State/Party Policy and Culture; III Liberalization, Market and Culture; and IV Globalization and Culture. Venue: India International Centre, Conference Room II, New Delhi.
• Aarhus School of Business organizes conference on Understanding India
The Indian Research Center at the Aarhus School of Business in Denmark organizes a conference on "Understanding India", 3–5 November 2005. It will be an interdisciplinary conference focusing on understanding India as a society, exploring the dynamics of economic transformation currently underway in India and assessing the cultural and/or strategic challenges faced by Western multinationals operating in the country. Scholars from all disciplines who are working on India are invited to submit papers for the conference. Paper should be submitted before 15 August 2005.
• Varanasi conference on Education in a Globalizing India
An International conference on "Children, Youth, and their Education in a Globalizing India" is held in Varanasi, India, 22–24 December 2005. It is organised by the Centre for Postcolonial Education, set up not only to understand but also solve the problems of education in South Asia. More information from the conference coordinator Rohit Setty.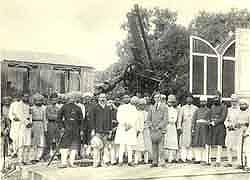 • 21st Annual South Asia Conference at Berkeley
The 21st Annual South Asia Conference at the University of California, Berkeley, is arranged 17–18 February 2006. The conference is organised by the university's Center for South Asian Studies and will include panels on contemporary or historical topics in fields such as anthropology, political science, history, economics, and development studies, literature and language, history of art and architecture, geography, environmental management and health, film and communications, and religious and cultural studies. Deadline for panel proposals: 16 September 2005.
• New Delhi conference on Wounded History and Social Healing
A conference on "Wounded History and Social Healing: The South Asian Experience" is held in New Delhi 23–25 February 2006. The conference is jointly organised by the Developing Countries Research Centre at the University of Delhi, and Vidyajyoti College of Theology. It is a follow-up event of a two day seminar titled "Wounded History: Religion, Conflict, Psyche and Social Healing" held in March 2004. Papers for the Conference should focus on explanations of conflict situations in South Asia and analysis of their social, philosophical, psychological impacts in the context of their being hindrances in the path of peaceful coexistence; peace initiatives, movements, organizations, or philosophies, cultural heritages, knowledge systems, and popular practices having potentials to help bring about peace and reconciliation. Venue: Convention Hall, University of Delhi, Delhi.
• BASAS invites for 2006 conference in London
The British Association for South Asian Studies, BASAS, holds its Annual Conference & AGM 2006 at Birkbeck College, University of London, UK, on 19–21 April 2006. BASAS annual conferences are noted for their friendliness, informality, and open interdisciplinary intellectual exchange. More information.
• Gujarat Studies Association arranges London conference
The UK-based Gujarat Studies Association invites participants for its first bi-annual Conference, with the theme "Home and Away: Historical and Contemporary Perspectives", 19–20 May 2006. The conference aims at creating a lively forum for discussion on the dynamic dimensions of the realities and possibilities of the global Gujarati community, and will be held at the University of London in Birkbeck. More information.

• 19th European Conference of Modern South Asian Studies to be held in Leiden
The 19th European Conference of Modern South Asian Studies (ECMSAS) will be held at Leiden University, the Netherlands, 27–30 June 2006. The conference is hosted by the International Institute for Asian Studies and Prof. D.H.A. Kolff will act as convenor. Panel proposals should be submitted to the Conference Secretariat before 1 June 2005. An Academic Advisory Committee now reviews the proposals. Notices of acceptance will be sent out by August 2005. The accepted panel proposals will be listed in the IIAS Newsletter and on the conference website. More information.
• 13th World Sanskrit Conference in Edinburgh
The 13th World Sanskrit Conference will be held in Edinburgh, Scotland, 10–14 July 2006. The conference will be organised by the International Association of Sanskrit Studies (IASS) and the School of Asian Studies (School of Literatures, Languages and Cultures), University of Edinburgh. It will operate in 14 parallel sections (with four sessions running concurrently) organised by scholars specialising in particular fields. More information.
• Other conferences connected to South Asian studies arranged all over the World
See SASNET's page, http://www.sasnet.lu.se/conferences.html#conf
Important lectures and workshops
• Keystone representatives lecture in Lund
Mathew John and Anita Verghese from the organisation Keystone in the Nilgiri Hills in South India visit Sweden in the beginning of September 2005. They have been invited by their Swedish collaboration partner, the Swallows India-Bangladesh section in Lund, to participate in an Open house seminar on 1 September, at 18.00. John will lecture on "Indigenous Communities & Natural Resources – A Development Initiative" and Verghese on "Observing Plant Life, Seeing Plant Specimens – A Documentation of the Indigenous Flora of the Eastern Slopes of the Nilgiris", Venue: Svalorna Indien-Bangladesh, Spolegatan 5, Lund.
New and updated items on SASNET web site
• More Swedish departments where research on South Asia is going on:
Added to the list of research environments at Swedish universities, presented by SASNET. The full list now includes 153 departments! Go to the presentation page
• Several new articles recommended for reading
Look at http://www.sasnet.lu.se/recreading.html for suggestions on interesting new articles on South Asia in International media. Many new items added, especially on Pakistan, India, and the South Asia region.
• South Asia oriented academic institutions around the World
SASNET has made an inventory of academic institutions connected to research on South Asia all over the World. Internet links are now given to 250 institutes, departments, research centres and scholarly associations. Go to the Links page.
• Important Research Institutions in South Asia
SASNET also links up with a large number of universities and important research institutions in South Asia proper. Go to University link page, and the Science South page.
---
Best regards,

Staffan Lindberg Lars Eklund

SASNET/ Swedish South Asian Studies Network
SASNET is a national network for research, education, and information about South Asia, based at Lund University. The aim is to encourage and promote an open and dynamic networking process, in which Swedish researchers co-operate with researchers in South Asia and globally.
The network is open to all sciences. Priority is given to co-operation between disciplines and across faculties, as well as institutions in the Nordic countries and in South Asia. The basic idea is that South Asian studies will be most fruitfully pursued in co-operation between researchers, working in different institutions with a solid base in their mother disciplines.
The network is financed by Sida (Swedish International Development Cooperation Agency) and by Lund University.

Postal address: SASNET – Swedish South Asian Studies Network, Scheelevägen 15 D, S-223 63 Lund, Sweden
Visiting address: Ideon Research Park, House Alfa 1 (first floor, room no. 2042), in the premises of the Centre for East and South East Asian Studies at Lund University (ACE).
Phone: + 46 46 222 73 40
Fax: + 46 46 222 30 41
E-mail: sasnet@sasnet.lu.se
Web site: http://www.sasnet.lu.se
Staff: Staffan Lindberg, director/co-ordinator & Lars Eklund, webmaster/deputy director
Back to SASNET


---