SWEDISH SOUTH ASIAN STUDIES NETWORK

---
SASNET visit to Skövde University 16 May 2011
On Monday 16 May 2011, SASNET's deputy director, Lars Eklund visited Skövde University to attend a seminar meeting organised by Professor Abul Mandal, School of Life Sciences. The aim was to discuss Skövde University's ongoing partnership programmes with both University of Rajshahi University, Bangladesh (a Linnaeus Palme exchange collaboration programme), and two universities in Pune, India, involved in a Sida funded Partner driven collaboration project on Urban Indian Development.
Professor Mandal, who coordinates both programmes, organised the joint meeting to discuss how to proceed with them.
The Rajshahi delegation came to Skövde to plan for continued Linnaeus Palme exchange programme activities, involving student exchange besides teacher exchange. Prof. Ananda Kumar Saha from the Dept. of Zoology was accompanied by Dr. Khalid Hossain from the Department of Biochemistry and Molecular Biology. Prof. Saha was also in Skövde two years ago when a formal MoU was signed between Skövde and Rajshahi universities. More information about the collaboration programme.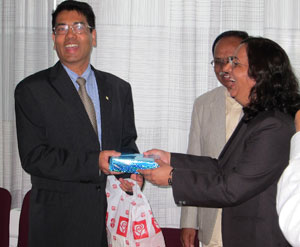 The India project will be implemented in collaboration with partners in Pune, and the results will be published in the BIOS system (Biological Open Source) so that they are freely available to the research community.
The collaboration partners on the Indian side are Dr. Neelu Nawani, Assistant Professor at D. Y. Patil Institute of Biotechnoloy and Bioinformatics; and Dr. Balu Kapadnis, Professor at the Dept. of Microbiology, University of Pune. The were both present in Skövde. Photo showing them with Prof. Mandal.
More information about the project.
The meetings were attended by the Vice Chancellor at Skövde University, Professor Sigbritt Karlsson, Ms. Sofia Henningsson, International Coordinator at the university, and Ms. Noor Nahar, PhD candidate from Bangladesh at the School of Life Sciences.
Ms. Sadia Sharmin (photo to the left), Second Secretary at the Embassy of Bangladesh in Stockholm also participated
More information about the meeting.

After the fruitful meetings, that also involved discussions on tripartite collaboration Skövde-Pune-Rajshahi, a delicious dinner was served by Indian and Bangladeshis students at Skövde University, and a cultural programme with film show and musical entertainment.
Back to SASNET


---