SWEDISH SOUTH ASIAN STUDIES NETWORK

---
Department of Work Science, University of Gothenburg
Postal Address: Institutionen för arbetsvetenskap, Box 705, SE-405 30 Göteborg
Visiting address: Brogatan 2
Web page: http://www.av.gu.se/english/
Contact person: Professor Annika Härenstam, phone: 46 (0)31 786 61 40. Personal web page.
The Department of Work Science aims to promote, carry out and develop interdisciplinary research and education in the field of Work Science. An extensive amount of activity within the institution is commissioned and evaluative work.
The department was founded in January, 2000. It began as the Center for Work Science and has since 2001 become an institution with its home base within the Faculty of Education since 2002. At the institution there are a number of disciplines represented such as history, business economics, cultural geography, sociology and pedagogy. A research council is connected to the institution, which involves means that even professionals in medicine and psychology are represented. Representatives from Chalmers and Work Science West (Arbetslivsinstitutet Väst) are members of the council.
The scope of the department means that Work Science is comprised of specializations of many kinds. Research is carried out within organization, business, integration and diversity, gender, competence/qualifications and conflict resolution. Currently work to expand borders is occurring to include areas that are connected to people's private and work-related strategies.
South Asia related activities
Prof. Annika Härenstam has been a professor at the department since 2007. Before that she was Professor in Work Organization, MTO, at the National Institute for Working Life in Stockholm (NIWL), an institution that closed down in 2007. At NIWL, researchers were actively working with India related projects, and these contacts have now shifted over to University of Gothenburg. More information about the India projects at NIWL.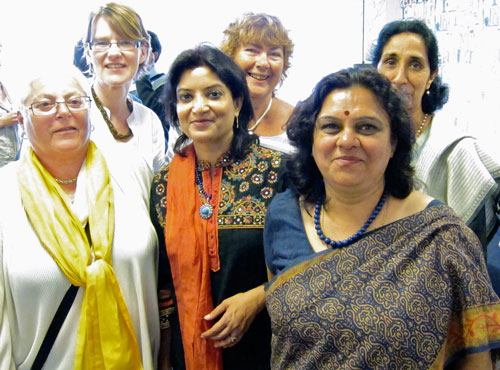 The Dept of Work Science is very much involved in efforts to form a new network entitled SIGN – the Sweden India Gender Network in Work, Environment and Health, that has received initial funding from the Swedish International Development Cooperation Agency, Sida.


In continuation of meetings that took place in India in March 2011 (when four researchers from Sweden visited India) with an aim to facilitate long term collaboration in research and knowledge dissemination between universities and organizations in India and Sweden, a formative meeting was held in Gothenburg in early June 2011.
As a first step, SIGN had invited researchers from related fields to discuss potential research cooperation/collaboration at this meeting that was attended by 25 researchers, including three from India.
Besides Prof. Annika Härenstam, the Swedish networking partners are Dr. Birgitta Jordansson, Head of department, Dept. of Work Science; Associate Professor Hanna Westberg, previously researcher at the National Institute for Working Life (NIWL) in Stockholm; and Dr. Karin Allard, Dept. of Psychology, University of Gothenburg.
The Indian partners in SIGN are Associate Professor Sunita Kaistha from Jesus & Mary College in New Delhi, and Dr. Amita Sahaya. Dr. Kaistha is also President for the Women Work & Health Initiative (WWHI), a New Delhi based non-profit organisation. Dr. Sahaya is WWHI founder secretary.
Prof. Surinder Jaswal from Tata Institute of Social Sciences (TISS) in Mumbai is another partner in the network. She is also a partner in the Go:India project that also was launched in early June 2011 with a kick-off conference in Gothenburg – more information.
During their stay in Gothenburg, Sunita Kaistha and Amita Sahaya gave a lecture to the students at the Department of Work Science, on "Gender & Labour Market in India". They also gave seminars at the Department of Sociology on the subjects of: "Gender Diversity & Inequality in the Labour Market in India"; and "Gender Roles & Livelihood – a Critique".