Välkommen till Råbygatan om våren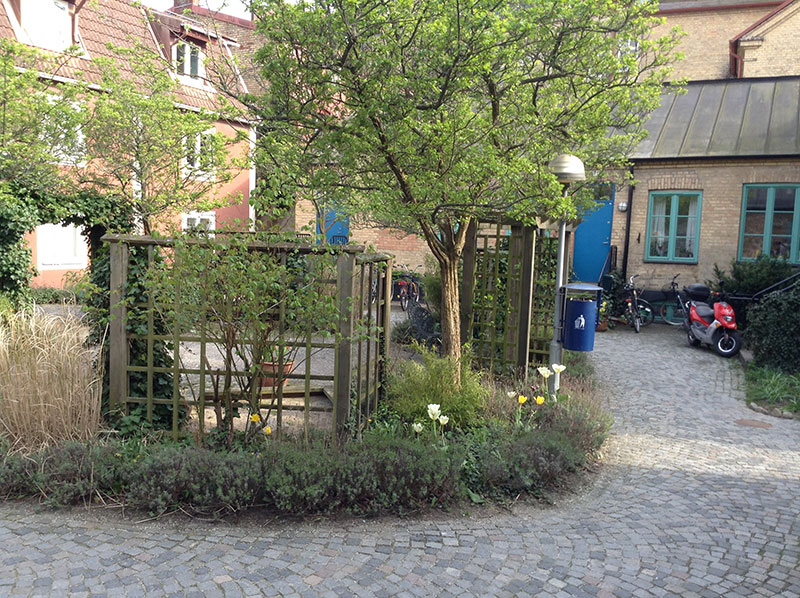 Här bor vi sedan många år och trivs. Ja numera bara Bubu och Lars,
medan barnen flyttat till Stockholm, Berlin resepektive Växjö.
Läs om Bubu och Lars och deras Tagore-kör i The Telegraph 2015, artikel signerad Hindol Sengupta och Andreas Mattsson, "Swede sound of Tagore. Founder of Rabindrasangheet choir on new India mission.".
Bubu blev omskriven i Sydsvenskan den 11 mars 2011, Sara Martelius skrev en jättefin artikel,
"Konst och musik ramar in livet". Läs artikeln.
Läs också fint reportage i LKF-tidningen skrivet av Anders Ljungberg.
...och så Året Runt! Fin artikel om Lars och Bubus första möte i Indien. Läs artikeln.
...och så Hem och Hyra, matrecept av Bubu. Läs artikeln.
Läs om Lars i Sydsvenskan när han fyllde 60 år.
Läs också Lars resebrev från resor i Europa, Asien och Mellanöstern på 1970-, 80- och 90-talen
Andra tidningsartiklar:
- Vårt bröllop, Arbetet 3 februari 1983
- Bubu intervjuad av tidskriften Morgonbris 1984
- Bubu demonstrerar hur man klär sin sari, Arbetet 1989
Välskriven artikel av Lena Danielsson i Arbetet 30 juli 1995 –
"Kärleken hann ikapp i Calcutta. Efter år av resande fann Lasse Bubu i Indien"
Tidskriften SYDASIEN on the web (2007)
Vill du komma i kontakt med oss?
Mattias jobbar som byggnadsantikvarie på Nyréns arkitektfirma i Stockholm, efter utbildning vid universitetet i Göteborg, och dessförinnan grundutbildning på Musikhögskolan i Malmö (musikerutbildning/klarinett)
Marie bor i Berlin, egen lägenhet i Kreuzberg. Jobbar med yoga och allt möjligt annat t&aumlnkbart samtidigt som hon på distans har fullbordat en fil kand i religionshistoria/judaistik vid Lunds universitet.
Daniel arbetar som musiker på viola/bratsch, stämledare violasektionen i kammarorkestern Musica Vitae i Växjö efter avslutad diplomutbildning vid Musikkonservatoriet i Köpenhamn. Han spelar också stråkkvartett med talangfulla Nordic String Quartet i Köpenhamn. Lyssna på Daniels diplomkonsert 11 november 2015!
Welcome to Kingdom of Heaven – Paikpara
| | |
| --- | --- |
| | |
| Daddy – Annada Munshi – with one of his students, to the left, and Bhai and Madhubani. Old days. | Mother Jayathi with Buku, Bubu (with violin), Tutu and Manto. |
This is how I will always remember the warmth and atmosphere of Sri Annada Munshi´s home at Tala Park in north Kolkata, full of art and music – where I set foot first time in May, 1982, and where I met the one who would become my beloved wife, Bubu.
Now the scene has changed. Annada Munshi, "Daddy", passed away in 1984, and his wife Jayathi in 1997.
Regretfully, also Kumkum passed away on 27 August, 2001. Please go to his memorial page.
In 2010, on 2 March, also Manto passed away. Remember him!
Vi har i alla fall vårt andra hem i Bubus födelsestad Kolkata – tidigare mestadels i stadsdelen Paikpara men numera Lake Market (Sardar Sankar Rd 23 A) där vi har en våning sedan 2011.
På Tala Park Avenue hade vi i alla fall vårt ursprungliga hem i Kolkata. Där har familjen Munshi bott i 80 år, och där firade vi vårt bröllop 1982. Möt vår familj på Tala Park .
Look at happy times at Tala Park, after the magnificent wedding of 1982!
Lars and Stefan has a riksha, from Neihati outside Kolkata, which is avaliable for rent in Lund. More information
SVT hade ett Babel-program om Rabindranath Tagore 2011, Mrinalini Ghosh guidade TV-teamet med Marie Nyreröd i Kolkata. Se programmet.

Nordic South Asia Network, my project as a retired person, a follow up to SASNET, the Swedish South Asian Studies Network, for which I was proudly working as webmaster/deputy director from January 2001 till December 2016.
Epilogue to SASNET (Funderingar kring kompetens som inte erkändes)
Lars Eklund