SWEDISH SOUTH ASIAN STUDIES NETWORK

---
Meetings in Islamabad Monday 26 November 2003:
Swedish Embassy
We visited the newly appointed Swedish ambassador to Pakistan, Ann Wilkens, and the Counsellor Dag Juhlin-Dannfelt at the Swedish embassy in Islamabad's area F, with a beautiful view of the Margalla Hills.
The Swedish International Development Cooperation Agency Sida is not much involved in development cooperation with Pakistan anymore. It was a long time ago when the left-hand driven Volvo buses arrived in Pakistan as a gift from the Swedish people after we went over to drive on the right side of the road in 1967!
The once thrifty Pakistani-Swedish Institute is long dead and buried. Military rule and the Bangladesh liberation war of 1971 did away with all this. We now ask whether things might be revived, and cooperation be established again?
We discussed with ambassador Wilkens the proposal by Dr. Atta-Ur-Rahman to send Pakistani science students for PhD studies in Sweden.
Ann Wilkens thought it was a good initiative worth following up. We promised to keep in touch on this.
With so little of interaction between Sweden and Pakistan, education would be one non-controversial field in which there could be more of cooperation in the future. University exchange could be organised in various ways, etc. Ann Wilkens had just visited the the Ali Institute of Education in Lahore, which is an institute for primary and secondary education, involved in a Linnaues Palme exchange programme with an institution in Sweden. Maybe SASNET could play a role here by involving some of its partners at a Swedish teachers training college?
Since we were planning to visit Kabul, we discussed with Dag Juhlin-Dannfelt, who has spent the last few years in Pakistan, frequently visiting Afghanistan, about the security situation there after the recent turmoil (November 2003), and the advances made by the Taliban in the southern part of the country. The understanding on his part was that the evaluations given by SCA, Swedish Committee for Afghanistan, with experienced staff staying inside the country, were the most reliable. We decided to follow their advice.
Meeting with Zahid Hussein

We spent the late afternoon with Mr. Zahid Hussein, an old friend of Dr. Ishtiaq Ahmed of Stockholm University, who had also been the liaison person for this meeting. Zahid Hussein is a political scientist of wide experience. He served for many years as an English language teacher in Somalia and Nigeria.
After his return to Pakistan in 1978, he has worked as a consultant to the Pakistani government and international organisations.
His main field of specialisation is social marketing, especially in the field of health and environment. Much of his work is carried out within the NGO Sustainable Resource Foundation (SURF) in which he is the President. He should be an ideal partner in various social consultancy projects. He also works with recruitment of students to Australian universities and he offered to do the same service on a non-profit basis for Lund University.
A keen observer of Pakistani politics and social development he also offered to write articles for our Swedish magazine Sydasien. We will be eagerly waiting for his manuscript.
Meeting with Nasim Zehra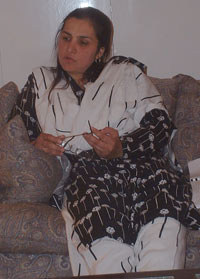 In the evening we had dinner at Nasim Zehra's home in the Diplomatic quarters of Islamabad, close to the Swedish Embassy. Nasim Zehra is an M Phil in political science from Harvard University, USA, nowadays working as a writer and free consultant to the government and international organisations.
Nasim has a vast knowledge and strong views about Pakistani domestic and foreign politics. Currently she is writing a book on Pakistan-India relations. She tries to do away with usual mutual stereotypes delving into the actual obstacles to a settlement in the Kashmir and other issues. She suggests that peace must come out of a process, involving a win-win situation for both sides. There must be a bottom line from where to go. We ha a vivid discussion on this life and death issue for the future of Pakistan, India and maybe the rest of the world. The influence of the events in Afghanistan and Iraq is a complicating factor, which is very hard to predict.
The intellectual elite of Islamabad – Lahore – Karachi circles is all within her network and reach, and we were given lots of advise on names and institutions, and how to proceed in networking to promote exchange and cooperation in research and education between Pakistan and Sweden. We were to follow up some of these leads in Lahore and on our return to Islamabad.
Nasim Zehra is also the organiser of the panel on 'Politics, Power and Islam in South Asia' at the 18th European Conference of Modern South Asian Studies, that SASNET and Lund University organises in July 2004.
Back to Journey


---