SWEDISH SOUTH ASIAN STUDIES NETWORK

---
Report from our first day in Kabul, Monday 1 December 2003:

At about 13.00 our Ariana Afghan Airlines flight to Kabul took off and after nice overview over the plains of Punjab and NWFP and of the mountain ranges separating Pakistan and Afghanistan – with snow covered tops, we landed in the valley of Kabul. During the flight we made friends with Mr. Bashir Ahmad, General Manager for the National Engineering Services Pakistan, a building consultant overseeing the construction of road between Torkham border and Jalalabad. A Swedish company is involved in a similar task with designing the road construction from Jalalabad onwards to Kabul.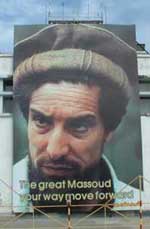 It was a rather depressing landing, on one side of the runway we could see a large number of aircraft wreckages (see photo above), and on the other side we had the military bases full of attack planes and helicopters. The airport building was also depressing, a small two storied building run down by lack of maintenance. An enormous silk screen painting of Ahmed Shah Massoud, the late hero of the liberation war against the Taliban, covered the front entrance of the building (photo to the left).
We were invited to stay with the Swedish Committee for Afghanistan, and they had sent a van to pick us up, and the driver Mr. Nadar immediately spotted us without having to show any name poster, as there had been only about 20 passengers on this Boeing 727 flight from Islamabad. We drove through the beleaguered city, passed the fortified American Embassy, and towards the area of Shar-e-Nau (once upon a time the area of Kabul where most tourists stayed) where the Swedish Committee since the Spring 2003 has its living quarters for expatriates and volunteers (photo to the right). Ironically, the same compound used to be the living quarters of the Taliban leaders before they had to run away in 2001. It is a nice compound with several buildings, apartments and common space of various kind, and functioning but slow Internet connection. Also a very nice staff.
On the way we saw some women in the street, most of them veiled in the typical Afghani light blue burkhas, totally covering the body with an embroidered grid over the face. We also saw soldiers from the United Nations Isaf forces in their armoured cars, but not many Westerners on foot.
Meeting with Jörgen Persson at the Sida office in Kabul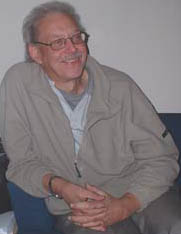 After installing ourselves in the apartment we were so gratitiously provided with, we took a taxi to the Sida office, situated in the neighbouring area of Wazir Akbar Khan, to meet Mr. Jörgen Persson, Counsellor and head of the Sida office in Kabul, who had been most instrumental in organising our visit to Kabul.
Jörgen told us that he only recently took up the posting, and the Sida office had just been fully equipped. It functions as a branch of the Swedish Embassy in Islamabad.
Sida is mainly working with multilateral projects in Afghanistan, and Jörgen Persson's job is to negotiate and coordinate this cooperation. The main agencies are the UN, EU and the World Bank. The Americans are big donors and also participate in coordination activities, but mostly end up running their own projects in their own way.
Bilateral cooperation consists mainly of support to the Swedish Committee and to the transport sector.
Jörgen informed us that the security situation is bad, on the edge so to say. Maybe it would become better after the Loya Jirga to be held from the middle of December. Otherwise he thinks it is a real challenging task to be here at this time, Afghanistan being a 'laboratory' for fast development.
Evening meeting with SCA workers
We enjoyed supper together with a few of the Swedish Committee for Afghanistan staff (expatriates and volunteers) in the SCA compound dining hall, and had a chance to present SASNET and our activities, as well as getting ourselves informed and updated about the valuable work that SCA carries out running primary schools, health clinics, etc. in a really big way in several parts of the country. SCA employs more than 9,000 persons in the country, and moved its head office from Peshawar to Kabul in the Spring 2003. It is one of the major NGO's working in Afghanistan with very good reputation as it has been working with Afghani refugees in Pakistan and inside Afghanistan ever since the early 1980's, and even during the Taliban regime from 1995–2001 SCA managed to continue run its schools and clinics in both the Taliban held areas as well as in those regions controlled by opposition forces.
We met:
Christer Persson, Manager for the Southern region, Ghazni
Börje Almqvist, Information Officer, Central Management Office Kabul
Ahmed Abd el Rahman, Senor Health Advisor
Dawn Laboc, CNM MSN MCH Advisor for NRO
Kerstin Björk, MCH Trainer, Provincial Health Unit Kunduz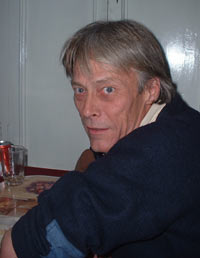 Börje Almqvist (photo to the right) has worked as a journalist for many years, and we know of his informed writing on Afghanistan through AfghanistanNytt, and he has also had some relations to Sydasien, the magazine Staffan and Lars have been involved in publishing for the past 27 years.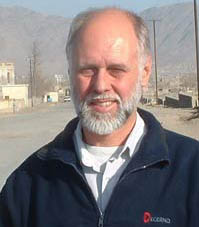 Christer Persson (photo to the left) is working for SCA as Manager for the Southern region. He has previously worked for private companies in South East Asia and Australia. He is supposed to be stationed at Ghazni, southwest of Kabul, but due to security considerations – it was in Ghazni a French aid worker was killed in the middle of November – he is now temporarily posted at the SCA head office in Kabul.
Ahmed Abd el Rahman, coming from Sudan is a medical doctor. He is health advisor to SCA, posted at the head office in Kabul.
Dawn Laboc is a midwife by training and is working for SCA in the northern region at Kunduz with mother and child health care.
Kerstin Björk is a senior midwife working at Astrid Lindgren Hospital in Stockholm, who recently joined SCA to work as a trainer at the SCA provincial health unit in Kunduz in north eastern Afghanistan.
Back to Journey


---