SWEDISH SOUTH ASIAN STUDIES NETWORK

---
Meetings in Kabul Tuesday 2 December 2003:
Afghanistan Research and Evaluation Unit, AREU
Web page: www.areu.org.af
We spent the whole morning meeting with various staff members of this interesting institute, which was set up in 1999 by donor agencies in order to produce research and information for policy decisions by the government and the same donor agencies. AREU is located at Charahi Ansari, opposite the Insaf Hotel and Popolano's, in the Shar-e-Nau area.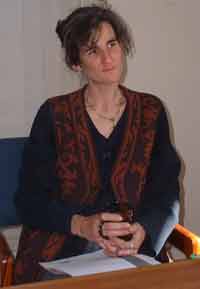 Meeting with Ms. Alexia Coke, Programme Manager, Livelihoods Research; and
Dr. Ian Christoplos, consultant to AREU (also working with the Swedish Agricultural University, from January 2004 as head of the Dept. of Rural Development and Agroecology).
Alexia Coke (photo to the left) informed us about the background of AREU. With the advent of the new interim government in the beginning of January 2001, and the ambitious development policies supported by the international donor agencies, it was felt that there was a great need for data on the situation inside Afghanistan. So AREU got a very challenging task of providing these data.
There is a research staff of ten persons, eight of them being expatriates, since very few Afghans have the necessary training to do research. AREU's ambition is to include Afghani researchers as soon as possible. The funding situation is quite strong. There is also an ambition to work together with other research organisations.
For the time being it is action oriented and policy relevant research that is being pushed. There are six priority areas for this:
‡ political economy of markets; ‡ governance; ‡ livelihood; ‡ gender; ‡ natural resources management; and ‡ health.
A number of projects have already been carried out, like:
« The Public Health System
« Strategic Coordination
« Basic Education
« Adressing Livelihoods
« Refugee Issues
« Land Issues
The research reports are published in English and Dari, and also disseminated via seminars, workshops, etc.
As an example of the research projects, we came to know about the Livelihoods project, which is undertaken in cooperation with NGOs, and which also shelter AREU researchers from attacks by the opposition (through their local anchorage and legitimacy). It builds on DFID (the UK Department for International Development) methodology, a combination of political economy and anthropology. From rural issues there is also a plan to study urban livelihood with 40 household studies in Kabul, Herat and Jalalabad; trans-national networks established via migration (refugees, migrant labour).
A major preoccupation is agricultural development and an attempt to go beyond the usual extension with seeds and tools, to address the water issue (most severe of all), and the current reliance of opium cultivation (in 28 out of 32 provinces).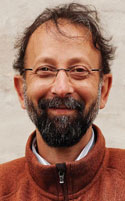 AREU has also recently published a Briefing paper on the coming Afghan presidential elections (Afghan Elections: The Great Gamble), arguing that it should be postponed in order to gain more legitimacy. Currently, there seems to be no preparedness to listen to this argument, neither among donor agencies nor among the members of government
With Ian Christoplos (photo to the left) we talked about the possibility to build a Swedish group of Afghan oriented researchers. Sida's Department for Natural Resources and the Environment has declared that it has no capacity getting involved in Afghanistan.
Ian had also tried to introduce the concept of 'security studies' at Uppsala, but had met with very meagre response.

Meeting with Ms. Christina Bennet, Communication Manager (about to leave her post); and
Mr. Thomas Muller, Communication Manager, AREU, just taken up the post
The Communictions department at AREU is responsible for ensuring that research and information on Afghanistan is made accessible, through the AREU web site and by publishing reports and organizing workshops. The ambition is to link donors outside Afghanistan and the NGO's together, and raise important issues. We presented SASNET and our web site, and decided to link our activities.
As part of AREU's efforts to disseminate new research they offer the possibility of letting Swedish scholars come to Afghanistan.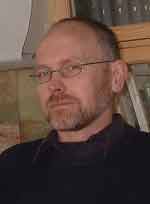 Meeting with Mr. Royce Wiles, Coordinator, Resource Centre, AREU
Royce Wiles (photo to the right) comes from New Zeeland and has recently taken up the post to head the Coordination Resource Centre at AREU. He is involved in cataloguing a major books collection of Afghanistan literature that AREUtook over from the British Institute of Afghan Studies. The library will be open to researchers as soon as the database is completed and the books are arranged.
Royce is also preparing a Guide to Research Institutions and Libraries in Kabul, as such a comprehensive presentation does not exist today. Besides AREU itself the guide will give updated information and further links to ARIC (ACBAR Resource and Information Centre); DAFA (Delegation Archaeologique Francais en Afghanistan); The Institute of Archaeology; Kabul Public Library; Kabul University Library; The Kabul Museum; The National Archives of Afghanistan; and SPACH (Society for the Preservation of Afghanistan's Cultural Heritage).
Meeting with Mir Ahmed Joyenda, Deputy Director for Program Support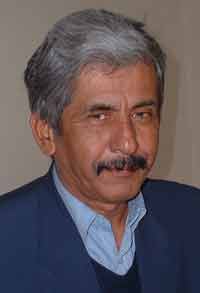 As the Deputy Director for Program Support at Afghanistan Research and Evaluation Unit, AREU, Mir Ahmed Joyenda (photo to the left) is AREU's link person to officialdom in Kabul. He is well adapted for this role as he formerly used to work for the Afghan Ministry of Foreign Affairs, including serving as a diplomat at the Afghanistan Embassy in India for a few years after 1993. He joined AREU in 2001, as the first non-Western employee in the organisation
Mr Joyendra is an archaeologist by training, educated at Allahabad University in India 1975-78. After that he worked at Kabul University, which was functioning all through the 80's in spite of the ongoing civil war in the country.
It is a fact that Kabul University never stopped its activities during the years of communist regime and Soviet occupation, but was only closed down for a period in the early 90's due to the devastating internal fighting between the different mujahedin groups that took over power in Kabul in 1992.
Mir Ahmed Joyenda is also Chairman for the Foundation for Culture and Civil Society, an independent, non-political NGO promoting Afghan culture in the forms of films, poetry, music and other cultural activities. The foundation is sponsored by the World Bank, but is also seeking alternative funding
We made good use of his extensive knowledge of academic life in Kabul at the University, and the Afghan Academy of Sciences. He strongly recommended us to contact the Kabul University Chancellor, Prof. M Akbar Popal, a key person in the efforts to increase International cooperation; Prof. Seihan at the newly established National Centre for Policy Research; and Prof. Daud Rawosh, Dean of the Faculty of Social Sciences.
---
Meeting with Dr Sharif Fayez, Minister for Higher Education
We travelled by car from the AREU office in the central part of Kabul to the Ministry for Higher Education southwest of the city centre, on the way to Kabul University. It was a depressing journey as the roads were lined with ruins on both sides. Two years after the latest fighting stopped in the capital most houses are not rebuilt. The traffic is dominated by the land cruisers belonging to the hundreds of International organizations, from the UN to NGO:s from all parts of the World. The stark contrast between modernity and tradition struck us, as the blue burkha-clad women one sees everywhere, moving about surprisingly easy, are mixing up with women draped in various modes of modern dresses. The ethnic mixture in the street life, with Pashtuns, Tadjiks, Uzbeks and Hazaras, each with their characteristic features and of course different headgears, remind one of the good old times in the 1970's when Kabul was a beautiful, multiethnic, city attracting travellers from near and far.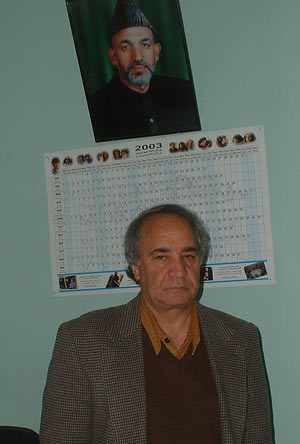 We reached the Ministry and went up the stairs to see the Minister without making any appointment beforehand. The whole building was being renovated, and armed soldiers guarded it but still the security apparatus was relaxed. We happened to arrive just at lunch time, and without any doubt we were with typical Afghan hospitality offered a small lunch consisting of saffron rice and bread, plus green tea, to be eaten in the Minister's waiting room. What Swedish Minister would ever offer an unannounced visitor lunch in his/her waiting room?
Dr Sharif Fayez (photo to the left) took time to meet us in his big office, while a delegation of US-based Afghani educationists waited outside, and so were two people from a South Korean university. It is obvious that the whole World is involved in the efforts to upgrade the educational system in Afghanistan. The situation is extreme. Few institutions of higher education exist in the country at the moment, and the quality in the ones that do exist is not up to International standards. Dr Fayez who seemed a bit resigned declared that at the moment the main priority for the Ministry is to improve the standard of teaching, especially in the fields of Medicine, Computer science, and Engineering. Research will have to wait.
We discussed the possibilities of promoting contacts between Swedish schools of Education with institutions in Afghanistan, and the minister said that he would be most happy if such links could be established. Dr. Fayez also suggested we meet with the Chancellor of Kabul University, the dean of the Faculty of Medicine, Mr. Allimi, the Rector of the Kabul Polytechnics, Dr. Mir Farhredin, people at the Faculty of Education, etc. Dr. Fayez was originally a lecturer in Literature, trained at Firdaus University in Iran, and has spent several years in the U.S. He returned to Afghanistan in 2001. He told about the great changes that have already took place at Kabul University. During the Taliban regime the number of students were only 4,000. Now there are 36,000 students, out which 8,000 are women. In 2001 there was not a single computer, now it is rapidly being supplied with computers (at present 1,000).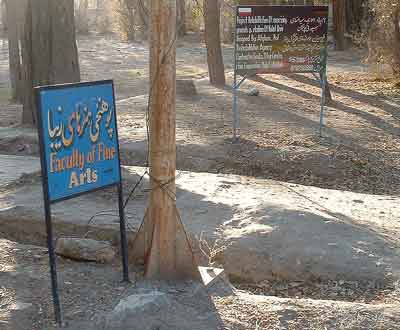 The university was also totally isolated from the outside World, but now there are established links with a number of American universities, as well as German, British, Korean and Japanese institutions. Bringing guest lecturers to Kabul is part of these exchange programmes. Dr. Fayez hopes that from next year it will also be possible to send Afghans for further education abroad. Some contacts have also been established with India, but the Minister decisively declared that the relations to Pakistan are absolutely none.
Some Afghan university professors have returned to the country from exile abroad, but it is a problem to attract them with the low wages given at Afghan universities. Presently there are around 1,700 university teachers, out of whom only very few have PhD degrees. So there is need for augmenting their qualifications with Masters courses and PhD studies. Foreign scholarships and seats at universities are very welcome. The World Bank has promised to finance a programme from 2004, to recruit diaspora Afghan and International teachers on assignments varying from 6 months to one year.
Another initiative to revive the standard of teaching has been to import textbooks from Iran. As the medium of instruction at Afghani universities is Dari, a dialect of Persian, Iranian textbooks can be used without any problem. Dr. Fayez however frankly explained that no books with an ideological content will be allowed to pass the border.
To complement this interview, it is interesting to know that private elite universities in the form of two international colleges offering high-quality teaching are currently being planned, both of them in Kabul. According a report published by the Institute for War & Peace Reporting, IWPR, 29 October 2003, there seems to be enough of high-income families ready to give their children such an education. One of them is an American university of Afghanistan along the lines of those already established at Cairo and Beirut.
Institutes in India, Germany and Japan have also expressed interest to set up colleges in Afghanistan. This is a new development since there is a law that the state alone has the right and duty to run institutions of public and higher learning.
---
Meeting in the evening with foreign scholars resident in Kabul:
We were invited to dinner at the residence of Ole Jensen, working for the Danish Committee for Aid to Afghan Refugees, DACAAR, and Alexia Coke working for AREU, whom we met earlier in the day.
We met:
Dr. Ian Christoplos, consultant to AREU, whom we also met in the morning
Dr. Gorm Pedersen, Anthropologist, Director for DACAAR with head office at Wazirabad in Kabul (photo to the left).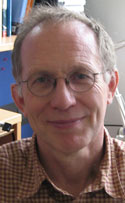 Dr. Adam Pain, East Anglia University, UK. Adam Pain (photo to the right) has been connected to AREU in publishing a report on "Addressing Livelihoods in Afghanistan" in September 2002 (co-written with Sue Lautze). It is available through AREU's publication page.
Adam Pain is a scholar dedicated to research on the Himalayan region, and he has spent eight years inside Bhutan, and took part in the International Bhutan conference held in Thimphu in August 2003.
Back to Journey


---