SWEDISH SOUTH ASIAN STUDIES NETWORK

---
School of Innovation, Design and Engineering, Mälardalen University (MDH), Campus Västerås

Postal address: Box 883, Mälardalen University, SE-72123 Västerås
Visiting address: Högskoleplan 1, Västerås
Web page: http://www.mdh.se/idt/
Contact person: Prof. Sasikumar Punnekkat, phone: +46 (0)21 107324
The School of Innovation, Design and Engineering covers a large research field covering theatre, innovation, entrepreneurship, information design as well as product- and process development, network technology, aeronautical engineering, computer science and electronics.
South Asia related activities at the department
Prof. Sasikumar Punnekkat does research in Software Engineering and Real-time systems. He has been involved in collaborations with Swedish companies such as Ericsson and ABB, and also IT companies in India such as Tata Consultancy Services. During the period 1984–2004 he worked as Scientist Engineer in the Indian Space Research Organisation.
In December 2008, he participated in the Workshop on 'Sustainable City – Systems and Technologies for Sustainable Development' in Kochi, India, organised by INSTEC (Sweden) & CUSAT (India). More information about the conference.
Prof. Punnekkat and Dr. Abdulkadir Sajeev (based at University of New England, Australia, but during 2009 a visiting professor at MDH) presented a paper titled "Virtual Cities and Sustainable Development".

A top-talent program in Software Engineering for Indian students with scholarships was introduced at the School of Innovation, Design and Engineering in the Fall 2008.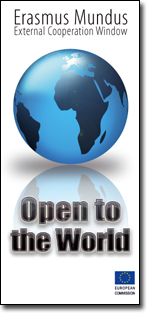 In 2008, Mälardalen University was also able to become the coordinator of one of the European Commission funded so-called Erasmus Mundus External Cooperation Window (EMECW) programmes, lot no 12. The project coordinator is Prof. Sasikumar Punnekat. EMECW lot 12 is a university consortium consisting of 16 universities, nine in Europe and seven in South Asia – out of which 4 are in India, and 1 each in Nepal, Pakistan and Sri Lanka. The programme has been given the name EURECA ( European Research and Collaboration Project with Asia), and it will have a mobility flow of 320 fully funded students, researchers and academic staff per year. Uppsala University is a second Swedish member of the consortium.
The lot managed to get a changed geographical focus compared to what was stated in the original announcement, excluding Afghanistan and Bhutan.
The South Asian universities within the consortium are Amrita Vishwa Vidyapeetham University in Coimbatore; Indian Institute of Information Technology and Management Kerala (IIITM-K) in Thiruvananthapuram; Indian Institute of Technology (IIT) in Kanpur; XLRI School of Business & Human Resources in Jamshedpur; Institute of Engineering at Tribhuvan University in Kathmandu, Nepal; Lahore University of Management Sciences (LUMS), Pakistan; and University of Colombo, Sri Lanka. More information about the EURECA project.
In June 2009, it was announced that the consortium led by Mälardalen University will not get continued funding for the coming period, but the mobility that has already started is in full swing.


More information about the EMECW programmes.
Linnaeus Palme collaboration programme

The School of Innovation, Design and Engineering has a comprehensive collaboration with Welingkar Institute of Management Development and Research in Mumbai and Bangalore, India. The overall purpose is to broaden and deepen a common understanding and knowledge in Innovation, Design & Management in the Global Economy from a Swedish as well as from an Indian perspective.
Welingkar Institut is among the "Top 5" business schools (of 1800) in India, doing pioneering work as a frontrunner in the field of contemporary and futuristic management education on master level, with an integrated concept of design & innovation thinking. Mälardalen University (MDH) is a leading academy imparting education and research in the field of innovation, design and engineering. The School of Innovation, Design and Engineering has a unique multi-disciplinary approach to produce entrepreneurs, designers and engineers on undergraduate, graduate and doctoral level.
In 2007 an Agreement of Collaboration of academic exchange of students and faculty members between the two institutions was signed, in executive education and in development of a learning organization with focus on building an innovation culture. Cooperation has been frequent since November 2006. Welingkar Institute also runs a course on Masters level in Creativity & Innovation Management in cooperation with Mälardalen University and Munktell Science Park.

A Linnaeus-Palme International Exchange Programme was started in 2008. More information about the Linnaeus Palme programme, administered by the International Programme Office for Education and Training but financed by Sida. The collaboration with Welingkar and the Linnaeus Palme collaboration programme is administered by Dr. Sten Ekman and Dr. Annalill Ekman at the School of Innovation, Design and Engineering, and by Professor Anuja Agarwal at Welingkar Institute of Management Development and Research.
The Linnaeus Palme collaboration project has got continued funding for the period 2009-10. More information about the South Asia related Linnaeus Palme projects for 2009-10.