SWEDISH SOUTH ASIAN STUDIES NETWORK

---
Newsletter 28:
12 June 2003
• High time fo applications for SASNET planning grants
Applications are now invited. Closing date for applications is 15 June, 2003, but we will accept applications postmarked upto Monday 16 June. More information.
• Positive reporting on SASNET in Indian newspaper
The Indian journalist Subhash Agrawal working for the Financial Express, published from Mumbai, has written a series of articles on Sweden, called Sweden Diary. On 9 May 2003 he wrote on the long-standing India–Sweden relations, in an article titled "Much in common with India but relations on hold. It is time to put Bofors behind us". In this article Agrawal is extremely positive towards SASNET and the South Asia related research and education taking place at Swedish universities. Read the article (as a pdf-file).
• Report from the Stockholm follow-up meeting on PhD students situation
As a follow-up on the discussions that emerged at SASNET's symposium for South Asia oriented PhD students in Marstrand in October 2002 (read the reports) Staffan Lindberg and Lars Eklund from SASNET visited Stockholm and Uppsala, 14–16 May 2003, and had local meetings with researchers, teachers and students. In Stockholm a meeting was held at Karolinska Institutet Medical University on Wednesday 14 May 2003, with representatives from Stockholm University; Karolinska Institutet; Royal Institute of Technology (KTH); and Södertörn University College. Read the report from the meeting (as a pdf-flle).
• Panels suggestions for the EASAS conference welcome till 30 June 2003
SASNET will arrange the 18th European Conference on Modern South Asian Studies, which will take place at Lund University, Sweden, 6–9 July 2004. Scholars engaged in research and teaching concerning South Asia with regard to all periods and fields of study are welcome to take part in the conference. SASNET organises the conference on behalf of the European Association for South Asian Studies, EASAS. A large number of suggestions for panels have been received, but it is still time to leave more. Deadline for suggestions for panels: 30 June, 2003. Read the announcement for the conference.
• Use SASNET's advanced search function
An advanced search function was created for SASNET last year by Netlab at Lund University. It provides for a full text search not only to our own web site, but also to all the pages we link up to, in two steps (at present that approximately 20 000 web pages). Therefore our engine is most useful for searching material specifically connected to South Asia. It is found at http://www.sasnet.lu.se/searchf.html
• Calls for Proposals for the EU-India Economic Cross Cultural Programme 2003
The Delegation of the European Commission to India, Bhutan, Nepal, Sri Lanka and Maldives calls for proposals for the EU-India Economic Cross Cultural Programme 2003. The programme supports projects from networks of Indian and European non-profit organizations working in the following dimensions: • Media, Communication and Culture; • Entrepreneurial Networking; and • University & Studies. The projects should involve civil society from both sides, as the idea is to promote civil society links by co-financing activities and partnerships such as exchange programmes, publications, networking, seminars and workshops that are structured around specific projects. To be eligible, a network has to comprise of minimum one organisation from India and two from two different member states of the European Union. Minimum amount to apply for an individual project is 250.000 Euro (and maximum: € 500.000). Deadline for applications: 12 September 2003.
• Kristina Lejonhud defends dissertation at Karlstad University on Indian villages
Kristina Lejonhud at the Dept of Human Geography, Karlstad University, will defend her dissertation on "Indian Villages in Transformation – A longitudinal study of three villages in Uttar Pradesh" on Friday 13 June 2003, 10.15. Venue: Agardhsalen (Hall 11 D 257). The thesis, dealing with the changing nature of Lifeworld and Farming System in Village India, based on a study of Chamaon Gram Sabha, Varanasi, has been written under the supervision of Prof. Gerhard Gustafsson, and Prof. Rana P B Singh, Banaras Hindu University, Varanasi, India. The latter in 1977 published a book on the village community of Chamaon Gram Sabha, which has been taken as starting point by Kristina for her research, and the place for her field studies 1994–2001. More information.
• Professorship in History of Religions concentrated on Indic religions at Lund University
The Faculties of Humanities and Theology at Lund University on 16 May 2003 decided to establish a new professorship in History of Religions, concentrated on Indic religions (Hinduism, Buddhism, Jainism, and Sikhism). The final decision on the professorship is expected to be taken by the vice-chancellor of Lund University shortly, and the position will be announced during the Fall 2003. More information on the Section of Indic Religions at Lund University.
• BA thesis on Mahidasa Aitreya in the work of Madhva defended at Stockholm
Ekkehard Lorenz at the Indology section, Dept of Oriental Languages, Stockholm University, defended his BA level thesis in Classical Indology on "Mahidasa Aitreya in the work of Madhva", on Tuesday 10 June 2003. The opponent was Asst. Prof Erik af Edholm, Dept of Comparative Religion, Stockholm University. More information on the Indology section at Stockholm University.
• Ishtiaq Ahmed reports on the status of higher education in Pakistan
Ishtiaq Ahmed, associate professor of Political Science at Stockholm University, recently visited Pakistan and had the opportunity to interact with many learned Pakistanis. He has summarized his impressions on the situation for higher education in the country in an article in Daily Times, published 25 May 2003. The article is titled "Pakistan needs autonomous universities". Go for the article!
• Ruth L. Schmidt promoted to professor at Oslo University
Ruth L. Schmidt, teacher of Urdu and researcher in mountain languages in Pakistan, has been promoted to Professor at the University of Oslo, Department of Eastern European and Oriental Studies. More information.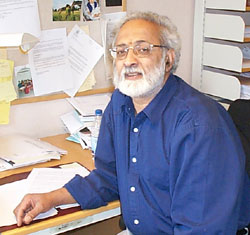 • Neelambar Hatti new chairman for the Nordic Centre in India consortium
The Nordic Centre in India, NCI, held its third General Assembly at Oslo, Monday 19 May 2003. At the meeting Asst. Professor Neelambar Hatti, Dept of Economic History, Lund University (photo to the right), was elected new chairman for the NCI University Consortium Board, with the main ambition to secure the Indian government's formal permission to run the centre. More information on the Nordic Centre in India (NCI).
• Danish web site on web site on the Kamaiya bonded labourers movement in Nepal
Maria Løkke Rasmussen, International Development Studies and Adult Education, Roskilde University Centre, Denmark, has produced a web site on the Kamaiya bonded labourers movement in Nepal. The site is of great interest for anyone with interest in bonded labourers and social movements in South Asia, and is based on Maria's thesis "We did it ourselves – an analysis of the Kamaiya movement in Nepal" from 2002. The web site also offers access to the thesis itself; interviews conducted in relation to the field study; an older report on the Kamaiya system; and links to other related sites.
• World Bank Annual Conference held at Bangalore, India
The World Bank's Annual Bank Conference on Development Economics (ABCDE) was held in Bangalore, India, 21–23 May 2003. The ABCDE, one of the world's best-known conferences on development, was being held for the first time in a developing country. "Accelerating Development" was the theme of this year's conference. Eminent scholars and practitioners from around the world presented new research findings and discussed key policy issues related to poverty reduction. More information on the conference.
Nicholas Stern, World Bank chief economist, in his speech on 22 May, urged the rich countries to cut trade barriers, and boost their development aid. Read a report from Stern's speech at the conference.
In the panel on "Challenges of Development in Lagging Regions" Professor Partha Dasgupta, Faculty of Economics, University of Cambridge, UK, presented a paper on "World Poverty: Causes and Pathways", which is available as a pdf-file. Go for it!

• Independent research institution working in Afghanistan
The Afghanistan Research and Evaluation Unit (AREU) is an independent research institution that conducts and facilitates quality, action-oriented research and analysis to inform policy, improve practice and increase the impact of humanitarian and development programmes in Afghanistan. AREU was established by the assistance community working in Afghanistan, works closely with the government and has a management board with representation from donors, UN agencies and NGOs. It is funded from voluntary contributions by the governments of Switzerland, Sweden, the Netherlands, the European Union (EU) and the European Commission Humanitarian Aid Office (ECHO). Among AREU's activities are publishing a series of Issues Papers in English and Dari; and partnering with the Kabul University library to help catalogue the books in its Afghanistan Studies Section. More information.
• Papers invited for The Pakistan Journal of Women's Studies
The Pakistan Journal of Women's Studies: Alam-e-Niswan, published from Gettysburg, Pennsylvania, USA, solicits papers that explore the topics related to scholarship in the field of Women's Studies and Feminist knowledge. The editorial board welcomes a variety of contributions that focus on women's experience, on gender issues, and feminist theory and consciousness. The magazine publishes academic writings that are critical, scholarly, and offer fresh perspectives on issues faced by a civil society. More information.
• Papers on "Small and Micro-States of South Asia" invited for Brittish magazine
The Brittish academic publication Contemporary South Asia invites researchers for papers on "Small and Micro-States of South Asia" for a coming issue of the magazine. The ambition is to publish articles across a broad range of issues affecting Bhutan, Maldives and Nepal, as these countries generally get less coverage in various international forums than the larger countries of South Asia (India, Pakistan, Bangladesh and Sri Lanka). Submissions could cover one or more of the following topics: • Theory; • Governance; • Development; or • Security, and should be sent no later than 15 October 2003 to Guest Editor Dr Amalendu Misra, School of Politics, Queen's University, Belfast, UK. All articles will be independently refereed.
Vacant research positions/fellowships
• Position as Professor announced at Aalborg University, Denmark
A position as Professor at the Department of History, International and Social Studies, Faculty of Social Sciences, Aalborg University, Denmark, has been announced. the position will be affiliated with the Research Center on Development and International Relations, and the appointment will be from 1 October 2003.
• Symposium on Arsenic in Soil and Groundwater Environments at Uppsala conference
The 7th International Conference on the Biogeochemistry of Trace Elements (7th ICOBTE) will be held at Uppsala, Sweden, 15–19 June 2003. It is an interdisciplinary conference dedicated to link biosphere phenomena to physical & chemical reactions in the pedo-and lithosphere, and is sponsored by the Swedish University of Agricultural Sciences (SLU) and the International Society of Trace Elements Biogeochemistry (ISTEB). One of the symposia is dealing with the issue of "Arsenic in Soil and Groundwater Environments: Biogeochemical Interactions", organized by Dr Prosun Bhattacharya, Dept of Land and Water Resources Engineering, Royal Institute of Technology, Stockholm, and others.
• Conference on South Asia Literatures and Languages at Moscow
The International Conference on South Asia Literatures and Languages – SALILA (the former ICOSAL) takes place in Moscow, Russian Federation, at the Institute of Asian and African Studies, Moscow State University, 5–9 July 2003. More information.
• 15th Anthropological and Ethnological Sciences sciences congress at Florence
The International Union of Anthropological and Ethnological Sciences (IUAES) arranges its 15th Congress on the theme "Humankind/Nature Interaction: Past, Present, and Future", 5–12 July, 2003, at Florence, Italy. More information on IUAES web site. A large number of the sessions will be devoted to South Asia.
• An International Workshop on "The Restructuring of Old Industrial Areas in Europe and Asia"
is arranged in Bonn, Germany, 11–12 July 2003, by the Dept of Geography, University of Bonn. The workshop is sponsored by the Asia-Europe Foundation/Asia Alliance Grant, which means that travel and accommodation costs of presenters of accepted papers will be fully covered. Deadline for submission of workshop papers: 1 June 2003. More information.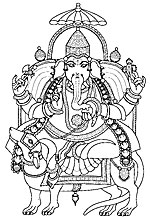 • The 12th World Sanskrit Conference
will be held in Helsinki, Finland, 14–18 July, 2003. The conference is organized by the International Association of Sanskrit Studies, and the Dept of Indology, Institute for Asian and African Studies, University of Helsinki. Closing date for registration is 31 March 2003.
• A conference on "Ladakh: Art, Culture and Languages"
is organized at Leh and Kargil, in the state of Jammu & Kashmir, India, 21–27 July 2003. It is the 11th Colloquium of the International Association for Ladakh studies (IALS) which has hosted such colloquia regularly since 1981. More information.
• Conference on Early Devotional Literatures in New Indo-Aryan Languages
The Ninth International Conference on Early Devotional Literatures in New Indo-Aryan Languages is held 23–26 July 2003, at the Dept of Modern South Asian Studies, South Asia Institute, University Of Heidelberg. This year's theme is "Bhakti in Current Research 2001-2003". More information.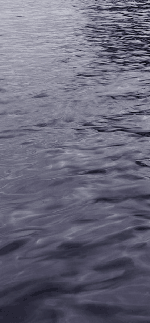 • 2003 World Water Week at Stockholm of great interest for South Asia
The 2003 World Water Week will take place in Stockholm, Sweden, 10–16 August 2003, and the 13th Stockholm Water Symposium 11–14 August. Both during the symposium and the eight workshops throughout the week a large number of South Asian researchers and professionals – from India, Bangladesh, Pakistan, Nepal and Sri Lanka – have been invited to speak and give presentations, not the least in workshop no 4, on "Securing Food Production under climatic variability: Exploring the options", filled with South Asian participants. More information, and the full programme to be found on on the 2003 World Water Week web site.
• Dialogue on European Union initiativ "Water for Life" at Stockholm
Connected to the World Water Week the European Union Water Initiative has invited for a mukti-stakeholder dialogue meeting on Sunday 10 August 2003, to discuss the Initiative's "Water for Life" programme launched during the World Summit on Sustainable Development in Johannesburg in 2002.
• SIWI Seminar for young water professionals at Stockholm
Stockholm International Water Institute, SIWI, invites the same day, Sunday 10 August, young water professionals for a seminar on "Basin Water security – implications of virtual water trade and agricultural subsidies at regional, national and local levels". Mr Rashedul Islam from Bangladesh University of Engineering and Technology, will lecture at this seminar on "Agricultural subsidies and rainfed agriculture: A critical view".
• A Post-graduate researcher training course on "Intervention, local politics and the state"
is held at the University of Helsinki Biological Research Centre, Lammi, Finland, 14–16 August 2003. Registered PhD candidates in Development Studies or related fields are invited to the conference where James Ferguson (University of California, Irvine), Christian Lund (Roskilde University Centre), Jean-Pierre Olivier de Sardan (EHESS, Marseille), and K Sivaramakrishnan (University of Washington, Seattle) will lecture. More information.
• Multidisciplinary conference in Härjedalen on Peripheral Communities
An international multidisciplinary conference on the theme "Peripheral Communities. Crisis, Continuity and Long-Term Survival" will take place in Sveg and the forest village of Ängersjö in Härjedalen, Sweden on August 14-17, 2003. The conference is hosted by the Swedish interdisciplinary research project "Flexibility as Tradition. Culture and Subsistence in the Boreal Forests of Northern Sweden", which involves scholars from the faculties of natural science, humanities and social science, and it will explore the historical and contemporary conditions of peripheral communities from a broad multidisciplinary perspective. More information at the conference website.
• Third International Convention of Asia scholars to be held in Singapore
The Third International Convention of Asia scholars, ICAS3, will be arranged at Raffles City Convention Centre in Singapore, 19–22 August, 2003. The convention is organised by the Faculty of Arts and Social Sciences, National University of Singapore. Due to the high number of requests, the proposal submission deadline has been extended to 31 January 2003. Proposals on all aspects of Asia research are invited. More information.
• PhD course in Tromsø on "Feminist perspectives on global economic and political systems"
The University of Tromsø, Norway, invites for a PhD course on "Feminist perspectives on global economic and political systems and women's struggle for justice", 24–26 September 2003. The three-days conference, that is also a credit-giving course, aims at provding a basic conceptual on the gendered properties of selected globalizing economic, soical and political systems and the role of women's agency in selected Asian and European settings. Professors Nancy Hartstock (Centre for Women and Democracy), Annie Phizacklea (University of Warwick) and Ingrid Rudie (University of Oslo) are among the lecturers. Course Director is Dr. Tone Bleie, Christian Michelsen Institute, Bergen (and Adjunct Associate Professor at University of Tromsø). Deadline for registration: 10 August 2003.
• SOAS workshop on "Order and Disjuncture: The Organisation of Aid and Development"
An informal workshop on "Order and Disjuncture: The Organisation of Aid and Development" is arranged at the School of Oriental and African Studies (SOAS), University of London, UK, 26–27 September 2003. The workshop which is being organised under the auspices of EIDOS, the European Inter-University Development Opportunities Study Group, focuses on the issues of "the need for more ethnography of organizations and practices", "shifting understandings of positionality"; and "responding to changes in development policy and practice". Researchers or PhD students who wish to participate should contact David Mosse at SOAS, or David Lewis at the London School of Economics.
• 32nd Annual Conference on South Asia at the University of Wisconsin-Madison
The Center for South Asia at the University of Wisconsin-Madison invites scholars and other interested parties to its 32nd Annual Conference on South Asia, 24–26 October 2003. The annual conferences normally attract 500+ participants, and feature over 70 academic panels and roundtables. Registration as an observer at the Conference is open to the general public. Venue: Concourse Hotel, Madison, Wisconsin, USA.
• International Seminar on Fermented Foods, Health Status and Social Well being in Gujarat
An International Seminar and Workshop on "Fermented Foods, Health Status and Social Well being" will be organised by the Dept of Dairy Microbiology, SMC College of Dairy Science, Gujarat Agricultural University at Anand, India, 13–14 November 2003. The conference is co-hosted by the Dept of Applied Nutrition, Lund University, Sweden; and is partly sponsored by a planning grant from SASNET. Dr V Kurien, the father of White Revolution in India, will inaugurate the seminar on 13 November. Full programme with registration form (as a pdf-file).
• International Conference on "Sri Lanka at Crossroads: Continuity & Change"
The 9th International Conference on Sri Lankan Studies will be held at the University of Ruhuna, Matara, Sri Lanka, 28–30 November 2003. The conference's theme will be "Sri Lanka at Crossroads: Continuity & Change". A Call for papers has been issued, the deadline for submitting abstracts is 15 June 2003.
• Norwegian conference on research and evaluation on education and development
The Second NETREED Conference with the theme "Communicating and Evaluating Research Results from the South" will take place 8–10 December 2003 at Gausdal Høifjellshotell, Norway. NETREED is a network of individuals and institutions based in Norway, who do research and evaluation on education and development (with a focus on developing countries). Key note speaker at the conference will be Dr. Iffat Farah from the Aga Khan University, Karachi, Pakistan. The theme of the conference is chosen in order to get a wide discussion and different perspectives on research results of researchers in the North doing research in countries in the South. There will also be a debate on ethical questions and dilemmas for those working as researchers on the one hand and as evaluators on the other hand. Paper presentations by graduate students, researchers, evaluators and representatives from NGO's will be organised in parallell sessions. More information on the conference.
• 64th Annual Session of the Indian History Congress at Mysore
The Indian History Congress (IHC) will hold its 64th Annual Session in Mysore, Karnataka, 28–30 December 2003. As ususal there will be five panels sections, for 1. Ancient India, 2. Medieval India, 3. Modern India, 4. History of Countries other than India, and 5. Archaeology. Besides this the IHC, which is the oldest and one of the most prestigious academic organizations in India, proposes to hold a special panel on the "History of Information and Communication Technologies in India" during the session. Eminent scholars from history and related disciplines would be presenting papers in it and the IHC has plans for publication of a volume with selected papers. Last date of submission of synopsis for papers: 30 September, 2003. More information from Dipankar Sinha, Dept of Political Science, Calcutta University.
• Pakistan Workshop 2004 on "Generational Interaction and Change"
The Pakistan Workshop will be held at Rook How in the idyllic Lake District of United Kingdom, 7–9 May 2004. The theme for the workshop will be "Generational Interaction and Change", but papers on other topics are also welcome. Pakistan Workshops have been organized yearly since 1986 by Brittish/European anthropologists and other social scientists, as a forum for discussion on current research related not only to Pakistan, and the Pakistani diaspora, but also to Muslims in South Asia in general.
• 37th Bengal Studies Conference 2005 to be held in Bangladesh
will be heldThe 37th Bengal Studies Conference will be held at Stamford University, Dhaka, Bangladesh, 4–6 January 2005. Traditionally Bengal Studies Conferences, arranged since 1965, have always been hosted by institutions of higher learning in the USA and Canada – most recently the 36th Conference was held at the Academy of Bangla Arts & Culture in Irving, Texas, USA, on 4–6 April 2003. Now the conference for the first time will be hosted in South Asia, by the private Stamford University, founded in 1994. More information.
• More conferences connected to South Asian studies, see SASNET's page, http://www.sasnet.lu.se/conferences.html#conf
Important lectures and workshops
• Public seminar in Stockholm on assistance to Afghanistan
The Swedish Committee for Afghanistan, SAK, holds a public seminar in Stockholm on Saturday 14 June 2003, 10.00–12.30, in connection with the organization's annual meeting. Two of SAK's chief executives inside Afghanistan will be present; Dr Mohammad Mustafa Mastoor will lecture on "SAK's work for disabled persons and its future potentials"; and Engineer Abdulla Aini will lecture on "How the technical assistance in the rural areas may improve the lives for the Afghan people". Venue: Kata-salen, ABF huset, Sveavägen 41, Stockholm.
• Udaya Narayana Singh lectures on Indian languages at Uppsala University
Professor Udaya Narayana Singh, Director, Central Institute of Indian Languages, Mysore, India, will give two lectures on languages and the linguistic situation in South Asia at Uppsala University. On Monday 16 June 2003, 9.15–11, he will lecture on "Multilingualism and Language planning in South Asia"; and on Tuesday 17 June 2003, 9.15–11, he will lecture on "Linguistic Landscaping in the context of South Asia". Venue for both the lectures: Språkvetenskapligt centrum (SVC, room 16-0043, Uppsala. Professor Singh's visit to Sweden is partly sponsored by the Swedish Royal Academy of Letters, History and Antiquites (Vitterhetsakademin).
• Workshop 26 September on Development research at Lund University
The Centre for Environmental Studies (MICLU) at Lund University, along with the Dept of Economic History and the Dept of Social and Economic Geography, organizes for the second consecutive year a Workshop on Development research on Friday 26 September 2003. PhD students and researchers on developmental issues at Lund University are all invited to meet. More information will soon appear on http://www.natgeo.lu.se/.
• Karlstad University offers C/D level students opportunity to stay in Varanasi, India
During the Autumn 2003 Karlstad University and Banaras Hindu University will offer 10–14 duly admitted students to the C/D-level courses (20 credits) in History of Religions and Geography and Tourism at Karlstad University, the opportunity to spend 10–15 weeks in Banaras (Varanasi). In India they will study languages (Hindi/Sanskrit), conduct individualized litterature and field studies (related to their C/D thesis topics) under qualified supervision, and participate in a joint BHU-Karlstad University seminar on the "Multi-Cultural Aspects of Banaras". For further information contact Gerhard Gustafsson or Marc Katz.
New and updated items on SASNET web site
• More Swedish departments where research on South Asia is going on:
Added to the list of research environments at Swedish universities, presented by SASNET. The full list now includes 105 departments! Go to the presentation page
ƒ Division of Metals & Health, Institute of Environmental Medicine, Karolinska Institutet Medical University, Stockholm
ƒ Dept of Textiles, Konstfack University College of Arts Crafts and Design, Stockholm
ƒ Dept of Health Sciences, Kristianstad University College
ƒ Faculty of Health Sciences, Linköping University
ƒ Dept of Humanities, Mälardalen University, Campus Västerås
ƒ Center for Pacific Asia Studies (CPAS), Stockholm University
ƒ Dept of Economics, Uppsala University
ƒ School of Music, Örebro University College

• Several new articles recommended for reading
Look at http://www.sasnet.lu.se/recreading.html for suggestions on interesting new articles on South Asia in International media. Many new items added, especially on Pakistan, India, and the South Asia region.
• New books related to South Asian studies
Several new additions now made. Go for the page!
Cultural Events connected to South Asia in Scandinavia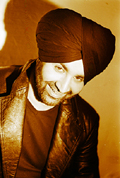 • The Re:Orient Festival 2003 at Stockholm offers several artists connected to South Asia
The Indian sitarist Nishat Khan will perform a midnight raga on Friday 13 June, 23.00. Baul Shilpi, a group of baul singers from Bangladesh, appears on stage on Saturday 14 June, 17.00. And finally the legendary Brittish-Indian Bhangra star Sukshinder Shinda (photo to the left) performs the same evening on Kägelbanan at 21.00. Festival venue: Södra Teatern, Mosebacke Torg 1–3, Stockholm.
• An Odissi dance course is arranged at the Falun Folk Musice Festival, 9–13 July 2003
The professional Swedish Odissi dancer Ulrika Pettersson (part of the group Ahbinaya) leads the course, and Jonas Landahl will accompany the dance playing tabla. Otherwise no South Asian artists are scheduled for this year's festival at Falun.
• Images of Asia cultural festival opens in Copenhagen on 8 August
The cultural festival Images of Asia will takes place in August and September 2003 in Copenhagen, Århus, Odense, Esbjerg and the County of Ribe, Roskilde, Randers and a number of other cities in Denmark. The festival aims to increase the Danish understanding of contemporary Asia and promote co-operation between Denmark and Asia. The Danish Center for Culture and Development (DCCD) has the overall responsibility for Images of Asia, which is organized in broad partnership between a range of governmental institutions, NGOs, cultural institutions, associations, municipalities, counties and individuals in Denmark and Internationally. The festival opens on Friday 8 August 2003 in Copenhagen. More information.
• Akram Khan performs at Dansescenen in Copenhagen
As part of the Images of Asia festival in Denmark the Bangladeshi-Brittish dancer Akram Khan will give a performance called "Kaash" at Dansescenen in Copenhagen, on 21, 23 & 24 August 2003. With his superb technical prowess and deep knowledge of the classical Indian kathak dance, Khan is the dance personality of the moment by connecting these roots with a completely contemporary staging. With music by the phenomenal Nitin Sawhney and set by visual artist Anish Kapoor, this piece with Khan and his dancers gets heads spinning as they whirl, twirl and dive across the stage. Venue: Dansescenen, Øster Fælled Torv 34, Copenhagen.
• Abida Oarveen – the uncrowned Sufi Queen from Pakistan performs in Denmark
Abida Parveen, the uncrowned Sufi Queen from Pakistan, will also perform in Denmark as part of the Images of Asia festival. Along with her band she will perform at Vega Concert Hall in Copenhagen on Wednesday 3 September 2003. It will be Abida Parveen's (photo to the left) first visit to Denmark, and according to the organizers – Vega in collaboration with the Danish Broadcast Corporation, DR – it will be a magic evening full of charm, magnetism and musical ecstasy. Venue: Vega, Enghavevej 40, Vesterbro, Copenhagen.
• Lots of South Asian cultural events in Norway.
The web site Desi.no lists and gives extensive coverage to all cultural events connected to South Asia taking place in Norway, including Bollywood film shows and Pakistani musical performances. Go for Desi.no!
---

Best regards

Staffan Lindberg Lars Eklund

SASNET/ Swedish South Asian Studies Network

SASNET is a national network for research, education, and information about South Asia, based at Lund University. The aim is to encourage and promote an open and dynamic networking process, in which Swedish researchers co-operate with researchers in South Asia and globally.
The network is open to all sciences. Priority is given to co-operation between disciplines and across faculties, as well as institutions in the Nordic countries and in South Asia. The basic idea is that South Asian studies will be most fruitfully pursued in co-operation between researchers, working in different institutions with a solid base in their mother disciplines.
The network is financed by Sida (Swedish International Development Cooperation Agency) and by Lund University.


Postal address: SASNET – Swedish South Asian Studies Network, c/o International Office, Lund University, P O Box 117, S-221 00 Lund
Visiting address: Gamla Kirurgen, Sandgatan 3, first floor,
room no. 230
Phone: + 46 46 222 73 40
Fax: + 46 46 222 41 11 (Note: Changed number!)
E-mail: sasnet@sasnet.lu.se
Web site: http://www.sasnet.lu.se

Staff: Staffan Lindberg, director/co-ordinator &
Lars Eklund, webmaster/deputy director
Back to SASNET


---