SWEDISH SOUTH ASIAN STUDIES NETWORK

---

Newsletter 48:
20 January 2005
Community News:
• Successful conference on Structures of Vulnerability
The Dept. of Social Anthropology at Stockholm University in collaboration with Sida successfully organised a conference focusing on "Structures of Vulnerability: Mobilisation and Resistance" 12–14 January 2005 . It was the largest gathering so far in Sweden of Third world oriented researchers, within fields such as Biodiversity, Children and youth, Climate, Corruption, Environment, Ethnicity, Food and water, Gender, Hazards, Health, Infrastructure, Law, Religion, Urbanity, War and violence, and Welfare. More than 300 researchers and graduate/post graduate students took part in the conference, and a vast number of South Asia related research papers were presented in the workshops.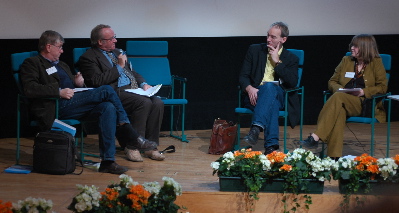 Key note speakers were Professor Ben Wisner, lecturing on "Root causes of vulnerability: What do we know after 30 years and what is to be done about them", Professor Hunter Wade and Professor Johanne Sundby. A panel debate was also held on "Victims and Actors – who get the blame? Concepts of structure and agency in the development research", with Ass. Prof. Hans Abrahamsson and Prof. Björn Hettne from PADRIGU, Göteborg University, Prof. Thomas Hylland Erikssen, Oslo University, and Prof. Gudrun Dahl, Dept. of Social Anthropology, Stockholm University (photo to the right). More information on the Stockholm conference.
It was the third conference in a series of conferences financed by Sida, on the challenges faced by the research community in developing countries. The first conference was arranged with Göteborg University in January 2000, and the second, named "Poor and Rich" was held at Lund University in January 2003 (more information on the Lund conference).

• First circular to the 19th European Conference of Modern South Asian Studies
The 19th European Conference of Modern South Asian Studies (ECMSAS) will be held 27–30 June 2006 in Leiden, the Netherlands. The Dept. of South Asian Studies at Leiden University will host the conference with organisational assistance from the International Institute of Asian Studies, IIAA, also based in Leiden. Panel proposals for the conference should be submitted to the Conference Secretariat before 1 June 2005. Read the first conference announcement (as a pdf-file).
• Apply for position as Director for NCI before 25 January
The Nordic Centre in India (NCI) university consortium once again announces the position as Director for NCI, this time as a part time position (50%) to be located at Uppsala University. Applicants should have an academic background, creative mind and administrative experience, and be willing to work closely with the Board. The position will initially be limited to a three-year period, and entail travels to India as and when necessary. Application deadline 25 January 2005. More information on NCI.
• Doctoral dissertation on the role of violence in the Srilankan peace process
Kristine Höglund from the Dept. of Peace and Conflict Research, Uppsala University, defended her doctoral dissertation on "Violence in the Midst of Peace Negotiations: Cases from Guatemala, Northern Ireland, South Africa and Sri Lanka" partly related to the conflict in Sri Lanka, on 3 December 2004. Faculty opponent was Professor Roy Licklider, Rutgers University, USA. The focus of her research has been the role of violence in peace processes, and under what circumstances incidents of violence tend to disrupt peace negotiations. Read the abstract (as a pdf-file).
• Nordic Research Network on Gendering Asia formed
A Nordic Research Network on gender in Asia, called "Gendering Asia Network" has been formed. The network mainly addresses researchers and students at Nordic institutes who are engaged in research on gender in Asia. However, as much Nordic research on gender in Asia is collaborative research which is in continuous dialogue with research by scholars in Asia as well as in other parts of the world, this network also invites scholars from the region of Asia and elsewhere to participate.
The importance of establishing a network focusing on gender in Asia was agreed upon by participants at the Swedish School of Advanced Asian Pacific Studies (SSAAPS) conference held in Lund in October 2003. The ambition is to hold annual workshops on more specific themes. A first conference on "Gendering Asia" will be held in Kungälv, 19–21 May 2005. More information on Gendering Asia Network.
• Nordic Centre in India offer full semester program at the University of Hyderabad
The Nordic Centre in India now announces a full semester program for Nordic students at the University of Hyderabad from the Fall 2005. The Nordic Centre has made an arrangement with the University of Hyderabad to allow 15 Nordic students to be admitted there, and to take courses on various social science and humanities subjects. In most cases these should count towards degrees accepted at home. The first batch of students will be admitted for the autumn of 2005, the next for the spring semester of 2006. Application deadline for the autumn semester of 2005 is 15 March 2005. More information.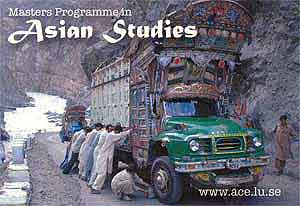 • Apply for the Lund Masters Programme before 31 January
A 60 credits Masters Programme ("Magisterutbildning med bredd") in Asian Studies was successfully introduced at Lund University in the Fall 2003, with support from SASNET. The programme is divided into two tracks, one for East and South East Asian studies, and one for South Asian studies, and is administered by the Centre for East and South-East Asian Studies (ACE) at Lund University. Applications are now invited for the next Programme, starting on 1 september 2005. Last date for applications: 31 January 2005. More information.
• Hyderabad course on Contemporary India offered for the third year
For the third time the course 'Contemporary India' will be offered in the Summer 2005 at the University of Hyderabad, in collaboration with the Nordic Centre in India. The course is tailor-made for Nordic students and introduces issues of politics, culture and economy. It consists of the following five parts: • Introductory course: The diversity of India: • The political system and questions of identity: • Globalisation and the economy focusing on the city of Hyderabad: • Development, environment and human rights: and • Indian literature and cinema. The students will be given board and lodging in an excellent guest house. The course lasts from 4 July to 29 July. Applications should be given before 1 March 2005. Only students from the universities that are member of the Nordic Centre in India will normally be admitted. More information.
• NCI arranges Summer School in Tamil Nadu
The Nordic Center in India announces an alternative Summer School 2005 in Tamil Nadu in south India. The course starts on Sunday 3 July in Mahabalipuram, and finishes on 25 July in Madurai. An additional one-week stay in the countryside near Madurai is offered as an option. from july 25th to 31st at CESCI, a simple, yet refined place. Places visited: Chennai, Kanchipuram, Trankebar, Velankanni, Tanjore, Tiruvaiyaru, Kumbakonam, Madurai, Srivilliputhur. Mayagram. The academic staff consists of Lars Kjærholm, lecturer at the Department of Anthropology, Århus University, and J. Rajasekaran, monitor, the University of Wisconsin Programme in India, Madurai.
• 9th Summer Program in Punjab Studies arranged in Chandigarh
The 9th Summer Program in Punjab Studies will be held at Chandigarh, India, 3 July – 13 August 2005. The program, open to both graduate and undergraduate students, will provide six weeks of instruction in Punjab Studies, including Punjabi teaching (50 hours), and history and culture of the region (90 hours). Application deadline is 1 March 2005. More information.
• Tamil Summer School at PILC in Pondicherry
The Faculty of Linguistics of Pondicherry Institute of Linguistics and Culture (PILC) invites for a Tamil Summer School in July–August 2005. The Tamil Summer School is an intensive six-week course in spoken Tamil. It was initiated in 1998 by the Department of Social Sciences, French Institute, Pondicherry to offer training to language researchers in Humanities and Social sciences. PILC has been organising this course since 2004. The TSS focuses on Spoken Tamil rather than on the classical and written forms being taught in European Universities. Two levels of spoken Tamil courses are offered: Basic and Intermediate. Enrolment starts on 1 March, 2005 and registration will be closed on the 30 April, 2005. More information (as a pdf-file).
• Stockholm seminar on "Sri Lanka – future after the catastrophy"
The Olof Palme International Center arranges a seminar on "Sri Lanka – future after the catastrophy" in Stockholm on Thursday 20 January 2005, 18.00–20.00. The seminar will deal with the possibilities and restraints prevailing for a peaceful reconstruction of the country, and what the outside World can contribute with. The participants in the seminar are Hasanthi Dissanayake, chargé-d'affaires at the Sri Lankan Embassy; Ravi Viswailingam from the Tamil's Rehabilitation Organisation; and two representatives from Sida – Eva Asplund and Malin Elisson Ljunggren. Venue: ABF Stockholm, Sveavägen 41, Stockholm. The seminar will also be telecast on Swedish Television SVT24 on Friday 21 January, 12.10. More information.
• Stockholm seminar on "India – Obstacles and Possibilities"
The Swedish Development Forum (Föreningen för Utvecklingsfrågor) and the Swedish UNIFEM committee invites to a seminar on "India – Obstacles and Possibilities" in Stockholm on Wednesday 26 January 2005, 16.00–19.45. Gitanjali Singh and Nandita Baruah from UNIFEM India will lecture on Trafficking in South Asia; the Hiv/Aids situation; Violence against women; and the Reconstruction work after the Tsunami disaster. Mehri Afsahi, one of the three chairmans of the Swedish UNIFEM committee is moderator of the panel debate that follows. Venue: Save the Children, Torsgatan 4, Stockholm.
• Stockholm lecture on the 1984 Bhopal disaster
Ingrid Eckerman, member of the 1994 International Medical Commission on Bhopal, and medical advisor to the Sambhavna Clinic in Bhopal, India, lectures on the 1984 Bhopal disaster, in Stockholm on Wednesday 26 January 2005, 19.00. Eckerman has recently published a book on the issue, titled "The Bhopal Saga". The lecture is arranged by Svensk-Indiska Föreningen. Venue: Restaurang Maharaja, Timmermansgatan 35, Stockholm. More information on Ingrid Eckerman's book.
• Oslo Seminar on Political Islam
A Seminar on Political Islam is organized by NUPI in Oslo, Norway, on Wednesday 26 January 2005, 09.30–16.30. The seminar is organised by the Centre for Russian Studies at the Norwegian Institute of International Affairs, NUPI. The aim of the seminar is to shed light on political Islam as a school of thought and to asses its impact and manifestation in the post-Soviet space, Pakistan, Egypt, Algeria and Iraq. Among the lecturers are Dr Samina Ahmed, Project Director, South Asia, International Crisis Group, UK. Venue: Sanness Conference Room, 6th floor, C.J. Hambros pl. 2D, Oslo. Full programme (as a pdf-file).
• Lund conference on "The Future of Contextual Theology"
The Centre for Theology and Religious Studies at Lund University arranges a conference titled "The Future of Contextual Theology" 27–28 January 2005. It is a farewell conference in honour of Professor Aasulv Lande, Division of Missiology with Ecumenical Theology, and Manfred Hofmann, Systematic Theology, both of them are going to retire. During the conference Lande will lecture on "Christ and Buddha – hand in hand?", and Hofmann will lecture on "What is constant and what is variable in the Third World theology?"
• International Workshop on Asian Transnational Families in Singapore
An International Workshop on Asian Transnational Families is held in Singapore 2–4 February 2005. The workshop is organised by the Asian MetaCentre for Population and Sustainable Development Analysis (established in 2000 with funding from the Wellcome Trust, UK) and the Dept. of Geography, Singapore National University, in association with Asia Pacific Migration Research Network (APMRN) and International Geographical Union (IGU) Commission on Population and Vulnerability. Among papers to be presented one deals with "Bengali-speaking Transnational Families in Singapore", and another with "Bangladeshi Sylheti Families in UK". More information.
• Göteborg Conference on Negotiating Gender Justice
The Centre for Global Gender Studies at PADRIGU, Göteborg University, Sweden, arranges a conference on "Negotiating Gender Justice", 28 February – 2 March 2005. This conference focuses on gender relations in countries in the South and aims at exploring how meanings of gender justice are negotiated at all levels of society, in parliaments as well as in bedrooms. Out of the 12 guest speakers from the Third World two are Indian: Dr. Kumud Sharma from the Centre for Women's Development Studies, Delhi, and V. Geetha Asia College of Journalism, Chennai.
• Ahmedabad conference on Postmodernism, Globalisation and the Media
An international conference on "Postmodernism, Globalisation and the Media" will be held at the Mudra Institute of Communication (MICA) in Ahmedabad, India, 5–7 March 2005. The conference is jointly organised by Kogakuin University, Tokyo, Japan, and the University of Limerick, Ireland. The first International conference on Postmodernism was held at the Kogakuin University in March 2004, and was an overview of postmodernism with respect to science and humanities. The MICA conference would be an extension to the same with a focus on the arts and the media in the context of globalization.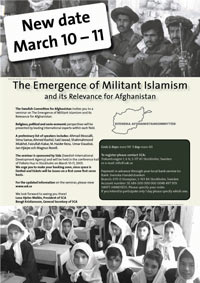 • Stockholm seminar on Militant Islamism in Afghanistan
An International Seminar on the "Emergence of Militant Islamism and its Relevance for Afghanistan" is held in Stockholm 10–11 March 2005. The seminar is arranged by the Swedish Committee for Afghanistan, with support from Sida. Invited speakers include Ahmad Moussalli, Sima Samar, Ahmed Rashid, Gilles Kepel, Jan Hjärpe and Magnus Norell. More information
• British Association for South Asian Studies meet at Leeds
The British Association for South Asian Studies (BASAS) organises its 2005 Annual Conference at the University of Leeds, UK, 30 March–1 April 2005. BASAS is the largest UK academic association for the study of India, Pakistan, Bangladesh, Sri Lanka, Nepal, Bhutan, Maldives and the South Asian Diaspora. Some of the panels accepted so far: "Nepali Identity in the Diaspora", "It's shining for some: an exploration of India's post-liberalisation middle classes", "Religion and Politics in Contemporary Pakistan", and "Maritime archaeology and ethnographic approaches in India". Professor Staffan Lindberg, Director of SASNET, will take part in the conference. Last date for registration: 25 February 2005. More information.
• Stanford conference on Afro-Asian Connections during the Twentieth Century
As part of the Empires and Cultures Workshop at the Stanford Humanities Center, Stanford University, the Center organises a two-day workshop/conference 14–15 May 2005, under the title "Bandung and Beyond: Rethinking Afro-Asian Connections during the Twentieth Century". This conference will mark the 50th anniversary of the Bandung Conference held in Indonesia in 1955 that brought together various leaders and intellectual figures from Africa and Asia to chart the trajectory of the early postcolonial world. Papers from the humanities and social sciences that address the historical repercussions of this event are welcome, though the organisers also broadly intend to gather together scholars that examines Afro-Asian relations and South-South connections generally. Information withdrawn (previously at http://ias.berkeley.edu/southasia/bandung.html).
• Gendering Asia Conference to be held in Kungälv
The first Gendering Asia Conference, organised by the Nordic Research Network Gendering Asia and the Centre for Asian Studies, Göteborg University, is held at Kungälv, north of Göteborg, 19–21 May 2005. The conference is planned to be an annual event highlighting recent Nordic developments in research on gender in Asia. Scholars and PhD students from any discipline working with topics related to the overall theme of Gendering Asia are invited to take part. Even though the conference especially addresses Nordic scholars and students or scholars based at Nordic institutes, non-Nordic scholars interested in this conference also are most welcome to submit an abstract. More information.

• Contemporary Dramas of South Asia theme for NASA conference in Aarhus
After a gap of four years the Nordic Association for South Asian Studies, NASA, arranges a conference 3–5 June 2005 in Aarhus, Denmark. The theme for the conference (that normally should be a biannual event) will be "Contemporary Dramas of South Asia: Economic, Social, Political and Cultural Changes/Upheavals", and it is organised by the University of Aarhus. The conference includes workshops on • Globalization, economic changes and socio-political upheavals; • States and minorities in South Asia; • Imagining Nations: middle classes and processes of nation formation in South Asia; • A South Asian security conundrum?; • Anti-oppressive movements; • Secularism in South Asia; and • Health, Globalization and Marginalization in South Asia. Keynote speakers are Dr. Christophe Jaffrelot, director of the Centre d'Etudes et Recherches Internationales (CERI), Paris; Professor Zoya Hasan, Centre for Political Studies, Jawarharlal Nehru University, New Delhi; Professor Martin Sökefeld, Dept. of Anthropology, Hamburg University; and Professor Isabelle Clark-Deces, Department of Anthropology, Princeton University. More information on the NASA conference.
• Kathmandu Conference on Sustainable Solid Waste Management in Developing Countries
An International Conference on Sustainable Solid Waste Management in Developing Countries, called "For a Better Tomorrow" is held in Kathmandu, Nepal, 6–12 June 2005. The conference – the first one to focus on local waste management issues in Nepal – is organized by DNet, an organization involved in the issue in Kathmandu, on behalf of Kathmandu University and the Swedish LAQUA group (involving the three universities of Kalmar, Lund and Kristianstad). Some regional institutes from other South Asian countries, as well as from Thailand and Europe will also take part. More information.
• Uppsala University arranges third Balochistan conference
The 3rd international conference on Balochistan with the theme "Pluralism in Balochistan" will be held in Uppsala 18–21 August 2005. Balochistan has throughout history been one of the important meeting points between the Indian Subcontinent and the Iranian Plateau. Today's Balochistan is divided between Iran, Afghanistan and Pakistan, and the conference wants to highlight various aspects of plurality in presentday Balochistan. Researchers are invited to present papers with a focus on socioeconomic, religious, linguistic, literary and cultural plurality in Balochistan. The conference is organised by the Iranian Studies division at the Department of Linguistics and Philology, Uppsala University. More information (as a pdf-file)
• Drainage Basin Management theme for 2005 World Water Week
The 2005 World Water Week will take place in Stockholm, Sweden, 21–27 August. The annual World Water Week in Stockholm has become a valuable meeting point and platform for the world's water community, and includes topical plenary sessions and panel debates, scientific Stockholm Water Symposium workshops, seminars and side events organised by different international organisations, exhibitions and festive prize ceremonies honouring excellence in the water field. Usually a large number of the delegates come from South Asia. Abstracts for presentation are accepted until 1 February. The overall theme for the 2005 World Water Week is "Drainage Basin Management. Hard and Soft Solutions in Regional Development." More information on on the World Water Week web site.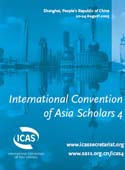 • Fourth International Convention of Asia Scholars to be held in Shanghai
The Fourth International Convention of Asia Scholars (ICAS) will be held 20–24 August 2005 in Shanghai, China. ICAS 4 is hosted by the Shanghai Academy for Social Sciences (SASS) and is expected to draw more than 1 500 specialists in the field of Asian Studies, hereby being one of the largest regular gatherings of scholars whose research centers on Asia and/or Asians, especially in the humanities and social sciences.
• 14th Conference of the International Association of Buddhist Studies in London
The 14th Conference of the International Association of Buddhist Studies will held in London, 29 August – 3 September 2005. The Conference, hosted by the School of Oriental and African Studies (SOAS, University of London) and the British Museum, includes panels on issues like "Studies of Gandharan Buddhist Manuscripts", "The Art History of Early Indian Buddhism", "Buddhist Sanskrit Manuscripts from Central Asia", and "Newar Buddhism".
• Insecurity and Development theme for EADI conference in Bonn
The 11th General Conference of the Association of Development Research and Training Institutes (EADI) will be held in Bonn, Germany, 22–24 September 2005. The conference theme is "Insecurity and Development – Regional Issues and Policies for an Interdependent World", and will be hosted by the German Development Institute (GDI) and organized in partnership with SID Europe, Capacity Building International (INWENT), the Centre for Development Studies, Bonn and the Centre for International Co-operation Bonn (CIC Bonn). More information.
• Ninth Conference of the European Society for Central Asian Studies in Krakow
The Ninth Conference of the European Society for Central Asian Studies (ESCAS) is held at the Jagiellonian University in Krakow, Poland, 12–14 September 2005. The theme for the conference, co-organized by the Institute of Oriental Philology of the Jagiellonian University and the Foundation "Institute for Strategic Studies", will be "Central Asia: The Local, the Regional and the Global". Panels and paper topics relating to all aspects of humanities and social sciences on Central Asia are welcome in particular such as: * history & archaeology; * sociology & anthropology; * language & literature; * religion & philosophy; * folklore studies & ethnography; * civil society & human rights; * political sciences & economics; * environment & development; * regional, cross-regional & trans-national studies. The geographic domain of Central Asia according to the definition of the ESCAS includes the northern parts of Afghanistan. More information.

• Dhaka conference on Mainstreaming Ageing in Health Systems and Rural Development
An International Conference on "Mainstreaming Ageing in Health Systems and Rural Development" is held in Dhaka, Bangladesh 28–30 November 2005. The conference is organised by the European Commission-funded PHILL (Primary Health-Care in Later Life: improving services in Bangladesh and Vietnam) group including the Division of Geriatric Epidemiology at Karolinska Institutet Medical University. The other partners in the research consortium are BRAC Research & Evaluation Division, Health Strategy and Policy Institute (HSPI), Bangladesh; the Health Strategy and Policy Institute, Vietnam; and the Overseas Development Group (ODG), University of East Anglia, UK. Venue: Dhaka Hotel Sheraton. More information on the conference.
• First circular for 19th European Conference of Modern South Asian Studies
The 19th European Conference of Modern South Asian Studies (ECMSAS) will be held at Leiden University, the Netherlands, 27–30 June 2006. Panel suggestions are now invited, and should be given before 1 June 2005. Read the first announcement for the conference (as a pdf-file)
• Other conferences connected to South Asian studies arranged all over the World
See SASNET's page, http://www.sasnet.lu.se/conferences.html#conf
• Swedish pavilion at the 30th Kolkata Book Fair
The 30th Kolkata Book Fair, the largest book fair in Asia, will be inaugurated on 25 January 2005 and last for 12 days. France is the focal theme for this year's event but there will also for the first time be a Swedish pavilion at the fair, maintained by staff from the Swedish embassy in New Delhi. Swedish writers presently on tour in India will also be present, among them the poet Lars Andersson. More information on the Kolkata Book Fair 2005.

• Indian and Swedish writers meet at conference in Bangalore
The Indo-Swedish Translation Project arranges a conference titled "Sambandh: Relating Distant Worlds" in Bangalore, India, 2–5 February 2005. The conference dealing with the exchange of literature and translation betwen Sweden and India will be inaugurated by the Swedish ambassador to India, Ms Inga Eriksson-Fogh, at a ceremony on Wednesday, 2 February. Venue: Hatworks Boulevard, Cunningham Road, Bangalore.
During the four-days conference approximately fifty Indian and Swedish writers, translators and publishers will present papers and discuss questions of literature and the task of translating books between distant cultures and languages. Among the participants are the famous Kannada writer U R Anantha Murthy, the Malayalam poet, and secretary of Sahitya Akademi, K Satchidanandan, Anita Agnihotri, social activist writing prose and non-fiction in Bengali, the young short story writer in Kannada Jayant Kaikini. Swedish participants include novelists Agneta Pleijel, Stewe Claeson and Lars Andersson and poets like the well established Arne Johnsson and the very young Asa Ericsdotter.
During the conference there will be two public events, a reading of poetry and prose in original and translation by some fifteen writers, and a preview of a new theatre production directed by Prasanna, "Cupid's Arrow", based on texts by August Strindberg, Henrik Ibsen and Rabindranath Tagore, adapted by Zac O'Yeah. See the full programme for the Bangalore conference.
New and updated items on SASNET web site
• More Swedish departments where research on South Asia is going on:
Added (and updated) to the list of research environments at Swedish universities, presented by SASNET. The full list now includes 140 departments. Go to the presentation page.
ƒ Division of Urban Planning, Department of Infrastructure, Royal Institute of Technology, Stockholm

ƒ Program for Contemporary Silk Road Studies, Uppsala University
• Tsunami Newsletter updated
SASNET distributed an extra newsletter on 30 December 2004 because of the terrible tsunami disaster that hit the countries around the Bay of Bengal. The newsletter page gives information on where to find news and information on relief operations. There is a link to the special tsunami web site, NIAS Asia Insights Portal, set up by the Nordic Institute of Asian Studies in Copenhagen (providing background information and analysis on Tsunami disaster). We also offer links to articles on the catastrophy by Amitav Ghosh and M S Swaminathan, published in The Hindu, Chennai. Go to SASNET's Tsunami Newsletter.
• Several new articles recommended for reading
Look at http://www.sasnet.lu.se/recreading.html for suggestions on interesting new articles on South Asia in International media. New items added.
---
Best regards,

Staffan Lindberg Lars Eklund

SASNET/ Swedish South Asian Studies Network
SASNET is a national network for research, education, and information about South Asia, based at Lund University. The aim is to encourage and promote an open and dynamic networking process, in which Swedish researchers co-operate with researchers in South Asia and globally.
The network is open to all sciences. Priority is given to co-operation between disciplines and across faculties, as well as institutions in the Nordic countries and in South Asia. The basic idea is that South Asian studies will be most fruitfully pursued in co-operation between researchers, working in different institutions with a solid base in their mother disciplines.
The network is financed by Sida (Swedish International Development Cooperation Agency) and by Lund University.

Postal address: SASNET – Swedish South Asian Studies Network, Scheelevägen 15 D, S-223 63 Lund, Sweden
Visiting address: Ideon Research Park, House Alfa 1 (first floor, room no. 2042), in the premises of the Centre for East and South East Asian Studies at Lund University (ACE).
Phone: + 46 46 222 73 40
Fax: + 46 46 222 30 41
E-mail: sasnet@sasnet.lu.se
Web site: http://www.sasnet.lu.se
Staff: Staffan Lindberg, director/co-ordinator & Lars Eklund, webmaster/deputy director
Back to SASNET


---