SWEDISH SOUTH ASIAN STUDIES NETWORK

---

Newsletter 57:
17 November 2005

• 19 applications for SASNET Planning grants
19 applications were received for the Second Round of SASNET Planning Grants 2005. Last date for applications was 15 November 2005. Out of the 19 applications 14 refer to networking for new research programmes/projects, one to continued networking for research programme, and four to networking for new education programmes/projects. Total amount applied for is 1.61 Million SEK, whereas the amount available to distribute is approximately 475.000 SEK. Decisions will be taken on 14 February 2006. More information.
• Applications for the next round of SASNET planning grants
are now invited. Closing date for applications is 15 June 2006. More information.
• SASNET Appeal for the Earthquake victims
As a reaction to the more and more desperate calls for help from the victims of the 8 October earthquake in Kashmir, members of SASNET's board and its personnel hade signed an appeal, now published on SASNET's web site. The appeal, dated 17 November 2005, is titled: "The earthquake: Don't let them die – there is no valid excuse" and urges every one of us to take the moral duty to help people in need. Read the appeal. See also SASNET's page on the earthquake.
• Contact journey to East and North-East India, Bangladesh, Bhutan and Nepal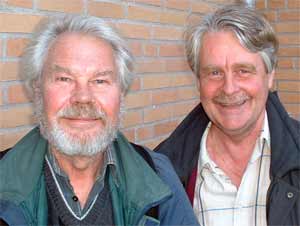 From 18 November till 19 December 2005 SASNET's director, Professor Staffan Lindberg, and the deputy director/webmaster Lars Eklund will make another contact tour to South Asia. It will be the third and final in a row to cover differents parts of the region, and with the aim to spread information about SASNET and higher institutions of learning in Sweden. The ambition is to promote researcher cooperation and student exchange, and a great number of universities and institutes will be visited. The planning is made in close contact with researchers already interacting with SASNET, in Sweden as well as in South Asia. The first SASNET contact tour was made in the Spring 2002, to the Maldives, Sri Lanka, India and Bangladesh. Read the reports from the first journey. The second SASNET contact tour was made in November-December 2003, to Pakistan and Afghanistan. Read the reports from the second journey. The 2005 tour will go to East and North-East India (Kolkata, Bhubaneshwar, Patna, Siliguri, Guwahati and Shillong); Bangladesh (Dhaka, Savar, Chittagong, Rajshahi and Sylhet); Bhutan (Phuntsholing, Thimphu and Paro); and Nepal (Kathmandu). Read their detailed travel itinerary (as a pdf-file)
• Staffan lectures at the Asiatic Society in Kolkata
Staffan Lindberg will give a lecture at the prestigeous Asiatic Society in Kolkata, India, on Monday 21 November 2005, 16.00. the lecture is titled "In Wet and Dry – 25 years of Change in Rural South India", and is based on his and colleaagues' ongoing research project in the Cauvery river region in the South Indian state of Tamil Nadu.
• Saraswati Raju held SASNET lecture on Gender and Poverty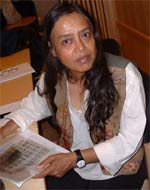 Professor Saraswati Raju from the Centre for the Study of Regional Development, Jawaharlal Nehru University, New Delhi, India, gave a SASNET lecture at Lund University on Tuesday 8 November 2005, 10.15–12.00. Prof. Raju who is a geographer (photo to the right) lectured on "Gender, Poverty and Labour Market in Rural India in the context of Globalization", focusing on the very low number of officially reported working women in North India compared to South India, irrespectively of poverty rates and ecological factors. She argues that this has to do with a ruling preference within the patriarchal social structure of the Gangetic plains, that women if possible should not work. It explains why the ratio of working women is equally low in the poor state of Bihar and the rich state of Haryana, and in wheat-growing Punjab and rice-growing West Bengal. Saraswati Raju had come to Sweden to participate in the GADNET Workshop, held in Uppsala 10–11 November. Venue for the SASNET lecture: Conference room, Centre for East and South-East Asian Studies, Scheelevägen 15 D. More information (as a pdf-file).
• Frank J. Korom gives SASNET lecture on Bengali scroll painters
Professor Frank J. Korom from the Dept. of Religion, Boston University, USA, holds a SASNET lecture at Lund University on Monday 19 December, 14–16. Korom will talk about " Singing Modernity: Bengali Scroll Painters Confront Globalization", based on four years of field work among Patuas, a community of itinerant scroll painters/singers residing in Medinipur District, West Bengal, India. here impoverished artists adapt to modernity, and expand their repertoires to contemporary social and political issues (such as communal violence in India, religious identity, HIV prevention, and even 9/11 and the recent tsunami). Venue: Room 438, Centre for Theology and Religious Studies, Allhelgona Kyrkogata 8, Lund. More information.

• Call for papers to The 19th European Conference on Modern South Asian Studies
The 19th European Conference on Modern South Asian Studies (ECMSAS) will be held 27–30 June 2006 in Leiden, the Netherlands. The Dept. of South Asian Studies at Leiden University will host the conference with organisational assistance from the International Institute of Asian Studies, IIAS, also based in Leiden. The First Call for Papers has now been published and a list of the 39 panels approved for the conference (a couple of more panels are still under consideration). Deadline for sending abstract is 1 March 2006, and a limited number of travel grants will be available for paper presenters and/or panel organizers from developing countries. The conference will be held in Leiden University's Lipsius Building at Cleveringaplaats 1. More information on the conference web site.
• WHO publishes report on Violence Against Women
The World Health Organisation WHO publishes a report on Violence Against Women on Monday 23 November 2005. The report is the most extensive being done so far, has taken seven years to complete, and is based on interviews with 24 000 women in 10 countries around the Globe. It is published simultaneously in London, Bangkok and Stockholm. The Swedish Development Cooperation Agency, Sida, has supported the project from the beginning, and Prof. Lars-Åke Persson, International Maternal and Child Health (IMCH), Department of Women's and Children's Health, Uppsala University, has been responsible for the research work made in Bangladesh. More information regarding a press conference to be held at Sida on 23 November (in Swedish only).
• Sida/SAREC funding to South Asia related research projects
Sida/SAREC's Developing Country Research Council (U-landsforskningsrådet) has decided upon grants for support to Swedish developing country research during the period 2006-08. 25 South Asia related research projects has got funding for a period up to three years, according to a preliminary list presented on 20 October 2005. Among the South Asia related researchers that have got maximum funding are Dr. Gunnel Cederlöf, Dept. of Cultural Anthropology and Ethnology, Uppsala University (for a project on "The Environmental History of Law. State making and land conflicts in colonial India") and Dr. Per Hilding, Dept. of Economic History, Stockholm University. Go for the final grants list (as an Excel-file)
• Swedish Research Links grants to South Asia related research projects
Swedish Research Links grants for the period 2006-08 were decided upon for a large number of Asia related research projects in October 2005. Sida and the Swedish Research Council initiated the Swedish Research Links programmes in 2002, and within this framework the Asian–Swedish Research partnership programme specifically aims to stimulate contacts between Swedish researchers and researchers in Asia. Seven of the approved projects directly relate to South Asia, including a project led by Prof. Alasdair Skelton, Dept. of Geology and Geochemistry, Stockholm University, on "Monitoring the effect of seismic activity on groundwater chemistry in North Eastern India", and a project led by Dr. Mannan Mridha, Dept. of Applied Information Technology (2IT), KTH School of Information and Communication Technology (ICT), Campus IT University in Kista, on "Design and development of portable medical device for application in the developing countries". Go to the Swedish Research Council's list of applications, approved and rejected (as a pdf-file).
• Linnaus Palme grants to 29 South Asia related educational programmes
SASNET has presented a list of the 29 educational South Asia related programmes that have been given Linnaus Palme grants for 2005-06. The fifth round of applications for Linnaus Palme grants, for the contract period 1 July 2005– 30 June 2006, were decided upon by the International Programme Office for Education and Training on 10 May 2005. Nine of the programmes are new for this year. See our list on South Asia related projects.
• Åsa Hole defends dissertation on Hindu women in the Diaspora
Åsa Hole from the Dept. of Cultural Anthropology and Ethnology, Uppsala University, will defend her doctoral dissertation on "Neither Here – Nor There. An Anthropological Study of Gujarati Hindu Women in the Diaspora" on Thursday 15 December 2005, 10.00. Faculty opponent will be Dr. Frank Korom from Boston University, USA. Venue: Geijersalen, Engelska Parken, House 6, Uppsala. More information on Åsa Hole's thesis project.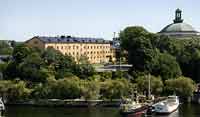 • Museum with large South Asia collections may be closed down
The Museum of Far Eastern Antiquities in Stockholm, housing large South Asia collections, is threatened by closure. Drastically reduced government funding means that the museum, along with a number of other museums in Stockholm, may be amalgamated if not totally closed down. The staff at the museums protest against what they consider to be a waste of capital. More information.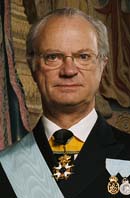 • University rectors participate in Royal Technology Mission to India
The Royal Swedish Academy of Engineering Sciences (Ingenjörsvetenskapsakademien, IVA) organises the Royal Technology Mission to India, 19–26 November 2005. Since 1984 IVA has organised study tours on a regular basis under the heading "Royal Technology Mission" (RTM). As Patron of the Academy, His Majesty the King of Sweden (photo to the left) participates in these tours. Among the other participants in the India tour are Anders Flodström, Rector at the Royal Institute of Technology (KTH), Stockholm, Jan-Eric Sundström, Rector at Chalmers University of Technology, Göteborg, and the Swedish University Chancellor Sigbrit Franke. The main objectives behind the RTM 2005 trip, focusing on the Delhi and Bangalore areas, is to gather experience and new ideas from industry/academia collaborations, science and research programmes; establish contacts between representatives of industry and academia in India and Sweden; exchange views and information on important trends in technology, economy and business development; and explore opportunities for future collaborations. More information on IVA.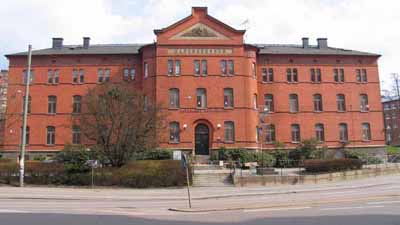 • Time to inaugurate School of Global Studies at Göteborg University
Several South Asia related departments and centres for regional studies at Göteborg University moved location in late August 2005, and are jointly administered within the framework of the new School of Global Studies at Göteborg University (SGSGU). It is part of an effort to coordinate global studies across disciplinary and regional limitations. The South Asia related departments/centres moving are: The Dept. of Peace and Development Studies, PADRIGU; the Dept. of Social Anthropology; the Centre for Asian Studies, CEAS; the Centre for Global Gender Studies; the Centre for Middle Eastern Studies; and the Section of Human Ecology. They have moved to what is now known as "Campus Linné", in three imposing old buildings, namely Annedalseminariet (Övre Husargatan 34), KK 2 (Konstepedimins väg 2, photo above)), and Rektorsvillan (Seminariegatan 1). A formal opening ceremony will be held on Wednesday 30 November 2005, from 10.15. All interested are welcome to participate. SGSGU is officially opened by Vice-Chancellor Gunnar Svedberg at 15.00.
• Invitation for Postdoctoral Fellowship in Amsterdam
The Amsterdam School for Social Science Research (ASSR) of the University of Amsterdam invites applications for a Two-year Postdoctoral Fellowship for the project "Moving between Legal Systems: South Indian Women as Domestic Workers in Dubai". The ASSR has initiated an integrated multidisciplinary research program, entitled "Illegal but Licit: Transnational Flows and Permissive Polities in Asia" (see summary below) with financial support from the Foundation for Scientific Research of the Tropics (WOTRO) and ASiA-IIAS programme (Asian Studies in Amsterdam - International Institute for Asian Studies). The program will be implemented by three postdocs and one Ph.D. candidate. More information.
• Maximum number of Indian students in the U.S, but less Pakistanis
Open Doors 2005, a report published by the Institute of International Education (the leading not-for-profit educational and cultural exchange organization in the United States) informs that India remains the leading sending country to U.S. higher education institutions. 80 466 Indian students were studying in the U.S. in 2004, almost the same as the year before. Among the 25 countries that top the list another two are South Asian, Pakistan and Nepal. 6 296 Pakistani students were enrolled to American universities during 2004. That is a drastic reduction by 14% compared to the previous year. The number of Nepalese students was 4 861, an increase by 10.9%. More information.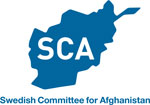 • Stockholm Conference on Democracy in Afghanistan
The Swedish Committee for Afghanistan, SCA, organises a two-day Internationel Conference on "Afghanistan – A Developing Democracy or an Occupied Nation", 18–19 November 2005. Several prominent researchers, journalists and politicians will discuss the political situation in Afghanistan, four years after the Bonn agreement. Among the participants are the Minister of Women's Affairs Massouda Jalal; the Pakistani journalist Ahmed Rashid; Andrew Wilder from the Afghanistan Research & Evaluation Unit; the writer Nancy Dupree; Prof. Barnett Rubin and the researcher Humyoum Hamedzada from New York University; and Aziz Rafiee, Director for the Afghan Cicil Society Forum. More information (only in Swedish).
• Islamabad conference on Women and Politics in Asia
The 3rd International Conference on "Women and Politics in Asia" will be held in Islamabad, Pakistan, on 24–25 November 2005. The theme of the Conference will be "Discovering the Gender Face of Politics". It is the third conference of its kind which started with the June 2003 conference in Halmstad, Sweden, and continued in the November 2004 conference in Colombo, Sri Lanka. Significant outcomes of both conferences have been an email network/database of international scholars, academics and practioners and two upcoming book publications based on the papers presented in 2003 and 2004. The aim of the 2005 Conference is to study different dimensions of Asian women in politics and examine the gender face of politics and implication of gender in the political life in Asian countries. The Conference is organised by the Pakistani NGO The Researchers, with support from Halmstad University and the University of Duisburg-Essen, Germany. It is multi- and cross-disciplinary in approach and invites contributions from social sciences and humanities from all parts of the world.
• New Delhi conference on Women, Work and Health
The Fourth International Congress on Women, Work & Health (WWH) is arranged in New Delhi, India, 27–30 November 2005. The conference is organised by the Indian Society For Working Life in collaboration with the Swedish National Institute for Working Life (Arbetslivsinstitutet). Previous WWH conferences have been held in Barcelona 1996, Rio de Janeiro 1999 and in Stockholm 2002. Keynote speakers representing both academia and practitioners will initiate debate and open-ended, thought provoking discussions on the issues which form the main themes of the Congress, and for the first time short films/video sessions have been initiated. More information.
• Dhaka conference on ageing in health systems


An International Conference on "Mainstreaming Ageing in Health Systems and Rural Development" is held in Dhaka, Bangladesh 28–30 November 2005. The conference is organised by the European Commission-funded PHILL (Primary Health-Care in Later Life: improving services in Bangladesh and Vietnam) group including the Division of Geriatric Epidemiology at Karolinska Institutet Medical University. The other partners in the research consortium are BRAC Research & Evaluation Division, Health Strategy and Policy Institute (HSPI), Bangladesh; the Health Strategy and Policy Institute, Vietnam; and the Overseas Development Group (ODG), University of East Anglia, UK. Venue: Dhaka Hotel Sheraton. More information on the conference.
• 11th Himalayan Languages Symposium in Bangkok
The 11th Himalayan Languages Symposium will be hosted by the Department of Linguistics, Faculty of Arts, Chulalongkorn University, Bangkok, Thailand, on 6–9 December 2005. The Himalayan Languages Symposia (HLS) brings together scholars working on languages and language communities of the greater Himalayan region, including north-western and north-eastern India, Nepal, Bhutan, northern Burma, the Tibetan Plateau, southern China, and Nuristan, Baltistan and the Burushaski-speaking area in the west. The previous HLS was held in Thimphu, Bhutan, in December 2004.
• SDPI holds its Eighth Sustainable Development Conference in Islamabad
The Sustainable Development Policy Institute (SDPI) in Islamabad, Pakistan is holding its Eighth Sustainable Development Conference (SDC) 7–9 December 2005. Each SDC is designed to be a forum for sharing and exchanging dialogues on sustainable development with practitioners, civil society and policy-makers, and some 150 panelists from 18 countries participated in the Seventh SDC held in December 2004. Venue: Best Western Hotel, Islamabad. More information.
• Kelaniya University host for 10th Conference on Sri Lankan Studies
The 10th Conference on Sri Lankan Studies (10th ICSLS) will be held 16–18 December 2005 at the Kelaniya University, Sri Lanka. The theme is "Sri Lanka after 500 Years of Western Colonization and Future Perspectives", and the conference will be hosted by the Social Science Research Center of the University of Kelaniya. The conference will provide a forum to present and discuss in a scholarly enviornment, studies conducted and thoughts to guide the future directions of research on the past, and contemporary society in Sri Lanka as well as the Sri Lanka in a global context. More information.
• Second Anand Conference on Fermented Foods
The Second International Conference on "Fermented Foods, Health Status and Social Well-being" is held in Anand, Gujarat, India, on 17–18 December 2005. The conference is organized by the Swedish South Asian Network on Fermented Foods, in association with Anand Agricultural University, Institute of Rural Management, Anand, and the Dept. of Applied Nutrition, Lund University, Sweden. A previous conference, partly funded by a SASNET planning grant, was held in Anand 13–14 November 2003. It was attended by about 165 participants, most of them from India, but also from Sweden, Denmark, Australia, USA, Nepal, Sri Lanka and Bangladesh. More information on the new conference (as a pdf-file).
• New Delhi conference on Religions and Cultures in the Indic Civilisation
The Second International Conference on Religions and Cultures in the Indic Civilisation will be held in New Delhi, India, 17–20 December 2005. The conference is organised by the Indic Studies Network (IsNew), based at the Centre for the Study of Developing Societies, New Delhi, in collaboration with Manushi, a journal about Women and Society. The first conference on Religions in the Indic Civilisation was successfully held in December 2003 and brought together, for the first time, a diverse group of scholars working in the field of Indic religions and cultures, including, Jainism, Buddhism, Neo-Buddhism, Zoroastrianism, Christianity, Islam, Sikhism and Hinduism as well as their various sects, cults and branches. The enthusiastic response from a large cross section of academics, both within India and abroad led to the formation of IsNew. Venue: India Habitat Centre, New Delh. More information on the 2005 conference.
• Kathmandu conference on Sustainable Solid Waste Management
An International conference on Sustainable Solid Waste Management in Developing Countries, called "For a Better Tomorrow" is held in Kathmandu, Nepal, 8–12 January 2006. The conference – the first one to focus on local waste management issues in Nepal – is organized by DNet, an organization involved in the issue in Kathmandu, on behalf of Kathmandu University and the Swedish LAQUA group (involving the three universities of Kalmar, Lund and Kristianstad). Some regional institutes from other South Asian countries, as well as from Thailand and Europe will also take part. More information.
• CSSS organises Eleventh Cultural Studies Workshop in Goa
The Centre for Studies in Social Sciences, Kolkata, India holds its Eleventh Cultural Studies Workshop with the broad theme "Cultures of the Body", in Goa, India, 23–28 January 2006. The workshop is organised in collaboration with the Ford Foundation (India) and the Dutch research programme SEPHIS (The South-South exchange programme for research on the history of development). Among issues that the workshop will address are the relationship between the body and social spaces (such as work, leisure, or the space of the city); and bodily practices and changing definitions of the self (as in caste, religious or feminist movements).
• Nordic workshop on "War and Peace in Sri Lanka in Uppsala
A Nordic workshop on "War and Peace in Sri Lanka" will be held in Uppsala, 26–27 January 2006. The workshop is organised by the Dept. of Peace and Conflict Research, Uppsala University, and is open for for scholars in the Nordic research environments. The aim is to bring together scholars working on issues related to the violent and longstanding conflict in Sri Lanka. For more information contact Dr. Kristine Höglund.
• Antwerpen conference on industrialization of China and India
An International workshop on "The rapid industrialization of China and India: Domestic and International Consequences" is held at at the University of Antwerpen, Belgium, 31 March – 1 April 2006. Papers can either treat the rapid industrialisation of China and India, and the consequences for these countries and the rest of the world, including other Asian, African and Latin American countries. The workshop is organised by Antwerpen University's Institute of Development Policy and Management, and the Universiteit Antwerpen Management School, in cooperation with EADI (European Association of Development Research and Training Institutes) Working Group "Industrialisation Strategies", dealing with industrial development in the Third world. If you are interested to participate and present a paper based on your research, addressing theoretical, empirical and policy issues related to this theme, the organisers want an outline before 25 November 2005. More information.
• Other conferences connected to South Asian studies arranged all over the World
See SASNET's page, http://www.sasnet.lu.se/conferences.html#conf
Important lectures and workshops
• Malmö lecture on Arsenic contamination in Bangladesh
Dr. Abul Hasnat Milton from the University of Newcastle, Australia, lectures at a seminar on Global Health, held in Malmö on Thursday 24 November 2005, 14.00–16.00. Dr. Milton, who is a public health physician from Bangladesh presently working as a Senior Lecturer of Epidemiology at the Centre for Clinical Epidemiology and Biostatistics (CCEB) at the University of Newcastle, Australia, will lecture on "Arsenic contamination in drinking water: A public health problem in Bangladesh". He has conducted studies in Bangladesh on chronic arsenic exposure and its effects on pregnancy outcomes, respiratory effects and role of nutritional status on arsenic toxicity. The seminar is organised by the Division of Social Medicine and Global Health, Dept. of Health Sciences, Lund University in Malmö. Venue: Lilla Aulan, Medical Research Center, Entrance 59, University Hospital of Malmö. More information (as a pdf-file).
• Iqbal Day celebrations 2005 in Copenhagen
The Iqbal Academy Scandinavia arranges two seminars in connection with the Iqbal Day celebrations 2005 in Denmark. The seminars are organised in collaboration with Iqbal Academy in Pakistan, and will be held on 25 and 26 November 2005. The director of Iqbal Academy Pakistan will be the Chief Guest in both the functions. Venue: Taastrup Medborgerhuset and Hotel Admiral in Copenhagen. More information (as a pdf-file)
• NIAS presents its activities at Lund University
The Nordic Institute of Asia Studies, NIAS, arranges a presentation meeting at Lund University, on Tuesday 6 December 2005, 14.00–18.00. The seminar is called "Asia Insights – at your service", and focuses on the research activities carried out by NIAS in Copenhagen. Prof. Roger Greatrex, Centre for East and South-East Asian Studies, Lund University, will make an introductory speech on the collaboration between Lund University and NIAS. Presentations will also be made about NIASlinc, a comprehensive Western-language library and information centre on contemporary Asia; the publishing enterprise NIASpress; and the scholarship programme NIASsupra. Venue: Crafoordsalen, EC1, School of Economics and Mangement, Tycho Brahes väg 1, Lund.
• Kolkata seminar on Changing face of South Asia
A Seminar on "The Changing face of South Asia: Society, Culture & Environment?" will be held in Kolkata, India, on Tuesday 13 December 2005, 14–17. It is organised by the Centre for Built Environment (CBE) in Kolkata. Prof. Staffan Lindberg, SASNET's Director, will be the keynote speaker. Venue: Academy of Fine Arts, Cathedral Road, Kolkata. More information from the CBE President, Professor Santosh Ghosh.
• Political Extremism in Pakistan and Bangladesh theme for BASAS annual workshop 2005


BASAS Annual workshop 2005 is entitled "Religious Revivalism and Political Extremism in Pakistan and Bangladesh", and will be arranged in London, UK, on Friday 16 December 2004. It is organised by the British Association for South Asian Studies (BASAS), in conjunction with the Politics of South Asia Specialist Group of the Political Studies Association (PSA) and the South Asia Programme of the International Institute for Strategic Studies (IISS). The workshows draws on the success from the previous BASAS workshop (dedicated to the issue of "Chauvinism in South Asia" held in Bristol in November 2004. Venue: IIAS, Arundel House, 13–15 Arundel Street, Temple Place, London. More information.
• Sida seminar on post-tsunami experiences
The Swedish International Development Cooperation Agency Sida arranges a seminar on "One year of post-tsunami work – what have we learnt?" on Tuesday 20 December 2005. It will be a learning seminar and a platform for sharing of experiences amongst stakeholders. It will take stock of some of the lessons learned from the first year of post tsunami support. The Tsunami Evaluation Coalition (TEC), an international initiative aiming to promote joint learning, will present their preliminary findings and this will be followed by experts and participants deliberating on two main themes: how to build back better after the tsunami and coordination and harmonisation. Among the special invitees are Dr. Camilla Orjuela from the Dept. of Peace and Development Studies, Göteborg University, and J.C. Weliamuna, Executive Director for Transparency International, Sri Lanka. Participants should register before 25 November. Venue: Stora Hörsalen, Sida Head Office, Sveavägen 20, Stockholm. More information on the seminar.
South Asia related culture in Scandinavia
• Mynta tours five Indian cities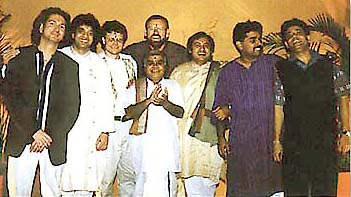 Mynta, the Indo-Swedish group including the Indian musicians Fazal Qureshi (brother of Zakir Hussain) and Shankar Mahadevan will make a tour to India 15–29 November 2005. The group offers an exciting mixture of Indian and African music mixed with Arabian clang, jazz and Swedish folk songs, and will perform in New Delhi, Mumbai, Chennai, Ahmedabad and Kolkata. Bombay, Madras, Ahmedabad och Calcutta. In the first two mentioned cities they will participate in the festival JAZZ UTSAV 2005. On Friday 25 November they will give a special concert in New Delhi, in connection with the official visit to India by the Swedish king Carl XVI Gustaf and a delegation from the Royal Swedish Academy of Engineering Sciences, IVA. More information.

• Tibetan monka make mandalas in Swedish cities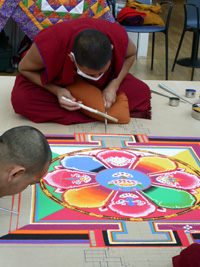 Four Tibetan monks from Tashilunpo Monastery in Karnataka, India, now visits Sweden to participate in "Mandala – Project for Tibet". Lobzang Zodpa, Lobzang Tsultrim, Lobzang Thukjee and Ngawang Lobzang have been invited by IM, Individuell Människohjälp in Lund, and during the period 1–9 November they created a Mandala by coloured sand at the Municipal Library in Malmö, the week after theyt are doing the same thing at the Municipal Library in Lund, and the following week they are repeating it also in Göteborg. After completion the wonderful piece of art is always wiped out and the sand scattered in the canal or nearby sea. Several lectures on Tibet and India also accommodate the monks' visit to the three cities, including a a lecture being held at Lund University.
Another group of Tibetan monks meanwhile come to Stockholm, and during the period 22–24 November they are making a mandala at the Museum of Far Eastern Antiquities in Stockholm. More information on the Stockholm mandala making (only in Swedish).
• Swedish documentary film about Vandana Shiva
The Swedish documentary film makers PeÅ Holmquist and Suzanne Khardalian has made a film called "Bullshit", that had its premiere simultaneously in six Swedish cities in the middle of November 2005. The film, distributed by Folkets Bio, portrays the Indian environmental activist, and originally nuclear scientist, Vandana Shiva and her fight against the multinational agro-business companies. More information.
---
Best regards,
Staffan Lindberg Lars Eklund
SASNET/ Swedish South Asian Studies Network
SASNET is a national network for research, education, and information about South Asia, based at Lund University. The aim is to encourage and promote an open and dynamic networking process, in which Swedish researchers co-operate with researchers in South Asia and globally.
The network is open to all sciences. Priority is given to co-operation between disciplines and across faculties, as well as institutions in the Nordic countries and in South Asia. The basic idea is that South Asian studies will be most fruitfully pursued in co-operation between researchers, working in different institutions with a solid base in their mother disciplines.
The network is financed by Sida (Swedish International Development Cooperation Agency) and by Lund University.

Postal address: SASNET – Swedish South Asian Studies Network, Scheelevägen 15 D, S-223 70 Lund, Sweden
Visiting address: Ideon Research Park, House Alfa 1 (first floor, room no. 2042), in the premises of the Centre for East and South East Asian Studies at Lund University (ACE).
Phone: + 46 46 222 73 40
Fax: + 46 46 222 30 41
E-mail: sasnet@sasnet.lu.se
Web site: http://www.sasnet.lu.se
Staff: Staffan Lindberg, director/co-ordinator & Lars Eklund, webmaster/deputy director
Back to SASNET


---