SWEDISH SOUTH ASIAN STUDIES NETWORK

---
Newsletter 68:
11 December 2006
• SASNET workshop in Stockholm


SASNET successfully held a two-day workshop on the "Role of South Asia in the Internationalisation of Higher Education in Sweden" at Nobel Forum, Karolinska Institutet in Stockholm 28-29 November 2006.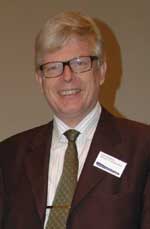 It was jointly organised by SASNET, Karolinska Institutet Medical University and the Swedish Institute, and involved sessions with representatives from 20 Swedish universities, and from the International Programme Office for Education and Training; the Swedish National Agency for Higher Education; STINT; the Government ministries of Education and Foreign Affairs; and the South Asian embassies in Stockholm. Two invited guests from South Asia also gave inspiring and critical talks, the scientist Rubhana Raqib from ICDDR,B in Dhaka, Bangladesh (more information about Dr. Raqiib); and the journalist/researcher in Didactics, Sunandan Roy Chowdhury from Kolkata, India (more information about Mr. Chowdhury). The workshop focused on experiences from masters and PhD programmes in Sweden as well as in South Asia, with an aim to promote increased academic exchange with South Asia. Many of the workshop presentations are now available as pdf-files. Among the prominent participants were Erland Ringborg (photo to the right) from the Ministry of Foreign Affairs (and former Head of the Swedish Institute). In January 2006 he wrote an official report on the issue of introducing university fees for foreign students in Sweden. The conference was inaugurated by Lars Leijonborg, Minister of Education, Government of Sweden. More information about the workshop.
• Well-attended SASNET seminar on the conflict in Afghanistan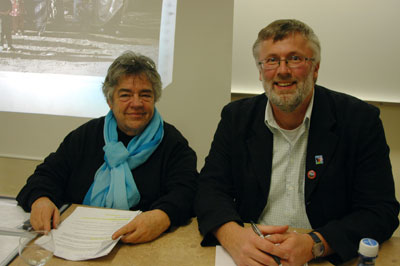 The Danish journalist Eva Arnvig held a SASNET lecture about "Afghanistan: Warlords, Taliban or who will rule in the future?" in Lund on Wednesday 29 November 2006. The event was organised in collaboration with the the Association of Foreign Affairs at Lund University and the Swedish Committee for Afghanistan (SCA) in Lund. In her speech Eva Arnvig presented a grim picture of the situation in the country today. According to her view, the military occupation by Nato forces has now turned the clock back to the situation in 1994, with bad governance, murder and kidnappings. After the lecture, a discussion followed with Anders Davidson from SCA Lund, and also several people in the audience. Some of them with own first hand experiences from the Afghanistan-Pakistan region, and also a large number of Masters students at Lund University were given an opportunity to raise questions to Eva Arnvig. More information.
• SASNET lecture about political parties in South Asia


Prof. K. C. Suri from Nagarjuna University in Andhra Pradesh, India, held a SASNET lecture in Lund on Wednesday 6 December 2006. He talked about "The Emergence of coalitional politics in South Asia, with special reference to India". Prof. K.C. Suri is a specialist on Indian and South Asian politics and also on agrarian economic and political issues. The lecture was organised by SASNET in collaboration with the Development Studies Seminar at the Dept. of Sociology. Before coming to Lund, Prof. Suri participated in a conference on leadership in South Asia at the University of Oslo. He also visited Stockholm where he met research partners at the International Institute for Democracy and Electoral Assistance (IDEA), involved in a research project on "State of Democracy in South Asia", a regional assessment to reflect citizens' perceptions and experiences of democracy in the region. A report combining quantitative data (surveys) along with qualitative data (from case studies, dialogues and expert assessments) will soon be published. More information about the SASNET lecture (as a pdf-file).
• Read Muhammad Yunus Nobel Lecture from the award ceremony in Oslo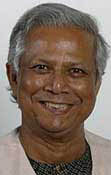 On Sunday 10 December 2006, Prof. Muhammad Yunus and the Grameen Bank were awarded the 2006 Nobel Peace Prize. The award ceremony took place at the Oslo City Hall in Norway. They were given the prize because of their efforts to create economic and social development from below first in Bangladesh and now also many other countries around the Globe. Muhammad Yunus, formerly professor of Economics at Chittagong University, founded the Grameen Bank in 1976. It has become a pioneer of micro-credit lending schemes for the poor in Bangladesh, especially women, so that they can launch their own businesses. The winners receive a prize of 10m Swedish kronor. Read Prof. Yunus' Nobel Lecture held in Oslo.
While in Scandinavia, Prof. Yunus also makes a short visit to Stockholm that includes two seminars on Wednesday 13 December, one organised by the Swedish International Development Cooperation Agency, Sida, that has given much support to Grameen Bank over the years, and another seminar organised by Stockholm Institute of Transition Economics (SITE) at Stockholm School of Business, in collaboration with the Royal Institute of Technology (KTH) and the Tällberg Foundation. More information about the Stockholm seminars.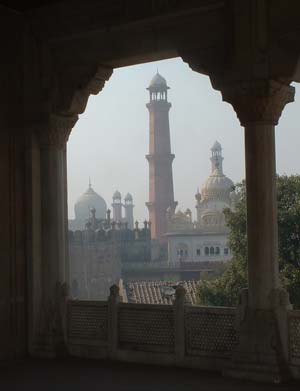 • KTH opens up new university in Sialkot, Pakistan, in 2008
The Royal Institute of Technology (KTH) in Stockholm is higly involved in setting up a new technical university campus in the industral town of Sialkot in Pakistan. It will be operational by the start of the 2008/2009 academic year, according to Ramon Wyss, vice president of KTH in charge of International affairs. The initiative comes from the Pakistani government, which is eager to boost the number of university graduates in the country, especially in the sciences. Pakistan will finance and build the campus, whereas KTH will be responsible for course content, university management and quality control. Fields of study will include electrical engineering, information technology, chemical engineering, industrial economics and mechanical engineering. KTH Sialkot University will also take in 20-30 PhD students per year. As for teaching resources, there are several options: Some professors will be loaned from Sweden, others will be jointly appointed in Sweden and Pakistan, and recently retired KTH professors will also be tapped. In addition, says Wyss, there will be a capacity building programme, with Pakistani students who acquire master's and doctoral degrees being invited back to teach subsequent intakes of undergraduate students.


Around 40-50 Pakistani students already study at KTH in Sweden each year – a valuable resource for lecturers in Pakistan. The KTH-Pakistan university collaboration has included a large delegation of professors from the KTH visiting Pakistan in 2005 (more information), and a visit by the HEC Chairman, Prof. Atta-ur-Rahman (photo to the left) in November 2006. More information about KTH's Pakistani University project.
Read also article by Johan Myrsten in Svenska Dagbladet 15 November 2006 (only in Swedish).
• Asia-Link programme decisions in February for the 2006 call for proposals


Over 350 proposals have been received for the 2006 call for proposals under the Asia-Link programme. The deadline was 19 October, and now the process of selecting proposals to benefit from the EUR 12.6 m that is available for funding has begun. It is planned that a final list of the projects selected for funding will be available by the end of February 2007. The Asia-Link Programme is an initiative by the European Commission to promote regional and multilateral networking between higher education institutions in Europe and developing countries in Asia. The programme aims to promote the creation of new partnerships and new sustainable links between European and Asian higher education institutions, and to reinforce existing partnerships. Since 2002, the Programme has funded 155 partnerships (see the list of all 155 projects) that together involve over 700 higher education institutions from Asia and Europe. More information.
• SASNET funded workshop held at Aga Khan University in Karachi


An International workshop on Health Administration: Strategic Planning and Performance Management was held at Aga Khan University (AKU) in Karachi, Pakistan, 22–24 November 2006. The workshop was organised by Dr. Fauziah Rabbani, Associate Professor at the Dept. of Community Health Sciences, AKU (and a sandwich PhD candidate at IHCAR, Karolinska Institutet, Stockholm), and was partly being funded by a SASNET planning grant. Participants came not only from Pakistan but also from Afghanistan and East Africa. More information about the workshop

• Time to suggest panels for the ECMSAS conference in Manchester 2008
The 20th European Conference on Modern South Asian Studies (ECMSAS) will be held in Manchester, UK, 8–11 July 2008. The ECMSAS is the largest gathering of South Asia oriented researchers in Europe, covering all fields from the humanities and social sciences to technology, natural sciences and medicine. The conference is held biannually under the aegis of the European Association of South Asian Studies (EASAS), a professional, non-profit organisation of scholars engaged in research and teaching concerning South Asia with regard to all periods and fields of study. SASNET organised the 18th ECMSAS conference in Lund in 2004 (more information about the Lund conference), and in June 2006, the 19th ECMSAS conference was arranged in Leiden, the Netherlands (read SASNET's report from the Leiden conference). Suggestions for panels at the 2008 conference are now actively considered. The conference will be hosted by the School of Arts, Histories and Cultures at the University of Manchester, and draws on the vibrant South Asian Studies programmes in Humanities and Social Sciences at the University. Go to the conference web site.
• Report from the Nordic Asian Studies conference in Turku
A conference titled "Asian Studies at a Turning Point: Tandem walk or boxing match between social sciences and humanities?" was held at the University of Turku, Finland, 6–7 November 2006. It ran parallell with an Intensive PhD Course for Nordic PhD students in Asian studies. The conference sets out to offer a platform for academic dialogue on a wide range of methodological and paradigamatic topics across disciplinary and regional boundaries in Asian studies (including South Asian studies). SASNET's Director, Prof. Staffan Lindberg, participated in the conference. Read his report from the Turku conference.
• Summer Faculty wanted for Madison's language training courses
The South Asia Summer Language Institute (SALI) in Madison, Wisconsin, USA, is hiring Summer Faculty for 2007. The SASLI Lecturer and Assistant Lecturer positions have been announced for 2007. Sinhala and Punjabi have been added this summer to the continuing languages of Bengali, Gujarati, Hindi, Nepali, Malayalam, Marathi, Sanskrit, Tamil, Telugu, Tibetan and Urdu. Candidates are welcome to submit their applications or get more information from Laura Hammond, SASLI Program Coordinator.
• KTH introduces Master of Science programme on Water System Technology
An 80 credits International Master of Science programme on Water System Technology will be introduced in August 2007. The aim of the programme is to explore all major aspects of use and protection of available water resources. The programme deals with all the complexities, challenges and opportunities in water resources management through water systems approaches and will allow participants to focus particular attention on preferred problem areas. It is jointly organised by the Department of Land and Water Resources Engineering at KTH, and the Department of Physical Geography and Quarternary Geology at the University of Stockholm. Deadline for applications are 15 January 2007 for non EU-citizens, and 15 April for EU-citizens. More informaton.
• Swedish support for International web site about global education
Global Gateway is an International website funded by the Department for Education and Skills, UK, and managed by the British Council, enabling those involved in education across the world to engage in creative partnerships. It provides quick access to comprehensive information on how to develop an international dimension to education. The Global gateway is supported by the Swedish National Agency for School Improvement (Myndigheten för skolutveckling). Go to the Global gateway.
• Asia-Link programme website informs about study and scholarship opportunities
The Asia-Link programme has now produced a website page on study and scholarship opportunities for Asians in Europe or for Europeans in Asia. The new web page aims to provide at least a first step for people seeking information of this sort. Go for the web site.
• Lund University's Masters programme in Asian studies goes Bologna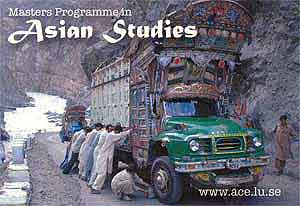 From 2007 the Master Programme in Asian Studies at Lund University follows the Bologna model and runs for four consecutive semesters, consisting of 120 ECTS credits. The programme has been successfully run at Lund University since the Fall 2003, but till now only for three semesters (as a so-called "Magisterutbildning med bredd"). The Master programme in Asian Studies is interdisciplinary, focusing on political, economic, social, and cultural issues in Asia. It is the only English language programme of its kind in the Nordic countries. The programme is aimed at students who after their undergraduate studies want to gain area expertise on contemporary Asian societies. The programme is divided into two tracks, one for East and South East Asian studies, and one for South Asian studies, and is administered by the Centre for East and South-East Asian Studies (ACE) at Lund University. Deadline for application for the Autumn 2007 intake is 1 February 2007. More information.
• The 11th Summer Program in Punjab Studies to be held in Chandigarh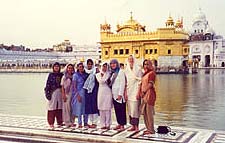 The program will be held in Chandigarh, India, 1 July – 11 August 2007. It is open to both graduate and undergraduate students, provides six weeks of instruction in Punjab Studies. The work includes the learning of Punjabi (50 hours), and history and culture of the region (90 hours). The goal of the program is to impart substantial academic information about the history and culture of the region and provide an environment for discussion and exploration. Application deadline is 2 March 2007. More information.
• India and Sri Lanka involved in CIU exchange programmes
Swedish Centre for International Youth Exchange (CIU) is a non-governmental organisation with 30 member organisations, running the exchange programmes Sweden World Youth (SWY) and Youth Partners in Development (YPD), carried out in cooperation with organisations in Cambodia, Costa Rica, India, Sri Lanka and Thailand. Aims at young persons that want to live and work close together with young persons from other cultures. More information about CIU.
• Extended deadline to apply for NIAS scholarships
The Nordic Institute for Asian Studies (NIAS) offers scholarships for visiting Nordic MA students and PhD candidates to its research centre and library in Copenhagen, through the so called NIAS SUPRA programme (Support Programme for Asian Studies). Students affiliated with institutions that are members of the Nordic NIAS Council (see www.nias.ku.dk) are offered full scholarships that cover travel expenses, accommodation and full board at the "Nordisk Kollegium", whereas students from non-members of Nordic NIAS Council will have to pay for accommodation and transportation themselves. For students from Lund University there is also an alternative, namely Öresund Scholarships. In this case NIAS reimburses daily commuting costs to/from Copenhagen. Application deadlines for SUPRA scholarships are three times a year. Application deadline for scholarships during January – March 2007 has been extended to 15 December 2006. More information
Conferences and courses
• WIDER workshop on gender and food security in Kolkata
The Helsinki based World Institute for Development Economics Research (UNU-WIDER) is organizing a workshop on "Gender and Food Security" in Kolkata, India, 12–13 December, 2006. It will be hosted by the Centre for Studies in Social Sciences, Kolkata. Among the themes to be discussed are "The relation between the socio-economic status of women in a particular society and intra-household food security in that society"; "Existence of gender discrimination in labor markets and its impact on household poverty"; and "Women's access to micro-credit and public works program and the impact on poverty".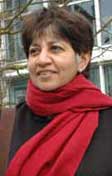 • Swedish Gender and Development Network organises conference in New Delhi
The Swedish research network GADNET, Gender and Development Network, organises a Global conference on "A World in Transition – New Challenges for Gender Justice" in New Delhi, India, 13–15 December 2006. It is organised in collaboration with the Centre for Women's Development Studies (CWDS) in New Delhi. Keynote speakers include Dr. Vina Mazumdar, Founder of the Centre for Women's Development Studies, New Delhi; Prof. Jayati Ghosh, Centre for Economic Studies and Planning, Jawaharlal Nehru University, New Delhi; and Dr. Tejaswini Niranjana (photo to the right), Director, Centre for Study the Study of Culture and Society, Bangalore. The conference is only open for GADNET members and by CWDS invited researchers.
• Sustainability Summit: Asia 2006 in New Delhi
A conference titled "Sustainability Summit: Asia 2006" is held in New Delhi, India, 19–20 December 2006. The theme for the conference is 'Promoting Excellence for Sustainable Development'. It is jointly organised by the New Delhi based Development Alternatives Group and the Confederation of Indian Industry (CII). Venue: ITC Hotel Maurya Sheraton & Towers, New Delhi.
• Dalit & Minorities International Conference in New Delhi
A two-day Dalit & Minorities International Conference will be held at New Delhi 27–28 December 2006. The main issues to be deliberated are social justice, secularism and socio-economic matters of Dalits and minorities. The main theme of the conference will be "Power to the Powerless". It will be inaugurated by the Hon'ble Prime Minister Manmohan Singh. Prominent leaders belonging to SC/ST and Indian minority communities are expected to participate in, as well as renowned intellectuals from India and abroad. Venue: G.M.C. Balayogi Auditorium, Parliament Library Building, Parliament House, New Delhi. Indian Prime Minister Manmohan Singh held a speech at the conference. Read his speech.
• 53rd Indian Political Science Association conference in Jaipur
The 53rd Conference of the Indian Political Science Association (IPSA) will be held 27–29 December 2006 at Jaipur (Rajasthan) under the auspices of University of Rajasthan. The programme incudes panels on topics such as "Gandhi's Realities Today", "New Public Administration in Indi", "SARRC – Emerging Contours" and "Coalition Politics in India and the Kerala Model". More information.
• Asia-Sweden Research Links conference on Magnetism in Kolkata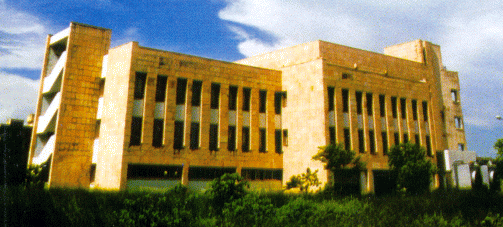 An Asia-Sweden Research Links conference on Magnetism in Materials is held in Kolkata, India, 8–10 January 2007. The conference is jointly organized by the Theoretical Magnetism Group, Department of Physics at Uppsala University, and S. N. Bose National Center for Basic Sciences in Kolkata (where the conference will be held, see photo). It is a part of an Asian-Swedish Research Links grant which has the duration of three years starting from 1 January 2006. The idea of this meeting is to present results of current research interests and exchange ideas between Indian and Swedish researchers for future collaboration. More information.
• WIDER workshop in Beijing on inter-linkages between CIBS and the global economy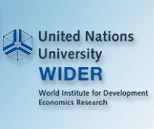 The Helsinki based World Institute for Development Economics Research (UNU-WIDER) organizes a workshop titled "Southern Engines of Global Growth: China, India, Brazil, and South Africa (CIBS)", in Beijing, China on 12–13 January 2007. It is arranged in tandem with the Eighth Annual Global Development Conference, also to be held in Beijing a few days later. The workshop is part of a major UNU-WIDER research project focusing on on the inter-linkages between CIBS and the global economy. The main themes of the project include growth, trade, international finance, international governance and geopolitics. More information.
• Dhaka workshop on Community Based Adaptation to Climate Changes


An International Workshop on "Community Based Adaptation to Climate Changes" is held in Dhaka, Bangladesh, 11–16 January 2007. It is organised by the Bangladesh Centre for Advanced Studies (BCAS), an independent, non-profit, non-government, policy, research, and implementation institute working on sustainable development (SD) at local, national, regional and global levels. More information.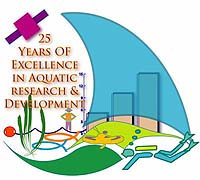 • Colombo conference on Tropical Aquatic Research
An International conference on "Tropical Aquatic Research Towards Sustainable Development" is held in Colombo, Sri Lanka, 15–16 February 2007. The conference is organized by the National Aquatic Resources Research & Development Agency (NARA) and coincides wwith the commemoration of the 25th anniversary of NARA. It is expected to attract participants from all over the globe to share knowledge and experiences with regard to latest achievements in Aquatic Research. The confernce is sponsored by the Icelandic International Development Agency, ICEIDA. Venue: Auditorium, NARA, Crow Island, Mattakkuliya, Colombo.
• Amsterdam conference on Partnership and Innovation in Global Health
The 5th European Congress on Tropical Medicine and International Health will be held in Amsterdam, The Netherlands. 24–28 May 2007. The theme chosen for the congress is "Partnership and Innovation in Global Health", expressing the need for collaboration to develop the quality of global health and achieve some of the Millennium Development Goals. Global collaboration means collaboration between North and South, South and South, North and North, and East and West. The conference topics include research on Malaria, Tuberculosis and HIV/AIDS. Health professionals are also welcome to participate in order to create a platform where all issues concerning global health may be addressed, such as issues of public health, clinical tropical medicine, health economics, poverty, basic science, diagnostics and therapeutics. More information.
• Nordic Gendering Asia Network meet in Iceland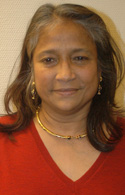 The Nordic Gendering Asia Network organises its next yearly conference in Akureyri, Iceland, 1–3 June 2007. The conference is titled "Gendered Modernity and Vulnerabilities in Asia", , and the central theme will be how men and women – either as individuals or groups – are positioned and also position themselves in contexts of global change. One of the keynote speakers is Dr. Naila Kabeer from the Institute of Development Studies at the University of Sussex, UK. She will talk about "Reconfigurations of Marriage and Markets in the Context of Globalisation: Reflections on the Asian Context". The conference is jointly organised by researchers from the Centre for Asian Studies, Göteborg University; the Nordic Institute of Asian Studies (NIAS) in Copenhagen; Centre for East and South-East Asian Studies, Lund University; and the Icelandic Centre of Asian Studies. More information.
• 2007 World Water Week in Stockholm 12–18 August


The World Water Week is the leading annual global meeting place for capacity-building, partnership-building and follow-up on the implementation of international processes and programmes in water and development. Plenary sessions, seminars, workshops, side events and special activities will take place under the overarching theme "Progress and Prospects on Water: Striving for Sustainability in a Changing World." The First Announcement and Call for Abstracts is now available. The abstract submittal deadline is February 1, 2007. More information.
• Other conferences connected to South Asian studies arranged all over the World
See SASNET's page, http://www.sasnet.lu.se/conferences.html#conf
Important lectures and workshops
• Yunus lectures about Emerging financial markets at Sida
The Swedish International Development Cooperation Agency, Sida, organises a seminar with the 2006 Nobel Peace Prize Laureate Muhammad Yunus in Stockholm on Wednesday 13 December 2006, 10.00–12.00. Professor Yunus will talk about "Emerging financial markets – The role of the financial sector in development cooperation", and his speech will be followed by short presentations by Lars Nyberg, Bank of Sweden; Stefan Jansson, Swedfund, Lars-Olof Hellgren, AfriCap, and Anders Reveman, OMX. Venue: Sida, Valhallavägen 199, Stockholm. Those interested to participate should have registered to Sida before Friday 1 December. More information.
• Yunus lectures at Stockholm School of Business
Later the same day, Wednesday 13 December, 14.30–16.30, Professor Muhammad Yunus holds another lecture in Stockholm, titled "Helping the poor help themselves – a road towards a more sustainable, equitable and peaceful future". The lecture is organised by Stockholm Institute of Transition Economics (SITE) at Stockholm School of Business, in collaboration with the Royal Institute of Technology (KTH) and the Tällberg Foundation. The lecture will be followed by a panel discussion focusing on "What the transition into a sustainable peaceful future requires – the need for new policies, education, technology and business models". The participants are Joakim Stymne, State Secretary to the Minister for International Development Cooperation; Ulla Holm, Global Director, Tetra Pak Food for Development; Tomas Ries, Director, Swedish Institute of International Affairs; students from KTH and The Stockholm School of Economics. Bo Ekman, Chairman for the Tällberg Foundation will be the moderator. Venue: Folkets Hus, Barnhusgatan 12-14. More information (as a pdf-file).
• Copenhagen lecture about honour killings in Pakistan
Rubya Mehdi will lecture about "Islamic Law of Murder in Relation to Honour-Killing: Case of Pakistan" in Copenhagen on Tuesday 12 December 2006, 15.15. The seminar is organised by the Dept. of Cross-Cultural and Regional Studies, University of Copenhagen. Venue: Snorres gade 17-19, first floor, hall U8, Copenhagen.
South Asia related culture in Scandinavia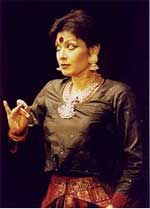 • Mallika Sarabhai gave dance performances in Göteborg and Stockholm
The Indian Kuchipudi danseuse Mallika Sarabhai (photo) and her Darshana Group visited Sweden during the first week in December 2006. They performed in Göteborg on Saturday 2 December, and in Stockholm on Monday 4 Decembe. Dr. Mallika Sarabhai is one of the most renowned Kuchipudi and Bharatanatyam dancers in India today. Multi-faceted Mallika besides being a known social activist is known for developing contemporary definitions in acting, film-making, editing and television anchoring. The Göteborg concert was held at Konserthuset, Götaplatsen, and the one in Stockholm at Nybrokajen 11. Both events were organised by the Indian Embassy in Sweden. More information (as a pdf-file).
New and updated items on SASNET web site
• Swedish departments where research on South Asia is going on:
Constantly added to the list of research environments at Swedish universities, presented by SASNET. The full list now includes 196 departments, with detailed descriptions of the South Asia related research and education taking place! Go to http://www.sasnet.lu.se/environment.html
---
Best regards,
Staffan Lindberg Lars Eklund
SASNET/ Swedish South Asian Studies Network
SASNET is a national network for research, education, and information about South Asia, based at Lund University. The aim is to encourage and promote an open and dynamic networking process, in which Swedish researchers co-operate with researchers in South Asia and globally.
The network is open to all sciences. Priority is given to co-operation between disciplines and across faculties, as well as institutions in the Nordic countries and in South Asia. The basic idea is that South Asian studies will be most fruitfully pursued in co-operation between researchers, working in different institutions with a solid base in their mother disciplines.
The network is financed by Sida (Swedish International Development Cooperation Agency) and by Lund University.

Postal address: SASNET – Swedish South Asian Studies Network, Scheelevägen 15 D, S-223 70 Lund, Sweden
Visiting address: Ideon Research Park, House Alfa 1 (first floor, room no. 2040), in the premises of the Centre for East and South East Asian Studies at Lund University (ACE).
Phone: + 46 46 222 73 40
Fax: + 46 46 222 30 41
E-mail: sasnet@sasnet.lu.se
Web site: http://www.sasnet.lu.se
Staff: Staffan Lindberg, director/coordinator & Lars Eklund, webmaster/deputy director
Back to SASNET


---