SWEDISH SOUTH ASIAN STUDIES NETWORK

---
Newsletter 97:
26 May 2009
• SASNET grants


Closing date for applications is 15 June 2009. There are three kinds of grants offered by SASNET: 1. Networking grants for planning new research and/or education programmes or projects in collaboration between Swedish and South Asian partners; 2. Guest lecture programme grants (for inviting a guest lecturer from South Asia to visit Swedish universities), and 3. Grants for organising South Asia related interdisciplinary research workshops either in Sweden or in South Asia. Please note that the main applicant must always be a researcher or teacher based at a Swedish university. All previously distributed SASNET grants are presented on our web page (go for the list). Decisions will be taken on Tuesday 22 September 2009. More information.
• SASNET organised Indian Ambassador's visit to Lund/Malmö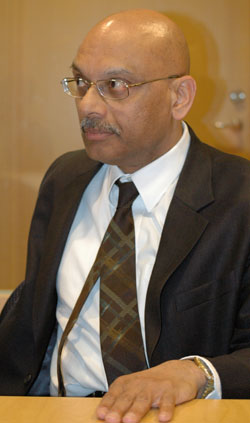 On Thursday 14 May 2009, SASNET organised a visit to Lund and Malmö by the new Ambassador of India to Sweden, H.E. Mr. Balkrishna Shetty. During his stay in Lund he had discussions with SASNET's director Anna Lindberg and deputy director Lars Eklund. He also met with the University Director Dr. Marianne Granfelt and participated in a seminar with researchers, teachers, students, and international coordinators involved in India related projects at Lund University. Mr. Shetty was accompanied by Mrs. Madhumita Hazarika Bhagat, First Secretary (Commercial, Consular, Culture), Embassy of India. The Ambassador listened to a few selected presentations: Dr. Sidsel Hansson presented the Erasmus Mundus External Cooperation Window lot 15 programme, coordinated by Lund University; Prof. Baboo Nair, Dept. of Applied Nutrition and Food Chemistry, informed about the SASNET Fermented Foods project; and Prof. Olle Qvarnström presented the Division of Indic Religions at the Centre for Theology and Religious Studies, Lund University. More information about the seminar.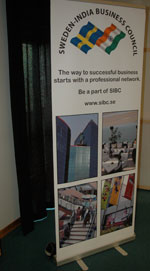 SASNET also co-hosted an India seminar in co-operation with SIBC (Sweden-India Business Council) and Ideon Research park, where the Ambassador was the key speaker. With his wide experiences he gave an interesting presentation. In recent years he has been posted at the Embassy of India in Paris, as Minister (Economic), dealing with all bilateral economic matters and relations with Organisation for Economic Cooperation and Development (OECD). He has also been associated with the establishment of TEAM–9 (Techno-Economic Cooperation for Africa–India Movement), a regional economic cooperation mechanism between India and eight West African countries. From September 2005 to January 2009, he was Ambassador of India to Bahrain. Besides the speech by the Ambassador, the seminar also included a presentation by Prof. Baboo Nair, who talked about "Doing Business in India". SASNET's Director, Dr. Anna Lindberg, was the moderator. More information about the business seminar.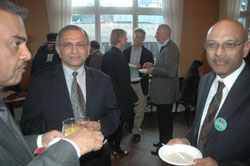 During his stay in Lund and Malmö, the Ambassador also visited the Mayor of Lund, Ms Annica Annerby Jansson, visited Lund University's Faculty of Engineering, and especially its Department of Electrical and Information Technology.
In the evening Mr. Shetty went to Malmö, first to visit the Bollywood cinema hall in Limhamn, and then to host a reception at Hipp for 100 invited guests, mostly from the Indian community in Malmö/Lund, but also a delegation from Malmö University, and people working on India related projects within art, music, and theatre (photo from reception).
Read the full programme for the Ambassador's visit to Lund on May 14, 2009, and see photos.
• SASNET sponsors students' photo project exhibition
SASNET has sponsored a photographic project set up by students from Lund University's Masters programme in Development and Management (LUMID) 2007–09 batch. During the period 25 May – 4 June 2009 the project is exhibited in Lund. The exhibition is part of the LFA (LUMID Fotographic Art) Project, as it is called. The exhibition will be formally inaugurated on Friday 29 May 2009 between 17 and 19 at Wickmanska Gården, Bredgatan 2, Lund. Anna Lindberg, Lars Eklund and Stig Toft Madsen from SASNET will all participate in the event. More information.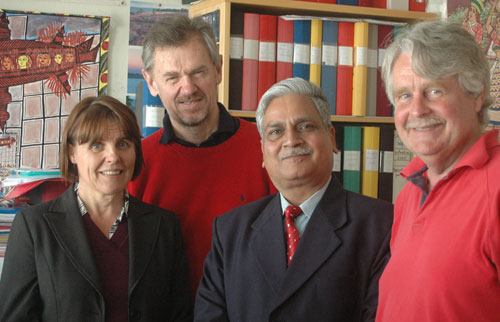 • Visitors from Växjö and IIT Delhi
Professor G.N. Tiwari from the Centre for Energy Studies at Indian Institute of Technology (IIT) Delhi visited SASNET's root node office in Lund on Tuesday 19 May 2009. He was accompanied by Professor Krister Håkansson, Dept. of Psychology, Växjö University, with whom Prof. Tiwari is involved in a collaboration project to organise research and a conference on hybrid photovoltaic-thermal technology (H-PV/T), to be held in New Delhi. The conference, entitled "Implementation strategies for the transfer of hybrid photovoltaic-thermal technology (H-PV/T) from research to lab to field" should have been held already in March 2009, but due to the Indian elections it was postponed, and new dates will be in the end of August. Prof. Tiwari is a leading expert in the research on how solar energy can be introduced in Indian villages without electricity. In 2007 he organised the 3rd International Conference on Solar Radiation and Day Lighting, "SOLARIS 2007" at IIT Delhi. Then he established contact with Dr. Om Prakash at the School of Technology and Design, Växjö University, and originally they were supposed to plan for the new conference. But due to illness, Dr. Prakash had to give up the project, and he gave it over to Christer Håkansson. Being a psychologist, Håkansson is interested to launch a broader interdisciplinary research project on issues widely connected to village development and the introduction of solar energy in India. More information.
• Discussions on new SASNET sub-network on Migration, Gender, and Health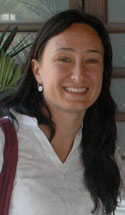 PhD candidate Malin Jordahl, Division of International Maternal and Child Health (IMCH), Uppsala University, visited SASNET's root node office in Lund on Friday 22 May 2009, and had a meeting with the Director Anna Lindberg. It was a follow-up meeting of a discussion that took place in February 2009 at the SASNET conference in Colombo, Sri Lanka (more information). Malin and Anna now discussed the possibility of creating a sub-network within SASNET on the topic for the Colombo workshop, viz., Migration, Gender, and Health. PhD candidate Malin Gregersen, Dept. of History, Lund University, and Dr. Kristina Myrvold, Dept. of History of Religions, Lund University, participated in the meeting as well. Malin Gregersen is monitoring the SASNET Student Forum and Kristina Myrvold is a leading member of the committee organising SASNET's coming conference for Young Scholars to be held in Falsterbo in August 2009 (more information).
• More information about SASNET and its activities
See SASNET's page, http://www.sasnet.lu.se/sasnet.html
• Doctoral dissertation on deforestation in northern Pakistan
Jawad Ali, Dept. of International Environment and Development Studies (Noragric) at the Norwegian University of Life Sciences in Ås, will defend his doctoral dissertation project titled "Deforestation in the Himalayas: Mainstream views, institutional failure and 'alternative systems'. A case study from Northern Pakistan", on Wednesday 10 June 2009, at 09.15. The evaluation committee is headed by Dr Are Knudsen, Research Director, Chr. Michelsen Institute (CMI), Bergen. Jawad Ali has studied the ongoing deforestation in northern Pakistan, and has found that local fuelwood collection is not the main cause. Instead, the estimated deforestation of about 30% during the last three decades is primarily due to commercial harvesting and mismanagement by the government. A large amount of dead fallen wood and green trees was sold by the government or was taken out by a "timber mafia" that emerged during the main period of commercial harvesting in the 1970s and 80s. Venue: Auditorium, Agricultural Museum, Ås (30 km from Oslo).
• Uppsala dissertation on Prenatal Arsenic Exposure in Bangladesh
Anisur Rahman, International Maternal and Child Health (IMCH), Department of Women's and Children's Health, Uppsala University defended his doctoral dissertation project titled "Prenatal Arsenic Exposure and Consequences for Pregnancy Outcome and Infant Health: Epidemiological Studies in Bangladesh" on Tuesday 19 May 2009. Anisur Rahman has worked on arsenic exposure in pregnancy and effects on foetus and child. He has also been affiliated to the Division of Metals & Health, Institute of Environmental Medicine, Karolinska Institutet, Stockholm. The aim of this thesis has been to analyse possible effects of prenatal arsenic exposure on foetal and infant health. The setting is Bangladesh, where two cohorts were studied, both part of a health and demographic surveillance system in Matlab. The faculty opponent was Prof. Gunnar Nordberg, Dept of Public Health and Clinical Medicine, Umeå University. More information.
• Dissertation on Western Health Workers in Humanitarian Aid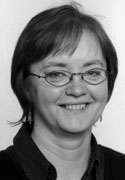 Magdalena Bjerneld, International Maternal and Child Health (IMCH), Department of Women's and Children's Health, Uppsala University defended her doctoral dissertation titled "Images, Motives, and Challenges for Western Health Workers in Humanitarian Aid" on Wednesday 17 May 2009. The faculty opponent was Prof. Lars Dahlgren, Division of Epidemiology and Public Health Science, Umeå University. The thesis presents how humanitarian aid workers were attracted, motivated, recruited, and prepared for fieldwork, and how they reported their work experience directly from the field and when they returned home. Data were derived from interviews with experienced aid workers, focus group discussions with presumptive aid workers, analysis of letters from aid workers in the field on MSFs homepages in Europe, and from interviews with recruitment officers at some of the main humanitarian organisations. More information.
• MoU to be signed between universities of Skövde and Rajshahi


A delegation from the University of Rajshahi, Bangladesh is going to visit the University of Skövde during the period 25–28 May 2009. The main purpose of this visit is to sign a Memorandum of Understanding (MoU) between these two institutions. The signing ceremony will be held on Thursday 28 May 2009. SASNET's deputy director Lars Eklund will participate in this event. Venue: Conference room, Administrative Building, University of Skövde, 2nd Floor. To further celebrate the occasion, a "Bengali Evening" will be held at 20.15 with a cultural programme that includes a Bharata Natyam performance by Ms. Shivapriya Bagchi from Kolkata, India. Full information.
• Springtime blog on the Indian elections
The Swedish PR and Communication firm Springtime organised an Election Trip to India 9–17 May 2009. The participants were expected to be Swedish companies and institutions but also individuals with an interest to follow the 2009 Indian elections on site. 714 million Indians went to the polling booths in April and May to elect the 15th parliament, Lok Sabha, and the results were presented on May 16th. During the election trip, led by Springtime's co-workers Gautam Bhattacharya and Anders Sjöberg, a visit to a local state was included to see how local campaigning is carried out. The tour then proceeded to Delhi for meetings with members of parliament, politicians, media and business representatives during a custom-made two-day conference (read the programme for the full tour). After the journey a web blog has been set up. Go for the Springtime India blog.
• Applications wanted for the 2009 Model ASEM


Model ASEM is a simulation of an Asia-Europe Meeting (ASEM), aiming at fostering relations between Asian and European countries. Created by ASEFUAN (graduates of the 2-week ASEF University scholarship programme), it is a chance for students interested in international relations to engage in intense discussions on issues which are high on the ASEM agenda and to give them insight into the development of international relations. This year, Model ASEM is being co-organized by one of Europe's most prestigious political sciences' institutions, l'Institut d'Etudes Politiques de Paris (Sciences Po),. It will be held 10–14 November 2009 at the Euro-Asia Campus of Sciences Po Paris in Le Havre, France. Many extremely qualified applications have already been received from e g Pakistan, but applicants are still lacking from India, Denmark, and Finland. Deadline for applications is Sunday 31 May 2009. More information.
• KVAFSU Vice Chancellor visited Gothenburg and Kristianstad
The Vice Chancellor for Karnataka Veterinary Animal and Fisheries Sciences University (KVAFSU) in Mangalore, Dr Sursesh Honnappagol, visited Gothenburg University (GU) 10–12 May, and continued to Kristianstad University on the 13th. The visit was a result of a recent Memorandum of Understanding (MoU) on research within the field of marine botany that has been signed between KVAFSU, GU and Kristianstad. Since several years, researchers from the Dept. of Marine Botany, Gothenburg University (led by Dr. Anna Godhe), are involved in a collaborative project titled "Inter-relation between bacteria and phytoplankton blooms in the Arabian Sea" with colleagues in Mangalore and Kristianstad. The new MoU will further strenghten this collaboration.

• Scholars invited to present their research through EWIC Scholars' Database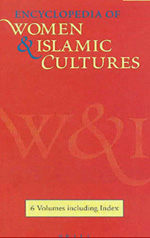 The Encyclopedia of Women & Islamic Cultures (EWIC) is an interdisciplinary encyclopedia project focusing on women and Islamic cultures. This 6-volume, 1,246 articles interdisciplinary encyclopedia print project is a result from a unique collaboration by more than 1,000 scholars from around the world, crossing historical, geographical borders and disciplines, reflecting the very latest research on gender studies and the Islamic world, including South Asia. It was published during the period 2003–2008 by Brill publishers in Leiden, the Netherlands, and with Dr. Suad Joseph from University of California, Davis, being the general editor. More information about EWIC.
The EWIC project now also invites interested scholars, including graduate students, to present their research through the free, on-line searchable EWIC Scholars' Database. It may also be possible for them to contribute with articles to EWIC On Line. If your research and expertise is relevant to women and Islamic cultures and you are interested in being included in the EWIC Scholars Database, please fill out the contributor template, reachable from Dr. Suad Joseph's website, http://sjoseph.ucdavis.edu/ewic/.
• More information about South Asia related research at Swedish and Nordic universities
See SASNET's page, http://www.sasnet.lu.se/research.html
• Internship opportunity for Swedish student at CREST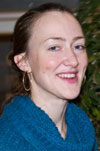 Petra Bergquist, a student at the Masters Program in Gender Studies, Lund University, has been selected for Internship at the Centre for Research and Education for Social Transformation (CREST) in Kozhikode, India. CREST is an autonomous institution under the Government of Kerala that is involved with research and educational programmes for marginalized communities. Petra, who will leave on Friday 29 May 2009 and spend approximately three months at CREST, will work with a group of 40 graduates from Dalit/Adivasi and other minority communities of Kerala who are taking a Post Graduate Certificate Course for Professional Development. In Kerala, Petra will also work with her Masters thesis on Self Employed Women's Association (SEWA) in India. Full information about the internships offered by CREST.
• More information about South Asia related education at Swedish and Nordic universities
See SASNET's page, http://www.sasnet.lu.se/education.html
• Interesting papers at Copenhagen conference on South Asian Drama


The Asian Dynamics Initiative at the University of Copenhagen invites to its first South Asia Network Conference that will be held 18–19 June 2009. The theme for the conference will be "South Asian Drama: Old Actors, New Scripts. Preparations of a new research agenda". The conference will address how a range of themes change the frames for research and initialise new cross-disciplinary research agendas by the formation of targeted research groups to address these problems from multidisciplinary approaches. It is primarily aimed at researchers in the public or the private sector, but is open to all interested persons. Paper contributions are invited on the state-of-the arts and how to proceed, and buzz groups on the following broad themes: – Political violence, political stability and political futures; – The implications of Cultural Changes; and – The political economy of economic development in contemporary South Asia.
SASNET's Director, Dr. Anna Lindberg, will present a paper on "Children and Marriage in Travancore, South India, in the 1940s". Among other presenters, Staffan Lindberg, Dept. of Sociology, Lund University, will present a paper on "Economic transformation and women's emancipation in India"; Neil Webster at the Danish Institute for International Studies (DIIS), will present a paper on "Elites and the New Poverty Agenda in Bangladesh: Policy formulation and practice in the shrimp industry and ready made garment industry"; Peter B. Andersen from the Dept. of Cross-Cultural and Regional Studies, University of Copenhagen, will present a paper on "Processions and Chariot Festivals in Tharamgambadi and Vellankanni as Instances of Cultural Exchange and Marking"; and Nausheen H. Anwar, Post-Doctoral Fellow South Asia Initiative, Harvard University, USA, will present a paper on "Transnational Retailing and the Political Economy of Land Development: The Case of Makro 'Embedding' in Karachi, Pakistan". Venue: Nordic Institute of Asian Studies (NIAS), Leifsgade 33, 3rd floor, Copenhagen. More information.
• Registration open for conference on Transmission of Academic Values in Asian Studies
A Workshop on "Transmission of academic values in Asian Studies" will be held in Canberra, Australia 25–26 June 2009. The workshop, organised by the he Australia-Netherlands Research Collaboration (ANRC), proposes to examine issues surrounding the transmission of scholarly values in Asian Studies. It will draw upon the views of scholars from a range of life-stages in order to seek a clearer picture of the values that scholars see as important to preserve and of the techniques for achieving transmission between the generations. A feature of the workshop will be attention to differences in values and practice between Australia and other countries. Asian Studies researchers from every career stage (postgraduate to post-retirement) are invited to submit proposals for a brief presentation on one or more themes of the workshop. Online registration is now open. The registration deadline is Friday 12 June 2009. More information.
• 3rd International Conference on Health GIS in Hyderabad
The 3rd International Conference on Health GIS 2009 will be held in Hyderabad, India 24–26 July 2009. The conference theme is "Enabling Better Health Geospatially", and it will focus on the use of GIS and related Information and Communication Technologies in health sector for exploring the various causative factors for diseases and delibarate on better planning of health care systems. More information.
• Second announcement for 2009 World Water Week in Stockholm


The 2009 World Water Week in Stockholm will be held 16–22 August 2009. The theme for 2009 is "Water – Responding to Global Change: Accessing Water for the Common Good with Special Focus on Transboundary Waters". The World Water Week, organised by the Stockholm International Water Institute (SIWI) is the leading annual global meeting place for capacity-building, partnership-building and follow-up on the implementation of international processes and programmes in water and development, with large relevance to South Asia. It is filled with plenary sessions, seminars, workshops, side events and special activities. The Scientific Programme Committee (SPC) planning for the conference is chaired by Prof. Jan Lundqvist, Dept. of Water and Environmental Studies, Linköping University. Registrations are now open. Discounted Registration ends June 30, 2009. Venue: Stockholm International Fairs and Congress Center (Stockholmsmässan) in Älvsjö, 9 km south of central Stockholm. Download the Second Announcement and learn more about the 2009 World Water Week.
• Fourth Annual Himalayan Policy Research Conference in Madison
The Fourth Annual Himalayan Policy Research Conference will be held in Madison, Wisconsin on 22 October 2009. It is organised like previous years by the Nepal Study Center as a preconference to the 38th Annual Madison Conference. Particiants are requested to send an abstract of their research, recently completed or in progress, in the field of development, democracy, governance, or environment. The papers are expected to have important implications for public policy in one or more countries of the Himalayan region or South Asia. Deadline for submitting abstracts is 30 June 2009. Venue: Madison Concourse Hotel.
Other preconferences at Madison 2009 include the 3rd Annual South Asian Legal Studies Preconference; a preconference on "Early Modernity" in Sri Lanka, South Asia and Southeast Asia; and the Feminist Pre-Conference: The "State" of Sexuality.
• Kolkata workshop on Connecting Histories of Education 1700–2000
An International Workshop on 'Learning in the Past, Research Agendas for the Future: Connecting Histories of Education 1700–2000,' will be held in Kolkata, India, 3–5 February 2010. The workshop will be jointly organized by the International Standing Conference for the History of Education (ISCHE) and the Institute of Development Studies Kolkata (IDSK). The focus rests on the period from the eighteenth century onwards, and the workshop proposes to bring together Asian historians of education and those from other continents. Scholars are invited to present their current research in history of education focusing on connections and relationships between Asia and other parts of the world, colonial pedagogy, indigenous education, migration and education, nationalism, and educational media. The conference proposes to build up a conversation between scholars from all over the world. Paper proposals should be submitted by 10 June 2009 by email to both Barnita Bagchi at Utrecht University, Netherlands, and Eckhardt Fuchs at Georg Eckert Institute of International Textbook Research, Germany. More information.
• Other conferences connected to South Asian studies arranged all over the World
See SASNET's page, http://www.sasnet.lu.se/conferences.html#conf
Important lectures and seminars in Scandinavia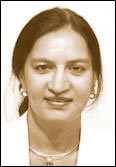 • Deepa Narayan presents book on Moving out of Poverty
Deepa Narayan, Senior Advisor in the Poverty Reduction and Economic Management Network of the World Bank, presents a global World Bank study on how poor people succeed in moving out of poverty, entitled "Moving out of Poverty: Understanding Freedom, Democracy and Growth from the Bottom Up", in Stockholm on Wednesday 27 May 2009, 11.30–13.00. The book, being launched in Sweden, is based on accounts and questionnaire replies from more than 60 000 poor women and men in over 500 local communities in low and middle income countries. The seminar has been jointly arranged by the Department for Development Policy within the Swedish Ministry of Foreign Affairs, and the Swedish Development Association (FUF). Nora Dudwick of the World Bank, who led the Moving out of Poverty project, and Göran Holmqvist, policy analyst at the Nordic Africa Institute and previously active in organisations such as Sida, also participate in the seminar. Venue: The Press Centre, Fredsgatan 6, Stockholm. More information.
• PRIO seminar on Space for Conciliation in the Afghan Conflict
The International Peace Research Institute (PRIO) in Oslo, Norway invites to a seminar entitled "The Space for Conciliation in the Afghan Conflict" on Wednesday 27 May 2009, 14.00–16.00. Key Afghan observers jave been invited to comment on the prospects for conciliation in the current situation, taking as a point of departure a recent report by CMI and PRIO on the issues. Issues such as negotiations and transparency will be examined; as well as the role of civil society; local governance and linkages between central and local level accommodation; and accountability for past misdeeds. Speakers include Orzala Ashraf, founder and director of Humanitarian Assistance for the Women and Children of Afghanistan, Yale World Fellow, advanced degree from University of London; Aziz Hakimi, independent analyst, co-founder of the Killid media Group in Afghanistan, country director of 'Future Generations' (an NGO), advanced degree in political science from King's College, London; Tariq Usman, analyst with the Asia Foundation, former government official in the Islamic Emirate of Afghanistan, advanced degree from Sussex University; and Waliullah Rahmani, director of Kabul Center for Strategic Studies, editor of Kabul Direct. Participants should register in advance with seminar@prio.no. Venue: Place: PRIO, Hausmanns gate 7, Oslo. More information.
• DIIS seminar on Obama's Strategy for Afghanistan and Pakistan
The Danish Institute for International Studies (DIIS), the Danish Atlantic Treaty Association and Carnegie Endowment for International Peace invites to a joint seminar on "Obama's Strategy for Afghanistan and Pakistan – Where Now for Europe?" on Tuesday, 2 June 2009, 16.00–17.30. Presentations will be given by Daniel Korski, Senior Policy Fellow, European Council on Foreign Relations, London; Fabrice Pothier, Director, Carnegie Europe, Brussels; and Søren Schmidt, Project Researcher, DIIS. They focus on what is the content of Obama's new strategy, and how likely is it that the strategy will be successful in dealing with the increasing threat from Taliban in Pakistan? Participation is free of charge, but registration is required. Registration to atlant@atlant.dk, no later than Friday 29 May 2009. Venue: Svanemøllens Kaserne, Building 75, Ryvangs Allé 1, Copenhagen. More information.

• Lund seminar on Status of Sociology of Law in India
Professor Arvind Agrawal from the Dept. of Sociology at the University of Rajasthan in Jaipur, India, will give a Pufendorf Seminar at Lund University on Friday 5 June 2009, 13.15–16.00. Prof. Agrawal, who is one of India's leading sociologists of law, will talk on the theme "Status of Sociology of Law in India". The seminar is organised by the Division of Sociology of Law at Lund University. Venue: Pufendorf Hall, Lilla Gråbrödersgatan 3 C, Lund. More information.
• Stockholm seminar on Female Entrepreneurship in Rural India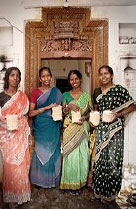 Maria Borelius, CEO of Hand in Hand International and former Swedish Minister of Trade, lectures about "Female Entrepreneurship in Rural India" in Stockholm on Wednesday 10 June 2009, 18.00–19.30. The seminar is organised by the Sweden India Business Council (SIBC), and is free of charge but registration is needed (and if you fail to show up after having registered you will be charged SEK 200). Register to info@sibc.se. Maria Borelius will speak about how women are empowered and start businesses from scratch. Hand in Hand, founded by Percy Barnevik, has in five years changed the lives of hundreds of thousands of women in Tamil Nadu. By a mix of business coaching, micro-credits and social coaching these women have started more than 200 000 enterprises, and are now lifting their communities on all levels. Photos of these women shot by famous photographer Richard Lewistohn are also shown in an exhibition. Venue: Bukowskis, Arsenalgatan 2, Stockholm (round the corner from Berns in Berzeli Park). More information.
Business and Politics
• Information about South Asia related business and politics in Sweden
See SASNET's page, http://www.sasnet.lu.se/polbuss.html
South Asia related culture in Scandinavia
• Kolkata artists perform with music and Kathak dance in Lund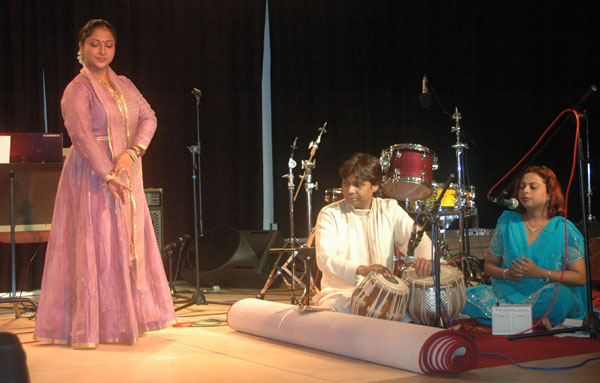 A magical performance with Kathak dance and North Indian classical song and Tabla music will be held at Theatre Sagohuset in Lund on Wednesday 27 May 2009. The extraordinary Tabla player Subrata Manna, the singer Sudokshina Chatterjee Manna, and the Kathak dancer Sohini Debnath, all from Kolkata, India, visit Scandinavia as part of a European tour (with another concert in Copenhagen on the day before, May 26th). On Tuesday 26 May they also held a well-attended academic seminar at Lund University's Academy of Music in Malmö, a seminar co-organised by SASNET: Venue: Sagohuset, Revingegatan 8, Lund. The concert is organised in collaboration with Folkuniversitetet i Lund, and SASNET. More information.
• Bharata Natyam dance show at Malmö's Bollywood cinema hall
The Bharata Natyam dancer Shivapriya Bagchi from Kolkata, India, performs at BioCentrum in Malmö on Friday 5 June 2009, at 19.00. Ms. Bagchi is currently on a tour to Sweden, also performing at Högskolan Skövde on Thursday 28 May. More information.
• More information about South Asia related culture in Sweden and Scandinavia
See SASNET's page, http://www.sasnet.lu.se/culture.html
New and updated items on SASNET web site
• Swedish departments where research on South Asia is going on:
Constantly added to the list of research environments at Swedish universities, presented by SASNET. The full list now includes 249 departments, with detailed descriptions of the South Asia related research and education taking place! Go to http://www.sasnet.lu.se/environment.html
• Useful travelling information
Look at http://www.sasnet.lu.se/travelling.html. Updated travel advises from the The British Foreign & Commonwealth Office about safety aspects on travelling to the countries of South Asia.
---
Best regards,
Lars Eklund
deputy director/webmaster
SASNET/Swedish South Asian Studies Network
SASNET is a national network for research, education, and information about South Asia based at Lund University. Its aim is to promote a dynamic networking process in which Swedish researchers co-operate with researchers in South Asia and globally.
The SASNET network is open to all the sciences. Priority is given to interdisciplinary cooperation across faculties, and more particularly to institutions in the Nordic countries and South Asia. SASNET believes that South Asian studies will be most fruitfully pursued as a cooperative endeavour between researchers in different institutions who have a solid base in their mother disciplines.
The network is financed by Sida (Swedish International Development Cooperation Agency) and by Lund University.
Postal address: SASNET – Swedish South Asian Studies Network, Scheelevägen 15 D, SE-223 70 Lund, Sweden
Visiting address: Ideon Research Park, House Alpha 1 (first floor, room no. 2040), in the premises of the Centre for East and South East Asian Studies at Lund University (ACE).
Phone: + 46 46 222 73 40
Fax: + 46 46 222 30 41
E-mail: sasnet@sasnet.lu.se
Web site: http://www.sasnet.lu.se

Back to SASNET


---