SWEDISH SOUTH ASIAN STUDIES NETWORK

---
Department of Political Science, Lund University:
Postal address: Box 52, SE-221 00 Lund, Sweden
Visiting address: Paradisgatan 5
Web page: http://www.svet.lu.se/english_pages/
Contact person: Associate Professor Catarina Kinnvall, phone: +46 (0)46 222 8094. Personal web page.
Research connected to South Asia:
During the last few years, research concerned with the Third World has commanded increased attention. The Department has received funding by Sida, the Swedish International Development Cooperation Agency, to further strengthen this field of research. A number of PhD candidates are funded by Sida grants, in the last few years several dissertations have been presented within the area; many of them based on support from Sida/SAREC. In addition to more traditional interests in developmental aid and international organization, research interests now include democratization, the role of civil society, human rights, nationalism, ethnicity , different political regimes and gender in Third World countries.
Many outh Asia related seminars have been organised during the last years, many of them on collaboration with SASNET.
In October 2010, a large group of teachers and professors from the department, including Associate Professors Anders Sannerstedt, Tomas Bergström and Catarina Kinnvall, made a study tour to India.
They visited several research institutes both in Delhi and Mumbai. The department has established collaboration with Tata Institute of Social Sciences (TISS) in Mumbai and the School of International Studies at Jawaharlal Nehru University (JNU) in Delhi.
Prof Swaran Singh from JNU's Center for International Politics, Organisation and Disarmament visited Lund University soon after, and held a SASNET lecture on Friday 17 December 2010, talking about "India's Disarmament Policy: Past, Present, Future". More information.
The Dept. of Political Science has also started to collaborate with the Institute for Defense Studies and Analysis (ISDA) in New Delhi, India. In September 2010, Associate Professor Jagannath Prasad Panda from ISDA held a lecture at the department in Lund on "The Pattern of Sino-Indian Relations: Evaluating the Strategic Discourse", a seminar jointly organised by SASNET. More information about the seminar.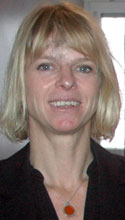 Catarina Kinnvall (photo to the right) is an experienced researcher working on several projects related to India and China. She defended her doctoral dissertation about "Cultural Diffusion and Political Learning – The Democratization of China" in 1995. Dr. Kinnvall was a member of SASNET's board from the launch of SASNET in 2001 till the board was dissolved in September 2010.
Catarina Kinnvall coordinates the Masters programme in Global Studies at Lund University, and also teaches in the Masters Programme in Asian Studies at the Centre for East and South East Asian Studies (ACE). She is the former Vice-President of the International Society of Political Psychology (ISPP).
Her research interests are focused on issues of globalization, security, religion, nationalism and political psychology. Empirically her work deals with Asia and Europe, with a particular focus on issues of security and religion in India, Pakistan and among Muslims in the West. She has done extensive field work in China, India, Pakistan and Europe and has been a visiting scholar and lecturer at University of California, Irvine, Texas A&M, Hong Kong University and Jawaharlal Nehru University.
During the last decade she has written a large number of books, articles and conference papers/presentations, e g a text about "Gender, Multiculturalism and Religious Discourse(s): Women as symbols in Hindu nationalism" (together with Dr. Sidsel Hansson, Centre for East and South East Asian Studies, Lund University) in a volume titled "Gendered Inequalities: Gender Research on Asia" (Helle Rydström (ed.), NIAS Press, 2006); and also in 2006 a text about "Civilizations, Neo-Gandhianism and the Hindu Self" (in a Palgrave volume titled "Writing Civilizations", edited by Martin Hall and Patrick Jackson. Go for a full list of Catarina Kinnvall's publications.
In January 2011, SASNET launched an Interdisciplinary South Asia Seminar series at Lund University, in the form of Brown bag lunch seminars. The aim is to present and disseminate the eminent South Asia related research that is carried out in so many departments at Lund University.
– The first seminar was held on Tuesday 18 January 2011, 12–13. Catarina Kinnwall talked about "Religion, Nationalism and Discourses on Terror in South Asia". More information on the 2011 Brown Bag seminars.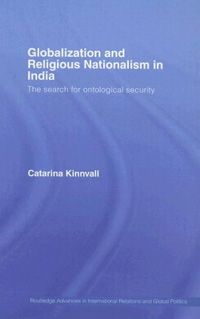 In January 2007, she published a monograph titled "Globalization and Religious Nationalism in India. The search for ontological security", published in the Routledge Advances in International Relations and Global Politics series. The book explores the effects of globalization in India and the problem of identity formation, this book contributes to the theoretical and empirical debate on identity, globalization, religious nationalism and (in)security. The author puts forward a new approach based on political psychology, to interpret identity construction, which is seen as an individualized process where interactions of the global and the local are intimately implicated. Thereby, this book presents a psychological analysis of how increased insecurity affects individuals' and groups' attachments to religious nationalism in an era of globalization.
Together with Dr. Sidsel Hansson, she has also been involved in planning an independent, interdisciplinary 15 ECTS researcher training course on "Religion, Conflict and Identity in South and Southeast Asia". It ran for the first time in October 2006, and aimed at supplying students with overviews of the broader religious developments in South and South East Asia. Supervision was given in the form of seminars, held both in Lund and in Copenhagen. More information on the course.
Some years ago, Dr. Kinnvall was involved in a research project called "Globalization and the State in India", in collaboration with Associate Professor Bishnu Mohapatra, Centre for Political Studies, Jawaharlal Nehru University, New Delhi, India. This project was given a planning grant by SASNET in August 2002 (more information). She has also involved in a research project on "In the Name of Tradition: Globalization and Dislocation in Postcolonial Societies", which is more specifically concerned with the relationship between globalization, religion, nationalism and gender in India.
Christina Kinnvall has also been involved in another research collaboration project dealing with globalization in Asia, with Assistant Professor Kristina Jönsson at the same department (who is presently working on a project called "Issue without Boundaries: HIV/AIDS in Southeast Asia"). Their joint research resulted in a an edited volume titled "Globalization and Democratization in Asia: The Construction of Identity", that was published by Routledge in 2002.
More information on Catarina Kinnvall's research projects.
Catarina Kinnvall has been involved in collaborative research on Muslim Diaspora with the Pak Institute for Peace Studies (PIPS) in Islamabad, Pakistan (more information below), and in March 2009 she delivered a lecture there on "Foreign Policy: Multiculturalism, Return Visits and young Muslims in Europe". More information.
Catarina has also been involved in teaching at the Seventh South Asian Orientation Course in Human Rights and Peace Studies, organised in Kathmandu, Nepal, in 2008. The programme was organised by the South Asia Forum for Human Rights' (SAFHR). More information.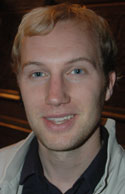 Dr. Ted Svensson, former Masters student and fil. mag at the department, works as an Assistant Professor at the department. From the academic year 2009-10 he also teaches at the Masters programme in Asian Studies at the Centre for East and South-East Asian Studies, Lund University.
In 2006, Ted Svensson joined a PhD programme at the Dept. of Politics and International Studies, Warwick University in UK, and on 23 March 2010, he defended his doctoral dissertation entitled "Meanings of Partition: Production of Postcolonial India and Pakistan". The thesis constitutes an analysis of the partition of British India and the ensuing state formation and state consolidation in the region. During his time at Warwick University, Ted has been supervised by Professor Shirin M. Rai and Professor Stuart Croft. The external opponent at the dissertation was Prof. Jenny Edkins from Aberystwyth University, UK.


Abstract: The thesis constitutes an attempt to conceptualise the partition and independence of India and Pakistan in terms of rupture and novelty. The event or transition, which formally occurred in August 1947, is analysed as a rare moment of openness and undecidability. It is argued that a study of the so-called transfer of power – and of the inclusion of the notions of 'Partition' and 'Independence' as key elements of Indian and Pakistani nation building – ought to contain a recognition of the labour by the political elites to overwrite the abyssal and ambiguous character of becoming independent and postcolonial. A second argument is that this overwriting was necessarily partial as it left certain groups and subject positions to populate the margins and the in-betweens of citizenship and national identity. The principal implication of the proposed theorising is that we need to adopt a new approach to the study of the partition of British India and the ensuing nation and state building – an approach that is both sensitive to the constitutive contingency and to the forceful closure that was contained in the moment of transition.
In doing the above, the thesis critically engages with literature on the various and multi-layered levels of violence that were inscribed into the politics of belonging. Particular attention is, in some sections, devoted to the Indian case. Partly in order to contest some of the conventional assumptions regarding how to conceive the events in the late 1940s and the early 1950s; partly as a consequence of the primary material that underpins much of the reasoning. In order to demonstrate and theorise the above-mentioned uncertainty regarding what independence signified to the political elites, the thesis is to a significant degree the product of archival research carried out at the National Archives of India and at the Nehru Memorial Museum and Library. The analysis, in addition, draws on a close reading of the Constituent Assembly debates in both India and Pakistan.
Ted's general research interests include identity politics, violence, methodology, poststructuralist thought and contemporary South Asia. Ted frequently presents research papers at international conferences. He participated in the inaugural conference of the Law and Social Sciences Research Network in New Delhi, India in January 2009; and the Political Studies Association's annual conference in Manchester, UK, April 2009. An article entitled 'Frontiers of Blame: India's "War on Terror"' was published in the journal Critical Studies on Terrorism, vol. 2, 2009.
In February 2010, he participated in the International Studies Association's annual conference in New Orleans, USA, and presented a paper (together with Catarina Kinnvall) entitled 'Securitizing Religion: The Destabilization of Pakistan'. Ted and Catarina are also jointly working on an article entitled 'Hindu Nationalism, Diaspora Politics and Nation-Building in India' that will be published by the Australian Journal of International Affairs during 2010.
More information on Ted Svensson's personal web page.

In 2004, Ted Svensson was given the Hydén Award, for producing the best undergraduate thesis on Democratisation and Development in the Third World that year at Lund University. The Hydén Award is given every year since 2002 in honour of the renowned Prof. Göran Hydén. It is open for senior dissertation students in anthropology, economic history, economics, political science and sociology. Svensson was awarded for writing an excellent Masters thesis entitled "Hindu Right Discourse – Hegemonic Articulation and Social Antagonism", on the reasons behind the strong emergence of Hindutva political philosophy in India during the last 20 years.
Abstract: India has during the last two decades witnessed a substantial rise in Hindu nationalist influence. An increase in communal sentiments among the Indian population has been synchronous to the hegemonic articulation by a Hindu Right discourse. This discourse primarily revolves around the abundance of rightwing Hindu organisations connected to the Rashtriya Swayamsevak Sangh (RSS). In 1996 its political wing triumphed in the general elections for the first time in the history of independent India, mainly due to an organic crisis by the Congress party. The focal point of this thesis is to examine the phenomenon on the foundation of discourse theoretical concepts. Since the social and all identities are fundamentally lacking essence, I have tried to penetrate and reveal the emptiness that constitutes Hindu Right discourse. In its attempts to merge with the social order and establish a structured totalization in meaning it simultaneously leaves something outside. The political frontiers drawn by the discourse neglects the rights of religious minorities as well as erase internal divisions within the Hindu community. Through its time-abiding ideological work and presence in all spheres of Indian society the Hindu Right has managed to disseminate its symbolic field to every corner of the country. Today, key terms in the political field, such as "nationalism" and "secularism", are gradually apprehended according to the articulatory practices of Hindu Right discourse.
Collaboration with Pakistani researchers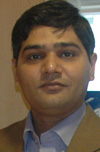 From 2007, the department is involved in a collaboration with the Pak institute for Peace Studies (PIPS) in Lahore, Pakistan. The PIPS Director, Mr. Muhammad Amir Rana, a renowned expert on terrorism and regional strategic issues, visited Lund University in the end of October 2007. On Friday 26 october 2007, he lectured about 'Pakistan and the radicalization of Islam and the upcoming election'.
Mr. Rana is the founding member of the PIPS, but has also served in senior positions in prestigious English and Urdu newspapers. He is the author of seven books, including "A to Z of Jihad organizations in Pakistan", considered to be the first serious attempt to unfold the jihadist organizations' internal affairs, disputes and infightings, and their impact on militant groups. Mr. Rana is also a visiting fellow at the International Centre for Political Violence and Terrorism Research at Nanyang Technological University in Singapore.
Development Studies Programme
In September 2009, Lund University's Dept. of Social and Economic Geography launched a new Bachelor of Science programme in Development Studies with a major in Economic History, Human Geography, Political Science or Sociology. The programme is interdisciplinary and focuses on economic, social and political processes and their linkages to development cooperation. The duration of the programme is three years. It is organised in collaboration with the Department of Political Science, and also the Dept. of Economic History and the Dept. of Sociology.
More information about the Programme.