SWEDISH SOUTH ASIAN STUDIES NETWORK

---
Department of Economic History, School of Economics and Management; Lund University:
Postal address: Box 7083, SE-220 07 Lund, Sweden
Visiting address: Scheeles väg 15 B, 1st floor
Web page: http://www.ekh.lu.se/defaultEN.asp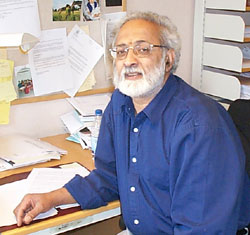 Contact person: Neelambar Hatti, phone +46 46 222 74 88
Development studies at the department:
Studies in Third World economic history have formed a substantial proportion of the Department's activities since the early 1970s, from which time studies in the economic development of the Third World have been firmly established as a tradition of the Department continuing into the present. More than a doussin doctoral dissertations dealing with the problems of underdeveloped countries have been presented.
Four research scholars specialising in Third World studies are currently working in the Department, and about ten Ph D students are preparing doctoral dissertations. In addition, several courses oriented towards Third World economic history are given at graduate and postgraduate levels, and "Third World seminars" are held as part of the Ph D programme. In 1995 a professorship with development orientation was inaugurated at the department.
Third World studies at the Department are have been fairly broadly organised, and the choice of topics has varied. Different aspects (causes as well as effects) of economic transformation in developing countries have been covered. However, the process of industrialisation in Third World countries has been a principal field of research, and most of the courses given at undergraduate and graduate levels have had a bias towards the issue of industrialisation. Industrialisation is a major research theme in economic history in general. Therefore it is only natural that economic history studies of Third World economic development should have an emphasis on industrialisation.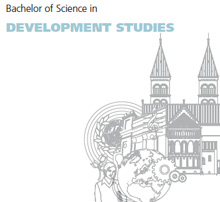 Since 2009, Lund University's Dept. of Social and Economic Geography runs a Bachelor of Science programme in Development Studies with a major in Economic History, Human Geography, Political Science or Sociology from September 2009. The programme is interdisciplinary and focuses on economic, social and political processes and their linkages to development cooperation. The duration of the programme is three years. It is organised in collaboration with the Department of Economic History, and also the Dept. of Sociology and the Dept. of Political Science.
More information about the Programme.
In the fall semester 2011, the Dept. of Economic History organises a 7.5 ECTS undergraduate course on "The Rising Giants – China and India Entering the Global Scene". The teacher at the course is Dr. Tobias Axelsson.
This course gives a much improved first hand understanding of the rise of Asia's two giants – China and India. First, modernisation and industrialisation in socialist China is explored from the pre-communist era until today. The process of transition from plan to market economy is unravelled. The institutional set-up and socio-economic achievements of the emerging market economy are contrasted with, but also causally linked to, those of the socialist planned economy. Secondly, the Indian economy from colonial times to present day is studied. Particular consideration is given to Independent India, contrasting and linking the miracle economy of the 1990s and the new millennium with the preceding forty years, scrutinising the economic policy of past and present in terms of economic achievements. Focusing on China and India will allow for comparisons of Asian development experiences where processes of economic growth and structural changes are analysed from the point of view of equity between individuals, groups, class and gender together with the challenges of achieving environmentally sustainable development. More information on the course.


South Asia related research at the department
Dr. Neelambar Hatti has been working in the department since the 1970's and produced a vast material of research material on India, and especially on rural development and demography, as well as the social, economic and administrative conditions in the old Mysore state, nowadays part of Karnataka. Go for a list of Neelambar Hatti's publications from 1973–2004.
Hatti is also a competent lecturer, both at the courses in Economic History, where he has been teaching on "Underdevelopment and Industralisation in the Third World", and "The Emergence of the Third World"; and at the South Asia track of the Masters Programme in Asian Studies, organised by the Centre for East and South-East Asian Studies (ACE).
He has now an Emeritus, but keeps on working at the department.
From June 2003 till 2007, Neelambar Hatti was the chairman of the board for The Nordic University consortium designated Nordic Centre in India, established in 2001 but given an official approval by the Indian government only in October 2004. More information on the Nordic Centre in India.
During the period November 2010 – January 2011, Neelambar Hatti was a guest professor at the Gokhale Institute of Politics & Economics in Pune, India. During his tenure, he did both teaching and collaborative research.
While in South Asia, he also participated in two scientific conferences:
First the conference entitled "Reflections 2010; Managing Diversity, Recociliation and Development" held in Colombo, Sri Lanka 1–3 November 2010 (full information); and then the conference on "South Asia 2020; Towards a Greater Unity and Interdependence", held in Pondicherry, India 22–24 November 2010 (more information).
Neelambar Hatti plans to start a new research project in 2011. The project is entitled "The Nest is Empty: Aging in Modern India" and will be carried out in collaboration with colleagues at Gokhale Institute of Politics and Economics in Pune, and the Institute of Social and Economic Change (ISEC) in Bangalore.

Research projects:
Project: Lives at Risk; Discrimination of female children in modern India

Co-ordinator: Neelambar Hatti
The projects is carried out in collaboration with Associate Professor T.V. Sekher at the International Institute of Population Sciences (IIPS) in Mumbai. Previously Sekher was affiliated to the Institute for Social and Economic Change (ISEC), in Bangalore.
PhD candidate Mattias Larsen is also part of the research group. Since January 2005 Larsen is affiliated to the Division of Peace and Development Studies (PADRIGU), Scholl of Global Studies, Gothenburg University.

Project desciption: Neelambar Hatti was given a major grant from the Swedish Research Council in November 2002, to implement this three-years project during the period 2003–2005. More information on the project (in Swedish). The project looks into the casues and consequences of discrimination of female children in modern India, by looking at five states – Haryana, Punjab, Uttaranchal, Tamilnadu and Karnataka. The first three states having the worst figues for the 0-6 age group, whereas Tamilnadu is particularly interesting because of the predominance of infanticide in four districts.
The project is interdisciplinary involving social anthropology, ethnology, economic history and population economics, involving also Pernille Gooch from the Division of Human Ecology, Dept. of Ethnology; and Alia Ahmad from the Dept. of Economics.
The main collaboration partners on the Indian side have been Minnamane Ramachandra Bhat in Karnataka; Laxmi Nodiyal in the state of Uttaranchal, and Dr. Suresh Sharma, Institute of Economic Growth in New Delhi.

At the 18th ECMSAS conference arranged by SASNET in July 2004 Neelambar Hatti and T V Sekher organised a panel on "Education, health and demographic changes in South Asia". Full information on the panel.
Together with Mattias Larsen they published in 2004 a Working Paper titled "Lives at Risk. Declining Child Sex Ration in India" (No 93 in the series Lund Papers in Economic History), Full text version is available on the Internet. Go for it (as a pdf-file).
A two-day workshop on "Lives at Risk: Vulnerable Daughters in a Modernising Society" was held in Bangalore 28–29 September 2005. The workshop was organised by the Institute for Social and Economic Change (ISEC), Bangalore, India, in collaboration with the Department of Economic History, Lund University. It focused on the imbalance in sex ratio and its implications for India, highlighted in the 2001 Census (showing a clear declining child sex-ratio among children below seven years). Venue: ISEC, Nagarbhavi, Bangalore. More information.
A paper titled "Uncertainty Vulnerable daughters" was jointly presented by Mattias Larsen, Pernille Gooch and Neelambar Hatti, at the CEPED-CICRED-INED Seminar on "Female Deficit in Asia: Trends and Perspectives", held in Singapore, 5–7 December 2005. Read the draft paper.

Neelambar Hatti and Mattias Larsen were interviewed about the findings from this research project in the Hindustan Times, 17 December 2006. In an article titled "Death chambers turn rich and erudite", written by the journalist Aditya Ghosh, the wide differences in sex ratio in villages of Karnataka and Uttaranchal are revealed:
"KNOWLEDGE IS known to spread light — opening up closed minds. But it does not always shield the girl child. Prosperity drives one to charity. Unborn little girls do not benefit from them. An extraordinary four-year research in the heart of rural India, post 2001 Census, shows that people living in areas with a higher level of education and prosperity slaughter more female foetuses than those languishing in social and economic backwaters."
The less prosperous villages are shown to have a healthy ratio, while their wealthier neighbours, with higher indices of education and development logged lesser number of girl children. It shows a strong shift from "son preference to active daughter discrimination", and that people living in areas with a higher level of education and prosperity slaughter more female foetuses than those languishing in social and economic backwaters.

In October 2007 Dr. Hatti received SEK 300 000 as a two years grant (2008-09) from the Swedish Research Links programme (funded by Sida and the Swedish Research Council) for an project titled "Undesired daughters: The paradox of modern India". Dr. Hatti has collaborated with Prof. Tulsi Patel, Professor of Sociology, Delhi School of Economics. Read an abstract of the project (in Swedish only)
More information on the Swedish Research Links grants 2007.

The Lund University project on imbalances in sex ratios in India have resulted in a number of publications, among them:

– 'Vulnerable daughters in a Modernizing Society; From 'Son Preference' to 'Daughter Discrimination' in Rural South India',
(by Neelambar Hatti and T.V.Sekher) in Isabel Attane & Christoph Guilmoto (eds), Watering the Neighbour's Garden, CICRED, Paris,
2007. Read the paper.

– 'Unwanted Daughters: Gender Discrimination in Modern India', volume edited by T. V. Sekher and Neelambar Hatti, published by Rawat Publishers, India, in November 2009. Officially released at the 31st annual Indian Association for the Study of Population conference, held at Sri Venkateswara University, Tirupati, Andhra Pradesh, India, 3–5 November 2009. The main theme of the conference was "Population and Disease".
Besides an introduction by Neelambar hatti and T.V. Sekher, the volume includes a paper on 'Intergenerational Interests, Uncertainty and Discrimination; Conceptualizing the Process of Declining Child Sex Ratios in India', jointly written by Neelambar Hatti; Mattias Larsen, PADRIGU, School of Global Studies, University of Gothenburg; and Pernille Gooch, Human Ecology Division, Lund University.

The book also includes papers written by eminent Indian researchers such as Tulsi Patel, Mari Bhat, and Ravinder Kaur.
Read a review of the book in the Hindu, 24 August 2010.

---

Project: Interface between Administrators and Clients in Rural Development; A Case Study of Karnataka; India

Co-ordinator: Neelambar Hatti
The projects is carried out in collaboration with R S Deshpande at the Institute for Social and Economic Change (ISEC), Bangalore, India.

Project description: Since independence, India has been engaged in a stupendous task of social creation. It aims at a radical transformation of the Indian society with the help of two simultaneous "revolutions", industrialization and democratisation. The major role in initiating and sustaining this process of social creation is played by the centralised political authority. For, the Indian society, particularly the rural society, seems to lack those dynamic forces needed to initiate deep and self-sustaining changes. Consequently, the State has, as one main aspect of development ideology and the five-year Plans, used the public bureaucracy/administrators as an important instrument not only to create the dynamic forces but also stimulate and oversee implementation of developmental efforts.
The present project is formulated in recognition that a most important external factor facilitating or hindering development is whether the social , political and administrative environments are conducive to concerted activities. The building of local institutions can be both facilitated and hindered by public initiatives in general and individual administrators in particular. One of the primary concerns of the proposed study is to analyse how the interface between administrators and their clients, the rural populace, affect the design and implementation of development activities.

At the 18th ECMSAS conference arranged by SASNET in July 2004 Neelambar Hatti and R S Deshpande organised a panel on "Institutions and Agricultural Development". Full information about the panel.

---

Project: Agrarian Structure and Capital Accumulation in the Princely State of Mysore, 1806-1868

Co-ordinator: Neelambar Hatti

Project description: The study is based on a data source recently 'rediscovered' by us. This material comprises of 228 volumes of village account books, known as Kaditas, and cover the period l806-68. These volumes contain detailed accounts (daily, monthly and yearly) of all aspects of the agrarian economy of a well-defined area, Yelandur Taluk, which was previously a Jaghir or landed estate in Mysore State. The study has three objectives:

To develop a methodology for interpreting the data contained in the kaditas;
To describe and analyse the agrarian structure and revenue administration of Yelandur in the l9th century which, we hypothesise, was precolonial in nature and
On the basis of this hypothesis to test the parameters for capital accumulation in a precolonial society.

---

Project: Culture of Corruption: Some methodological considerations


Co-ordinator: Neelambar Hatti
The projects is carried out in collaboration with James Heimann & Mason C. Hoadley.

Project description: A comparative study, drawing upon contemporary experiences of India and Indonesia. While Indonesia is less transparent (i.e. more 'corrupt') – 126th compared with 85th on a scale of 180 according to the Transparency Perception Index (TPI) – India is considerably more open in discussing the issue. This provides a window of opportunity for empirical research into not only the prevalence of corruption, a 'culture of corruption' (budaya korupsi in Indonesia and brashtachar in India)

A 2009 study presented as an article in the publication series Lund Papers in Economic History (No. 112, 2009). Go for the full text.
---
Indian Guest lecturer at the department

In August 2008, SASNET awarded a guest lecture programme grant to Neelambar Hatti. He was given SEK 20 000 in order to invite Dr. T V Sekher, Associate Professor, Department of Population Policies and Programs, International Institute for Population Sciences (IIPS), Mumbai, India. Dr. Sekher was co-invited by the Nordic Centre in India (NCI) consortium to deliver lectures also at Umeå University, Stockholm University and Göteborg University. More information about the SASNET planning grants 2008.
Dr. Sekher is a sociologist and demographer that has undertaken various field-based research studies during the last fifteen years on important social and demographic issues of relevance in contemporary India. He has collaborated with researchers from UK, France, Sweden, and USA, apart from scholars from India. Besides, he is the coordinator of the training program on "Demography, Gender and Reproductive Health" that is organised every summer for Nordic students in Mumbai by IIPS and the Nordic Centre in India.
Dr. Sekher held an open lecture on "India's Population Policies and Programmes (1950-2008): An Assessment" at Lund University on Tuesday 24 March 2009. In his presentation he described the significant changes that the population policies have undergone during the last 60 years. In recent years, the emphasis is on community needs and quality of services at affordable costs. The population policy of the government of India (2000) stresses the need for decentralization of health and family welfare services, involvement of men in family planning programmes, greater role for the private and voluntary sectors, and the convergence of service delivery at village levels.