SWEDISH SOUTH ASIAN STUDIES NETWORK

---
Newsletter 13:
14 February 2002
SASNET News:
• Planning Grants 2001 and 2002
The decisions concerning the second round of SASNET planning and networking grants for the year 2001 were delivered on 24 January 2002. Four projects, three for research and one for education, received grants. See the full list of the projects which were given SASNET grants in the two rounds of 2001.
Applications are now welcome for the next round of SASNET planning grants. Closing date for applications is 15 June, 2002. More information.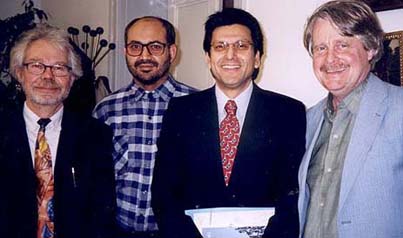 Photo: Britta Collberg
Community News:
• Network for scholars on Bangladesh
The European Network for Bangladesh Studies (ENBS), based at the Dept of Economics & International Development, University of Bath, UK, is about to compile a new edition of the Directory of Network Members. Anybody wishing to register or renew membership with the Network is requested to do that.
• Sida grants for development research
Sidas u-landsforskningsråd (Sida's Developing Country Research Council) announces grants for research with relevance to aid and development issues. Individual researchers or groups of researchers working at universities, colleges and other Swedish research institutions are eligible to apply for a grant. Swedish citizens working at the Scandinavian Institute for Asian Studies (Nordiska Asieninstitutet, NIAS) in Copenhagen may also apply. Closing date for applications is 22 April, 2002. More information.
• Grants from the Crafoord Foundation
The Crafoord Foundation, which on a non-profit basis aims to strengthen Swedish academic tuition and research at doctoral level and above, announces grants for for the year 2002. The applications will be examined by an academic council and thereafter by the Grants Committee of the Foundation, whereafter the Board of the Foundation makes its decision at the end of May. Last year the Foundation, with office in Lund, distributed grants for 25 million kronor. Closing date for applications are 14 February 2002. More information.
• MFS students wanted for research project at SLU
Mikaela Ståhl Högberg, at Dept of Animal Nutrition and Management, at Swedish University of Agricultural Sciences, Uppsala, is working on a thesis concerning dairy farmers in northern India. Mikaela has room for two MFS students within the research project, to be carried out during 2002.
• Book on Gender and property law in Pakistan
Dr Rubya Mehdi, assistant professor at Carsten Niebuhr Institute of Near Eastern studies at Copenhagen University, has published a book on "Gender and Property Law in Pakistan – Resources and Discources", at DJØF Publishing. More information.
Important lectures
Courses and conferences:
• Research Council grants decided upon
The Swedish Research Council decided in the middle of November upon research grants for 2002–2004. Lists of the applications which were given grants in different disciplines.
• Network on HIV issues in India
The research network SAATHII (Solidarity against the HIV Infection in India) tries to bring together govenmental and non- governmental organizations, within and outside of India, working on HIV issues. SAATHII now prepares a website, still under construction, though.
• Discussion fora on international health issues
The Health & Development Networks (HDN) is a non-profit organisation who manages and moderates electronic discussion forums on international health issues, on behalf of the Swiss organisation Fondation du Present. Among the several e-mail discussion forums that are going on the SEA-AIDS Forum is focused on HIV/AIDS in the Asia-Pacific region, and Shohojogi-AIDS is a national forum on the AIDS situation in Bangladesh.
Educational News
Cultural Events in Sweden connected to South Asia
• Programmes on India at Swedish Radio P1.
A series of six programmes produced by Vetenskapsredaktionen, on issues as varied as Bollywood films, Indian languages and the Kashmir conflict, are sent between 11 and 17 February, 2002. More information (in Swedish only).
New and updated items on SASNET web site
ƒ Dept of Caring Sciences and Sociology at Gävle University
ƒ Dept of Marine Botany at Göteborg University
ƒ Microbial Ecology, Dept of Ecology at Lund University
ƒ Dept of Theatre Studies at Stockholm University
ƒ Dept of Animal Nutrition and Management at Swedish University of Agricultural Sciences (SLU), Uppsala
ƒ Dept of Political Science at Uppsala University
---
Best regards

Staffan Lindberg Lars Eklund

SASNET/ Swedish South Asian Studies Network

SASNET is a national network for research, education, and information about South Asia, based at Lund University. The aim is to encourage and promote an open and dynamic networking process, in which Swedish researchers co-operate with researchers in South Asia and globally.
The network is open to all sciences. Priority is given to co-operation between disciplines and across faculties, as well as institutions in the Nordic countries and in South Asia. The basic idea is that South Asian studies will be most fruitfully pursued in co-operation between researchers, working in different institutions with a solid base in their mother disciplines.
The network is financed by Sida (Swedish International Development Cooperation Agency) and by Lund University.


Postal address: SASNET – Swedish South Asian Studies Network, International Office,
Lund University, P O Box 117, S-221 00 Lund
Visiting address: Gamla Kirurgen, Sandgatan 3, first floor, room no. 230
Phone: + 46 46 222 73 40
Fax: + 46 46 222 96 65
E-mail: sasnet@sasnet.lu.se
Web site: http://www.sasnet.lu.se
Our office is manned weekdays 9-17, and open to visitors.

Staff: Staffan Lindberg, director/co-ordinator &
Lars Eklund, webmaster/programme secretary
Back to SASNET


---