SWEDISH SOUTH ASIAN STUDIES NETWORK

---
Newsletter 23:
21 January 2003
• Decisions on planning grants on 28 January
A total number of 19 applications for the latest round of SASNET planning grants were received before the closing-date on 15 November 2002. 17 applications refer to research programmes/projects, one to education; and one to continued research networking. Total amount applied for is 1.58 Million SEK, whereas total amount available to distribute will be 475 000 SEK (preliminary figure). Decisions on the grants will be taken on 28 January, 2003. More information on SASNET's Planning grants.
Vacant research positions/fellowships
• Research training course in Social Science Research in Asia
A research training course on Solving Methodological Problems in Social Science Research in Asia, will be held in Lund and Copenhagen, 17–20 March 2003. PhD students in the Social Sciences are encouraged to apply in a course arranged by the Centre of East and Southeast Asian Studies, Lund University, and Nordic Institute for Asian Studies, Copenhagen. A total number of 20 students will be selected for participation. Six Swedish School of Advanced Asia Pacific Studies (SSAAPS) PhD students and another six Swedish PhD students will be wholly financed by SSAAPS. The remaining eight PhD students, six from the other Nordic countries and two from the Asia Alliance (not including South Asia!), will be called upon to seek funding of their own expenses. Application deadline is 31 January 2003.
Important lectures and workshops
New and updated items on SASNET web site

Comparative Literature, School of Humanities, Växjö University
, Göteborg University
Cultural Events connected to South Asia in Scandinavia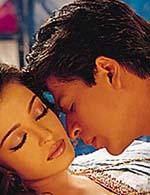 • South Asian films at Göteborg Film Festival 2003
Göteborg Film Festival 2003, starting on Thursday 23 January (and lasting to Sunday 3 February), will show at least three films connected to South Asia. The three films are "Pickpocket", directed by Linton Semage from Sri Lanka; "Bollywood/Hollywood" by Indo-Canadian director Deepa Mehta; and "Devdas" (based on a novel by Saratchandra Chatterjee), directed by Sanjay Leela Bhansali (photo to the right).
More information on the film festival.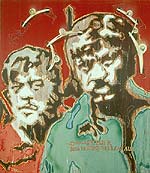 Red Hours – Yellow Air, painting by Jitish Kallat
---

Best regards

Staffan Lindberg Lars Eklund

SASNET/ Swedish South Asian Studies Network

SASNET is a national network for research, education, and information about South Asia, based at Lund University. The aim is to encourage and promote an open and dynamic networking process, in which Swedish researchers co-operate with researchers in South Asia and globally.
The network is open to all sciences. Priority is given to co-operation between disciplines and across faculties, as well as institutions in the Nordic countries and in South Asia. The basic idea is that South Asian studies will be most fruitfully pursued in co-operation between researchers, working in different institutions with a solid base in their mother disciplines.
The network is financed by Sida (Swedish International Development Cooperation Agency) and by Lund University.


Postal address: SASNET – Swedish South Asian Studies Network, International Office,
Lund University, P O Box 117, S-221 00 Lund
Visiting address: Gamla Kirurgen, Sandgatan 3, first floor, room no. 230
Phone: + 46 46 222 73 40
Fax: + 46 46 222 96 65
E-mail: sasnet@sasnet.lu.se
Web site: http://www.sasnet.lu.se


Staff: Staffan Lindberg, director/co-ordinator &
Lars Eklund, webmaster/programme secretary
Back to SASNET


---