SWEDISH SOUTH ASIAN STUDIES NETWORK

---
Newsletter 32:
13 October 2003
• SASNET contact journey to Pakistan and Afghanistan
The SASNET director Professor Staffan Lindberg, and deputy director/webmaster Lars Eklund in November-December 2003 will make a contact journey to Pakistan and Afghanistan in order to link up the SASNET activities with universities and research institutions in these countries. They will visit Karachi, Islamabad, Lahore and Kabul, where they hope to strengthen already existing academic contacts and establish new ones, in a similar way that was accomplished during the SASNET contact journey to the Maldives, Sri Lanka, India and Bangladesh in the Spring 2002. Read the reports from that journey.
• Register to the 18th EASAS conference at Lund before 1 February 2004!
The 18th European Conference on Modern South Asian Studies, organized by SASNET and Lund University, 6–9 July 2004, will have a total number of 49 panels, covering a wide scope of research fields. Go for the list of the panels with links to abstracts. Please note that individual researchers who like to present papers at the 18th EASAS conference should contact the convenor of the panel into which his/her paper fits. The normal duration of a panel session will be one morning or one afternoon, which means maximum 5–6 papers per panel. Each panel has a convenor who organizes the panel autonomously. All communications regarding the panels content should therefore be directed directly to the panel organizers, and not to the executive conference committee.
Last date for registration and submission of papers is 1 February 2004. A registration form, which now includes details on how to pay the conference fee, is available at the conference web page, http://www.sasnet.lu.se/EASAS18.html, where necessary information on applying for scholarships (limited in number) is also given.
• Next round for SASNET planning grants in June 2004
The coming round for SASNET planning grants, which should have had its deadline in November, has been cancelled. The decision was taken by the SASNET Board at its meeting on 26 August. Instead applications are invited for the first round in 2004. Closing date for applications is 15 June, 2004. More information.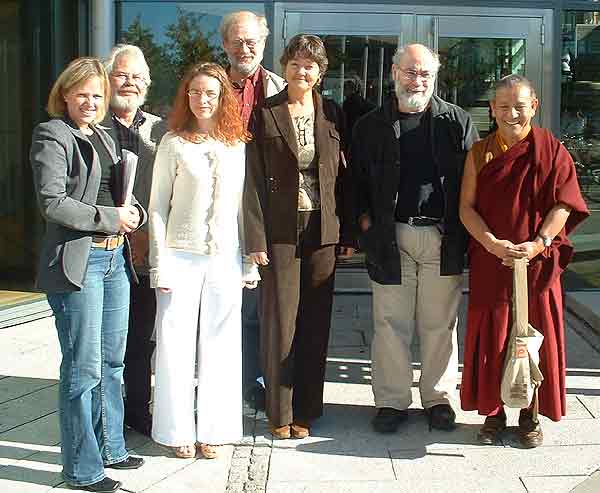 • SASNET symposia at Karlstad and Göteborg
Follow-up meetings to the SASNET's symposium in Marstrand in October 2002 were arranged at Karlstad University and Göteborg University in September 2003. Researchers, teachers and students engaged in South Asian studies at Karlstad University presented their work at a meeting on Wednesday 24 September (some of the participants shown on Lars Eklund's photo to the right); and those engaged in South Asia related research at Göteborg University were given an introduction to SASNET and its web site at a meeting on Thursday 25 September. More information on the meetings in which SASNET's Staffan Lindberg and Lars Eklund took part.
• Use SASNET's advanced search function
An advanced search engine provides for a full text search not only to SASNET's own web site, but also to all the pages linked up to, in two steps (at present that approximately 20 000 web pages). Therefore it is most useful for searching material specifically connected to South Asia. Go to http://www.sasnet.lu.se/searchf.html
• Copenhagen workshop on how to write proposals for EU's Sixth Framework Programme
A workshop on how to write competitive proposals for EU's Sixth Framework Programme (FP6) is held in Copenhagen, Denmark, on Thursday 30 October 2003. The following day, Friday 31 October another workshop is held with the theme "How to Negotiate, Manage, Administer and Finish an EU R&D Contract". Both workshops are jointly organized by EuroCenter, Danish Ministery of Science, Technology and Innovation; and Hyperion, Ireland; and they will be directed by Dr. Sean McCarthy from Hyperion. He has participated in over 150 proposals to EU R&D programmes over 50 contracts, and has been coordinator of 16 of these contracts. Venue: Danish Technological Institute, Gregersensvej, Entrance 8, Taastrup. Deadline for registration to the workshops: 17 October 2003.
EU's 6th Framework Programme covers seven thematic areas which are entitled for support: ‡ Life sciences, Genomics and Biotechnology for Health, ‡ Information society technologies, ‡ Nanotechnologies and nano-sciences, knowledge-based functional materials, new production processes and devices, ‡ Aeronautics and space, ‡ Food quality and safety, ‡ Sustainable development, global change and ecosystems, and ‡ Citizens and governance in a knowledge-based society. More information from the CORDIS FP6 page.
• Dissertation by Monica Erwér on Gender, Power and Agency in Kerala
Monica Erwér from the Dept of Peace and Development Research (PADRIGU) at Göteborg University will defend her dissertation on "Transforming Politics; Gender, Power and Agency in Kerala, South India", on Thursday 30 October 2003, 15–17. Faculty opponent is Prof. Gita Sen from the Indian Institute of Management, Bangalore, India. The thesis focusses on the development and the emerging gender politics in terms of negotiations between the state and collective actors such as the feminist network and the left women's movement in South India, possibilities and constraints of empowerment. Monica Erwér has during the last five years represented the feminist research group (Femfo), now emerged into a Network for Global Gender Studies at PADRIGU. More information.
• Anthropological disertation on the contemporary Dalit movement in India
Eva-Maria Hardtmann from the Department of Social Anthropology, Stockholm University will defend her doctoral dissertation on "'Our Fury is Burning' – Local Practice and Global Connections in the Dalit Movement", on Friday 7 November 2003, 10.00. The thesis focuses on the cultural discourses as well as the organizational aspects within the contemporary Dalit movement in India. Faculty opponent is Martin Fuchs, Freie Universität Berlin, Germany. Venue: Auditorium 10, Building E, Frescati, Stockholm University. More information.
• Dissertation at Lund University on the Ecological Economy of the Nicobar Islands
Simron Jit Singh from the Division of Human Ecology, Department of European Ethnology, Lund University, will defend his dissertation "In the Sea of Influence: A World System Perspective of the Nicobar Islands" on Saturday 6 December 2003. Simron Jit Singh (photo to the left) originally coming from Indian Punjab is connected to Lund University as a graduate student, but is otherwise working as a researcher and lecturer at Abteilung Soziale Ökologie, Institut für Interdisziplinäre Forschung und Fortbildung, University of Wien, Austria. Faculty opponent will be Professor Joan Martinez-Alier, University of Barcelona, Spain, one of the World's leading specialists within the field of Ecological Economy. More information.
• Academic journal for the study of Indian religions launched at Lund University
A new Scandinavian academic journal for the study of Indian religions will soon be published from Lund University. The journal called Chakra will focus on both contemporary and historical aspects of Indian religions in Asian and diasporic contexts. The first volume will come in March 2004, and deals with "Female images and appearances in Indian religions". More information on Chakra.
Vacant research positions/fellowships
• PhD posts advertised in German project on Historiography of Literature in South Asia
The Institute of Indology and South Asian Studies, Halle University, Germany advertises three PhD posts in the project "Nationalist Ideology and the Historiography of Literature in South Asia: Canonising Old Heritage, Assimilating Modernity". The project, supervised Dr Hans Harder, is funded by the Volkswagenstiftung and starts on 1 April 2004, and lasts for three years. The scope of the project is to study the ideological set-up underlying the historiography of literature in three South Asian regions (Northern India, Southern India, Bangladesh) and in three languages (Hindi, Tamil, Bengali), and to critically investigate the role of nationalisms and "sub-nationalisms" therein. Applicants should have an excellent knowledge of one of the languages concerned and sufficient experience with its literature. More information to be obtained directly from Dr Harder, phone +49-(0)345-5523653.
• Asst professorship in Modern South Asian History at Rutgers University announced
The Federated Department of History at Rutgers University, Newark-New Jersey Institute of Technology, USA, invites applications for a tenure track-position, at the rank of assistant professor, in Modern South Asian History (from 1500 to the present), based at Rutgers-Newark, to begin September 2004. The applicant should have knowledge of at least one major South Asian language (these can include Persian and Arabic!), will be expected to have the PhD in hand by September 2004, and should be able to present evidence of scholarly accomplishment and effective teaching. The department is a partner in the further development of three Rutgers-Newark campus centers which focus on race, ethnicity, and culture (including historical memory, public history, human rights); urban studies; global change and governance. Send letter of application, c.v. and three letters of recommendation by November 1 to Prof. Peter B. Golden, Chair, South Asian History Search, Department of History, Rutgers University, Newark, NJ 07102-1814. Rutgers University is an AA/EOC employer and especially encourages applications from women and members.
• Position as Professor at the Dept of History, Aalborg University, announced
A position as Professor at the Department of History, International and Social Studies, Faculty of Social Sciences, Aalborg University, Denmark, has been announced. the position will be affiliated with the Research Center on Development and International Relations, and the appointment will be from 1 October 2003. More information.
• NIAS invites externally funded researchers
The Nordic Institute for Asian Studies, Copenhagen, Denmark, offers a chance for externally funded researchers, who should be scholars on contemporary Asia, to apply for a paid sabbatical leave to base themselves at NIAS in Copenhagen, where excellent research facilities are available. More information.
• NIAS Contact Scholarships for Graduate Students
The Nordic Institute for Asian Studies offer scholarships designed to make NIAS' library and other resources accessible to graduate students in the Nordic countries. A scholarship covers inexpensive travel to and from Copenhagen and accommodation in a NIAS room at Nordisk Kollegium, with full board for a period of two weeks. It must be noted that because only one room at the Nordisk Kollegium is available for this scholarship programme, stays are arranged subject to a time schedule administered by NIAS. Monday 3 November 2003 is the closing date for applications for scholarships during the period January-April 2004.
• NIAS Guest Researcher Scholarships
Senior researchers and postgraduate students based in the Nordic countries are offered scholarships, giving an opportunity to work at NIAS as an affiliated researcher for 2 or 4 weeks. A scholarship includes inexpensive travel to and from Copenhagen and accommodation with full board in a NIAS room at Nordisk Kollegium. The guest researcher enjoys full access to the Institute's library services and research tools, computer facilities, contact networks and scholarly environment. Monday 3 November 2003 is the closing date for applications for scholarships during the period January-April 2004. More information.
• Indo-Swedish conference on forest-related tribals in South India to be held in Mysore
An Interdisciplinary Conference on "Livelihood strategies among forest-related tribal groups of South India: Contextual analysis of local livelihood strategies" is arranged at the Centre for Indian Studies, Mysore, India, 17–19 October 2003. The conference is jointly organized by the Dept of Social Anthropology, Stockholm University, Sweden, and Centre for Research on Environment, Development, Innovations, Technology & Trade (CREDITTe), Bangalore, India, with support from SASNET. The focus for the conference will be on forest-related tribals in South India, groups living within the four southern states of India. More information, including papers to download.
• Norwegian conference on Politics and Poverty
The Norwegian Institute for Urban and Regional Research (NIBR) invites to a conference on Politics and Poverty, to be held in Oslo, Norway, 23–24 October 2003. The conference will examine the relationships between politics, governance, economic development, and poverty. Issues of poverty and political frameworks that produce or sustain poverty are central to current policy and academic debates on development. It is possible to register for the conference up to 21 October.
• International Seminar on Philosophical Poetry in Russian and Indian Literatures
An International Seminar on the Traditions of Philosophical Poetry in Russian and Indian Literatures will be held 5–7 November 2003, at the Centre of Russian Studies, Jawaharlal Nehru University, New Delhi, India. The seminar is organized in connection with the birth bicentennial celebrations of the great Russian writer Fyodor I. Tyutchev.
• International seminar an workshop on fermented foods in Gujarat
An International Seminar and Workshop on "Fermented Foods, Health Status and Social Well being" will be organised by the Dept of Dairy Microbiology, SMC College of Dairy Science, Gujarat Agricultural University at Anand, India, 13–14 November 2003. The conference is co-hosted by the Dept of Applied Nutrition, Lund University, Sweden; and is partly sponsored by a planning grant from SASNET. Dr V Kurien, the father of White Revolution in India, will inaugurate the seminar on 13 November. Full programme with registration form (as a pdf-file).
• Norwegian conference on Evaluating Research Results from the South
The Second NETREED Conference with the theme "Communicating and Evaluating Research Results from the South" will take place 8–10 December 2003 at Gausdal Høifjellshotell, Norway. NETREED is a network of individuals and institutions based in Norway, who do research and evaluation on education and development (with a focus on developing countries). Key note speaker at the conference will be Dr. Iffat Farah from the Aga Khan University, Karachi, Pakistan. The theme of the conference is chosen in order to get a wide discussion and different perspectives on research results of researchers in the North doing research in countries in the South. There will also be a debate on ethical questions and dilemmas for those working as researchers on the one hand and as evaluators on the other hand. Paper presentations by graduate students, researchers, evaluators and representatives from NGO's will be organised in parallell sessions.
• Interdisciplinary Conference on Language, Consciousness and Culture at Kolkata
An International Interdisciplinary Conference on "Language, Consciousness and Culture: East West Perspectives" will be arranged at Kolkata, India, 3–6 January, 2004. The conference is organized by the Society of Indian Philosophy & Religion. Closing date for submission of abstracts is 5 May 2003.
• Seminar on Contemporary Indian Society at Burdwan, West Bengal
A National seminar on "Contemporary Indian Society: Issues and Challenges" is arranged at University of Burdwan, West Bengal, India, 26–27 January 2004. The seminar is organized in collaboration with the Sociological Association of West Bengal. Papers are invited on 1. Nation state and civil society in contemporary India; 2. Society and environment in contemporary India; and 3. Gender and politics in contemporary India. More information from the convenor, Dr Anirban Banerjee.
• Contemporary Developments in South Asia theme for the 2004 BASAS conference
The British Association for South Asian Studies, BASAS, arranges its annual conference 2004 at the University of East Anglia in Norwich, UK, 5–7 April 2004. The conference theme will be "Contemporary Developments in South Asia". Panels which have already been suggested and are being considered for the conference include: • Contemporary Cinema, • Dalit Literatures, • South Asian Political Economies, and • International Relations: Changing Relationships between South Asia and the USA. More information.
• More conferences connected to South Asian studies, see SASNET's page, http://www.sasnet.lu.se/conferences.html#conf
Important lectures and workshops
• Lecture on local governance, conflict and development in Sri Lanka at Göteborg University
Dr. Yuvi Thangarajah from Eastern University, Sri Lanka, lectures at Göteborg University on Friday 17 October, 13.15–15.00. Thangarajah who is a senior lecturer in Sociology will lecture on "Local Governance, Conflict and Development in Sri Lanka". He has written on ethnic conflict, human rights, the Tamil diaspora and the refugee situation. Venue: PADRIGU, Room 119, Världshuset (Brogatan 4, entrance code 3867), Göteborg.
• Seminar with Professor Rajen Harshee at Uppsala University
A seminar on is arranged with Professor Rajen Harshee, University of Hyderabad, India, in Uppsala on Monday, October 20, 14.15–16.00. The seminar, organized by the Seminar for Development Studies (SDS), Uppsala University, has the theme "Capitalism, Globalization and Civil Society". Prof. Harshe is a leading scholar of international relations studies in India. His study entitled "Twentieth Century Imperialism: Shifting Contours and Changing Conceptions" (New Delhi, Sage Publications, 1997) has earned him international recognition. A background paper can be downloaded from the SDS website. Venue: Room 3, Akademihotellet, Övre Slottsgatan 5, Uppsala.
• Norwegian human rights seminar on the situation of the Dalits in India
A Seminar on "The Human Rights Situation in India; which challenges do we face?" is arranged in Oslo, Norway, on Tuesday 21 October 2003, 9.00–11.30. The seminar is arranged by the Norwegian Human Rights Fund, an organization supporting human rights work in India. The support is especially concentrated on local organisations in Tamil Nadu in South India, and this seminar focusses on the situation of the Dalits, and on how the local human rights organisations can meet the challenges of protecting the rights of these most vulnerable groups. Venue: Red Cross, Hausmannsgate 7, Oslo. More information from Nina Kroglund.

• Seminars on Rethinking Pluralism and Multiculturalism at Lund University
The Research Group for Multicultural Pedagogics at the Dept of Education, Lund University, arranges a seminar with Ananta Kumar Giri from the Madras Institute of Development Studies, Chennai, India, on Wednesday 22 October 2003, 14.00 – 16.00. Giri who has a profound interest in social movements has especially the issue of social criticism and cultural creativity. The seminar is titled "Rethinking Pluralism and Multiculturalism". Venue: Dept of Education, room 128, Allhelgona Kyrkogata 14, Lund.
The day before, on Tuesday 21 October, 17.00–18.30, the Research Group for Multicultural Pedagogics arranges a preparatory seminar on "Life and Learning in India", with Ingrid Dash, PhD candidate at the Dept of Education, Lund University; and Lars Eklund, Deputy Director of SASNET. Venue: Dept of Education, room 128, Allhelgona Kyrkogata 14, Lund.
• Workshop on Communal Sovereignty in the Era of Globalization at Uppsala University
The Seminar for Development Studies at Uppsala University arranges a workshop on "Communal Sovereignty in the Era of Globalization: Competing for Natural Resources", Saturday 25 October 2003. The workshop will critically analyze how local communities (primarily in the Third World) are affected by the world-wide changes of the legally defined rights to own and use natural resources, and the opening keynote address will be held by Arturo Escobar, Professor of Anthropology, University of North Carolina, USA. Escobar is internationally renowned for his work on political ecology. More information.
New and updated items on SASNET web site
• More Swedish departments where research on South Asia is going on:
Added to the list of research environments at Swedish universities, presented by SASNET. The full list now includes 108 departments! Go to the presentation page
Late additions:
‡ Dept of Social and Economic Geography/Development Studies, Lund University
• Several new articles recommended for reading
Look at http://www.sasnet.lu.se/recreading.html for suggestions on interesting new articles on South Asia in International media. Many new items added, especially on Pakistan, India, and the South Asia region.
Cultural Events connected to South Asia in Scandinavia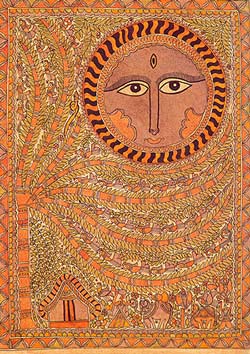 • Exhibition of contemporary Indian art at Borås Museum
An exhibition of contemporary Indian art and traditional craft is on show at Borås Museum of Modern Art in the Fall 2003, from 6 September – 16 november. The exhibition is called "Sites of Recurrence II. Out of India – Current International Art" and presents art by traditional village artists and tribal craftsmen as well as modernistic artists from the Indian metropolises using digital and video techniques. It has been prepaped in collaboration with the Dakhinachitra Center of the Madras Craft Foundation, Chennai, India, and was preceded by an International arts seminar and exhibition at Chennai in January 2003. Among the artists represented are Manu Chitrakar, Ram Singh Urveti, Jaumi Behn, Gauribai, Ramesh Tekam, Sheela Gowda, and Chanda Devi (whose painting with a mythological motive is shown above). The Swedish artist Tamara Malmeström from Lund and the Indian artist C. Douglas are the curators for the exhibition.
Three of the artists represented in Borås exhibition – Surekha, Swarna Chitrakar and Archana Hande – could be seen with their works on the Internet (as a Quicktime-movie-file).
In connection with the inauguration of the exhibition a two days seminar on "What is Contemporary Art, and what is Contemporary Design?" was held 7–8 September 2003, an event organized by the Swedish School of Textile, Borås University College. Among the participants were Dr Deborah Thiagarajan, Director of Dakshinachitra Museum, Chennai (lecturing on "The challenge and contribution of Indian Tribal and Folk Art"; and Swarna (Rupban) Chitrakar who performed Patua scrollpainting songs.
---

Best regards

Staffan Lindberg Lars Eklund

SASNET/ Swedish South Asian Studies Network

SASNET is a national network for research, education, and information about South Asia, based at Lund University. The aim is to encourage and promote an open and dynamic networking process, in which Swedish researchers co-operate with researchers in South Asia and globally.
The network is open to all sciences. Priority is given to co-operation between disciplines and across faculties, as well as institutions in the Nordic countries and in South Asia. The basic idea is that South Asian studies will be most fruitfully pursued in co-operation between researchers, working in different institutions with a solid base in their mother disciplines.
The network is financed by Sida (Swedish International Development Cooperation Agency) and by Lund University.


Postal address: SASNET – Swedish South Asian Studies Network, c/o International Office, Lund University, P O Box 117, S-221 00 Lund, Sweden
Visiting address: Gamla Kirurgen, Sandgatan 3, first floor, room no. 230
Phone: + 46 46 222 73 40
Fax: + 46 46 222 41 11
E-mail: sasnet@sasnet.lu.se
Web site: http://www.sasnet.lu.se
Staff: Staffan Lindberg, director/co-ordinator & Lars Eklund, webmaster/deputy director
Back to SASNET


---