SWEDISH SOUTH ASIAN STUDIES NETWORK

---

Newsletter 56:
20 October 2005
• Apply for SASNET Planning grants
Applications for the next round of SASNET planning grants are now invited. Closing date for applications is 15 November 2005. More information.
• Join the SASNET discussion group forum
SASNET has now started a discussion group forum for its members, called SASNET group. Like other yahoo groups communication is based on e-mails, but messages are also available for registered group members through the web page http://groups.yahoo.com/group/sasnet_group/. Register now and participate in the discussions with other SASNET members.
• SASNET lecture with Professor Saraswati Raju
Professor Saraswati Raju from the Centre for the Study of Regional Development, Jawaharlal Nehru University, New Delhi, India, will give a SASNET lecture at Lund University on Tuesday 8 November 2005, 10.15–12.00. Prof. Raju will lecture on "Gender, Poverty and Labour Market in Rural India in the context of Globalization". She has come to Sweden to participate in the GADNET Workshop, held in Uppsala 10–11 November (more information on the workshop). Venue for the SASNET lecture: Conference room, Centre for East and South-East Asian Studies, Scheelevägen 15 D, House Alfa 1 (first floor), Lund.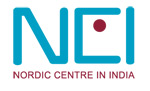 • Nordic Centre in India (NCI) general assembly met in Uppsala
The Nordic Centre in India (NCI) Consortium held its 2005 General
Assembly in Uppsala on Tuesday 18 October. The consortium, now consisting of 11 member universities in the Nordic countries, aims at supporting collaboration on research and education betweeen the Nordic countries and India. NCI secured its official clearance from the Indian government only in 2004, and now heads for a more expansive phase. An Indian consultant, Mr. Malik, today works part-time for NCI in New Delhi, assisting with research visa applications and arranging meetings, besides being responsible for the NCI flat for visiting Swedish researchers and academics in Nizamuddin East. A successful collaboration has been established with the University of Hyderabad, offering summer courses for Nordic students, and from the Fall 2005 also full semester courses. Similar agreements on collaboration is presently under way also with Jawaharlal Nehru University (JNU) in New Delhi, and a number of other Indian universities and research institutes. At the meeting the Uppsala University based NCI Director, Beppe Karlsson (photo to the right), presented plans for the future on how ro recruit more Nordic member institutions. The board also raised the idea of NCI arranging a conference on Indo-Nordic collaboration prospects. Such a conference may take place in New Delhi within one or two years. More information on the Nordic Centre in India.
• Tsunami Affected Student Fund (TASF) set up by Lund University
Lund University has set up a Tsunami Affected Student Fund (TASF), in collaboration with Peradeniya University in Sri Lanka. A formal agreement, a Memorandum of Understanding between the Lund University for the Tsunami Assistance Student Fund, and the University of Peradeniya, was signed in September 2005, by Lund University Vice-chancellor, Prof. Göran Bexell, and the Vice-chancellor at Peradeniya University, Prof. Kapila Goonasekere, and was made public on 14 October 2005. The scholarships are intended to make it possible for students affected by the Tsunami to complete their studies. More information.
• Doctoral dissertation on the Tibetan Diaspora
Åse Piltz from the Dept. of History and Anthropology of Religion, Centre for Theology and Religious Studies, Lund University, will defend her doctoral dissertation on "Seger åt Tibet! Den tibetanska diasporan och den religiösa nationen" (Victory to Tibet! The Tibetan Diaspora and the Religious Nation), on Saturday 22 October 2005, 13.15. The thesis focuses on images of Tibet, among Westerners as well as among Tibetans. Based on approximately one year of fieldwork in the former British Hill station, it also deals with the politics of the Central Tibetan Administration (CTA) and some of its political and social implications for the exiled Tibetan youth living in Dharamsala, India. Faculty opponent will be Dr. Axel Kristian Strøm, Dept. of Social Anthropology, University of Oslo, Norway. Venue: Spoletorp hörsal, Spolegatan 1 R, Lund. More information with abstract.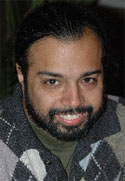 • Nicobar Islands culture documented by Simron Jit Singh
"The Nicobar Islands. Cultural Choices in the Aftermath of the Tsunami" is the title of a new book by Simron Jit Singh, researcher at the University of Vienna, Austria. Singh defended a dissertation related to the Nicobar Islands, at the Division of Human Ecology, Lund University, in December 2003, Since the Tsunami struck the Nicobar Islands on 26 December 2004, Simron Jit Singh has devoted his time to relief assistance work in the islands, and also involved in efforts to preserve the Nicobarese culture, partly destroyed by the tsunami, for the future.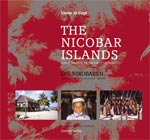 The new book, written along with the journalist Oliver Lehmann, documents life on the 19 islands in the Indian Ocean, and is a volume rich in photographs of daily rituals, festivals and religious ceremonies. More information on the book, published by Czernin Verlag in Vienna, 2005.
Simron Jit Singh is also working with the Nicobarese collections at Vienna's Museum of Ethnology, where relics brought to Vienna by Austrian explorers in the 19th Century, depict a world now lost. Recently Singh organized a trip for Nicobarese tribal leaders to Vienna. Read an article by Gerald Traufetter published in Der Spiegel Online on 12 October 2005. The article is called "A Tsunami-Devastated Tribe Finds a Cultural Noah's Ark in Vienna"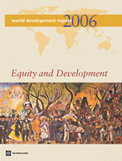 • Equity and Development theme for World Development Report 2006
The World Development Report 2006, published by the World Bank, was released on 20 September 2005. The 2006 Report has the theme "Equity and Development", and presents evidence on the inequality of opportunity, within and across countries, and illustrates the mechanisms through which it impairs development. The Report advocates taking explicit account of equity in determining development priorities: public action should aim to expand the opportunities of those who, in the absence of policy interventions, have the least resources, voice, and capabilities. More information (and possibility to download the full report).
• Swedish Network of Peace, Conflict and Development Research
A Swedish Network of Peace, Conflict and Development Research has now been formed. It is a joint effort of three university departments conducting research on these topics, in Uppsala (Dept. of Peace and Conflict Research), Göteborg (Dept. of Peace and Development Research, PADRIGU, School of Global Studies) and Umeå (Peace and Conflict Studies, Dept. of Political Science). The aim of the network is to support Swedish research on peace and conflict dimensions in developing studies, and to assist Swedish peace researchers in collaboration with researchers in the developing world. The network intends to arrange annual conferences on specific themes, the first one was held in Uppsala 20–21 October 2005. More information on the peace research network.
• Panels for 19th ECMSAS conference soon to be announced


The 19th European Conference of Modern South Asian Studies (ECMSAS) will be held 27–30 June 2006 in Leiden, the Netherlands. The Dept. of South Asian Studies at Leiden University will host the conference with organisational assistance from the International Institute of Asian Studies, IIAS, also based in Leiden. Professor D.H.A. Kolff will act as convenor. All panel proposals received for the 19th ECMSAS have now been reviewed by the Academic Committee of the ECMSAS 2006 Conference and the panel organizers will be informed on the status of their panel before 1 October 2005.
• South Asian participants to Lund University course on Conservation and Management of Historic Buildings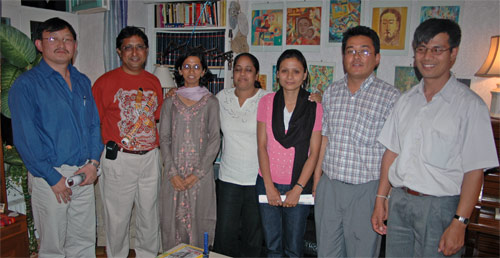 For the second year Lund Universiy organises a postgraduate International training course on "Conservation and Management of Historic Buildings". The course started in September 2005, as a collaboration project betweeen the Dept. of Housing Development and Management and the Dept. of Architectural Conservation and Restoration, Lund University. The course has been initiated and financed by the Swedish International Development Cooperation Agency, Sida, and will run every year at least for a period of five years. Professionals working in Latin America and Asia are participating. The first three-weeks period of the training is carried out in Sweden (26 September–14 october), followed by a continuation course in either Latin America or Asia (Cambodia) for two weeks in March/April 2006. No less than nine of the participants are coming from South Asian countries, two from Bhutan (Karma Gelay and Karma Tshering), two from Nepal (Ram Govinda Shrestha and Rupa Dongol), two from India (Unmesh Kirtikar; and Ujjwala S Khot), two from Sri Lanka (one of them Shanthini Balasubramaniam from the University of Moratuwa), and one from Bangladesh (Sazzad Hossain). (Seven of them appear on Lars Eklund's photo to the right). More information on the course.
• New Delhi conference on Politics and Culture in China and India
A conference on "Politics of Culture in Contemporary China & India" is held in New Delhi 21–22 October 2005. It is organised by the Institute of Chinese Studies, a research programme of the Centre for the Study of Developing Societies (CSDS) in Delhi. The sessions will be organized around the following themes: I Categories of Cultural Analysis; II State/Party Policy and Culture; III Liberalization, Market and Culture; and IV Globalization and Culture. Venue: India International Centre, Conference Room II, New Delhi.
• Bornholm Researcher training course on Security and development
A Researcher training course on "Security and development: Recent trends in social science" is held in Nexö at Bornholm, Denmark, 26–28 October 2005. It is organized by the Danish Research School of Anthropology and Ethnography at Aarhus University, the Graduate School of International Development Studies at Roskilde University), the Rehabilitation and Research Centre for Torture Victims, and the Danish Institute for International Studies in Copenhagen. The aim of the seminar is to discuss ways to study and analyze the development security nexus. Among the invited speakers are Dr. Veena Das from Johns Hopkins University, USA.
• DAVO congress includes research on Afghanistan and Pakistan
The 12th Congress of the German Middle East Studies Association for Contemporary Research and Documentationt (DAVO) will be held 27–29 October 2005 in Hamburg. DAVO welcome papers on all fields of contemporary Middle East studies (including research focused on Afghanistan and Pakistan). The conference is organized by Prof. Dr. Udo Steinbach, Amke Dietert and Dr. Jan Cremer (Deutsches Orient-Institut) at the Congress Center Haus Rissen in Hamburg-Blankenese. More information.
• 10th AWID International Forum held in Bangkok


The International Forum on Women's Rights and Development arranges its 10th AWID International Forum to debate the urgent question "How does change happen?", in Bangkok, Thailand, 27–30 October 2005. The AWID Forum brings together women's rights leaders and activists from around the world every three years to strategize, network, celebrate, and learn in a highly charged atmosphere that fosters deep discussions and sustained personal and professional growth. Around 2 000 women's rights leaders and activists from all over the world are expected to come to Bangkok.
• Aarhus School of Business organises conference on Indian society and economics
The Indian Research Center at the Aarhus School of Business in Denmark organizes a conference on "Understanding India", 3–5 November 2005. It will be an interdisciplinary conference focusing on understanding India as a society, exploring the dynamics of economic transformation currently underway in India and assessing the cultural and/or strategic challenges faced by Western multinationals operating in the country. Scholars from all disciplines who are working on India are invited to submit papers for the conference.

• New Delhi conference on Women, Work and Health
The Fourth International Congress on Women, Work & Health (WWH) is arranged in New Delhi, India, 27–30 November 2005. The conference is organised by the Indian Society For Working Life in collaboration with the Swedish National Institute for Working Life (Arbetslivsinstitutet). Previous WWH conferences have been held in Barcelona 1996, Rio de Janeiro 1999 and in Stockholm 2002. Keynote speakers representing both academia and practitioners will initiate debate and open-ended, thought provoking discussions on the issues which form the main themes of the Congress, and for the first time short films/video sessions have been initiated. More information.
• Other conferences connected to South Asian studies arranged all over the World
See SASNET's page, http://www.sasnet.lu.se/conferences.html#conf
Important lectures and workshops
• Stockholm seminar on World Development Report 2006
The World Development Report 2006 with the theme "Equity and Development" will be presented at a seminar in Stockholm on Thursday 20 October 2005, 18–20. The yearly report, published since 1978 by the World Bank, this year focuses on evidence on the inequality of opportunity, within and across countries, and illustrates the mechanisms through which it impairs development. The seminar is organised by ABF Stockholm, Olof Palmes Internationella Center and the Swedish Government Offices. One of the main contrributors to the report, Giovanna Prennushi, formerly lead Economist in the Poverty Reduction Group of the World Bank, will participate. Venue: ABF-huset, Sveavägen 41, Stockholm.
• Global Bar seminar on the Pakistan earthquake and other disasters
A Global Bar seminar called "After the Catastrophe – and after", is arranged in Stockholm on Tuesday 25 October 2005, 17–20. The Global Bar is an informal meeting place for people working with International issues, such as journalists, reserachers and development workers, and regularly organised by the consultancy firm Global Reporting. The 25 October seminar will deal with some recent natural disasters in different parts of the World, including the earthquake in Pakistan, where corruption and jerry-built houses falling down vastly added to the damages. The seminar will discuss how similar catastrophic effects could be prevented in the future. Among the partcipants are Anders Wijkman, European Parliament politician, Plan Sweden chairman and author of the book "Tsunamin, den onödiga tragedin?"; and Jan Bjerninger, Director of the Asia Department at Sida. David Isaksson from Global Reporting will be the moderator. Venue: Stora Nygatan 26, Stockholm. First time visitors to the Global Bar are recommended to send a mail to bar@globalreporting.net and announce their participation.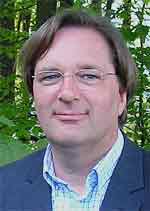 • Olle Qvarnström lectures at Öresund Network meeting in Lund
ØRNAST, the Øresund Network of Asian Studies, invites students and scholars from both sides of Öresund for a social gathering in Lund, on Wednesday 26 October 2005, 18–21. The programme includes a lecture by the Professor to be installed (on Friday 21 Oct) Olle Qvarnström (photo to the left) on "From Hampton Roads to Lundagård. Lund University Research on Indic religions", and a musical performance by Bubu Munshi Eklund, singing Rabindrasangeet, the musical treasure of the Indian/Bengali Nobel Laureate Rabindranath Tagore. More information.
• Geeta Kumana lectures on lesbianism in India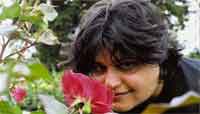 Geeta Kumana, chairperson of Aanchal Trust in Mumbai, India, will lecture on "Proud Indian Lesbian" in Göteborg on Thursday 27 October 2005, 18.30. Kumana, one of extremely few open indian lesbians (on a photo by Mário Firmino to the right), will deliver a talk based on hers and others experiences on what the situation is like when you are working as a lesbian activist in a very male chauvinistic society, how the different living conditions for women and men affects the LGBT movement, on female infanticide and more. The lecture will be held at Kvinnofolkhögskolan in Göteborg, Första Långgatan 28 (close to Masthuggstorget). For more information, contact Johanna Larsson.
• Lund workshops on Trade and Environmental Justice
The Human Ecology Division at Lund University arranges two workshops on the topic of "Trade and Environmental Justice", on Thursday 27 October 2005, and 8–9 February 2006 (more information on the latter). The October workshop focuses on "Fair Trade? Non-monetary measures of global resource flows", and is organized as an extended 'LUCSUS Lunch Seminar' (13.00–17.00) by LUCSUS (Lund University Centre for Sustainability Studies) and AGESI (Arena for Global Equity and Sustainability Issues). Venue: Geocentrum 1, Sölvegatan 10, Lund. More information.
New and updated items on SASNET web site
• Information on the Earthquake in Pakistan
Within less than a year South Asia has once again been hit by a devastating disaster claiming thousands of lives. Like the Tsunami, the earthquake hit everybody, high and low in society, and like the Tsunami there is a tremendous need for quick relief work. SASNET has made a special page on the earthquake hitting Pakistan, India and Afghanistan on 8 October 2005, giving links to sources of information, including the Blog service called South Asia Quake Help; and information on how to contribute to the relief work. Go to the Earthquake page.
• More Swedish departments where research on South Asia is going on:
Added to the list of research environments at Swedish universities, presented by SASNET. The full list now includes 153 departments! Go to the presentation page
ƒ Department of Sociology of Law, Lund University
---
Best regards,
Staffan Lindberg Lars Eklund
SASNET/ Swedish South Asian Studies Network
SASNET is a national network for research, education, and information about South Asia, based at Lund University. The aim is to encourage and promote an open and dynamic networking process, in which Swedish researchers co-operate with researchers in South Asia and globally.
The network is open to all sciences. Priority is given to co-operation between disciplines and across faculties, as well as institutions in the Nordic countries and in South Asia. The basic idea is that South Asian studies will be most fruitfully pursued in co-operation between researchers, working in different institutions with a solid base in their mother disciplines.
The network is financed by Sida (Swedish International Development Cooperation Agency) and by Lund University.

Postal address: SASNET – Swedish South Asian Studies Network, Scheelevägen 15 D, S-223 63 Lund, Sweden
Visiting address: Ideon Research Park, House Alfa 1 (first floor, room no. 2042), in the premises of the Centre for East and South East Asian Studies at Lund University (ACE).
Phone: + 46 46 222 73 40
Fax: + 46 46 222 30 41
E-mail: sasnet@sasnet.lu.se
Web site: http://www.sasnet.lu.se
Staff: Staffan Lindberg, director/co-ordinator & Lars Eklund, webmaster/deputy director
Back to SASNET


---