SWEDISH SOUTH ASIAN STUDIES NETWORK

---
Newsletter 80:
14 December 2007
• India tour complete

SASNET's director Dr. Anna Lindberg and deputy director/webmaster Lars Eklund has now completed their contact journey to South Asia. During the month of November, they visited 30 universities and research institutions in Northern and Western/Southwestern India. The ambition has been to promote Indo-Swedish researcher cooperation and student exchange in all fields, from medicine/natural sciences to social sciences/humanities. A large number of fruitful meetings have been held in all the places visited, includding Delhi, Thiruvananthapuram, Kottayam, Kozhikode, Mumbai, Loni, Pune, Bangalore and Mysore. In New Delhi, the Swedish Embassy also organised a reception/dinner for the academic world in honour of the visiting SASNET delegation. Detailed reports are now prepared and will be will be posted on the SASNET website in January 2008. See the programme for the tour (as a pdf-file)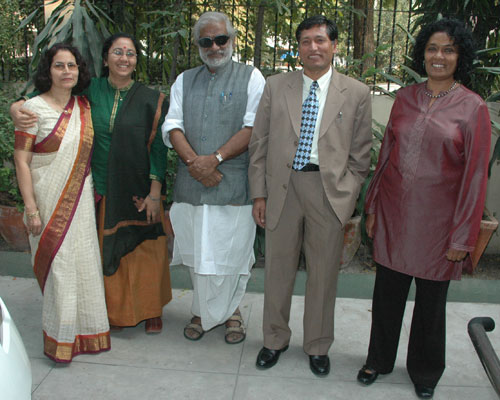 • Fruitful Reference group meeting
On Saturday 3 November 2007, a seminar meeting was organised in New Delhi for SASNET's South Asian Reference group, consisting of a number of senior researchers from the region, that closely observe SASNET's activities and give constructive suggestions to the root node.
SASNET's Director Anna Lindberg and the Deputy Director Lars Eklund met and discussed with Dr. Rita Afsar, Bangladesh Institute of Development Studies, Dhaka, Bangladesh; Dr. Tek Nath Dhakal, Campus Chief of Public Administration Campus, Tribhuvan University, Kathmandu, Nepal; Professor Kumudu Wijewardena, University of Sri Jayewardenepura (SJP), Colombo, Sri Lanka; Dr. Dipak Malik, Institute of Gandhian Studies, Varanasi, India; and Dr. J. Devika, Centre for Development Studies (CDS), Thiruvananthapuram, Kerala, India. The only missing member was Professor Zulfiqar Bhutta, Dept. of Paediatrics, Aga Khan University, Karachi, Pakistan. (More information about the group). The meeting was held at the Nordic Centre in India (NCI) in Nizamuddin, New Delhi, and was organized informally as a "think tank" session. The atmosphere was conducive to an open and relaxed discussion, and the results were very fruitful. Full information about the meeting will soon appear on the SASNET website.
• More information about SASNET and its activities
See SASNET's page, http://www.sasnet.lu.se/sasnet.html
• Large Sida grants to South Asia related research projects


In early November 2007, Sida's (Swedish International Cooperation Development Agency) so-called U-landsforskningsråd decided upon the 2007 grants applications. A large number of the projects that get funding for the coming years (2008-10) deal with South Asia related research. Among the most successful applicants are Dr. Fiona Rotberg (photo to the right), Dept. of Eurasian Studies, Uppsala University, who receives SEK 2.9 million for a Bangladesh related project on "Humanitarian Challenges of Climate Change: The Role of Social Networks in Promoting Resilience to Climate Variability"; Professor Marita Eastmond, Division of Social Anthropology, School of Global Studies, Göteborg University, who receives SEK 2.7 million for a project on "Human Security and Social Recovery in post-tsunami Sri Lanka"; Dr. Henrik Berglund, Dept. of Political Science, Stockholm University, who receives SEK 1.8 million for a project on "Globalization and its discontent: Coca-Cola in India – a study of civil society as a platform for political protest"; and Professor Martin Lascoux, Dept. of Evolutionary Functional Genomics, Evolutionary Biology Centre (EBC), Uppsala University, who also receives SEK 1.8 million for a project on "Species Recovery program for medicinal plants species in the human-dominated forest landscapes in the Western Ghats, India". Go for SASNET's list of South Asia related projects funded by Sida/SAREC 2007.
• Swedish Research Links grants to 10 South Asia related projects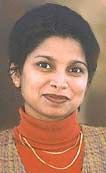 Swedish Research Links grants for the period 2008-10 were decided upon for a large number of Asia related research projects in early November 2007. Sida and the Swedish Research Council initiated the Swedish Research Links programmes in 2002, and within this framework the Asian–Swedish Research partnership programme specifically aims to stimulate contacts between Swedish researchers and researchers in Asia. Ten of the approved projects directly relate to South Asia, including four project from Uppsala University – applications from Rajeev Ahuja, Vernon Cooray, Suparna Sanyal, and Anju Saxena (photo) respectively. Two projects are with Lund University, two with Royal Institute of Technology (KTH), and one each from Karolinska Instituett and Göteborg University. Go for SASNET's list of South Asia related projects given Swedish Research Links grants 2007
• Large grant by the Swedish Research Council to Marie Vahter's Arsenic project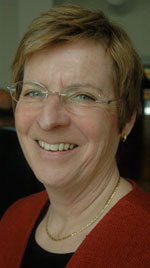 One South Asia related project was given a three-years grant for the period 2008-10 from the Swedish Research Council for research in Medicine 2007. The decision was taken on 30 October 2007. Prof. Marie Vahter, Division of Metals & Health, Institute of Environmental Medicine, Karolinska Institutet Medical University, Stockholm, was given SEK 2.7 million for a project titled "Effects of early life arsenic exposure on immune function". The project will be carried out in Matlab, Bangladesh, and be carried out in collaboration with ICDDR,B in Dhaka. Researchers from other universities, such as Uppsala University, Cornell University, London School of Hygiene and Tropical Medicine, and London School of Child Health, are also involved in the project. More information (only in Swedish)
• Nine Swedish universities behind Indo-Swedish Cooperation on Technical Research and Education
The efforts to create INSTEC, a national network centre for Indo-Swedish Cooperation on Technical Research and Education, are proceeding well. The networking initiative, originally an idea born out of a contact journey by a Royal Institue of Technology (KTH) delegation to India in 2002, now consists of eight Swedish universities (Blekinge Institute of Technology; Chalmers University of Technology; Linköping University; Luleå University of Technology; Lund University, Swedish University of Agricultural Sciences; and Uppsala University, besides KTH), and one research institute – IVL (Swedish Environmental Research Institute). INSTEC is funded by the Swedish Governmental Agency for Innovation Systems, VINNOVA. In order to strenghten the work, INSTEC plans to set up a platform at the Indian Institute of Technology (IIT) Delhi, to establish an Indian network and a centre for environmental technology, and also organise a workshop to be held in collaboration with INSTEC's Indian partners in 2008. As a preparation for this, a delegation from the INSTEC member institutions visits India in December 2007. More information about INSTEC.
• Reports from ENCARI's Round Table & EU-India Think Tank Dialogue conference
As mentioned in the previous SASNET Newsletter, the European Network for Contemporary Academic Research on India (ENCARI) organised a Round Table & EU-India Think Tank Dialogue conference in Brussels, Belgium, 13–14 November 2007. The theme for the conference was "EU–India: Deepening the Strategic Partnership". See the complete Round Table and Think Tank Dialogue proceeds, with programme, audio clips, video and powerpoint presentations. Since ENCARI's member organisations were invited to participate in the conference, SASNET sent three Swedish representatives to Brussels (Dr. Sidsel Hansson, Centre for East and South East Asian Studies, Lund University; Dr. Per Hilding, Department of Economic History, Stockholm University; and PhD Candidate Ferdinando Sardella, Department of Religious Studies and Theology, Göteborg University). Read their extensive conference report from Brussels (as a pdf-file).
• Doctoral dissertation about tuberculosis care in Madhya Pradesh
Grethe Fochsen, Department of Public Health Sciences, Division of International health (IHCAR) at Karolinska Institutet Medical University, Stockholm, defended her doctoral dissertation titled "Encounters with power: health care seeking and medical encounters in tuberculosis care: experiences from Ujjain District, India", on Friday 14 December 2007, 09.30. In the thesis, Grethe Fochsen examines health care seeking and medical encounters in the context of TB care in a rural district in Madhya Pradesh. More specifically, the study focuses on how relations of power between health care providers and patients are created, altered and maintained during medical encounters in a diversified health system. Venue: Rockefellersalen, Nobels väg 11, Karolinska Institutet, Solna. More information.
• Read an abstract of Kristina Myrvold's PhD thesis
Kristina Myrvold, Division of Indic Religions, Department of History and Anthropology of Religion, Lund University, will defend her doctoral dissertation "Inside the Guru's Gate. The Ritual Uses of Texts among the Sikhs in Varanasi" on Thursday 20 December 2007, at 10.15. The thesis deals with Sikh rituals in Varanasi, where Kristina has conducted fieldwork for several years. Her study focuses on religious attitudes towards the Sikh scripture and the ritual use of texts. Faculty opponent will be Assistant Professor Michael Nijhawan, Dept. of Anthropology, South Asia Institute (SAI), University of Heidelberg, Germany. Venue: Spoletorps hörsal, Spolegatan 1R, Lund. More information with an abstract.
• Wimal Pathmasiri defended his doctoral dissertation
Wimal Pathmasiri from the Dept. of Biochemistry & Organic Chemistry, Uppsala University, defended his doctoral dissertation titled "Structural and Biophysical Studies of Nucleic Acids" on Tuesday 6 November 2007. Faculty opponent was Dr. Lena Mäler, Lena, Dept. of Biochemistry and Biophysics, Stockholm University. Mr. Pathmasiri is a deputy member of SASNET's board. More information, with a link to a full-text version of the thesis.
• World Bank web features on climate change in South Asia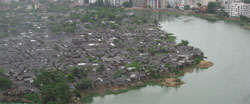 In conjunction with the ongoing United Nations' Climate Change Conference in Bali, the World Bank has prepared a series of web features on climate change in South Asia. It focuses on the impact of climate change on agriculture. Recent studies suggest that South Asia may suffer significant losses in agriculture productivity caused by increasing temperatures.The website includes a conversation on Climate Change in South Asia with Sir Nicholas Stern, and news/information about the 2007 Bangladesh Cyclone named Sidr, and the 2007 South Asia Floods. Go to the website.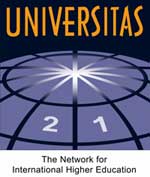 • Delhi University 22nd partner in Universitas 21 network
On 19 November 2007, Delhi University joined, as the first university in South Asia, the so-called Universitas 21 (U21) network for international higher education. Universitas 21, now comprising 22 universities in America, Australia, Asia and Europe (Lund University being the only one in the Nordic countries), has evolved into an internationally recognised partnership, which strives to facilitate collaboration and co-operation between the member universities.
Delhi University is one of the oldest and largest universities in India, with around 300,000 students enrolled on courses. At the formal signing ceremony on 19 November 2007, Professor Deepak Pental (photo to the right), Vice-Chancellor of Delhi University, said that the new partnership with U21 should be seen as a crucial step in the university's pursuance of successful collaborations with fraternal institutions in different parts of the world. More information on Universitas 21.
• UNICEF India Country Office invites for India Internship programme


UNICEF India Country Office invites applications for a full-time India Internship programme from 28 May to 5 August 2008. Conceived as part of a broader initiative to build a Knowledge Community on Children in India (KCCI), UNICEF India is partnering with research and academic institutions to encourage young students and scholars from around the world in engaging in development issues pertaining to India's children and women. The internship offers an opportunity for research and field work on issues related to child rights in India across a variety of areas: child protection, health, nutrition, education, HIV/AIDS, and water and sanitation.
The assignment will involve a combination of desk and field work at the district or village level, with interns being grouped into teams that are based in state capitals and work under the supervision of selected research institutions/non-governmental organisations. Applicants should be enrolled in a Masters level graduate programme or a higher degree program, in one of the following disciplines: anthropology, child psychology, demography, economics, education, engineering, human rights, international development, journalism, legal studies, public health, sociology, statistics, rural development, social work, or any other relevant area. Those who have completed their Masters level graduate programmes in 2007 are also eligible to apply. Selected interns will be placed in research institutions across states where UNICEF has a presence. Possible locations include Hyderabad (Andhra Pradesh), Patna (Bihar), Ranchi (Jharkand), Gandhinagar (Gujarat), Bhopal (Madhya Pradesh), Mumbai (Maharashtra), Bhubhaneswar (Orissa), Chennai (Tamil Nadu), Kolkata (West Bengal), Jaipur (Rajasthan), Lucknow (Uttar Pradesh) and New Delhi. Deadline for applications is 31 January 2008. More information.
• Organisational Developer wanted for NGO work in Uttaranchal
The Swedish Non-Governmental Organisation ABC (Aktiva insatser med världens barn i centrum), based in Lund but with developmental activities in the North Indian state of Uttaranchal, announces a position as Organisational Developer. He or she should work for ABC in its collaboration with the local organisation HIMAD – Himalayan Society for Alternative Development, with an office in the town Gopeshwar. Candidates should have at least a Masters degree in relevant subjetcs, and a proficiency in Hindi (or a willingness to learn). More information (in Swedish only).
• More information about South Asia related research at Swedish and Nordic universities
See SASNET's page, http://www.sasnet.lu.se/research.html
• 12th Summer Program in Punjab Studies to be held in Chandigarh 2008
The 12th Summer Program in Punjab Studies will be held in Chandigarh, India, 6 July – 16 August 2008. The program, open to both graduate and undergraduate students, provides six weeks of instruction in Punjab Studies. The work includes the learning of Punjabi (50 hours), and history and culture of the region (90 hours). The goal of the program is to impart substantial academic information about the history and culture of the region and provide an environment for discussion and exploration. Deadline for applications is 3 March 2008. More information.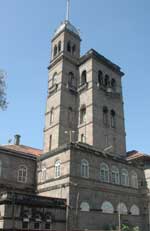 • Indian embassies abroad will promote India as an education hub
In a move to target at marketing India as a lucrative destination for higher studies, the University Grants Commission's PIHEAD (Promotion of Indian Higher Education Abroad) committee currently discusses with the Ministry of External Affairs and Home Affairs to provide Indian embassies with professionals called 'Education Attachés'. They will give information about Indian universities and courses to foreign students who wish to pursue higher studies in India. Though the UGC does not have proper statistics on how many students come to study in India, the number is estimated to be around 20,000 at present, but the number is estimated to increase to 50,000 students in the next two years. Pune and Bangalore are said to be favourite destinations for international students. Read an article by Kalpana Pathak in Business Standard, Mumbai, 28 November 2007.
• Bangladeshi government introduces new Private University Act
The interim government in Bangladesh has decided to formulate a new Private University Act, 2007. It is being formulated in the wake of allegations that many private universities are involved in unholy practices like selling certificates and offering sub-standard education. According to the draft law, authorities of the universities violating the law will be sentenced to a five-year simple imprisonment or a fine of Tk 10 lakh or both. Each private university must have a single campus, and medical degrees may not be on offer. "We've already prepared the draft of the Private University Act, 2007 and forwarded it to the education ministry," said Prof Nazrul Islam, chairman of University Grants Commission (UGC) in an interview with The Daily Star 3 November 2007. Read the full article.
• Shortage of Bangladeshi students at public and private universities
Only 4 per cent of Bangladeshi students pursue higher education at public and private universities combined after college. Shortage of universities and a lack of adequate seats to accommodate them is supposed to be the main reason. According to a report of the Bangladeshi University Grants Commission (UGC), the percentages are 11.9 in India, 29.3 in Malaysia and 37.3 in Thailand. The UGC now suggests that double shifts or evening shift should be introduced at the public universities and reputable private universities to meet the present crisis. Read an article by Suranjith Debnath in The Daily Star, 2 December 2007.
• Student movement protests against the arrests of academics in Pakistan
The steady rumbling of dissent on university campuses across Pakistan is an ominous development for the country's military regime, the Boston based newspaper Christian Science Monitor reported in an article on 15 November titled "Student Protests rise in Pakistan". Student activists in Pakistan have a history of effecting dramatic political change. In November 2007, a protest against the arrests of academics at a university in Lahore quickly spread across larger campuses, energizing new movements and inciting old student political groups from a near two-decade slumber. "This 'new student movement' is very significant," says Rasul Baksh Rais, a professor at Lahore University of Management Sciences (LUMS) who is a liaison between the administration and student leaders on his campus. Read the full article by Shahan Mufti.
• More information about South Asia related education at Swedish and Nordic universities
See SASNET's page, http://www.sasnet.lu.se/education.html
• Pune conference on Biotechnology for Sustainable Development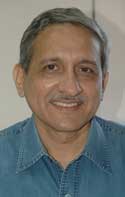 An International conference on "Biotechnology for Sustainable Development", will be held 7–9 January 2008 in Pune, India. The conference, named BSD – 2008, is organised by the Chemical Engineering and Process Development Division at the National Chemical Laboratory (NCL) in Pune, in collaboration with the Dept. of Biotechnology, Lund University, Sweden. It is supported by the Swedish Foundation for Strategic Environmental Research (Mistra) and the Indian Council of Scientific and Industrial Research (CSIR). Dr. Sanjay Nene (photo to the right) from NCL convenes the conference, that will highlight the latest developments areas such as • Biotechnology for production of green chemicals; • Biorefinery – Use of plantation crops for production of Chemicals; • Bioremediation of solid, gaseous and liquid wastes; and • Waste water treatment and recycle using clean technologies.
• Guwahati Conference on Northeast India and its Transnational Neighbourhood
An International Conference on Northeast India and its Transnational Neighbourhood will be held in Guwahati, Assam, India, 16–18 January 2008. The interdisciplinary conference will provide a forum for scholars and policy makers, as well as visual artists and others involved in the material and visual representation of this region. It is being planned by the newly formed Asian Borderlands Research Network (more information). All scholars who are currently, or have previously been actively involved in research in this region are invited to participate, irrespective of nationality. However, it is hoped that scholars from countries such as India, China, Bangladesh, Burma and Thailand will make a significant contribution. The conference is organised by the Indian Institute of Technology (IIT), Guwahati, in collaboration with the Centre for Policy Research in New Delhi, and the International Institute for Asian Studies (IIAS) in Leiden, the Netherlands. Venue: IIT Campus, 20 km north of Guwahati. More information.
• Chennai conference on Intercultural Training Education and Research
The Society for Intercultural Training Education and Research (SIETAR India), invites participants to its Bi-annual International Conference to be held in Chennai 19–20 January 2008. The conference is titled "From the melting pot to the salad bowl". SIETAR is a nonprofit association of educators, researchers and trainers from a wide range of practical and academic disciplines, who share a common concern for intercultural relations. It was launched in August 2006 with the inaugural conference "More Masala for the Melting Pot – Sharing Cultures and Competence for Collaboration". More information.
• Allahabad Seminar on Intensive Village Studies
An International Seminar on "Intensive Village Studies to the Understanding of the Rural Scenario in India" will be held in Allahabad, India, 29 February – 1 March 2008. The seminar is organised by the Govind Ballabh Pant Social Science Institute in Jhusi. Intensive Village Studies involve personal participation of the principal investigator in the research' task through observations beyond the set of questionnaires and schedules, location of significant events that need understanding of the actors on the scene and efforts at learning both the views of the villagers and the investigator's own, and a paper based on such experiences with a personal touch would provide significant input to a seminar at the International level. Abstracts of the papers bringing out the essence of the findings and their context are invited for screening and processing by a Committee chaired by Professor Brij Raj Chauhan. Deadline for sending abstracts: Friday 21 December 2007. More information.
• New Delhi workshop on Territorial integration and exclusion
An International workshop on "Territorial integration and exclusion: impact of urban policies and law" will be held in New Delhi, 31 January – 1 February 2008. It is organised by the Centre de Sciences Humaines (CSH) and India International Centre in New Delhi. The programme includes sessions on "Urban corridors in India: an example of territorial integration?" (chaired by Surinder Aggarwal, University of Delhi); "Peri-urban forests in Mumbai: Conservation and housing needs for the poor" (chaired by Amita Baviskar, Institute of Economic Growth); and " The 'treatment' of slums in Delhi and Mumbai: Impact of urban policies and law" (chaired by Amitabh Kundu, JNU). Venue: Annexe, Lecture Room, India International Centre, Lodhi Estate, New Delhi. More information.
• 3rd annual Nordic workshop on Peace and Development in Sri Lanka to be held in Oslo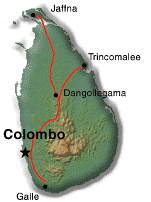 The 3rd annual Nordic workshop on Peace and Development in Sri Lanka will be held at the Museum of Cultural History, University of Oslo, 24–25 April 2008. The programme will be organised in three thematic sessions, reflecting contemporary processes and concerns in Sri Lanka as well as the main research foci of Nordic Sri Lanka scholars. Each session will include a keynote lecture by an invited Sri Lankan scholar and paper presentations by other participants. The workshop themes, invited speakers and organisers are: • Theme I: Livelihoods in the context of armed conflict and peace negotiations: keynote speaker: Dr. Darini Rajasingham Senanayake, Social Scientists' Association, Colombo; session organiser: N. Shanmugaratnam. • Theme II: Political dynamics and transformations during the peace process and after: keynote speaker: Professor Jayadeva Uyangoda, Department of Political Science and Public Policy, University of Colombo; session organiser: Kristian Stokke. • Theme III: Transnationalism and transformation of 'home'; keynote speaker: Assistant Professor R. Cheran, Department of Sociology and Anthropology, University of Windsor, Canada; session organiser: Øivind Fuglerud. More information.
• Uppsala research conference on Nature, Knowledge, Power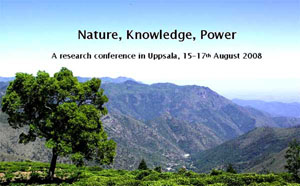 A research conference on environmental history, titled "Nature, Knowledge, Power" will be held in Uppsala 15–17 August 2008. The conference is co-organised by SASNET, the Dept. for Rural and Urban Development at the Swedish University for Agricultural Sciences (SLU), and Uppsala Centre for Sustainable Development (CSD). It hopes to bring together researchers from different academic fields, concerned with questions of environment and society under present and historical conditions. The themes for the sessions include: – Energy: renewable and/or unsustainable?; – Competing rights, access, law..; – Community rights and the market ; – Who needs conservation? Nature, people, survival ; – On urban environments; and – Ideologies of environmental change: from imperial modernization to postcolonial social justice?. Deadline for applications to the conference is 31 March 2008. More information.
• 14th Himalayan Languages Symposium (HLS) to be held in Göteborg
The 14th Himalayan Languages Symposium (HLS) will be held in Göteborg, 21–23 August 2008. The Himalayan Languages Symposium brings together scholars working on languages and language communities of the greater Himalayan region: north-western and north-eastern India, Nepal, Bhutan and the Tibetan Plateau, northern Burma and Sichuan, and Nuristan, Baltistan and the Burushaski-speaking area in the west. Scott DeLancey from the University of Oregon, USA, will be the keynote speaker. The 14th HLS is organised by the Dept. of Linguistics, Göteborg University. Deadline for sending abstracts: 31 March 2008.
• Other conferences connected to South Asian studies arranged all over the World
See SASNET's page, http://www.sasnet.lu.se/conferences.html#conf
Important lectures and seminars in Scandinavia
• Lund seminar on interreligious dialogue in India
Florina Benoit, Director of the Dept. of Peace and Reconciliation at Henry Martyn Institute, Hyderabad, India, comes to Sweden in the first week of January 2008. A seminar is organised in Lund on Sunday 3 January 2008, 14.30–21.00, where she will talk about Indian experiences of peace and reconciliation work. She will also focus on the issue of interreligious dialogue, with a feminist perspective. The seminar is organised by SENSUS and the organisation Kvinnor i Svenska kyrkan i Lunds stift. Venue: Liberiet near the Lund Cathedral, Kungsgatan, Lund. More information from Ingrid Tyrberg or Anette Rajaniemi.
• Helsinki seminar on The Essence of India – Values of India
A so-called kick-off seminar titled "The Essence of India – Values of India" will be held at the University of Helsinki, Finland, on Monday 21 January 2008. The seminar is part of the five-event series, all of which will be organised during spring 2008, presenting a broad framework to Indian society and economy within which each forthcoming event will focus on a specific topic concerning Finland-India cooperation in cleantech, health care and pre-seed. The other four seminars will cover the following fields: "Responsible India" (25–26 February); "Empathic India" (13–14 March); "Capable India" (10–11 April); and finally "Inclusive India" (15–16 April). The key objective of the seminars is to deepen the existing relations between Finland and India. The Indian speakers invited for the January event are Mr. Sam Pitroda (photo), Chairman of the National Knowledge Commission; Mr. Arun Shourie, Member of Indian Parliament; and Mr. Soli Sorabjee, Former Attorney General of India. Venue: Small Hall, University of Helsinki, Fabianinkatu 33, 4th floor, 00170 Helsinki. More information (as a pdf-file).
South Asia related culture in Scandinavia
• Report from the 2007 Iqbal Day celebration in Denmark
The Iqbal Academy Scandinavia (IAS) based in Denmark, celebrated the 2007 Iqbal Day on the 10 November with a symposium entitled "Actuality of Religious Thought in a Modern Multicultural Society". The symposium was aimed at promoting understanding and harmony among the people belonging to different schools of thought. The main speaker was Professor Mustansir Mir, Director of the Dept. of Philosophy and Religions at the Youngstown State University, Ohio, USA. Other speakers were Ellen Wulff, who has recently translated the Qur'an into Danish language, and the Danish philosopher Peter Tudvad, who has supervised the Danish translation of the IAS chairman G. Sabir's book on "Kierkegaard and Iqbal". More information about the 2007 Iqbal Day in Denmark.
• More information about South Asia related culture in Sweden and Scandinavia
See SASNET's page, http://www.sasnet.lu.se/culture.html
New and updated items on SASNET web site
• Swedish departments where research on South Asia is going on:
Constantly added to the list of research environments at Swedish universities, presented by SASNET. The full list now includes 217 departments, with detailed descriptions of the South Asia related research and education taking place! Go to http://www.sasnet.lu.se/environment.html
ƒ Department of Human Geography, Stockholm University

ƒ Swedish Environmental Research Institute (IVL), Stockholm/Göteborg
• Useful travelling information
Look at http://www.sasnet.lu.se/travelling.html. Updated travel advises from the The British Foreign & Commonwealth Office about safety aspects on travelling to the countries of South Asia.
---
Best regards,
Anna Lindberg Lars Eklund
SASNET/ Swedish South Asian Studies Network
SASNET is a national network for research, education, and information about South Asia, based at Lund University. The aim is to encourage and promote an open and dynamic networking process, in which Swedish researchers co-operate with researchers in South Asia and globally.
The network is open to all sciences. Priority is given to co-operation between disciplines and across faculties, as well as institutions in the Nordic countries and in South Asia. The basic idea is that South Asian studies will be most fruitfully pursued in co-operation between researchers, working in different institutions with a solid base in their mother disciplines.
The network is financed by Sida (Swedish International Development Cooperation Agency) and by Lund University.

Postal address: SASNET – Swedish South Asian Studies Network, Scheelevägen 15 D, SE-223 70 Lund, Sweden
Visiting address: Ideon Research Park, House Alpha 1 (first floor, room no. 2040 & 2041), in the premises of the Centre for East and South East Asian Studies at Lund University (ACE).
Phones: + 46 46 222 73 40 and +46 46 222 36 06
Fax: + 46 46 222 30 41
E-mail: sasnet@sasnet.lu.se
Web site: http://www.sasnet.lu.se
Staff: Anna Lindberg, director/coordinator & Lars Eklund, webmaster/deputy director
Back to SASNET


---