SWEDISH SOUTH ASIAN STUDIES NETWORK

---
Newsletter 96:
30 April 2009
• Applications invited for the 2009 round of SASNET grants


Closing date for applications is 15 June 2009. There are three kinds of grants offered by SASNET: 1. Networking grants for planning new research and/or education programmes or projects in collaboration between Swedish and South Asian partners; 2. Guest lecture programme grants (for inviting a guest lecturer from South Asia to visit Swedish universities), and 3. Grants for organising South Asia related interdisciplinary research workshops either in Sweden or in South Asia. Please note that the main applicant must always be a researcher or teacher based at a Swedish university. All previously distributed SASNET grants are presented on our web page (go for the list). Decisions will be taken on Tuesday 22 September 2009. More information.
• SASNET's work report for 2008 published
All Administrative reports regarding SASNET's work and activities from the first planning process in 1999 till today are available at SASNET's web site, see below. The latest report to be added is the Administrative report no. 9, for the period 1 January – 31 december 2008, giving extensive information about the activities SASNET carried out during the year. Go for the 2008 Work Report.
• Dipak Malik lectures on Riots and Elections in India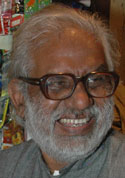 Prof. Dipak Malik, Director of the Gandhian Institute in Varanasi, India, will hold an open SASNET lecture at Lund University on "Riots and Elections in India" on Monday 11 May 2009, 13.15–15.00. Prof. Malik, also working at the Dept. of Commerce, Banaras Hindu University (BHU) in Varanasi, will discuss the ongoing elections for the Indian parliament, Lok Sabha (results to be announced on May 16th), and the profile of Indian communal riots, now and in the past. The seminar is organised in collaboration with the Research group on Development and Environment at the Dept. of Sociology, Lund University, and is part of a Swedish guest lecture tour that also brings him to the universities of Gothenburg and Karlstad (funded by a SASNET grant). Venue: Conference room 1 (335), Dept.of Sociology, Lund University, Paradisgatan 5 (house G). More information.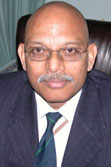 • SASNET/SIBC Business seminar with new Indian Ambassador
On Thursday 14 May 2009, 13.15–15.30, SASNET co-organises a seminar with the new Ambassador of India to Sweden, Mr. Balkrishna Shetty, in Lund. In recent years, Mr. Shetty has been posted at the Embassy of India in Paris, as Minister (Economic), dealing with all bilateral economic matters and relations with Organisation for Economic Cooperation and Development (OECD). He has also been associated with the establishment of TEAM–9 (Techno-Economic Cooperation for Africa–India Movement), a regional economic cooperation mechanism between India and eight West African countries. From September 2005 to January 2009, he was Ambassador of India to Bahrain.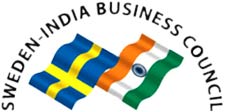 The seminar is organised in co-operation with SIBC (Sweden-India Business Council) and Ideon Research park. Besides a speech by the Ambassador, the seminar also includes a presentation by Prof. Baboo Nair, Dept. of Applied Nutrition, Lund University (and coordinator of the SASNET Fermented Foods project). Prof. Nair will talk about "Doing Business in India". SASNET's Director, Dr. Anna Lindberg, will be the moderator. More information.
• Indian Ambassador to meet researchers at Lund University
During his stay in Lund, the Indian Ambassador, Mr. Balkrishna Shetty, will also visit Lund University and meet with researchers, teachers, students, and international coordinators involved in India related projects. SASNET organises a seminar that will be held on Thursday 14 May, 16–17, where the Ambassador will listen to a few selected presentations and discuss issues of common interest. The Ambassador will be accompanied by Mrs. Madhumita Hazarika Bhagat, First Secretary (Commercial, Consular, Culture), Embassy of India. Participants should register before Tuesday 12 May 2009 to sasnet@sasnet.lu.se. Venue: Conference room, Centre for East and South-East Asian Studies (ACE), Scheelevägen 15 D, 1st floor. More information.
• Tabish Khair lectures on The Gothic and Postcolonialism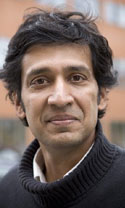 Dr. Tabish Khair from the Dept. of English, University of Aarhus, Denmark, will hold a SASNET lecture in Lund on "The Gothic and Postcolonialism: Alterity, Difference and Narration" on Monday 18 May 2009, 13.15–15.00. The seminar is co-organised by the Dept. of Comparative Literature, Lund University. Born and educated mostly in Gaya, India, Tabish Khair is the author of various books. His honours and prizes include the All India Poetry Prize (awarded by the Poetry Society and the British Council). Academic papers, reviews, essays, fiction and poems by Khair have appeared in Indian, British, Danish, American, German, Italian, South African, Chinese and other publications. Khair has just finished a study, entitled "The Gothic, Postcolonialism and Otherness", which will be published in USA and UK by Palgrave (Macmillan) in August 2009. Venue for the Lund seminar: Room L 201, Lund University's Centre for Languages and Literature (SOL-Centrum), Helgonabacken 14, Lund. More information.

• Indian artists participate in SASNET seminar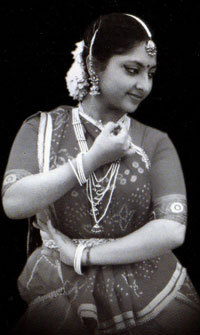 The Tabla player Subrata Manna, the classical singer Sudokshina Chatterjee Manna, and the Kathak dancer Sohini Debnath (photo), all from Kolkata, India, participate in an academic seminar on intercultural education research in Malmö on Tuesday 26 May 2009, 13.30–16.00. They visit Scandinavia as part of a European tour (with concerts in Copenhagen on May 26th and in Lund on May 27th). The Malmö seminar is jointly organised by Lund University Intercultural Education Research Forum (since November 2008 coordinated by the International Art and Cultural Education Competency Centre, KIKK, at Malmö Academy of Music), and SASNET. Besides the three Indian artists, who will discuss Indian forms of music and dance and show their skills, two presentations of ongoing research projects at Lund University will be given. Dr. Bosse Bergstedt, Dept. of Education will talk about "The Genuine Voice – on a Prelinguistic Fellowship"; and Senior Lecturer Eva Sæther, Dept. of Music Education Research will talk about "To play oneself Persian or Swedish – or?". Venue: Musikhögskolan i Malmö, Ystadvägen 25.
• SASNET summer conference in Falsterbo for young scholars
SASNET organises a Nordic conference on South Asian Studies for young scholars in Falsterbo 17–19 August 2009. The aim of the conference is to gather master students, doctoral students, postdoctoral researchers and other junior scholars in the Nordic countries (including Denmark, Finland, Iceland, Norway and Sweden) who focus on South Asia in their research studies. The conference will provide an opportunity for young scholars to present their future and ongoing research projects, establish contacts with colleagues in the Nordic countries, and discuss the challenges and opportunities of career planning and conducting research in South Asian Studies. Four keynote speakers have been invited: Prof. Vinayak Chaturvedi (photo), University of California Irvine; Dr. Mirja Juntunen, Nordic Center in India, Uppsala University; Editor Teddy Primack, Academic Documents Associates, New York; and Prof. Pamela Price, Oslo University. The thematic sessiosn will be led by Prof. Knut A. Jacobsen, University of Bergen; Dr. Catarina Kinnvall, Lund University; Dr. Per Hilding, Stockholm University; and Prof. Devdatt Dubhashi, Chalmers University of Technology, Göteborg. Venue: Falsterbo Kursgård, Ljungvägen 1, Höllviken (south of Malmö). More information in the conference web site.
• More information about SASNET and its activities
See SASNET's page, http://www.sasnet.lu.se/sasnet.html
• Science and Engineering Research Board established in India
In December 2008, the Union government of India approved the establishment of the Science and Engineering Research Board (SERB) through an Act of Parliament. SERB is being set up for promoting basic research in Science and Engineering in India and to provide financial assistance to scientists, academic institutions, R&D laboratories, industrial concerns and other agencies for such research. It was established nearly four years after the Prime Minister's Science Advisory Council (SAC-PM), India's apex science advisory body, recommended the creation of an autonomous research-funding agency free from bureaucratic controls, on the lines of the National Science Foundation (NSF) in the United States. The SERB, located in Delhi, is chaired by the Secretary to the Government of India in the Department of Science and Technology and have other senior government functionaries and eminent scientists from different fields of science and technology as members. The journalist R. Ramachandran has written a lenghty article on the creation of SERB, "Funds aplenty", published in Frontline 13 March 2009. Read the article.
• Call for Proposal for new Contemporary Study Centres in India and the EU
The Delegation of the European Commission to India has launched the "Call for Proposal" for "Supporting the creation of new Contemporary Study Centres in India and the EU" dated April 7, 2009, in order to intensify academic links in the field of higher education between both regions. The so-called India-EU Study Centres Programme (IESCP) was set up by the European Commission in 2008 as an integral part of the India-EU Joint Action Plan adopted in 2005. It aims to promote a better understanding of the EU in India and vice versa through academic and other forms of collaboration. Its chief objective is both to strengthen existing study centres and establish new ones focusing on EU studies in India as well as on contemporary Indian studies in Europe. The selection process will be completed during 2009 and support (EUR 300 000 per year) will be provided from 2010. The deadline for submission of full applications is 10 July 2009. More information at the IESCP web page.
• Contributors wanted for India Today/An Encyclopedia of Life in the Republic
Greenwood Publishing Group (now part of the academic publishing house ABC-CLIO), based in Santa Barbara, California, USA, invites contributions for its two volumes encyclopedia series "India Today/An Encyclopedia of Life in the Republic" to be published in 2010. It is one in the series of ABC-CLIO's "Life in the Republic" encyclopedias covering a number of countries of the world (for example China and Iran). Each of the encyclopedias focuses on the contemporary world. The India Today series is intended for the general reader and for school and college libraries. It is also expected that government agencies, and corporations and individuals doing business with India will acquire the encyclopedia for their libraries. Deadline for completion of entries is 15 July 2009. For information and expression of interest, and a complete list of the projected entries, please contact Roger D. Long, one of the editors for the books.
• Joint South Asia project by US University publishing houses
The University of California Press, the University of Chicago Press, and Columbia University Press are combining their resources to launch a major new series devoted principally to high quality books in the vibrant field of South Asian Studies. The series is entitled "South Asia Across the Disciplines". It is edited by Dipesh Chakrabarty, Sheldon Pollock, and Sanjay Subrahmanyam. The Editorial Board also includes renowned researchers such as Vasudha Dalmia, Sudipta Kaviraj, and Gayatri Chakravorty Spivak.
The aim behind the series, that will consist of six monographs per year, is to raise innovative questions on the relationship between South Asian studies and the disciplines; the conversation between past and present in South Asia; the history and nature of modernity, especially in relation to cultural change, political transformation, secularism and religion, and globalization. Above all, the series showcases monographs that strive to open up new archives, especially in South Asian languages, and suggest new methods and approaches, while demonstrating that South Asian scholarship can be at once deep in expertise and broad in appeal. Manuscripts are invited from art history, history, literary studies, philology or textual studies, philosophy, religion, and the interpretive social sciences, especially those that show an openness to disciplines other than their own.
The first books being published in the series are Everyday Healing: Hindus and Others in an Ambiguously Islamic Place by Carla Bellamy, The Social Space of Language: Vernacular Culture in British Colonial Punjab by Farina Mir, and Unifying Hinduism: The Philosophy of Vijnanabhiksu in Indian Intellectual History by Andrew Nicholson. Authors interested in submitting a book manuscript to the series should send an initial inquiry and prospectus to Avni Majithia. All manuscripts should be complete at the time of submission. More information (as a pdf-file)
• Virtual Indian village for students to roam around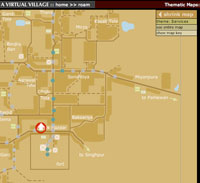 The two American researchers Peter Gottschalk, Wesleyan University in Middletown, Connecticut, and Mathew Schmalz, College of the Holy Cross in Worcester, Massachusetts, have created an interesting virtual Indian village website. It is called "A Virtual Village (in the State of Bihar, India)", and it allows students to interactively explore the social worlds of a north Indian village through its material culture. This free, online website provides a variety of background materials regarding the pseudonymic 'Arampur,' including updates on changes to its physical conditions. But the central feature allows students to virtually 'roam' within this village in the state of Bihar through a series of interconnected images. Hotspots on the scenes allow the user to enter buildings, closely examine objects, and 'interview' residents with a list of prescribed questions. As they roam, students can observe how the many communities in Arampur express their identities through the images, buildings, apparel, and household objects found in streets, homes, stores, and places of worship. Moreover, users can also witness through the interviews how individuals may belong simultaneously not to one but to many communities. These experiences help destabilize the prevailing bifurcation of 'Hindu' and 'Muslim.' The website was existed for almost 10 years, but a major redesign of "A Virtual Village" was done in 2004 and it has been updated constantly since then. Go for the Virtual Village of Arampur.
• More information about South Asia related research at Swedish and Nordic universities
See SASNET's page, http://www.sasnet.lu.se/research.html
• Kathmandu summer school on Human Rights and Minority Issues
EURASIA-Net, a programme for "Europe-South Asia Exchange on Supranational (Regional) Policies and Instruments for the Promotion of Human Rights and the Management of Minority Issues" (funded by the Seventh Framework Programme of the European Commission) invites participants to its Second Transregional Summer School to be held in Kathmandu, Nepal, 17–28 august 2009. EURASIA-Net was established in February 2008. The networking programme has a mission to improve cooperation and exchange between European and South Asian scholars and to improve circulation of South Asian research results in the field of supra-national instruments for the promotion of human and minority rights within the European scientific community and vice versa. Eventually it could lead up to the establishment of a "South Asian Council on Minorities" within the SAARC organisation. The programme is coordinated by the Institute for Minority Rights at the European Academy Bozen/Bolzano (EURAC) in Italy. More information on EURASIA-Net.
The focus of the 2009 Summer School will be Religious Minorities, an issue perceived as extremely relevant within public fora and civil society discourse in South Asia. Another key subject will be Nepal, where recent developments have opened the path to new constitutional reforms in Nepal. Moreover, lectures on the standards on minority and human rights in Europe and in South Asia (including the role of SAARC), soft law mechanisms, concepts of federalism and autonomy (including case studies, e.g., South Tyrol and Kashmir), indigenous rights and ethnic diversity both in Europe and South Asia will complete the overall programme. The Summer School is open to indicatively 20 researchers, civil servants, politicians, activists and other stakeholders (e.g. media) dealing with human and minority rights issues from Europe and South Asia. Deadline for applications is 31 May 2009. Venue: Dulikhel Mountain Resort, about 30 km from Kathmandu, Nepal. More information on the 2009 Summer School.
• More information about South Asia related education at Swedish and Nordic universities
See SASNET's page, http://www.sasnet.lu.se/education.html
• Montreal conference on Debt and Slavery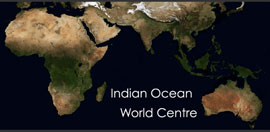 An interdisciplinary conference on "Debt and Slavery: the History of a Process of Enslavement" will be held at the Indian Ocean World Centre, McGill University, Montreal, Canada, 7–9 May 2009. The conference will cover all geographical areas and time periods. Papers should be in English or French. A wide range of relevant subjects will be given consideration but prospective participants are asked to give special consideration to the following themes: • indebtedness and enslavement; • structures of enslavement for debt; • legal and religious prescriptions governing servitude for debt; • debt bondage; • pawnship; • the sex and age profile of debt slaves; • gender and debt slaver; • credit and debt within slavery; • debt repayment in slavery; • agency for debt-slaves; • manumission and liberty for debt slaves. The conference will follow the Avignon model – papers will be grouped according to theme, and a summary presented by a discussant during sessions devoted to each theme. Individual authors will NOT present papers; rather, all papers are posted on the IOWC website after 1 February 2009. Each session involves a presentation by the discussant, followed by general discussion. Therefore, it is essential that all conference-goers be familiar with all of the papers under consideration. In the interests of fostering debate, the number of conference participants will be limited. The participants must submit only original unpublished material, and grant conference convenors exclusive publication rights to their paper for a period of one year following the conference.
• Amartya Sen keynote speaker in Bergen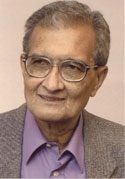 The International Social Science Council (ISSC) has chosen Bergen, Norway to be the venue of the first so-called World Social Science Forum. The conference, titled "One Planet – Worlds Apart" will be held 10–12 May 2009. It will be convened by ISSC and co-organized by the University of Bergen and the Rokkan Centre. The opening keynote address will be given by Amartya Sen (photo), Lamont University Professor at Harvard University, USA. His presentation is titled "Challenges for the Social Sciences in the New Century". Other keynote speakers include Rajendra Pachauri, Chairman of the UN's Intergovernmental Panel on Climate Change. His presentation is titled "Can Science Save Us? The Challenges for the Social Sciences from Climate Change". More information.
• London conference on China, India and the Himalayas

The Dept. of Politics and International Relations (DPIR) at the University of Westminster, UK, organises a one-day conference on "Alternative Futures for Tibet and the Tibetan Diaspora" on Friday 22 May 2009; and a separate one-day conference on "China, India and the Himalayas" the following day, on Saturday 23 May 2009. Wheras the first conference focuses on implications of the rise of China as a global power and the impasse between the Chinese government and the Dalai Lama for the Tibetan diaspora and the Tibet movement in exile, the second conference deals with the significance of Tibet for China–India relations? Are the two countries going to act as strategic competitors or will their rise bring closer cooperation, peace and stability to the Himalayan region? Are the transformations in the smaller Himalayan states of Nepal and Bhutan related to Sino-India geopolitics or do they have their own internal drivers of change? This one day conference will bring together experts on China, India, Bhutan and Nepal discussing the main issues affecting the politics and international relations in the Himalayan region. Confirmed speakers include Prof. Brahma Chellaney, Centre for Policy Research, New Delhi, who will lecture about "India's China Policy"; and Dr Nitasha Kaul, University of Westminster, who will lecture about "Democracy and Change in Bhutan". Both conferences are open to the public but eating is limited and RSVP is required for all. More information.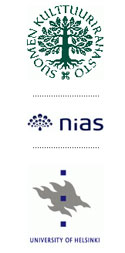 • South Asia related papers at 3rd Gendering Asia Network Conference
The 3rd Gendering Asia Network Conference will be held in Helsinki, Finland 28–30 May 2009. The theme for the 2009 Gendering Asia Network Conference is "Gender, Mobility and Citizenship". The conference seeks to address issues in contemporary Asia arising from the increase in gendered mobility in border crossings in such locations as national/transnational, public/private, and the categories of ethnicity, class and sexuality. Among participants from South Asia are M.J. Varghese from CDS, Thiruvananthapuram, India, who will present a paper on "Governmentality, Social Stigma and Quasi Citizenship: Gender Negotiations of Indian Housemaids to the Middle East" in a session dealing with "Migration and Citizenship"; and Amrita Pande from the University of Massachusetts who will present a paper on "My Body Pays the Monthly Bills: Bodylabour and the Politics of Surrogacy in India" in a panel entitled "Perspectives to India".
In conjunction with the conference, the third conference in a series after the successful meetings in Sweden (2005) and in Iceland (2007), a PhD workshop on gender and Asia will be held. It is intended to bring together and assist doctoral students at various stages of their dissertation project on a topic related to gender and Asia. Both the conference and the Ph.D. workshop are organized in collaboration with the Gendering Asia Network and the Nordic Institute of Asian Studies. Full information about the conference and the PhD workshop.
• Copenhagen conference on South Asian Drama: Old Actors, New Scripts


The Asian Dynamics Initiative at the University of Copenhagen invites to its first South Asia Network Conference that will be held 18–19 June 2009. The theme for the conference will be "South Asian Drama: Old Actors, New Scripts. Preparations of a new research agenda". The conference will address how a range of themes change the frames for research and initialise new cross-disciplinary research agendas by the formation of targeted research groups to address these problems from multidisciplinary approaches. It is primarily aimed at researchers in the public or the private sector, but is open to all interested persons. Paper contributions are invited on the state-of-the arts and how to proceed, and buzz groups on the following broad themes: – Political violence, political stability and political futures; – The implications of Cultural Changes; and – The political economy of economic development in contemporary South Asia. Deadline for registration is 1 May 2009. More information.

• Other conferences connected to South Asian studies arranged all over the World
See SASNET's page, http://www.sasnet.lu.se/conferences.html#conf
Important lectures and seminars in Scandinavia
• Oslo seminars on Asian Security Policy
The Norwegian Defence University College (IFS) in Oslo invites to a three days series of seminars on Asian security policy on 6–8 May 2009. The seminar series is part of IFS' long-term Asia research programme. The May 7th seminar includes a presentation by Krishnappa Venkatshamy, Research Fellow, Institute for Defence Studies and Analysis (IDSA), New Delhi on "Indo-Russian relations"; and the May 8th seminar, organised in collaboration with the Norwegian Institute of International Affairs (NUPI), is wholly dedicated to South Asia. Krishnappa Venkatshamy will talk about "India's regional strategies: Pakistan and Afghanistan", and Laila Bokhari, Research Fellow at NUPI, will talk about "Pakistan's regional strategies". To sign up for one or several seminars, e-mail info@ifs.mil.no. Venue: Norwegian Institute for Defence Studies, Skippergata 17 C, Oslo. More information.
• South Asia lectures at Aarhus University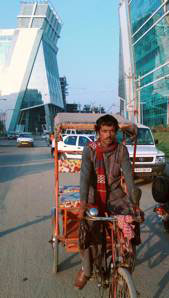 The Dept. of Asian Studies at the Institute of History and Area Studies (IHO), Aarhus University, Denmark organises three South Asia lectures on Thursday 7 May 2009, 15–18. The series of lectures is titled "Industrious" India. Identity formation, shifting aspirations and the role of the industries". The on-going elections in India and its current economic crisis after a prolonged period of growth form the backdrop of this short lecture series, in which processes of identity formation and issues of ethnicity among peasants are looked upon. Dr. Mirja Juntunen, Uppsala University (also Director for the Nordic Centre in India) will talk about "(Re)constructing Tribal Identity: Language Activism among the Kurmi Community of West Bengal, Jharkhand and Orissa". Associate Professor Jens Seeberg, Dept. of Anthropology, Aarhus University, will talk about "Private practitioners, the pharmaceutical industry and the urban poor in Bhubaneswar, Orissa". Finally, Anthony P. D'Costa, A. P. Møller-Maersk Professor of Indian Studies and Research Director, Asia Research Centre, Copenhagen Business School (CBS) will talk about "The Political Economy of IT Growth and Development in India". Venue: IHO: room 1328-220 (Nordre Ringgade), Aarhus. More information.
• Copenhagen and Karlstad lectures by Dipak Malik
Prof. Dipak Malik, Director of the Gandhian Institute in Varanasi, India, will lecture in Copenhagen on "Riots and Elections in India" on Tuesday 12 May 2009, 14.00–15.30. Prof. Malik, also working at the Dept. of Commerce, Banaras Hindu University (BHU) in Varanasi, will discuss the ongoing elections for the Indian parliament, Lok Sabha (results to be announced on May 16th), and the profile of Indian communal riots, now and in the past. The seminar is jointly organized by the Asian Dynamics Initiative (ADI) at Copenhagen University, and the Nordic Institute of Asian Studies (NIAS).

• Madhura Swaminathan lectures on Indian Rural Economy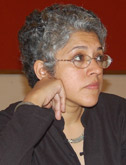 Prof. Madhura Swaminathan from the Indian Statistical Institute in Kolkata, India, will lecture in Copenhagen on "Impact of Liberalisation on Agriculture and the Rural Economy: the Indian Experience" on Monday 11 May 2009, 14.00–15.30. The lecture is organised by the Asia Research Centre at Copenhagen Business School (CBS). Prof. Swaminathan examines the effects of liberalisation policies, introduced since 1991, on the agricultural economy of India. The analysis is based on national level macro data as well as on insights gained through a series of village studies conducted in different parts of the country. The presentation deals with the following themes: land reform, public investment in agriculture and rural infrastructure, rural banking, squeeze on crop incomes, employment and the system of public distribution of food. In each of these areas there have been major policy changes during the last 18 years, associated with financial and trade liberalisation. The impacts of these changes on rural households, particularly small cultivators and agricultural labourers, are examined. Venue: CBS, Room 2.18, Porcelænshaven 16 B, Frederiksberg, Copenhagen. More information.
• Seminar with Ignatius Jesudasan on Roots of Religious Violence


Dr. Ignatius Jesudasan from the Arul Kadal Jesuit Regional Theology Centre in Chennai, India, will participate as key speaker at a seminar on "Roots of Religious Violence" to be held in Stocken on the Swedish west coast on Saturday 16 May 2009, 10–17. Other participants in the seminar, organised by Fredsrörelsen på Orust, will be former archbishop of the Church of Sweden, Dr. K G Hammar, now doing theological research at Lund University; and Dr. Jan Hjärpe, Professor Emeritus in Islamology, also based at Lund University. The seminar will focus on religious literalism and alternative understanding of holy scriptures. Dr. Jesudasan who is a senior Jesuit priest, Gandhian scholar and social activist, defended his PhD in 1980 with a thesis titled "Gandhian Theology of Liberation" at Marquette University in Milwaukee, Wisconsin, USA. In 2007, he published a book titled "Roots of Religious Violence: A Critique of Ethnic Metaphors" and his most recent work is "Genesis Myth of Manifold Meanings" from 2008. Venue: Stockens Festlokal (former Svanvik's elementary school), Ellös on the island of Orust, 90 km north of Göteborg. More information.
Business and Politics
• Information about South Asia related business and politics in Sweden
See SASNET's page, http://www.sasnet.lu.se/polbuss.html
South Asia related culture in Scandinavia
• Open letter to OIC on music censorship


Freemuse – The World Forum On Music And Censorship is an independent international organisation which advocates freedom of expression for musicians and composers worldwide. It is a membership organisation founded in 1998 as a result of the 1st World Conference on Music and Censorship held in Copenhagen. Its secretariat is based in Copenhagen, but Freemuse receives core funding from Sida, the Swedish International Development Cooperation Agency. On 20 November 2009 Freemuse, in an open letter to the Organization of the Islamic Conference (OIC), expressed its deep concern that in several member states of the OIC, musicians and music retailers are being attacked, banned and even killed in the name of religion. In an appeal to Secretary General, Ekmeleddin Ihsanoglu, Freemuse urges the OIC to strongly dissociate itself from these attacks in the name of extremist interpretations of Islam. The organisation reminds OIC members that artists from the Muslim world have during centuries contributed greatly to the world heritage, and that OIC member states should respect and protect the present musical activities and creativity in the World of Islam. However, now several member states of OIC (for example Afghanistan) implement severe restrictions on music in public life and Freemuse invites OIC to initiate a dialogue regarding such violations of freedom of musical expression. Read the letter to OIC.
• Bollywood exhibition now in Gothenburg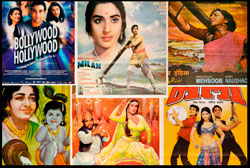 The exhibition "BOLLYWOOD", is now shown at the Museum of World Cultures in Gothenburg. The exhibition, previously shown at the Museum of Far Eastern Antiquities (Östasiatiska Museet) in Stockholm, takes off in Indian films and shows how contemporary India is connected to its past through stories and myths about love, gods and heroes. What is Bollywood? Why has it become so fantastically popular? Who are the world's most popular movie stars, really? The exhibition is entrance free and continues until 27 September 2009. During this period many programmes with film shows, dance performances and lectures are organised. In the exhibition, produced by the Museum of World Culture in cooperation with the Museum of Far Eastern Antiquities and the Helsinki City Art Museum in Finland, the entire family may enjoy experiences from a world that still seems to be far from our daily lives. Or is that really so? In the Bollywood exhibition, the audience can try to be a singing star, record their own Bollywood film and dance in great dance scenes from popular Bollywood movies. The exhibition discusses what Bollywood as a cultural expression actually consists of and how such a massive success can affect your world view. Venue: Världskulturmuseet, Södra Vägen 54, Göteborg. More information.
• India Market Focus country at 2009 London Book Fair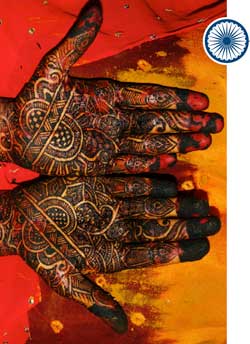 India was the Market Focus country at the 2009 London Book Fair (LBF), held 20–22 April. The publishing industry in India was highlighted, and a packed programme of Market Focus events was organised, literary events including Amartya Sen, the Nobel Prize winning writer, economist and philosopher, and more than forty authors from India participating in professional seminars. One of them, Amit Chaudhuri, wrote an article entiteld "In Search of India" in The Guardian, April 18. In the article he discusses the diversity of contemporary Indian writing, and how much the novelists of the new generation have in common. Additionally, a number of renowned writers and publishers recommend old favourites and rising stars in Indian literature. Go for the article.
In connection with the London Book Fair 2009, the British Council compiled a booklet with details of popular Indian book titles that are available in the UK. Download this guide, entitled "Of glance and lotus hand – a celebration of Indian writing".
• Saraswathy Kalakendra Institution of Fine Arts fourth Annual Day
Saraswathy Kalakendra Institution of Fine Arts in Huddinge invited for its fourth Annual Day celebration on Saturday 25 April 2009. The Bharata Natyam dance school was started in 2004 by Usha Balasundaram, originally from Kerala and trained at the famous dance institution Kalakshetra College of Fine Arts in Chennai, India. During the annual day celebration, traditional folk dances of India and Bollywood dance were performed. More information.
• More information about South Asia related culture in Sweden and Scandinavia
See SASNET's page, http://www.sasnet.lu.se/culture.html
New and updated items on SASNET web site
• Swedish departments where research on South Asia is going on:
Constantly added to the list of research environments at Swedish universities, presented by SASNET. The full list now includes 249 departments, with detailed descriptions of the South Asia related research and education taking place! Go to http://www.sasnet.lu.se/environment.html
ƒ Department of Business Administration, Gotland University

ƒ Department of Interactive Media and Learning (IML), Umeå School of Education, Umeå University
• Useful travelling information
Look at http://www.sasnet.lu.se/travelling.html. Updated travel advises from the The British Foreign & Commonwealth Office about safety aspects on travelling to the countries of South Asia.
---
Best regards,
Lars Eklund
deputy director/webmaster
SASNET/Swedish South Asian Studies Network
SASNET is a national network for research, education, and information about South Asia based at Lund University. Its aim is to promote a dynamic networking process in which Swedish researchers co-operate with researchers in South Asia and globally.
The SASNET network is open to all the sciences. Priority is given to interdisciplinary cooperation across faculties, and more particularly to institutions in the Nordic countries and South Asia. SASNET believes that South Asian studies will be most fruitfully pursued as a cooperative endeavour between researchers in different institutions who have a solid base in their mother disciplines.
The network is financed by Sida (Swedish International Development Cooperation Agency) and by Lund University.
Postal address: SASNET – Swedish South Asian Studies Network, Scheelevägen 15 D, SE-223 70 Lund, Sweden
Visiting address: Ideon Research Park, House Alpha 1 (first floor, room no. 2040), in the premises of the Centre for East and South East Asian Studies at Lund University (ACE).
Phone: + 46 46 222 73 40
Fax: + 46 46 222 30 41
E-mail: sasnet@sasnet.lu.se
Web site: http://www.sasnet.lu.se

Back to SASNET


---