SWEDISH SOUTH ASIAN STUDIES NETWORK

---
SASNET meeting on South Asia related
research at Lund University
Time: Thursday 22 October 2009, 15.15–17.00
Venue: Kårhuset (LTH), Hörsalen, John Ericssons väg 3, Lund
See the invitation for the meeting.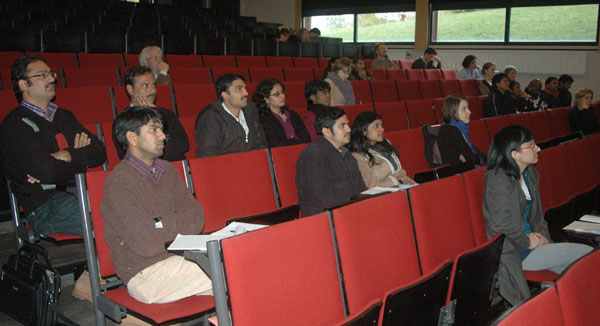 SASNET invited Lund University Masters students, Ph.D. candidates and senior researchers interested in studies and research related to South Asia (India, Pakistan, Bangladesh, Afghanistan, Sri Lanka, Nepal, Bhutan, and Maldives) to an open meeting. Nearly 50 people turned up for the meeting that was intended to increase the interest in pursuing South Asia related education and research at Lund University.
After an initial presentation on SASNET and its activities by the Director, Dr. Anna Lindberg, some of the most eminent researchers involved in South Asia related projects at the university had been invited to present their ongoing projects.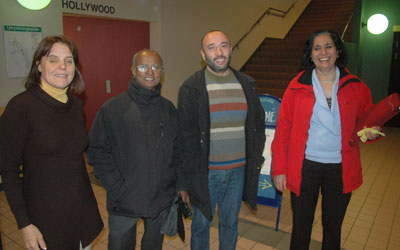 – Prof. Baboo Nair, Dept. of Applied Nutrition, presented the SASNET Fermented Foods project, connecting scientists who are doing research on fermentation of foods in South Asia into a network. It has been developed in collaboration with Professor J B Prajapati, Head of the Dairy Microbiology Department, Anand Agricultural University in India, and originally grew out of a SASNET planning grant. That is why the project still has SASNET in its name, even though it has grown into a major European Commission funded one, organising international conferences on fermented foods – the next one will be held in Anand in December 2009.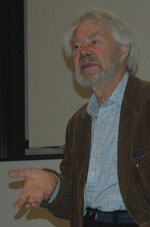 – Prof. Staffan Lindberg, Dept. of Sociology, gave a presentation entitled "35 years of Research Networking with South Asia – witnessing the Great Indian Transformation", focusing on the themes, namely 1. Social change in rural Tamil Nadu 1966 – 2005: From Abject Poverty to Relative Prosperity; and 2. Networking: the importance of friendship. The presentation was built upon Prof. Lindberg's long experience from research work and research collaboration in South Asia. Three of his books and publications were mentioned, "Behind Poverty: The Social Formation in a Tamil Village" (co-author Göran Djurfeldt) from 1975; "Barriers Broken. Production relations and agrarian change in South India" (co-authors Venkatesh B. Athreya and G. Djurfeldt) from 1990; and "Agrarian Change and Social Mobility in Tamil Nadu" (co-authors: G Djurfeldt, B Athreya, N Jeyakumar, A Rajagopal and R Vidyasagar) from 2008.
– Prof. Rajni Hatti Kaul, Dept. of Biotechnology, gave a presentation entitled "South Asian Collaboration Projects on Biotechnology for Sustainable Development", describing the projects on Industrial Biotechnology and Environmental Remediation that the Dept. of Biotechnology is working on. The researchers at the department have several collaboration projects and agreements with institutions in India, Sri Lanka, Thailand, Malaysia and Vietnam. Indo-Swedish projects include one on "Biodiversity of extreme environments to obtain suitable microbial tools for biorefineries", carried out in collaboration with Agarkhar Institute in Pune, another one on "Combined photocatalytic-biological degradation of azo dyes"; and a third one on "Treatment of textile wastewaters
– a project in southern India". A couple of yaers ago, one of the researchers at the department received a SASNET planning grant gor a projetc in collaboration with IIT Kanpur, on 'Sol-gel encapsulation of biomolecules – special emphasis on developing cost-effective diagnostic tests'.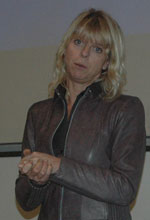 – Dr. Catarina Kinnvall, Dept. of Political Science, presented the EURASIA-Net, a programme for "Europe-South Asia Exchange on Supranational (Regional) Policies and Instruments for the Promotion of Human Rights and the Management of Minority Issues" (funded by the Seventh Framework Programme of the European Commission). EURASIA-Net was established in February 2008. The networking programme has a mission to improve cooperation and exchange between European and South Asian scholars and to improve circulation of South Asian research results in the field of supra-national instruments for the promotion of human and minority rights within the European scientific community and vice versa. Eventually it could lead up to the establishment of a "South Asian Council on Minorities" within the SAARC organisation. The programme is coordinated by the Institute for Minority Rights at the European Academy Bozen/Bolzano (EURAC) in Italy. Dr. Kinnvall has been involved in the network since a year back. More information on EURASIA-Net.

In the summer 2009, a Transregional Summer School was held in Kathmandu, Nepal. The focus of the Summer School was Religious Minorities, an issue perceived as extremely relevant within public fora and civil society discourse in South Asia. Another key subject was Nepal, where recent developments have opened the path to new constitutional reforms in Nepal. Moreover, lectures on the standards on minority and human rights in Europe and in South Asia (including the role of SAARC), soft law mechanisms, concepts of federalism and autonomy (including case studies, e.g., South Tyrol and Kashmir), indigenous rights and ethnic diversity both in Europe and South Asia will complete the overall programme. The Summer School was open to researchers, civil servants, politicians, activists and other stakeholders (e.g. media) dealing with human and minority rights issues from Europe and South Asia. More information on the 2009 Summer School.
Dr. Vipin Negi, Centre for East and South-East Asian Studies (ACE), and Dr. Gupinath Bhandari, Lund University Centre for Risk Assessment and Management (LUCRAM), also told about their experiences being scholarship holders through the Erasmus Mundus External Cooperation Window Programme.
Dr. Negi joined ACE as a post-doctoral research fellow in August 2009. He is an Assistant Professor of Economics in Keshav Mahavidyalaya College at the University of Delhi, India, teaching on Micro Economics, Macro Economics and Indian Economy.
Dr. Bhandari is a Sr. Lecturer and faculty member at the School of Oceanographic Studies, Jadavpur University, Kolkata. He has visited LUCRAM for a period of two months as an academic staff with the objective to learn more about Disaster Management in general, and Risk Analysis tools and methodologies in particular. Dr. Bhandari is also keen to develop future collaboration in research work and course development in the common topic of interest and common emerging areas between Lund University and Jadavpur University.
After the meeting, the participants stayed on for snacks and refreshments. A good time to establish contacts over faculty and programme borders. More photos to be seen on http://gallery.me.com/sasnet#100024.
Back to SASNET


---