Current & Upcoming Cultural Events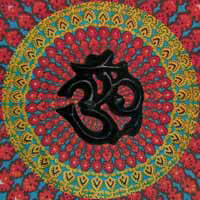 In Uppsala, an Indian Cultural Festival is held at many different places during September, October and part of November 2011. The festival is entitled "Incredible India" and is organised by the association Kulturum with support from many public and private organisations. The programme includes art and photo exhibitions, concerts and dance performances, lectures, screening of Indian films, Bollywood shows, Indian cooking and a literary festival. The festival starts on 3–4 September with an Indian market at Kulturoasen in Håga, and a dance and music performance by Odissi dancer Ulrika Anoukha Larsen and musicians Moa Danielson (Tabla) and Stian Grimstad (Sitar).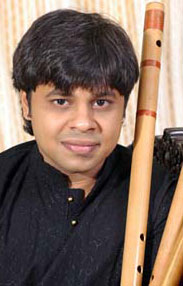 Other coming events include concerts with the renowned South Indian Flute players Shashank Subramanyam (on 9th September, photo) and Shantala Subramanyam (on 24th September); an Indian film festival at Fyrisbiografen 18–20 September; and public lectures by Uppsala University researchers such as Sten Widmalm (5th September), Eva Hellman (12th September) and Beppe Karlsson (27th September).
The formal inauguration of Incredible India will take place on Saturday 10th September, that happens to be Uppsala's Cultural Night. Lots of India focused activities will then take place from mid-day till late at night. Full information about the Incredible India festival in Uppsala.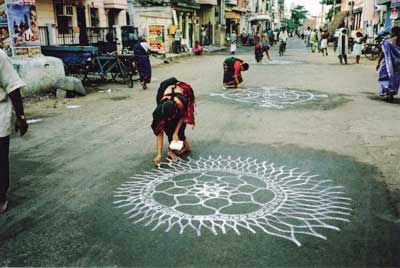 During the period 10 September – 22 october 2011, an exhibition on Kolam, the South Indian practice where women daily draw geometrical images in front of their homes to invite the deities, is held in Angered, outside Gothenburg.
The exhibition is made by Dr. Anna Laine, Social Anthropologist and Artist, now based at Dalarna University, Campus Falun, but previously connected to the University of Gothenburg where she defended her doctoral dissertation on the Kolam practice in 2009. More information about Anna Laine's project.
The exhibition, previously shown at Etnografiska Museet in Stockholm, is entitled "Kolam – flyktiga mönster för ändlös lycka" . Venue: Kulturum, Kulturhuset Blå Stället, Angereds Torg 13. More information.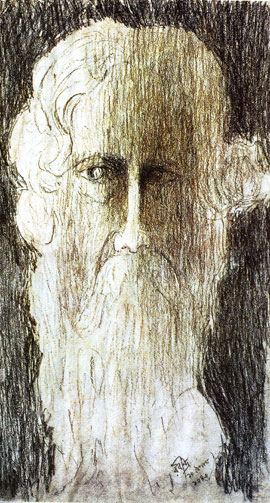 The 150th birth anniversary of great Indian/Bengali poet and Nobel Laureate Rabindranath Tagore will be celebrated in Scandinavia during the period 19–23 September 2011. Academic seminars will be held at Copenhagen University on 19th, Lund University on 21st, Stockholm University on 22nd and at Uppsala University on 23rd September.
SASNET is strongly involved in planning for these academic seminars and related cultural programmes that are organised in collaboration with the Indian embassies in Copenhagen and Stockholm, and with support from the Indian Council for Cultural Relations (ICCR). Invited scholars include Professor William Radice, SOAS, University of London; Dr. Reba Som, Director, ICCR Rabindranath Tagore Centre in Kolkata; and Professor Asoke Bhattacharya, Jadavpur University, Kolkata. More information about the seminars.


In Lund, a cultural evening will be organised on Tuesday 20 September at 19.00. The programme includes William Radice reading out his brand new English translations of poems from the Gitanjali volume. Reba Som and Bubu Munshi Eklund will sing Rabindrasangheet songs. The event will be attended by the Ambassadors from both Bangladesh and India, Mr. Gousal Azam Sarker and Mr. Ashok Sajjanhar respectively. Venue: Teater Sagohuset, Revingegatan 8, Lund. More information.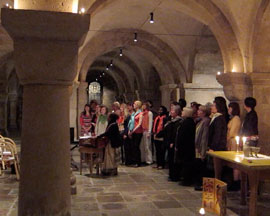 SASNET organised a Tagore week in Lund already 20–24 March 2011.
In collaboration with other local institutions and organisations, the week included popular lectures by Swedish experts on Rabindranath's life and literature, as well as exhibitions, film shows, concerts and poetry reading. The programme even included a Sunday evening mass in Lund Cathedral where the choir Svart på Vitt performed a song by Tagore in Bengali language (photo).
Detailed information about the Lund Tagore Week.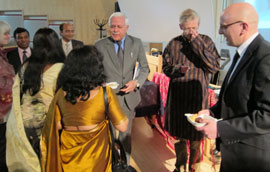 On Sunday 8 May 2011, 16–19, a Rabindranath Tagore 150 years anniversary celebration was held in Uppsala. It was organized by the Uppsala University Seminar for South Asian Studies, and a programme has been prepared by Dr. Heinz Werner Wessler, Dept. of Linguistics and Philology. He also held a speech on Tagore's life and work. Dr. Ferdinando Sardella, History of Religions, Faculty of Theology, then lectured on Tagore and Religion.
Trio Creation, with Jonas Landahl, Suranjana Ghosh and Iti Malo from Uppsala, participated with a cultural programme based on Tagore songs, performed on Tablas and Sitar.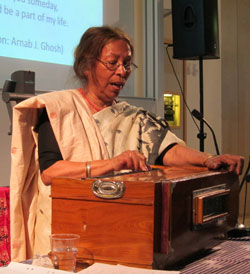 A range of beautiful Tagore songs (Rabindrasangheet) were also sung and played by Bubu Munshi Eklund from Lund on Harmonium (photo).
The event, that drew an audience of more than 100 people, was also attended by the Ambassadors from both Bangladesh and India, Mr. Gousal Azam Sarker and Mr. Ashok Sajjanhar respectively, who both gave inspired presentations.
Venue: Ihresalen, Engelska parken, Thunbergsvägen 3 H.
More information on the seminar.


SASNET's deputy director, Lars Eklund, also participated in the seminar. See his photos from the event.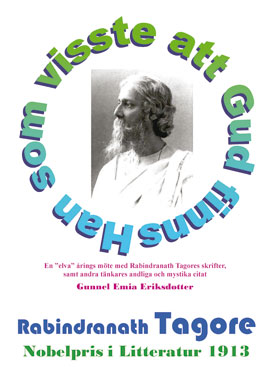 At the Göteborg Book Fair, held 22–25 September 2011, a new book will be presented on Rabindranath Tagore and his importance for the writer Gunnel Emia Eriksdotter from Vänersborg. The book, written in Swedish, is entitled "Han som visste att Gud finns". It is unique story about the strong impact that Gurudev Rabindranath Tagore's poetry and music has made on the writer's consciousness since her childhood. The book will on display at Monter A02:66 (Recito förlag) at the Bok Fair. More information about the book.

The well-known Indian writer Indra Sinha from Mumbai visits Copenhagen in connection with publicity for his book "Animal's People" that has recently been translated into Danish. A cultural event will be organised by the Indian Music Society in Copenhagen on Sunday 4 September 2011, at 15.00. Indra Sinha will present the book, that was shortlisted for the 2007 Man Booker Prize and is the Winner of the 2008 Commonwealth Writers's Prize: Best Book From Europe & South Asia.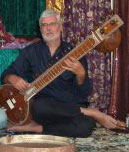 After a coffee/tea break, the Copenhagen musicians Morten Grunnet (photo) and Sandipan Chatterjee will perform a North Indian afternoon rag, played on Sitar and Tablas respectively.
Venue: Tranquebar Café og Rejseboghandel, Borgergade 14, Copenhagen.
More information about the event (only in Danish).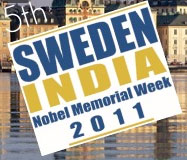 The Embassy of Sweden, together with a number of Swedish partner companies, has organized the Sweden-India Nobel Memorial Week annually since 2007. Held in October, the Week showcases the innovation and creativity of Sweden and Swedish companies and aims to enhance the interest for Sweden in India. This year marks the five-year-celebration of the Sweden-India Nobel Memorial Week, and will take place during the period 15–23 October 2011, across Mumbai, Pune, Chennai, Bengaluru and New Delhi. More information about the Sweden India Nobel Memorial Week.


As part of the Nobel Memorial Week, the Sweden-India Nobel Memorial Quiz brings together quizzers from esteemed Indian colleges and technical Institutes for an Inter-Collegiate Quiz in a battle where minds prevail over muscles (more information). The winning team gets an all-expenses paid trip to Sweden with special visits to some of the Sweden-India Nobel Memorial Week partner companies, as well as chances for internships with these prestigious companies.
In 2009, SASNET organised the quiz winners' visit to Lund University. Read Lars Eklund's report.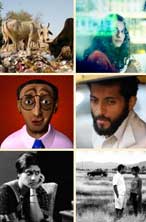 The 11th edition of River to River. Florence Indian Film Festival will be held 2–8 December 2011 in Florence, Italy. The River to River festival, under the Patronage of the Embassy of India in Rome, is the first festival in the world entirely devoted to films from and about India. From 15 February, the festival accepts entries for films produced in 2010 - 2011 from and about India to be presented during the festival. Information about submission of entries will be available under the section "Film entries" on the Festival website. The festival is also looking for volunteers to be part of the staff of the coming edition. The positions available are as secretariat, marketing coordinator, catalogue editing, hospitality, cinema hall responsible, information desk responsible, accreditation desk responsible and photographer. For more information visit the official Festival website.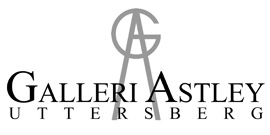 An exhibition of the eminent Indian painter Jatin Das has been held at Gallery Astley in Uttersberg, Skinnskatteberg, Sweden, during the period 17 July – 21 August 2011.
Jatin Das, hailing from Mayurbhanj in Orissa, has been painting for 50 years andis one of India's best-known contemporary artists. After studies at the Sir JJ School of Art, Bombay, under Professor S.B. Palsikar, he has held over 55 one-man exhibitions in India and abroad and has participated in numerous national and international shows and artist camps. He has also done several murals and sculpture installations. He works in oil, watercolour, ink, graphics and conté. His works now feature in several public and private collections in India and abroad. More information on the artist's home page.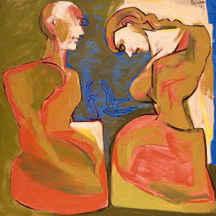 Jatin Das has a long history with Sweden. Das and renowned poet, the late Dom Moraes had visited Sweden in the summer of 1988 as a guests of the Swedish government under the aegis of 'The Visit of a Poet and a Painter'. Both, taking down their impressions of Sweden and Swedes – one through sketches and drawings, the other through short poems and random thoughts alongside.
After 23 years, these impressions crystallised into a book called The Summer in Sweden, The Journey of a Painter and Poet. In June 2011, the book was launched at the residence of the Swedish Ambassador to India in New Delhi, along with the exhibition of his sketches from 1988. Das then travelled to Sweden with this exhibition of sketches of ink, pencil and charcoal.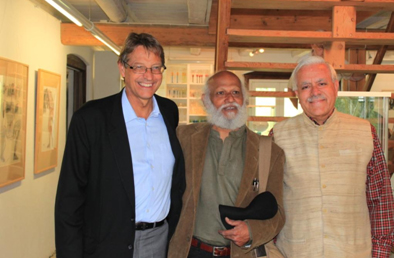 The Skinnskatteberg exhibition was inaugurated on 17th July, in the presence of Mr. Lars-Olof Lindgren, Ambassador of Sweden to India, and H E Mr. Ashok Sajjanhar, Ambassador of India to Sweden & Latvia. It became Jatin Das' second exhibition in Sweden in the past one year – the first as a part of a group and now, solo. The Indian Council for Cultural Relations (ICCR) has made this solo exhibition in Sweden possible.
More information about the exhibition in Sweden.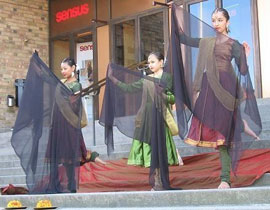 An Indian Dance Festival Week was held in Stockholm 9–12 June 2011. It was being organised by the Asian Dance Academy (Den Asiatiska Dansakademin, DADA), an association promoting Asian dance, music and culture in Sweden, led by the professional Kathak dancer Veronica Tjerned.


Visitors to the festival week are given a chance to learn some of the traditional Indian classical dance forms – Odissi, Kathak, Chhau, and Kuchi podi, as well as learning to sing Hindustani classical music. The instructors during courses, held in collaboration with SENSUS, are Ulrika Larsen (Odissi), Edith Humle (Chhau), Veronica Tjerned (Kathak), Anaya Dutta (Hindustani song), and Jamuna Levander (Kuchi podi). More information.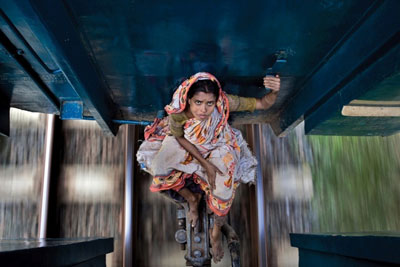 A fascinating photo exhibition on Life in Bangladesh was on display at Arbetets Museum in Norrköping from 2 November 2010 till 31 January 2011. The photojournalist Amy Helene Johansson from Aarhus, Denmark, showed two sets of her photo art at a solo exhibition at Hyllan gallery. One set documenting the Jibon Tari floating hospital, and one set entitled "Singles" (Livsöden). Amy is internationally recognised for her eminent work especially in Bangladesh. More information about Amy Johansson.
More information about the Norrköping exhibition.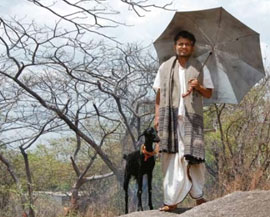 • The 34th Göteborg International Film Festival, from 28 January till Monday 7 February 2011, showed six Indian movies. Since 12 years the festival cooperates with the Swedish International Development Cooperation Agency, Sida, that has a fund supporting film makers living and working in developing countries. For the 2011 festival, the board of the Sida fund selected to support 12 films, among them the Indian director Murali Nair's Hindi language film "Virgin Goat" (photo above).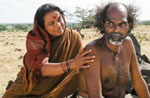 The other Indian films to be shown in Gothenburg are "Riding the Dreams" (photo) made by Girish Kasaravalli (in Kannada language); "Autumn – Harud" made by Kashmiri director Aamir Bashir (in Urdu); "The Image Threads" made by Vipin Vijay (in Malayalam); "Udaan" made by Vikramaditya Motwane (in Hindi); and Indo-British co-production "Pink Saris" made by Kim Longinotto (in Hindi).
More information on the 2011 Gothenburg International Film Festival.
As ususal, the Iqbal Academy Scandinavia (IAS) based in Denmark, observed Iqbal Day at Taastrup in Copenhagen, Denmark on 14 November 2010. An international symposium was organised, entitled "Kinship in Thought between Islam and the West". Prominent scholars participated from both Western and Islamic countries, including Dr. Ahmed Afzaal from Drew University, New Jersey, USA; Mr. Muhammad Suheyl Umar, Director for the Iqbal Academy Pakistan; and Prof. Lissi Rasmussen (photo) from the Centre for European Islamic Thought at Copenhagen University.
More information.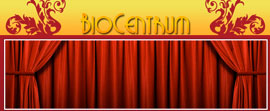 Biocentrum is the Bollywood cinema in Malmö/Limhamn – the only one of its kind in Sweden. The historic cinema hall from 1916, formerly called Centrumbiografen, was converted into a Bollywood cinema in November 2008. It now has a flourishing business with film shows (mostly Bollywood), concerts and other events, and a Bollywood dance school led by the choreographer Neelam Bertelsen. Biocentrum is located at Järnvägsgatan 28 in Limhamn. More information at Biocentrum's new web page.
Indian culture in the form of music, dance, film, art and literature was very much in focus in Stockholm during the period 1 October 2010 – 9 January 2011. In a joint effort by Kulturhuset Stockholm, Södra Teatern, Dansens Hus, Bollywoodbio/Bio Rio, Söderbokhandeln and others, a large number of cultural events took place. The entire project was entitled "Indien/Indien", and offers meetings with several well-renowned Indian artists, writers and poets, film makers, fashion designers, etc. The initiative came from Erik Sjöström, Head of Kulturhuset, who invited other organisers in Stockholm to join.
More information about the Indien/Indien project in Stockholm.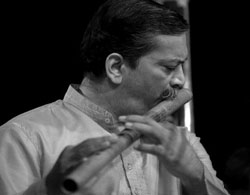 Södra Teatern rounded off its India festival activities with a concert by Pandit Nityanand Haldipur on Saturday 11 December 2010. Haldipur is an eminent Flute player in the North Indian tradition, and he was accompanied on Tabla by Pandit Sadanand Naimpalli.
Later the same evening, the Indian writer Siddarth Dhanvant Shanghvi, presented his works in Champagnebaren. Shanghvi comes from Mumbai, and has written two best-selling novels, "The last song of dusk" and "Lost flamingoes of Bombay".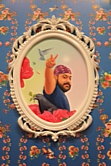 Kulturhuset at Sergels Torg presented an exhibition of 15 contemporary artists with their roots in India and Pakistan. The exhibition, entitled "Samtidigt", was shown during the entire period, and features works by Anita Khemka, Archana Hande, Bharat Sikka, Gigi Scaria, Hema Upadhyay, Nalini Malani, Pushpamala, Reena Saini Kallat, Rashmi Kaleka, Sheba Chhachhi, Shilpa Gupta, Thugral & Tagra, Vivan Sundaram, and Chitra Ganesh. They represent different strains within modern Indian art.
More information about the art exhibition.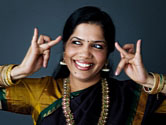 On Wednesday 29 December 2010, at 18.00 and 20.00, Usha Balasanduram (photo) and her dance school from Huddinge presented a performance entitled "Sarira (Body) – Indian Dance" at Kulturhuset. The shows ranged from Bharata Natyam to Bollywood. The Sitar player Harvinder Singh and a Tabla player accompanied the dance performance. More information.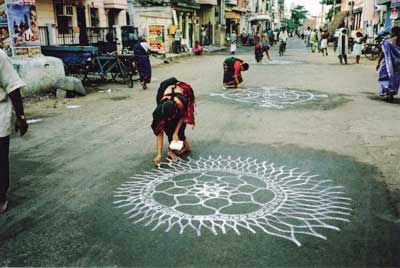 During the period 13 November 2010 – 16 January 2011, Etnografiska Museet presents an exhibition on Kolam, a South Indian practice where women daily draw geometrical images in front of their homes to invite the deities. The exhibition is made by Dr. Anna Laine, Social Anthropologist and Artist, now based at Dalarna University, Campus Falun, but previously connected to the University of Gothenburg whee she defended her doctoral dissertation on the Kolam practice in 2009. More information about Anna Laine's project.
The exhibition at Etnografiska Museet is entitled "Kolam – flyktiga mönster för ändlös lycka". The museum is located at Djurgårdsbrunnsvägen 34 in Stockholm. More information.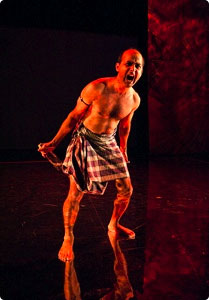 Dance artists from UK, France, China, India and Sweden participated in Re-orientations, a performance shown at Pustervik Theatre in Gothenburg on Sunday 14 November 2010. It is a visual and poetic performance about love, identity and the meeting between Asia and Europe. Eleven artists from different Asian and European countries collaborate on stage presenting the story of an adopted child that takes place between the two Asian cities Pondicherry in India and Shanghai in China. The performance is in Swedish, English, Chinese, Hindi and Kannada (spoken in the South Indian state of Karnataka). A group from Kalakadamba Art Center in Bangalore is part of the venture. They perform traditional Yakshagan theatre. The dance and theatre show is part of a long-term collaboration between Theatre Pustervik, Teater Eksem, Border Crossings and the Cultural Secretariat of Region Västra Götaland (Västra Götalandsregionen). More information (only in Swedish).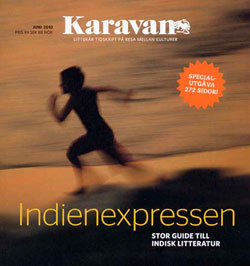 A special issue of the Swedish-language literary magazine Karavan (June 2010 issue), has been published as an impressive 272 page book presenting Indian literature. "Indienexpressen", as the volume is entitled, provides a broad panorama from Mahabharata and Ramayana to well-known novelists and poets of today. It is the first publication of its kind in Sweden. The main part of the book consists of an encyclopedia with more than one hundred portraits of Indian writers from A to Z, including longer critical essays on Salman Rushdie, Vikram Seth, Anita Nair, Krishna Sobti, Namdeo Dhasal, and Kamala Das. The special issue also includes comprehensive surveys of classical literature, modern prose and poetry in Indian languages and English, Dalit writing, drama, childrens' literature and translation. Among the contributors are well known writers from India and Sweden: Mahasweta Devi, K Satchidanandan, Sandhya Rao, Eva-Maria Hardtmann, Mirja Juntunen, Pär Jansson, Margareta Petersson, Christina Nygren, Jan Stolpe, Per J Andersson and Zac O'Yeah. The book has been edited by Tomas Löfström and Birgitta Wallin.
"Indienexpressen" is published in collaboration with the Indian Library, supported by Sida. Since 2001 the Indian Library, or Indo-Swedish Translation Project, has published more than twenty books translated from Indian languages into Swedish, and from Swedish into Indian languages. More information on the Indo-Swedish Translation Project.
"Indienexpressen" is available at Swedish book stores, but can also be ordered from the Karavan magazine.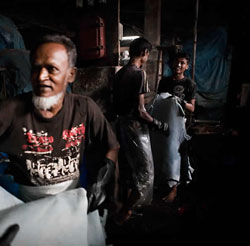 Swedish journalist Gabrielle Gunneberg and documentary photographer Amy Johansson has launched an on-line exhibition produced by the European Coalition for Corporate Justice (ECCJ) with the story "Lethal Leather – A Journey Through the Leather Industry in Bangladesh". The exhibition is part of the Rights for People, Rules for Business one-year campaign funded by the European Commission. Go for the on-line exhibition.
Both Gabrielle Gunneberg (previously Jönsson) and Amy Johansson have worked for several years in Bangladesh. Amy will however soon join the the Danish School of Media and Journalism to study documentary photography at its international programme.
The young talented Bharata Natyam dancer Shivapriya Bagchi from Kolkata, India, again toured Sweden and Denmark during the period 16 May to 11 June 2010. Ms. Bagchi was trained by Guru Thankamoni Kutty at Kalamandalam in Kolkata and later by Guru Molly Roy. She is working as a dance teacher at Loreto House School, but has also made choreography over the Sanskrit drama Magaduta, and a number of Rabindranath Tagore's dramas.
Shivapriya Bagchi (nicknamed Munjini) performed in Copenhagen on Tuesday 18 May in Ansgarkirken on Mågevej 33. This concert was organised by Indisk Musikforening in Copenhagen. Shivapriya gave another dance performance at Skövde University during a cultural evening organised by Dr. Abul Mandal, on Monday 31 May, and finally performed in Lund at Theatre Sagohuset on Tuesday 1 June. More information about the Lund performance.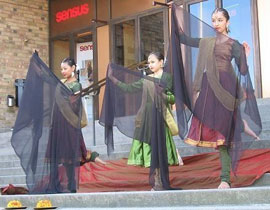 The Asian Dance Academy in Stockholm (Den Asiatiska Dansakademin, DADA) organised a summer camp with training in Indian classical Kathak dance and Hindustani music (on Tablas, Harmonium or Vocal), 4–8 August 2010 at Helsingegården in Järvsö, 320 km north of Stockholm. DADA is an association promoting Asian dance, music and culture in Sweden, an initiative taken by the professional Kathak dancer Veronica Tjerned.
Dance and music classes are also regularly held in Stockholm. The Tabla maestro Debasish Mukherjee from Kolkata, India, is connected to DADA and often gives courses.
More information about DAD activities during the summer 2010.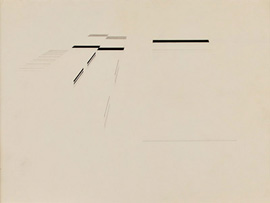 Three simultaneous exhibitions presenting Indian subcontinental artists were on display at Lunds konsthall during the period 28 November 2009 – 24 January 2010. One exhibition featured works by Nasreen Mohamedi (1937–90), regarded as one of the most important Indian artists of her generation, now being recognised as a key body of work within the modernist canon (one of her untitled paintings shown here).
The exhibition is now on display at Kunsthalle Basel in Switzerland, between 7 February and 4 April 2010.
The second exhibition, entitled "Structures, Chakras, Triangles", featured works by Rasheed Araeen, born 1935 in Karachi, now Pakistan, also incidentally the birthplace of Nasreen Mohamedi. The final exhibition, entitled "Steps Away from Oblivion" has been put together by the Raqs Media Collective, and consists of a circuit of films, installed on screens and as projections in a confined space, that invoke different rhythms of repose and transformation in today's India.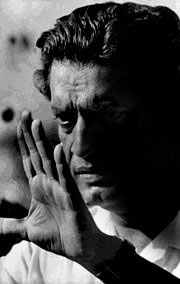 The Raqs Media Collective, a group of internationally active artists and curators (Jeebesh Bagchi, Monica Narula, Shuddhabrata Sengupta) based in Delhi, have invited eight documentary filmmakers (Debkamal Ganguly, Ruchir Joshi, Kavita Pai & Hansa Thapliyal, M.R. Rajan, Priya Sen, Surabhi Sharma, Vipin Vijay) to rework key sequences in their earlier films.
Besides the art exhibitions, there was also a retrospective showing of seven classic films by the celebrated Bengali director Satyajit Ray (1921–91, photo), also famous as a writer, film critic, illustrator, graphic designer and publisher. This was organised in collaboration with the Kino Cinema Theatre in Lund.
More information.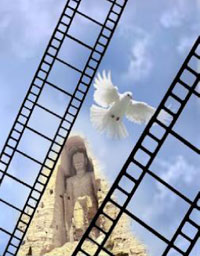 For the first time ever, an all-Afghani film festival was held 5–7 December 2009 at Dieselverkstaden in Nacka, Sweden. The festival was organised by the Afghani Pen Club, in collaboration with the Swedish Committee for Afghanistan and Nacka municipality. Several of the more than 20 films that were shown, both documentaries and movies, have won prestigeous international prizes. Among the films could be mentioned "Jange Taryak" (Opiumkriget) by Siddiq Barmak, "lezzat o Shaowqh" (Önskning och Njutning) by Qader Aryaei, and "Man Asp mekhaham na Zann" (Jag vill ha en häst och ingen fru) by Homayun Payiz. The festival also included a photo exhibition by Farid Arwand, and an art exhibition by Rahim Ghafoori. Venue: Dieselverkstaden, Marcusplatsen 17, Nacka.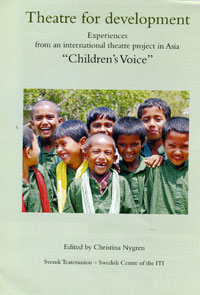 The Voices of the Children is the name of a Swedish project aimed at strengthening children's theatre in Asia. The project, funded by Sida, was launched in 2004, and has been coordinated by Dr. Christina Nygren, Dept. of Musicology and Theatre Studies, Stockholm University. Now the project, that has included an exchange of Swedish and Indian/Bangladeshi theatre groups, has been completed. It has resulted in the publication of a book, entitled "Theatre for Development. Experiences from an international theatre project in Asia". On Wednesday 16 September 2009, a book release party was held in Stockholm, at Teater Påfågeln, St Eriksgatan 84. Christina Nygren was there along with Ms. Ann Mari Engel, General Secretary for the Swedish Theatre Union, that also has been involved in the project. Mr. Rudraprasad Sengupta from the theatre group Nandan in Kolkata, India, also participated in the function, speaking about Nandan's long work to engage children and youth from vulnerable groups in theatre activities.

The 25th annual Göteborg International Book and Library Fair was held 24–27 September 2009. The 2009 seminar programme included 442 seminars, and an impressive 785 participants from 25 countries joined in the seminars, talks and discussions. There was however only a limited number of South Asia related events this year. The Afghani writer Atiq Rahimi (photo) participated. During the war in Afghanistan, Rahimi lived as a refugee in France, but has now returned to Kabul to work as a creative advisor to the country's leading media company. His first book Earth and Ashes was published in 2000, and was later turned into a movie. Now his recent book, that won the French Prix Goncourt 2008, has been translated into Swedish and published by Leopard publishing house with the title Tålamodets sten. More information.

The Indo-Swedish Translation Project/Indian Library was also represented at the 2009 Book Fair, to present its latest volume of Indian literature translated into Swedish. This time an anthology with current Indian poetry. It has been edited by Tomas Löfström and Birgitta Wallin, and published by Tranan publishing house. A seminar, entitled "Indiska versfötters väg till Sverige", was jointly organised on Friday 25 September by Indian Library, Tranan and Karavan. The Indian poet Anjum Hasan, and the Swedish poet Marie Lundquist, discussed the poems in the book, and also the workshop that preceded the publication of the book. This workshop was held in January 2009 in Calangute, Goa, India, and involved poets from both India and Sweden, including K. Satchidanandan, former Secretary of Sahitya Akademi. During workshop sessions, they translated Indian poetry from different languages into Swedish. More information.
Freemuse – The World Forum On Music And Censorship is an independent international organisation which advocates freedom of expression for musicians and composers worldwide.


It is a membership organisation founded in 1998 as a result of the 1st World Conference on Music and Censorship held in Copenhagen. Its secretariat is based in Copenhagen, but Freemuse receives core funding from Sida, the Swedish International Development Cooperation Agency. On 20 April 2009 Freemuse, in an open letter to the Organization of the Islamic Conference (OIC), expressed its deep concern that in several member states of the OIC, musicians and music retailers are being attacked, banned and even killed in the name of religion. In an appeal to Secretary General, Ekmeleddin Ihsanoglu, Freemuse urges the OIC to strongly dissociate itself from these attacks in the name of extremist interpretations of Islam. The organisation reminds OIC members that artists from the Muslim world have during centuries contributed greatly to the world heritage, and that OIC member states should respect and protect the present musical activities and creativity in the World of Islam. However, now several member states of OIC (for example Afghanistan) implement severe restrictions on music in public life and Freemuse invites OIC to initiate a dialogue regarding such violations of freedom of musical expression.
Read the letter to OIC (as a pdf file).
India was the Market Focus country at the 2009 London Book Fair (LBF), held 20–22 April. The publishing industry in India was highlighted,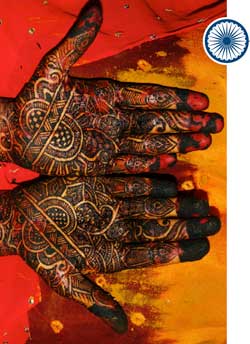 and a packed programme of Market Focus events was organised, literary events including Amartya Sen, the Nobel Prize winning writer, economist and philosopher, and more than forty authors from India participating in professional seminars. One of them, Amit Chaudhuri, wrote an article entiteld "In Search of India" in The Guardian, April 18. In the article he discusses the diversity of contemporary Indian writing, and how much the novelists of the new generation have in common. Additionally, a number of renowned writers and publishers recommend old favourites and rising stars in Indian literature.
Go for the article.


In connection with the London Book Fair 2009, the British Council compiled a booklet with details of popular Indian book titles that are available in the UK.
Download this guide, entitled "Of glance and lotus hand – a celebration of Indian writing" (in pdf format).
Even though it was not the main country in focus for the 2008 Göteborg Book Fair (Bok- och Biblioteksmässan) there was quite a focus on India.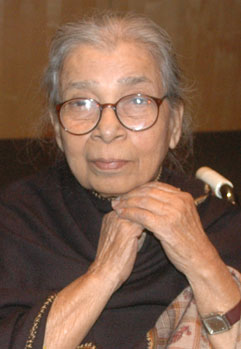 Several Indian writers, among them the legendary Bengali writer and cultural personality Mahasweta Devi were present at the book fair that was held 25–28 September.They were all invited to Sweden by the Indian Library in Sweden (Indienbiblioteket), that in September 2008 again coordinated the publication of a number of Indian books translated into Swedish. There were however also many other South Asia related events at the 2008 Göteborg Book Fair, including a seminar on "New Colonial powers advancing", focusing on the strong role that China and India now play in Africa.
Read Lars Eklund's report from the 2008 Göteborg Book Fair.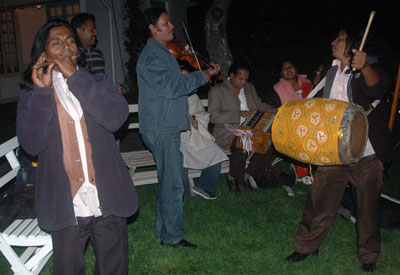 Baul Shilpi, a group of baul singers from Bangladesh who made a great success during their Sweden tour in 2003, again visits Sweden in the end of August 2008. The group, calling themselves "God's scapegraces" (Guds vildhjärnor), consists of seven persons – four baul singers, two other musicians, plus the tour leader Sirajul Islam. They have been invited to Sweden by Dr. Christina Nygren, Dept. of Musicology and Theatre Studies, Stockholm University. On Tuesday 26 August at 19.00, a Baul Shilpi performance was held at the theatre Sagohuset, Revingegatan 8, Lund. Earlier the same day, SASNET organised a seminar on baul music and other forms of Bengali folk culture with Dr. Nygren (who wrote a wonderful book, "Brokiga Bengalen" on this topic in 2006). The seminar (more information) was also held at Sagohuset.
While in Sweden, Baul Shilpi also perform in Södertälje on Saturday 23 August, during the Kulturfestival/Kringelfestivalen, at Stockholm University (Dept. of Oriental Languages, Kräftriket) on Wednesday 27 August at 19.00, and at Kulturhuset in Ytterjärna on Saturday 30 August.
More information about Baul Shilpi (pdf in Swedish only).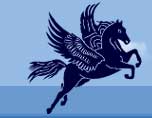 Scholars without Borders is an Indian online resource for academic books from India. The website is a one-stop online bookshop, presenting the best of scholarly material in a range of disciplines from Oxford University Press, Three Essays Collectives, Cambridge University Press, Orient Longman and many other publishers. All books that have been reviewed in the reputed Indian literary magazine Biblio: A Review of Books are available through Scholars without Borders. It also offers downloadable digital Books, texts that are of interest in the developing world and gateways to open access journals.
Go to Scholars without Borders web site.
SASNET offers information about more than 30 other publishing houses and books distribution firms in South Asia and Internationally, selling South Asian literature through the Internet. More information.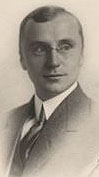 The National Library of Norway has a vast material on Afghanistan collected during the period 1923–1971 by Georg Morgenstierne, Professor of Indo-Iranian languages at the University of Oslo (photo to the right). His archive, now kept at the National Library of Norway, consists of unique photographs, sound recordings from now almost extinct languages, and silent movies (e g from pre-Islamic ritual dances in the Kalash valleys). Morgenstierne's pioneer contribution in Afghanistan today raises international interest, and a multimedia database consisting of original sources has recently been published on the Internet.
More information on the Georg Morgenstierne database
A group of ten folk musicians, dancers and singers from Purulia, in the western part of the Indian state of West Bengal, visited Sweden in the middle of March 2005.

A performance called "Bengali Night" featuring suggestive so-called jhumu music and nachni dance (by Shonda Rani), was given at Södra Teatern in Stockholm on Friday 11 March. A group of baul singers from the same region also took part in the show.
More information on the performance (under "program").
The Purulia folk artists' tour to Sweden was initiated by Associate Professor Christina Nygren, Dept. of Musicology and Theatre Studies, Stockholm University. She is presently completing an extensive research project on popular forms of theatre in Bangladesh and West Bengal. The day before the performance in Strockholm, on Thursday 10 March 2005 she organised a seminar on "Traditional Bengali theatre, culture and music" with the ten artists from Purulia. The seminar was held at Tonsalen in the Slava Theatre in Huddinge, south of Stockholm.
Read Lars Eklund's report from the Huddinge seminar.
Indian cooking is an important part of the South Asian cultural tradition. Niru Kumar in Oslo, Norway, has prepared a cooking book on the Internet, and presented it in an artistic form well adapted to the media.
Go for Niru Kumar's Masalamagic cooking book!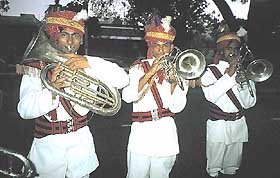 India-Related Cultural Events in Sweden

Indien.nu is an ambitious Swedish web site giving information on India related activities, concerts, film shows, restaurants, shops etc. in Sweden.
Go for its activities page!

Cricket in Sweden
The Swedish Cricket Federation organises a number of teams competing in Sweden. Many of the players are South Asian researchers and students staying in the country.
On 26 April 2007, the Swedish web magazine The Local – News from Sweden in English published an article about cricket in Sweden, titled "Immigrants dream of playing cricket – for Sweden". Read the article.
Some cricket teams in South Sweden, e g Lund Cricket Club, Malmö Cricket Club and Landskrona Cricket Club, are members of the Danish Cricket Federation.
Go to the Danish Federation's website.

Lund Cricket Club, with Mr. Balasubramanian Thiagarajan (working as a Research Engineer at Lund University's Max Laboratory) as Captain, and Mr. Sanjeev Luthra as President, regularly organises cultural programmes.
See an invitation to such an event in November 2006.

Cultural Events in Denmark, Norway and the Netherlands

The web site Desi.no lists and gives extensive coverage to all cultural events connected to South Asia taking place in Norway.

Indiawijzer is a Dutch information portal providing an extensive database with information relating to India, Indian culture in the Netherlands and also research by Dutch scholars. The first edition of the Indiawijzer was published in 1992. Today it has more than 2,500 pages. It is the work of one man, Wahid Saleh, living in Holland but originally coming from Jorhat in Assam.
Go to Indiawijzer.

---

---

Indien Online
Blog by the Swedish journalist
Per J Andersson

---

Tr@nsit
Swedish writer and journalist Tomas Löfström,
incl. info on Indo-Swedish Translation Project

---

---

Distributors of South Asia related literature

• RoutledgeCurzon (Taylor & Francis Group)
• Hurst & Company Publishers
• Manohar Book Services
• NIAS Press
• I.B. Tauris
• Anthem Press
• DK Agencies
• Motilal Banarsidass Publishers
• Khemraj Shrikrishnadass
• Bibliophile South Asia
• Indian Books Centre
• Akhil Books
• Booklovers India
• Zed Books
• Sage Publications India
• South Asia Books, Missouri
• Asian Rare Books
• Bagchee Associates
• Vedams Books
• Three Essays Press
• Media House, New Delhi
• Abebooks
• Women Unlimited
• Sundeep Prakashan
• K K Agencies
• Bookshop of India
• Eastern Book Corporation
• Navayana
• IDEAINDIA.COM
• Academic Excellence
• Dukandar.com
• Chakra Publishing House
• Global Media Publications
• Sreejoni
• Biblia Impex

---

• Center for South Asia,
Wisconsin University, Madison
• Centre for Society
and Environment, CSE

• New documentary called "Voices of Nepal" focusing on the hard situation with human rights in Nepal is released on Youtube by the British Embassy in the country.

---

An impressive and useful web site introducing the Indian film maestro Satyajit Ray's films has been launched by the Satyajit Ray Film and Study Collection (Ray FASC) in Santa Cruz, Caldfornia, USA. This is a non-profit educational organization dedicated to the preservation and dissemination of Ray's cinematic, literary and artistic oeuvre, and iis organized as a Focused Research Activity in the Humanities and Arts Divisions of the University of California, Santa Cruz. Beginning with 26 August 2006 (coinciding with 51st anniversary of release of his maiden film Pather Panchali) the web site also feature video and audio clips from the films. Go to the web site.

The Tibetan Museum Society is a recently established non-profit association, dedicated to advocate museum exhibitions of Asian, mainly Buddhist, art and culture from ancient Mongolia and the Greater Himalayan Region (including India, Nepal and Bhutan). Through a broad range of programs and projects, the Society's two primary focuses are: 1) to provide financial support to selected museums that enrich the arts with display of historically significant representations of Buddhist culture and 2) to protect sacred, religious shrines, from which Buddhist art is gathered for public sale or display against removal without consent, artifacts of any kind. Delgermaa Dagva-Hatchell is the Executive Director of the Tibetan Museum Society, based in Alexandra, Virginia, USA. The web site provides on-line access to photos of museum exhibition items around the World, books and articles on relevant issues, and even an Himalayan Internet shop.
Go to the Tibetan Museum Society's web site.

---

– now including the Nilgiri Railway in Tamil Nadu, added to the list in 2005 (see photo).
Since 2001, the non-profit organization WHTour.org has documented in panographies – 360-degree imaging – sites registered on the World Heritage list by UNESCO. The six South Asian countries that have sites on the list have already been covered in part or in full.
Go to WHTour.org web site.

The National Mission for Manuscripts was established in February 2003, by the Ministry of Tourism and Culture,Government of India. An ambitious project in its programme and mandate, the Mission seeks to unearth and preserve the vast manuscript wealth of India. India possesses an estimate of five million manuscripts, probably the largest collection in the world. These cover a variety of themes, textures and aesthetics, scripts, languages, calligraphies, illuminations and illustrations. Together, they constitute the 'memory' of India's history, heritage and thought. These manuscripts lie scattered across the country and beyond, in numerous institutions as well as private collections, often unattended and undocumented. The National Mission for Manuscripts aims to locate, document, preserve and render these accessible – to connect India's past with its future, its memory with its aspirations.

The Nehru Memorial Museum & Library (NMML) in New Delhi, was established in the memory of Prime Minister Jawaharlal Nehru (1889–1964). It is an autonomous institution under the Ministry of Culture of the Government of India, Located in the majestic Teen Murti House, the official residence of the first Prime Minister of India, it has four major constituents namely, a Memorial
Museum, a Library on modern India, a Centre for Contemporary Studies and a Planetarium.

South Asian photos of superb quality are now presented by the Indian newspaper Hindustan Times. The Gallery consists of around 50 new press images from different agencies, like the enclosed AP photo showing an Afghan getting his moustache shaved at Jalalabad on December 20, 2006.

Organisation founded by Hayat Ahmad Khan in 1959 for the promotion of classical music in Pakistan. Ever since its inception, it has been a constant source of inspiration for thousands of music lovers nationwide. Organises the APMC Lahore Annual Festival and many other concerts throughout the year. (Photo of Roshana Ara Begum performing at the 2007 APMC Festival).

Since 1978 the Indian Tobacco Corporation (ITC Limited) runs the prestigeous ITC Sangeet Research Academy, with the objective of preserving and promoting Hindustani Classical Music. ITC-SRA is now also represented on the Internet with an impressive website full of information on ragas. It is possible to download musical samples and listen to them in the "Music Room" provided for within the web site.

---

---

Back to Home


---