SWEDISH SOUTH ASIAN STUDIES NETWORK

---
Newsletter 109:
23 April 2010
• Lund University provides extra funding for SASNET


On March 18, 2010, Lund University decided to give the Swedish South Asian Studies Network, SASNET, SEK 830 000 as extra budget funds, in addition to the basic funding equal to the same amount, already provided to SASNET for 2010. The extra funds are taken from the Vice Chancellor's strategic research funds, and should be specifically used to prepare an investigation regarding Lund University's common and long-term strategy on collaboration with South Asia. The task also includes exploring possibilities to find external collaboration partners and secure new external funding for SASNET's continued South Asia related activities. A report should be delivered to the Vice Chancellor before 30 June 2011.
In the decision, the Lund University management also clearly states that it highly values SASNET's Internet gateway, the newsletters and data bases built up over a period of 10 years. These should be kept intact and continue to be maintained.
More information (as a pdf-file, in Swedish)
| | |
| --- | --- |
| | |
Important lectures and seminars in Scandinavia
Business and Politics
• Sida presents business for develoment programme at Globe Forum Conference
Globe Forum is an annual international conference held in Stockholm for business leaders, entrepreneurs, academics, political leaders and state actors working in the most dynamic growing markets. The theme for the Globe Forum 2010 will be "Solar Power, Nanotechnology and Green ICT". It will take place 28–29 April 2010, at Frihamnshallen, Frihamnsgatan 66 in Stockholm. The primary focus of the conference was to share views and information from the fastest growing markets: China, India, Central and Eastern Europe and the Gulf region, and inspire new business opportunities in the light of global environmental and social challenges. The conference addressed the technology and consumer perspectives and the broader energy areas, including energy availability and usage, transport and environmental issues.

The Swedish International Development Cooperation Agency (Sida) is one of Globe Forum's partners. During Globe Forum 2010, its Director-General Anders Nordström (photo to the left) will present Sida's new public-private collaboration programme entitled "Business for Development", B4D. This programme includes a new form of development funding focusing on "Innovations Against Poverty".
Invited South Asian speakers for the 2008 Globe Forum include Dipal Chandra Barua, Founder & Chairman, Bright Green Energy Foundation; Rajendra Pachauri, Chairman, IPCC; and Mohan Munasinghe, Chairman for the Munasinghe Institute of Development.
More information about Globe Forum 2010.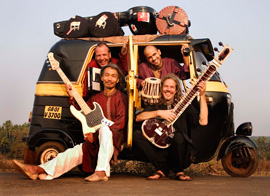 South Asia related culture in Scandinavia
New and updated items on SASNET web site
---
Best regards,
Lars Eklund
deputy director/webmaster
SASNET/Swedish South Asian Studies Network
SASNET is a national network for research, education, and information about South Asia based at Lund University. Its aim is to promote a dynamic networking process in which Swedish researchers co-operate with researchers in South Asia and globally.
The SASNET network is open to all the sciences. Priority is given to interdisciplinary cooperation across faculties, and more particularly to institutions in the Nordic countries and South Asia. SASNET believes that South Asian studies will be most fruitfully pursued as a cooperative endeavour between researchers in different institutions who have a solid base in their mother disciplines.
The network is financed by Lund University.
Postal address: SASNET – Swedish South Asian Studies Network, Scheelevägen 15 D, SE-223 70 Lund, Sweden
Visiting address: Ideon Research Park, House Alpha 1 (first floor, room no. 2040), in the premises of the Centre for East and South East Asian Studies at Lund University (ACE).
Phone: + 46 46 222 73 40
Fax: + 46 46 222 30 41
E-mail: sasnet@sasnet.lu.se
Web site: http://www.sasnet.lu.se

Back to SASNET


---