SWEDISH SOUTH ASIAN STUDIES NETWORK

---
Newsletter 112:
17 August 2010
• Decisions about new Erasmus Mundus Asia Regional mobility programme lots


On Friday 9 July 2010, the European Commission, through its Education, Audiovisual and Culture Executive Agency (EACEA) decided upon the 2010 Erasmus Mundus Action 2 – Strand 1 – Partnership programme. Deadline for submission of applications was 30 April 2010. Each selected partnership project will have a mobility flow of 100 individuals, and a budget of Euro 2.475 m.
See the full list of selected 2010 Erasmus Mundus Action 2 – Strand 1 – Partnership programmes.
The detailed lists of the new Erasmus Mundus Partnership projects will be updated by September 2010 to include descriptions of all projects and the universities that participate in each consortium, besides giving links to their respective websites. Go for this EACEA web page.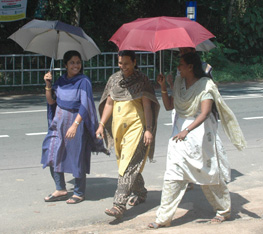 http://open.spotify.com/user/sasnet/playlist/1TC7WlxxfaWFXEtXPn8nr8This is a follow-up programme to the previous mobility scheme entitled Erasmus Mundus External Cooperation Window (EMECW). This programme has been running for some years now with an aim to foster co-operation between higher education institutions and the exchange of students, researchers and academic staff between EU Member States and targeted so-called Third countries, including India and the rest of South Asia.
Full information about existing South Asia related EMECW/Erasmus Mundus Action 2 projects.
Ten European-Asian university consortiums were now selected for the Asia Regional lots, No 11 and 12. They differ from the previous EMECW programmes in being strictly one-way mobility programmes, from Asia to Europe, not vice-versa.
Lot No. 11 is primarily devoted to South Asia, where the proposals should include universities in at least three of the following group A countries: Afghanistan, Bhutan, Nepal, Pakistan, and Bangladesh; besides at least two of the following group B countries: Sri Lanka, India, Indonesia, Malaysia, Maldives, Philippines, Thailand, China, and North Korea.
Lot No. 12 on the other hand is primarily devoted to South-East Asian countries, but also also gives the possibility to include Sri Lanka, India and/or Maldives as group B countries.

• Lund University selected to coordinate Europe/South Asia/China mobility programme

Lund University (LU) , that already successfully coordinates one of the existing Indo-European Erasmus Mundus Action 2 programmes, was now again selected to coordinate one of the five new Lot 11 projects.
This consortium consists of 20 universities, eight in Europe and 12 in Asia, out of which five are in China (Peking, Tsinghua, Fudan, Zhejiang and Xiamen universities), and four in India (Delhi University; Jadavpur University, Kolkata; Indian Institute of Technology Kanpur (IITK); and Tata Instititute of Social Sciences, Mumbai).
The remaining South Asian partner universities in the LU-led consortium are Karachi University, Pakistan; Tribhuvan University, Nepal; and Jahangirnagar University, Savar, Bangladesh. The project will be open for applications from November 1, 2010 and remain open until December 15. A first consortium meeting is planned to take place in Lund 23–24 September 2010. SASNET is closely involved in the planning for the programme. The project coordinator is Elisabeth Axell, International Relations, Lund University.
Four other university consortiums were also selected for Lot 11. They are coordinated by the following European universities:
– University of Deusto, Bilbao, Spain
– Karl August University, Göttingen, Germany
– University of Nice Sophia Antipolis, France
– University of Rome Sapienza, Italy.
Five consortiums were also selected for the South-East Asia oriented Lot No 12 (that still may include South Asian partner universities). They are coordinated by the following European universities:
– Ghent University, Belgium
– University of Science and Technology 2, Montpelier, France
– University of Nice Sophia Antipolis, France
– University Lumiere Lyon 2, France
– Czech University of Life Sciences, Prague, Czech Republic
Important lectures and seminars in Scandinavia
Business and Politics
South Asia related culture in Scandinavia
New and updated items on SASNET web site
---
Best regards, and a nice summer 2010
Lars Eklund
deputy director/webmaster
SASNET/Swedish South Asian Studies Network
SASNET is a national network for research, education, and information about South Asia based at Lund University. Its aim is to promote a dynamic networking process in which Swedish researchers co-operate with researchers in South Asia and globally.
The SASNET network is open to all the sciences. Priority is given to interdisciplinary cooperation across faculties, and more particularly to institutions in the Nordic countries and South Asia. SASNET believes that South Asian studies will be most fruitfully pursued as a cooperative endeavour between researchers in different institutions who have a solid base in their mother disciplines.
The network is financed by Lund University.
Postal address: SASNET – Swedish South Asian Studies Network, Scheelevägen 15 D, SE-223 70 Lund, Sweden
Visiting address: Ideon Research Park, House Alpha 1 (first floor, room no. 2040), in the premises of the Centre for East and South East Asian Studies at Lund University (ACE).
Phone: + 46 46 222 73 40
Fax: + 46 46 222 30 41
E-mail: sasnet@sasnet.lu.se
Web site: http://www.sasnet.lu.se

Back to SASNET


---