SWEDISH SOUTH ASIAN STUDIES NETWORK

---
Newsletter 45:
2 November 2004
SASNET News:
• Applications for SASNET planning grants
Applications are now invited. Closing date for applications is Monday 15 November 2004. More information.
• Papers and panel reports from the Lund conference
A large number of full papers presented at the 18th European Conference of Modern South Asian Studies, organised by SASNET 6–9 July 2004, have been posted on the conference website and are still available. See the full list of conference panels, abstracts and papers
The panel convenors have presented reports on the outcome of their respective panel. Reports for 41 out of the conference's 44 panels are available. Go for the summary of Panel Reports (as a pdf-file)
• 19th ECMSAS conference to held in June 2006
The 19th European Conference of Modern South Asian Studies (ECMSAS) will be held 27–30 June 2006 in Leiden, the Netherlands. The Dept. of South Asian Studies at Leiden University will host the conference with organisational assistance from the International Institute of Asian Studies, IIAA, also based in Leiden. A first conference announcement with requests for panels suggestions will be published in December 2004.
• Workshop in Chennai financed by SASNET planning grant
A preparatory Education and Research Workshop on introducing a joint Swedish-Indian Peace and Conflict Transformation Studies programme (PCTS) will be held at the University of Madras, Chennai, India, 22–26 November 2004. The academic coordinators for this project that was given a SASNET planning grant in August 2004 are Senthil Ram, Dept. of Politics and Public Administration, University of Madras, and Stellan Vinthagen, Dept. of Peace and Development Research, Padrigu, Göteborg University. Full information on the workshop (as a pdf-file)
• Naila Kabeer holds SASNET lecture on Citizenship and Empowerment
Prof. Naila Kabeer, Institute of Development Studies, University of Sussex, UK, lectures on "Citizenship and Empowerment" at Lund University, Monday 8 November 2004, 14.15–16.00. Kabeer, currently guest professor at PADRIGU, Göteborg University, is an economist with specialisation on such areas as gender dimensions of poverty, population and health, and poverty and food security. The lecture is jointly organised by SASNET; the Development Study Group at the Dept. of Political Science; and the Development Studies Seminar at the Dept. of Sociology, Lund University. Venue: Stora Konferensrummet (Eden 366), Dept. of Political Science, Paradisgatan 5, Lund.
• SASNET lecture by Doris Jakobsh on Sikhs, Colonization, Gender
Doris Jakobsh, University of Waterloo, Ontario, Canada, will give a SASNET lecture on "Innovation or Invention? The Sikhs, Colonization, Gender and the Feminization of Ritual" at Lund University, on Wednesday 8 December 2004, at 16.15. Venue: Room 438, Centre for Theology and Religious Studies (CTR), Allhelgona Kyrkogata 8, Lund. Jakobsh is a researcher specialized on Gender in Sikh Studies and visits Sweden in connection with the Nordic conference on "Ritual Practices in Indian Religions and Contexts" held at Lund University 9–11 December – more information below.
• Appeals for research projects collaboration with partners in Sweden
SASNET now publishes appeals from South Asian researchers interested to proceed with projects in collaboration with partners in Sweden, and vice versa. First out is a proposal by Keshab Das, Associate Professor at the Gujarat Institute of Development Research, Ahmedabad, India, who seeks partners for a project on "Enhancing SME Cluster Competitiveness in Asian Developing Countries: Learning from Global Experiences in Internationalisation". Go to SASNET's page for research appeals!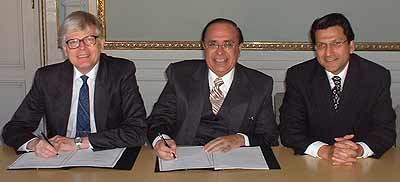 • Pakistani–Swedish agreement on collaboration in research and research training signed in Stockholm
A formal agreement on collaboration in research and research training between Pakistan and Sweden was signed on 1 November 2004. Dr Atta-ur-Rahman (photo to the right), eminent Pakistani scientist within the field of chemistry and Chairman of the Pakistani Commission of Higher Education, HEC, visited Stockholm 1–2 November 2004. A Memorandum of Understanding was signed between HEC and the Swedish Institute about sending 200 students annually from Pakistan to Sweden for Masters and PhD studies financed by the Pakistan Government. SASNET has been involved in the preparations for launching this programme (read our meeting report with Atta-ur-Rahman in Karachi, November 2003). In Stockholm Atta ur-Rahman visited Karolinska Institutet Medical University and the Royal Institute of Technology, KTH; institutions that are likely to house a large number of the Pakistani Masters and PhD students.
• Swedish Research Links grants to 19 South Asia related projects
Swedish Research Links grants for the period 2005-07 were distributed to several South Asia related research projects in October 2004. Sida and the Swedish Research Council initiated the Swedish Research Links programmes in 2002, and within this framework the Asian–Swedish Research partnership programme specifically aims to stimulate contacts between Swedish researchers and researchers in Asia. Go to SASNET's list of these projects.
• Trial lectures for the new professorship in Indic religions at Lund University
The Faculties of Humanities and Theology at Lund University will soon decide upon the new professorship in History of Religions, concentrated on the Indic religions Hinduism, Buddhism, Jainism, and Sikhism. The position was supposed to have been appointed from 1 July 2004, but the process has been delayed because of appeals. The two remaining candidates, Olle Qvarnström and Max Deeg, will do trial lectures on Monday 8 November 2004, 13.15–15.30, and soon after a decision will be taken. Qvarnström will lecture on "Reading between the lines. Understanding the debate on omniscience in medieaval Indian religious philosophy", whereas Max Deeg lectures on "Was it a lake or was it a forest? The myth of the origin of the Kathmandu valley in Hindu and Buddhist legends". Read the announcement, as a pdf-file (only in Swedish).
• Official clearance finally secured for the Nordic Centre in India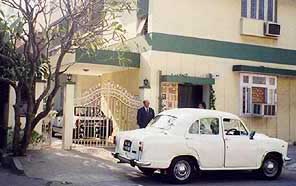 The Nordic University consortium designated Nordic Centre in India (NCI), located at C-7, Nizamuddin East, New Delhi – 110 013, has finally received its long-awaited clearance from the Indian government. Up till now the NCI has had a legal existence only in the Nordic countries. A formal decision on approval was taken by the Minister for Human Resources Development (HRD) Arjun Singh and publicly announced during an official visit to India by the Norwegian Deputy Foreign Minister Vidar Helgesen on 12 October 2004.
The Nordic Centre in India with its well-equipped flat in South Delhi (photo to the right) – providing accommodation for Nordic students, researchers, teachers and administrators engaged with Indian/South Asian topics – was established already in 2001, but failed to get official recognition from the previous BJP-dominated government. In spite of frequent urgings from Nordic academicians and embassies, in which SASNET was also involved, no approval was given by the then HRD Minister MM Joshi. More information on the Nordic Centre in India.
• Doctoral dissertation on the mobilization of working children in South India
Aina Winsvold from the Dept. of Sociology, Lund University, will defend her doctoral dissertation on the mobilization of working children in South India, "Når arbeidende barn mobiliserer sig. En studie av tre unioner i Karnataka, India", on Thursday 16 December 2004, 10.15. Venue: Kulturens hörsal, Tegnérsplatsen, Lund. Faculty opponent is Asst. Prof. Per Bolin Hort, Södertörn University College, Huddinge. More information.
• Linnaeus-Palme grants to 20 South Asia related academic exchange programmes
20 Swedish educational exchange programmes related to South Asia were given grants through the Linnaeus-Palme International Exchange Programme for the academic year 2004-05. The decisions were made by the International Programme Office for Education and Training in end of April 2004. SASNET now presents a full list of the South Asia related programmes that were given grants.
• Educational project among Srilankan plantation workers completed
The Swedish/Norwegian non-govermental organisation COPE, Council for Promotion of Education among Tea Workers in Sri Lanka and repatriates to India, has now completed the educational project it has run since 1990. The project gave scholarships for higher education to almost 1,000 young girls and boys in the tea estates in Sri Lanka and to those forcibly repatriated to southern India in accordance with the 1964 Indo-Ceylon agreement. COPE now changes its work to focus on information and cooperation with local NGO:s working among the same people today, Satytodaya – Social Research & Encounter in Sri Lanka, and the Island Trust in Kotagiri, Tamil Nadu, India. More information through COPE's web site.
• Oslo meeting on possibilities for a peaceful solution in Nepal
A public meeting/debate on whether a peaceful solution to the political problems in Nepal is possible, "Nepal – fredelig løsning mulig?" is arranged in Oslo on Thursday 4 November 2004, 18.00. Madhav Kumar Nepal, general secretary of the Nepalese Communist Party, CPN (UML), takes part in the meeting that is organised by Sosialistisk Venstreparti and the Norway-Nepal Association. Venue: Akershus fylkestingssal (entrance from Galleri Oslo), Oslo. More information.
• Subrata Mitra lectures on India's governance in Oslo
Prof. Subrata Mitra, Department of Political Science & South Asia Institute, University of Heidelberg, Germany, lectures in Oslo on Monday 8 November, 10.15–12.00. His lecture on the "Puzzle of India's Governance: Culture, Context and Comparative Theory" is one of the biweekly research colloquiums organised during the Fall 2004 by the Norwegian Network on Local Politics in Developing Countries (LPD) in collaboration with the Centre for Development and the Environment (SUM), Oslo University. Venue: Seminar room, 4th floor, Sognsveien 68, Oslo.
• Uppsala lecture on Forest, Land Use and Water in Colonial South Asia
Arun Bandopadhyay, Nurul Hasan Professor of History at the University of Calcutta, Kolkata, India, lectures in Uppsala, Thursday 25 November 2004, 13.15–15.00, on "Forest, Land Use and Water in Colonial South Asia: A Few Issues from Agrarian and Environmental History". The lecture is organised by the Dept. of History, Uppsala University. Venue: Engelska Parken, Thunbergsvägen 3H, House 1 (note that the department has moved location). More information.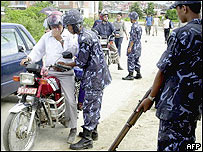 • Copenhagen conference on "Nepal in Conflict"
A conference on "Nepal in Conflict" is held in Copenhagen, Denmark, 18–19 November 2004. The conference is organised by the Danish Ministry of Foreign Affairs in collaboration with Amnesty International and the Danish Association of International Co-operation (MS). It focuses on three themes, • Conflict, peace and democratic governance; • Poverty and marginalization; and • Human rights and conflict management. Among the invited speakers are Dr. Rhoderick Chalmer, International Crisis Group, Brussels; Dr. Bihnu Raj Upreti, Friends for Peace, Kathmandu; and Dr. Thania Paffenholtz, Peacebuilding Research and Advice, University of Berne, Switzerland. Venue: Eigtveds Pakhus, Asiatisk Plads, Copenhagen. Registration necessary before 12 November 2004. More information with full programme.
After the two-days conference is over, a separate two-days seminar aimed at NGO's follows 19–20 November 2004. This seminar, organised by the "Nepal in Crisis Network" focuses on developing stronger ties between Danish and Nepali NGO's, and the ways in which these can support a solution to the democratic crisis and the armed conflict in Nepal. Venue: The Danish Institute for Human Rights, Wilders Plads 8 H, 3 floor, Copenhagen K. Full programme (as a Word document).
• Colombo Conference on Women and Politics in Asia
The Second International Conference on Women and Politics in Asia is held in Colombo, Sri Lanka 19-20 November 2004. The conference, organised by the Institute of Human Development & Training, Battaramulla, Sri Lanka, will focus on various issues related to women and politics in Asia, and is a follow-up to the first conference on Women & Politics in Asia held in Halmstad, Sweden in June 2003. Among the issues addressed are • Women & Political discrimination; • Women, Gender & Politics; and • The role of religion & women in Politics. Venue: Trans Asia Hotel, Colombo. More information.
• Cambridge conference on Fire, Cattle and Domestication in Prehistoric India
A conference on "Fire, Cattle and Domestication in Prehistoric India: Recent research on the South Asian neolithic" is held in Cambridge, UK, 20–21 November 2004. The conference is arranged by the McDonald Institute for Archaeological Research, University of Cambridge. The conference will feature talks by many of the major international researchers studying the South Indian Neolithic today.
• Third Space Seminar arranged in Malmö and Lund
A second edition of the Third Space Seminar (first held in November 2002) will be arranged in Malmö and Lund 26–28 November 2004. The conference, co-hosted by the cities and universities of Malmö and Lund, gathers some of the world's leading artists and intellectuals for a three-day programme of seminars, exhibitions, workshops and panel discussions. The overall theme will be "Examining the Law", and among the key speakers are Sarat Maharaj. Academic programme coordinators are Oscar Hemer and Carl Henrik Svenstedt, School of Arts and Communication, Malmö University; and Max Liljefors, Department of Art History, Lund University. More information.
• Mumbai conference on Community Care and Support for Persons Living with HIV/AIDS
An International Social Work Conference on "Community Care and Support for Persons Living with HIV/AIDS: Challenges for the New Millennium" is held in Mumbai, India, 7–9 December 2004. The conference is organised by the College of Social Work, Nirmala Niketan, University of Mumbai. The Conference is an attempt to get together professional social workers, practitioners in the field, NGO representatives etc. from different countries, on a common platform so as to deliberate on this vital issue of Community Care and Support for Persons Living With HIV/AIDS (PLWHA).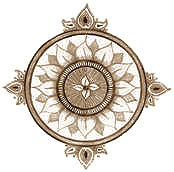 • Lund conference on Ritual practices in Indian religions and contexts
A Nordic conference on "Ritual practices in Indian religions and contexts" is held at Lund University 9–11 December 2004. The conference is arranged by the seminars of Indian Religions and Ritual Studies at the Department of History and Anthropology of Religion, Lund University, in cooperation with the academic journal Chakra – Tidskrift för indiska religioner. Scholars and PhD students engaged in research concerning Indian religions (Buddhism, Hinduism, Jainism and Sikhism) and rituals are invited to take part. Keynote speakers are Gananath Obeyesekere, Princeton University, Gurinder Singh Mann, University of California at Santa Barbara, Elisabeth Schombucher, University of Heidelberg and Peter Flugel, School of Oriental and African Studies, University of London. Presented papers will be considered for publication in the journal Chakra.
• Anthropological and Ethnological Sciences Inter Congress in Kolkata
The International Union of Anthropological and Ethnological Sciences, IUAES, will hold a 2004 Inter Congress in Kolkata, India, 12–15 December 2004. This is the first time in 26 years that IUAES holds any form of congress in India. The theme for the conference, that is organised by the University of Calcutta in collaboration with the Commission on Urban Anthropology and Commission on Human Rights of IUAES, will be "Mega Urbanisation, Multi-Ethnic Society, Human Rights and Development". After the Inter Congress in Kolkata, post-congress seminars will also follow at the University of North Bengal, Siliguri, and in Ranchi. More information.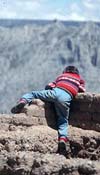 • Stockholm research conference on Structures of Vulnerability
A research conference on the issue of "Structures of Vulnerability" is held at Stockholm University on 12–14 January 2005. The conference is organised by the university's Dept. of Social Anthropology and the Swedish International Development Cooperation Agency, Sida. It will be a forum for scientific discussion between scholars in Sweden who deal with poverty and/or capacity-building issues in lower income countries. Researchers and graduate/post graduate students in Sweden are invited, but research colleagues from other countries and officials and policy makers in fields connected to the theme of the conference are also welcome. Relevant topics of discussion will include: Biodiversity, children and youth, climate, corruption, environment, ethnicity, food and water, gender, hazards, health, infrastructure, law, religion, urbanity, war and violence, and welfare. Deadline for delivering abstracts is 5 November, and for registration 15 December 2004. Venues: Aula Magna and the House of Geo Sciences at Stockholm University Campus Frescati. More information.
• 2nd KTH-Dhaka University International Seminar on Natural Arsenic in Groundwater of South Asia
The 2nd KTH-Dhaka University International Seminar on Natural Arsenic in Groundwater of South Asia (NAGSA-2005) is going to be held in Dhaka, Bangladesh, 15–17 January 2005. The conference is jointly organized by Department of Geology, Dhaka University and the Groundwater Arsenic Research Group (GARG) at the Dept. of Land and Water Resources Engineering, Royal Institute of Technology (KTH), Stockholm. Read the first cirkular (as a pdf-file)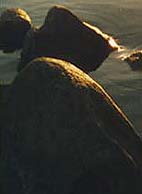 • Frontiers of Sociology theme for World Congress in Stockholm
The 37th World Congress of the International Institute of Sociology will be held in Stockholm 5–9 July 2005. The Congress will allow social scientists from different parts of the world to exchange ideas and to establish long-term collaborative relationships. Its plenary and semi- plenary sessions will focus on the "Frontiers of Sociology". Prof. T.K. Oommen, Jawaharlal Nehru University, New Delhi, India, is one of the convenors for the semi-plenary session on "Multiple Modernities and Social Theory". There will also be up to 160 regular sessions, in which up to 800 different papers will be presented. Several panels focus on South Asian issues. Deadline to apply to present a paper: 30 November 2004. Venue: Stockholm Conference Centre, Norra Latin, Drottninggatan 71 B. More information.
• Rotterdam conference on South Asian Diaspora
A conference on "The South Asian Diaspora. The Creation of Unfinished Identities in the Modern World" is held at Rotterdam, Netherlands, 23–24 July 2005. Venue: Erasmus University, Burgermeester Oudlaan 50, Rotterdam. More information.
• Other conferences connected to South Asian studies arranged all over the World
See SASNET's page, http://www.sasnet.lu.se/conferences.html#conf
New and updated items on SASNET web site
• More Swedish departments where research on South Asia is going on:
Added to the list of research environments at Swedish universities, presented by SASNET. The full list now includes 133 departments. Go to the presentation page.
• Several new articles recommended for reading
Look at http://www.sasnet.lu.se/recreading.html for suggestions on interesting new articles on South Asia in International media. New items added.
---
Best regards,

Staffan Lindberg Lars Eklund

SASNET/ Swedish South Asian Studies Network
SASNET is a national network for research, education, and information about South Asia, based at Lund University. The aim is to encourage and promote an open and dynamic networking process, in which Swedish researchers co-operate with researchers in South Asia and globally.
The network is open to all sciences. Priority is given to co-operation between disciplines and across faculties, as well as institutions in the Nordic countries and in South Asia. The basic idea is that South Asian studies will be most fruitfully pursued in co-operation between researchers, working in different institutions with a solid base in their mother disciplines.
The network is financed by Sida (Swedish International Development Cooperation Agency) and by Lund University.

Postal address: SASNET – Swedish South Asian Studies Network, Scheelevägen 15 D, S-223 63 Lund, Sweden
Visiting address: Ideon Research Park, House Alfa 1 (first floor, room no. 2042), in the premises of the Centre for East and South East Asian Studies at Lund University (ACE).
Phone: + 46 46 222 73 40
Fax: + 46 46 222 30 41
E-mail: sasnet@sasnet.lu.se
Web site: http://www.sasnet.lu.se
Staff: Staffan Lindberg, director/co-ordinator & Lars Eklund, webmaster/deputy director
Back to SASNET


---