SWEDISH SOUTH ASIAN STUDIES NETWORK

---
Newsletter 76:
13 July 2007
• Anthropological working papers discussed through e-seminars

The Media Anthropology Network, established in 2004 by the European Association of Social Anthropologists (EASA) has launched a working papers series in order to create a space for discussion and reflection on the anthropology of media. The Network aims to foster the exchange of information and coordinate research and teaching projects on the anthropological study of media. It also hopes to contribute to the theoretical development of this area of anthropological research. Besides posting working papers on the website, a mailing list is used as an informal 'e-seminar' on them, allowing the network to discuss papers over a period of a week after their posting. Go the Media Anthropology Network' Working Papers web page.

During the period 12–26 June 2007, such an e-seminar was held over a working paper presented by Kerstin Andersson, Dept. of Social Anthropology, Göteborg University. Her paper, titled "The online Durga", focusing on the role of new ICT technologies in the creation, formation and maintenance of a Diaspora identity among the Kolkata intellectuals, was commented upon by Dr. Matthijs van den Bos, University of Amsterdam and many others. Follow the e-seminar on "The online Durga".
• National Knowledge Commission recommends educational reforms in India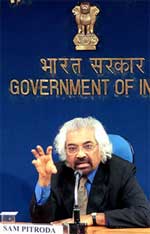 The Indian National Knowledge Commission is a a high-level advisory body to the Prime Minister of India, with the objective of transforming India into a knowledge society (more information about the National Knowledge Commission). In an official letter, dated 29 November 2006, its Chairman Sam Pitroda (photo to the right) asks the Prime Minister to work for the establishment of 50 National Universities all over India in order to provide education of the highest standard. Pitroda also appeals for the creation of upto 1,500 new universities in the country, enabling India to attain a gross enrolment ratio of at least 15 per cent by 2015. A change of the system of regulation for higher education is also required, according to the letter, and an increase in public spending and diversification of sources of financing. Reform of the existing universities and promotion of enhanced quality are also pleaded for, and a thorough restructuring of the undergraduate so-called affiliated colleges. Finally Pitroda lists the need for ensuring access to university studies for all deserving students, and affirmative action to ensure that access to education for economically and historically socially underprivileged students is enhanced in a substantially more effective manner. Read the full letter with recommendations from the National Knowledge Commission (as a pdf-file)
• Asia-Europe Colloquium on Governance & Management in Kuala Lumpur


An Asia-Europe Colloquium on Governance & Management will be held in Kuala Lumpur, Malaysia, 5–6 September 2007. It is organised by the Asia-Europe Foundation (ASEF). The event addresses university leadership and representatives of university associations and networks from all ASEM countries – since 2006 also including India and Pakistan. The event will be organised in partnership with the European University Association (EUA), the Malaysian Vice Chancellors Committee (MVCC) and will be hosted by the Malaysian Open University. The colloquium aims to facilitate dialogue and discussion on key issues of institutional management and governance, in order to enhance exchange and cooperation prospects between Asian and European Higher Education Institutions. More information
South Asia related culture in Scandinavia
New and updated items on SASNET web site
---
Best regards,
Anna Lindberg Lars Eklund
SASNET/ Swedish South Asian Studies Network
SASNET is a national network for research, education, and information about South Asia, based at Lund University. The aim is to encourage and promote an open and dynamic networking process, in which Swedish researchers co-operate with researchers in South Asia and globally.
The network is open to all sciences. Priority is given to co-operation between disciplines and across faculties, as well as institutions in the Nordic countries and in South Asia. The basic idea is that South Asian studies will be most fruitfully pursued in co-operation between researchers, working in different institutions with a solid base in their mother disciplines.
The network is financed by Sida (Swedish International Development Cooperation Agency) and by Lund University.

Postal address: SASNET – Swedish South Asian Studies Network, Scheelevägen 15 D, SE-223 70 Lund, Sweden
Visiting address: Ideon Research Park, House Alfa 1 (first floor, room no. 2040 & 2041), in the premises of the Centre for East and South East Asian Studies at Lund University (ACE).
Phone: + 46 46 222 73 40
Fax: + 46 46 222 30 41
E-mail: sasnet@sasnet.lu.se
Web site: http://www.sasnet.lu.se
Staff: Anna Lindberg, director/coordinator & Lars Eklund, webmaster/deputy director
Back to SASNET


---