SWEDISH SOUTH ASIAN STUDIES NETWORK

---
Newsletter 115:
22 October 2010
• SASNET lecture by Roger Jeffery on Pharmaceuticals in South Asia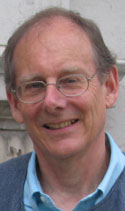 Professor Roger Jeffery, Centre for South Asian Studies at University of Edinburgh, UK, holds a SASNET/LUCSUS seminar at Lund University on Tuesday 9 November 2010, 10.15-12.00. He will speak about "Trust and the Regulation of Pharmaceuticals: South Asia in a Globalised World", based on a recently-concluded research project comparing the trajectories of three pharmaceuticals (Rifampicin, Oxytocin and Fluoxetine) from producer to patient in South Asia.
The first context of trust is a conflict over ethics in Nepal regarding a suggested revised ethical code for retailers, medical representatives, producers and prescribers. The second case deals with disputes over quality standards in Indian generic drug manufacturers, including allegations that they are responsible for a plague of counterfeit and spurious medicines, within India and globally. The third example is of trust within the tuberculosis control programmes of India and Nepal, in particular around how the WHO-recommended TB control strategy DOTS (directly observed treatment, short-course), is implemented.
Venue: Java Hall, Centre for East and South East Asian Studies, ground floor Scheelevägen 15 B, Lund (next to the Asia Library). More information.

• SASNET lecture by Margret Frenz on Goan migration to Africa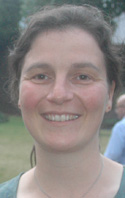 Dr Margret Frenz from the Institute for Advanced Studies in the Humanities, University of Edinburgh, UK, holds a SASNET lecture at Lund University on Tuesday 9 November 2010, 13.15–15.00. The lecture is organised in collaboration with the Dept. of Sociology. She will speak about "Making the World One's Home. Goan Migration across the Indian Ocean and Beyond", focusing on the migration of Goans (belonging to the present day Indian state of Goa) from South Asia to East Africa in the 19th and 20th centuries, and their second migration from East Africa to countries such as the UK and Canada. By analysing their migration patterns, their economic, social and political engagement in East Africa and in this process, their ability to recreate material and social practices, Dr. Frenz highlights how one community has made the world its home.
During he academic year 2010/11, Margret Frenz is a Visiting Research Fellow at the University of Edinburgh's Institute for Advanced Studies in the Humanities, but is otherwise connected to the University of Leicester where she is a Lecturer in Global History at the School of Historical Studies.
Venue for the seminar: Conference room 3, Lund University, Dept. of Sociology, Paradisgatan 5, Lund. More information.

• Staffan Lindberg reports from India Forum in Stockholm


SASNET's former Director, Prof. Staffan Lindberg, participated in the second biannual India Forum that was organised by the German Marshal Fund of the United States (GMF) in Stockholm on 1–2 October 2010. The conference, co-organised by the Legatum Institute and the Swedish Ministry for Foreign Affairs focused on 'India's evolving foreign policy, the economic and commercial relationships between India and the West, common challenges in Afghanistan and Pakistan, the potential for convergence on climate and energy policy, and response to a more assertive China'. The invited participants included high-profile policymakers, intellectuals, academicians, journalists, and business people from Europe, the United States, and India. The purpose with this kind of closed-door conference is to facilitate cooperation and coordination through informal discussions.
Read Staffan Lindberg's report from the Stockholm India Forum 2010.

• Anna Lindberg lectures on Gender, Dowry, and the Marriage of Children in South India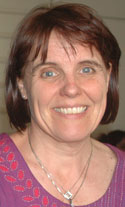 SASNET's director, Dr. Anna Lindberg, will hold an informal public lecture at Lund University on Tuesday 2 November 2010, 15.15-17.00. She will speak about "Gender, Dowry, and the Marriage of Children in South India". The seminar is organized by the University's Global Gender Matters Network, hosted by the Department of Gender Studies.
The Global Gender Matters Network examines the transnational ways in which gender is configured socio-culturally, economically, and politically in Africa, Asia, the Caribbean, and Latin America. The Network encourages scholars with a particular interest in global gender matters to meet and discuss how sexualized and racialized roles, relationships, powers, and conflicts inform gender ideas and practices in particular non-Western contexts. Venue: Dept. of Gender Studies, Building M1, Allhelgona Kyrkogata 14, Lund. More information.

• Successful SASNET seminar on Microcredits in South Asia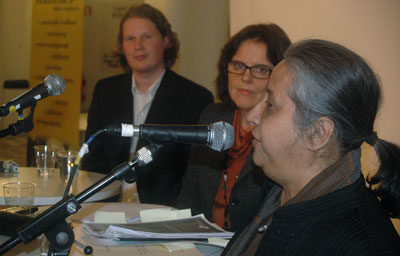 A SASNET seminar on "Emancipation or Dependency: Microcredits in South Asia" was held in Lund on Wednesday 20 October 2010. The seminar was co-organised by The Association of Foreign Affairs at Lund University (UPF), and The Swallows India Bangladesh, an NGO based at Lund, and drew an audience of more than 100 people. The seminar featured Markus Pauli, Doctoral Candidate, University of Heidelberg, Germany who talked about "Microfinance in India – assessing its impact with the capability approach"; and Ms. Khushi Kabir, Coordinator for Nijera Kori, a non governmental development organization in Bangladesh. Ms. Kabir gave a presentation entitled "Setting Development Priorities: Economic Well Being or Empowerment for the Poorest". The following discussion was moderated by Dr. Anna Lindberg, SASNET.
More information about the seminar.
Khushi Kabir has been invited to Sweden by The Swallows India Bangladesh. Many programmes are being planned for her during her stay in Lund. See the full programme for Ms. Kabir's visit.

• Indian Ambassador visited Lund University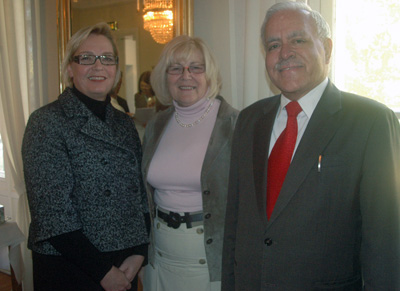 On Monday 11 October 2010, the new Indian Ambassador to Sweden, H.E. Mr. Ashok Sajjanhar made a first visit to Lund University. The programme was planned for by SASNET, and included a lunch meeting with Ingalill Rahm Hallberg, Lund University Assistant Vice Chancellor (and Professor in Health Care Science); Ann-Katrin Bäcklund, Dean for the Faculty of Social Sciences; and Gunilla Carlecrantz, Acting Head, Division of International Relations.
(Photo to the right of Mr. Sajjanhar with Gunilla Carlecrantz and Ingalill Rahm Hallberg).
Representatives from the Division of International Relations informed the Ambassador about the ongoing Erasmus Mundus Action 2 mobility programmes that Lund university currently coordinates with a number of Indian partner universities (more information).
Per Malmberg, Sales Manager, Lund University Commissioned Education, discussed possible new India projects. The Ambassador also met a number of university professors, working on India related projects.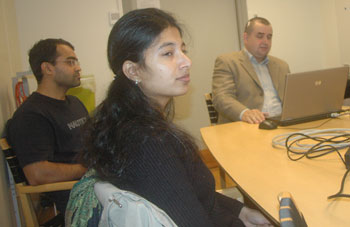 A separate meting was held with SASNET's director, Dr. Anna Lindberg, and deputy director, Mr. Lars Eklund, on details regarding the new ICCR professorship at Lund University, a position that will be taken up by Prof. Lipi Ghosh, Calcutta University from November 1st, 2010 (more information).
In the morning, the Ambassador also visited the university's Faculty of Engineering (LTH) where he was introduced by its Vice-Dean for International Relations, Prof. Per Warfvinge. He then got an opportunity to visit the Department of Electrical and Information Technology, where Prof. Ove Edfors presented its Masters programmes in System-on-Chip (SoC) and Wireless Communication. There, the Ambassador was introduced to Indian students/PhD candidates. (Photo to the left of PhD candidate Deepak Dasalukunte, Ms. Shikha Kudar, and Prof. Ove Edfors).

• Srilankan Ambassador visited Lund University


The Ambassador of Sri Lanka to Sweden, H.E. Mr. R.P. Jayasooriya also visited Lund University on Monday 11 October 2010. SASNET was involved in organising a meeting for the Ambassador, who came with a mission from the University Grants Commission of Sri Lanka to inform about the Srilankan government's keen interest to promote strenghtened academic collaboration between universities in Sri Lanka and Sweden, and not the least with Lund University. A recent changed legislation that also opens up Sri Lanka for private university initiatives facilitates such efforts, according to Mr. Jayasooriya.
Srilankan universities are already involved in several collaboration projects with Swedish universities, especially with the Royal Institute of Technology (KTH), Uppsala University and Gävle University. A few joint projects are also running with Lund University researchers. Besides, Lund University Commissioned Education is involved in a number of ongoing professional training courses with Srilankan participants.
The meeting with Mr. Jayasooriya was hosted by Ms. Gunilla Carlecrantz, Acting Head of Lund University's International Relations division. The other participants were Ms. Emma Alfredsson, Project Manager, Lund University Commissioned Education; Mr. Henrik Hofvendahl, Programme Officer in charge of Asia activities, International Relations Office; plus Anna Lindberg and Lars Eklund from SASNET.

• More information about SASNET and its activities
See SASNET's page, http://www.sasnet.lu.se/sasnet.html
• Nordic Research Network on Environmental Challenges in South Asia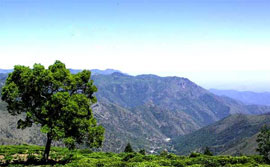 A multi-disciplinary Nordic Research Network on Environmental Challenges in South Asia (NECSA) was formally established in the spring 2010. It has been launched with support from University of Oslo through its Livelihoods in the Developing Countries (LEVE) Interfaculty Research Area.


The network is open to all researchers based in the Nordic countries who are interested in working on the broad aspects of the environmental challenges of South Asia, in exchanging knowledge and experience, and in encouraging such research in the Nordic countries. The work is coordinated by Dr. Guro Aandahl (photo), Research fellow at the Centre for Development and the Environment (SUM), University of Oslo.
The initiative to form NECSA was born out of a successful Nordic workshop dealing with the environment in South Asia that was organized in 2008 by the University of Oslo. The workshop was entitled "Politics of Adaptation to Environmental Challenges in 21st Century South Asia". Scholars from various disciplinary backgrounds presented highly topical research on the challenges of environmental change, environmental risks, livelihoods and politics in South Asia. Read a background material to the creation of NECSA.
This was followed up by a Nordic Summer University workshop titled "Environmental Challenges, Politics and Food Production in South Asia" that was held in Falsterbo, Sweden, 1–3 February 2010. This came to be the definitive starting point for the formalizing of the network. Go for NECSA's web page.

• Oral statement on Dalit discrimination by Lund University student at UNHCR in Geneva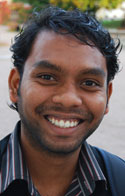 On Tuesday 28 September 2010, Mr. Sagar Zende, Masters student at Lund University, made an oral statement during the 15th session in the United Nation's Human Rights Council(UNHCR) in Geneva for intervention about alleged continued discrimination, injustice, systematic violence and social exclusion against 168 million Dalits in India. Being a Dalit himself and a Human rights activist, Mr Zende is currently studying at Lund University's Masters programme in applied International Development and Management (LUMID).
The Human Rights Council, the principal UN intergovernmental body responsible for human rights, runs its 15th session in Geneva from 13 September to 1 October 2010. The Council is made up of 47 States responsible for strengthening the promotion and protection of human rights around the globe. The Council was created by the UN General assembly on 15 March 2006 with the main purpose of addressing situations of human rights violations and make recommendations on them.
– Read the statement made by Mr. Sagar at the UNHRC session
– See the UN webcast video of Mr. Zende's speech

• Forum for Asian Studies at Stockholm University

A Forum for Asian Studies at Stockholm University has been launched and starts its activities during the fall 2010. The purpose of the Forum for Asian Studies is to strengthen and support research and education on Asia, and to encourage exchange of researchers and students with universities in Eastern, South-Eastern and Southern Asia, and with other research institutions with a focus on Asian studies. The Forum is multidisciplinary with affiliated researchers from across the Faculty of Social Sciences, Stockholm University. It is administered by the Dept. of Political Science and has an advisory group with representatives from other departments. Among the members are Dr. Henrik Berglund from the Dept. of Political Science, and Dr. Per Hilding from the Dept. of Economic History.
The core activities are a monthly seminar and regular conferences and workshops. The forum also funds visits from foreign scholars and students, as well as visits abroad by staff and students at Stockholm University. The activities of the Forum cater mainly to the staff and students at the Faculty of Social Science at Stockholm University, but the seminars are open also to a wider audience. More information.

• Bhopal in focus for University of Gothenburg's new Heritage Studies initiative
In May 2010, University of Gothenburg launched its Heritage Studies – area of Strength initiative (Styrkeområde Kulturarv). This is an interdisciplinary initiative to strenghten heritage area studies research at the university, and also invite people working at museums, archives and other cultural institutions. Dr. Jan af Geijerstam, previously connected to the Division of History of Science and Technology at the Royal Institute of Technology (KTH) in Stockholm, is now a guest researcher within the Heritage Studies group, based at the Dept. of Conservation.
During the Fall 2010 and Winter 2011, Jan af Geijerstam and the Heritage Studies group are involved in the organisation of three important conferences/seminars on Bhopal in India and in Sweden: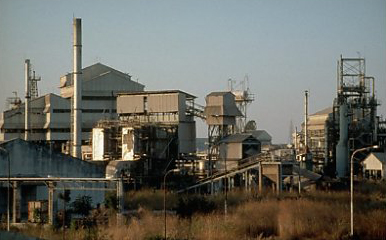 – A Bhopal 2011 Requiem & Revitalization International Students' Workshop and Symposium will be held on spot in Bhopal, Madhya Pradesh, India, on 23 January – 4 February 2010. It is being hosted by the School of Planning & Architecture in New Delhi; the modern Asian Architecture Network (mAAN), India; and the India section of The International Committee for Conservation of Industrial Heritage (TICCIH). The workshop and symposium will explore the possible transformation of the former Union Carbide factory site in Bhopal into a place of remembrance and a resource for empowering the local community.
– As a preparation for the Bhopal symposium, the Heritage Studies initiative in Gothenburg organises a lunch to lunch workshop on 18–19 November 2010. The workshop is entitled Multiple roles of heritage – pasts, conflicts, present time. The case of the Union Carbide former plant in Bhopal, India. It aims at discussing conflicting and difficult heritage, industrial heritage and industrialization, global and local consequences, and possible means, models and pathways for improvement of heritage practices.


The invited speakers incude Moulshri Joshi (photo), Partner & Principal Architect, SpaceMatters, New Delhi and Assistant Professor at the School of Planning and Architecture in New Delhi; Amritha Ballal, partner and principal architect SpaceMatters, New Delhi (and also a Master's student at the Norwegian University of Science and Technology (NTNU) in Trondheim); and Suditya Sinha, partner and principal architect SpaceMatters, New Delhi.
– Finally, the Bhopal case will also be presented at the 2010 autumn meeting of the Swedish National Heritage Board, that will take place in Stockholm on 16–17 November 2010. The Swedish National Heritage Board (Riksantikvarieämbetet) has decided to have "The town" (Staden) as theme for the meeting, and to focus on heritage and sustainable development. Ms. Moulshri Joshi will give a presentation on "(Unwanted) Industrial Heritage as a base for Community Empowerment – Bhopal and Union Carbide".
More information about the Bhopal symposium and seminars.

• Doctoral thesis on Polio disease in Punjab province, Pakistan


Sohaib Khan, Institute of Public Health and Clinical Nutrition, University of Eastern Finland (Kuopio Campus), defended his doctoral dissertation entitled "Poliomyelitis in socio-cultural context – study from province Punjab, Pakistan" on Friday 24 September 2010. It is a study of Poliomyelitis, an infectious disease, which is still endemic in four countries in the world: Pakistan, India, Afghanistan and Nigeria. Eradication activities focus mainly on the mass immunization of children under 5 years age with OPV (Oral Polio Vaccine). The present study explored the disease in context of social and cultural factors in province Punjab, Pakistan. The opponent in the public examination was Professor Sirpa Janhonen of the University of Oulu. More information.

• Doctoral thesis on air pollution in South Asia

Erik Engström, Department of Meteorology (MISU), Stockholm University, defended his doctoral dissertation entitled "Characterization of light absorbing particulate matter in air and precipitation over Southern Asia" on 27 November 2009. The faculty opponent was Prof. Paolo Laj from Université Blaise Pascal in Clermont-Ferrand, France. Engström has been part of the International "Atmospheric Brown Cloud (ABC)" programme dealing with the problem of air pollution in the Indo-Asia Pacific Region, and its impact on climate and the environment (more information). The thesis is based on filter-based optical measurements of soot – light absorbing particulate matter at a wavelength of about 550 nm – in air and rainwater. The research work was performed between June 2005 to and May 2009, at Godavari in Nepal; Sinhagad in India; and Hanimaadhoo in the Maldives. A method for determination of water-insoluble light absorbing matter in rainwater was developed. Read the full abstract.

• Graham Haylor new International Foundation for Science Director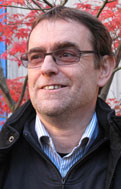 On 20 October 2010, Dr Graham Haylor was appointed new Director for the International Foundation for Science (IFS), with its secretariat in Stockholm. Graham Haylor (photo) succeeds Dr Michael Ståhl who retired in September this year. IFS is a non-governmental organisation with the mandate to contribute to the strengthening of capacity in developing countries. This is implemented through an IFS Research Grants Programme, providing capacity enhancing supporting services to young scientists in developing countries, working on research projects relevant to the sustainable use and management of biological and water resources. Since 1972, IFS has provided close to 7,000 research grants in more than 100 countries.
Dr Haylor, a British citizen and Aquaculture Specialist (with an honours degree from University of Liverpool in Marine Biology and an MSc and PhD from University of Stirling), has a long background in international development work, most recently as Senior International Development Specialist and Director of Business Development at Natural Resources International (NRIL) in the UK. Graham Haylor, has been a long term advocate for IFS and is a former scientific advisor. Following a recently concluded review he will lead an envisioning process which will frame future plans. More information.

• Extensive Student managed scholarship guide web site
The Scholarships-Links.com contains Postdoc, PhD, masters and Bachelors scholarship announcements from universities and institutes all over the World. It is a free resource and managed by a group of students. The site is helping the student community from all over the world with 100,000 monthly visits from over 170 countries.
The Scholarships-Links has a special page for Swedish scholarships in all fields. Go for the Swedish page.

• Low ranking for India in Global Hunger Index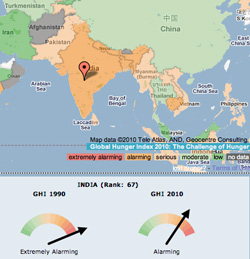 On 11 October 2010, the International Food Policy Research Institute (IFPRI), Welthungerhilfe, and Concern Worldwide published the 2010 Global Hunger Index (GHI). It shows that malnutrition among children under two years of age is one of the leading challenges to reduce global hunger and can cause lifelong harm to health, productivity, and earning potential. The index scores countries based on three equally weighted indicators: the proportion of people who are undernourished, the proportion of children under five who are underweight, and the child mortality rate. The biggest contributor to the global score is child undernutrition, which accounts for almost half of the score. Go for the 2010 Global Hunger Index.
The index is calculated for 122 developing and transition countries for which data on the three components of hunger are available. Twenty-nine countries have levels of hunger that are "extremely alarming" or "alarming." Most of these countries are in Sub-Saharan Africa and South Asia.
Despite witnessing high economic growth during the last five years, India had been ranked below many of its neighbouring countries like China, Pakistan and Sri Lanka. India has been ranked 67th, well below China (9th), Sri Lanka (39th), Pakistan (52nd) and Nepal (56th). In India, high index scores are driven by high levels of children being underweight resulting from the low nutritional and social status of women in the country, the report noted. The country is also home to 42% of the world's underweight children, while Pakistan has just 5%.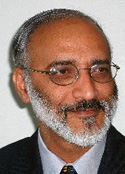 "India has the bulk of malnourished people in the world," Dr. Ashok Gulati (photo), director, Asia, IFPRI, comments. However, he adds that the index relies on the data collected by the National Sample Survey Organisation (NSSO), Government of India in 2004-05 while many other countries had later data to offer.
Before joining IFPRI, Dr Gulati was a NABARD chair professor at the Institute of Economic Growth and chief economist at the National Council of Applied Economic Research (NCAER) in New Delhi. He has also been a member of the Economic Advisory Council of the Prime Minister of India. Dr Gulati has done Masters in Economics and Ph.D. from Delhi School of Economics.

• South Asia most vulnerable to Climate Change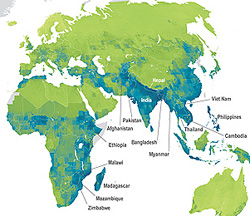 A new global ranking, calculating the vulnerability of 170 countries to the impacts of climate change over the next 30 years, identifies some of the world's largest and fastest-growing economies, including India, as facing the greatest risks to their populations, ecosystems and business environments. Bangladesh is however the country facing the gravest threat. The new Climate Change Vulnerability Index (CCVI) is released by global risks advisory firm Maplecroft, based in Bath, UK. It evaluates 42 social, economic and environmental factors to assess national vulnerabilities across three core areas. These include: exposure to climate-related natural disasters and sea-level rise; human sensitivity, in terms of population patterns, development, natural resources, agricultural dependency and conflicts; thirdly, the index assesses future vulnerability by considering the adaptive capacity of a country's government and infrastructure to combat climate change.
The index rates 16 countries as 'extreme risk,' including nations that represent new Asian economic power and possess significant forecasted growth. Bangladesh (1), India (2), Philippines (6), Vietnam (13) and Pakistan (16) all feature in the highest risk category and are of particular importance as they are major contributors to the ongoing global economic recovery and are vital to the future expansion of Western businesses in particular. Other countries featuring in the 'extreme risk' category include Nepal (4), and Afghanistan (8). According to Maplecroft, the countries with the most risk are characterised by high levels of poverty, dense populations, exposure to climate-related events; and their reliance on flood and drought prone agricultural land.
More information on the Climate Change Vulnerability Index 2011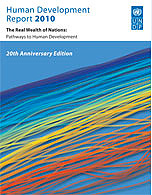 • Reflections by Amartya Sen in coming Human Development Report
The Human Development Report 2010, the 20th Anniversary Edition, will be launched on 4 November 2010. The report is entitled "The Real Wealth of Nations: Pathways to Human Development", and will feature introductory reflections by the Nobel Prize-winning economist Amartya Sen, who worked with series founder Mahbub ul Haq on the conception of the first Human Development Report and contributed to and inspired many successive volumes.
The 2010 Report continues the tradition of pushing the frontiers of development thinking. For the first time since 1990, the Report looks back rigorously at the past several decades and identifies often surprising trends and patterns with important lessons for the future. These varied pathways to human development show that there is no single formula for sustainable progress – and that impressive long-term gains can and have been achieved even without consistent economic growth. More information.

• Free issue of South Asian History and Culture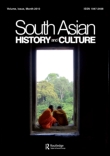 South Asian History and Culture (SAHC) is a peer-reviewed magazine published by Routledge launched in 2010. To celebrate its first year of existence, the editors – David Washbrook, Boria Majumdar, Sharmistha Gooptu and Nalin Mehta – thank all associates, contributors and subscribers for making this journal a success by offering a 3-month free web access during October-December 2010 to its current issue (Volume 1 Issue 4), which is a special issue on Gujarat, entitled "Gujarat Beyond Gandhi: Identity, Conflict and Society". The special issue is edited by Nalin Mehta and Mona G. Mehta. Go for the SAHC web site.
SASNET page about leading peer-reviewed South Asian studies journals.

• More information about South Asia related research at Swedish and Nordic universities
See SASNET's page, http://www.sasnet.lu.se/research.html
• Karlstad University's Afghanistan programme approaches successful end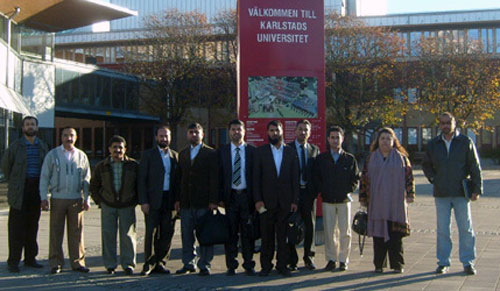 The Department of Educational Work, Organisation and Society at the Faculty of Arts and Education, Karlstad University, coordinates an international educational project, the Masters Programme in Educational Research and Development (MAP) at Nangarhar University in Jalalabad, Afghanistan since 2008. It is an institutional cooperation project between the universities of Karlstad, Sweden; Tampere, Finland; Bochum, Germany; Kathmandu, Nepal; and Nangarhar University, Jalalabad, Afghanistan. The Swedish Committee for Afghanistan (SCA) is an associate partner in the project. The project is funded since 2007 by an Asia Link Programme grant from the European Commission, and as the project name implies, the goal is to provide a high-quality Masters Programme in Educational Research and Development at the Nangarhar University in Afghanistan.
The programme is now approaching a successful end. Ten students had already achieved a Master Degree of 60 ECTS (magisterexamen) and an additional group of eleven students came to Karlstad University to defend their second theses during the period 12–14 October 2010 (photo of the group above). Their topics ranged from girls' mathematics achievements to the views of Afghan teachers on issues such as girls' education and corporal punishment in schools as well the emergence of private education in Afghanistan and community based education. All the students passed the defence. More information on the MAP programme website.

• Joint Gothenburg/Lund universities India field course in Religious Studies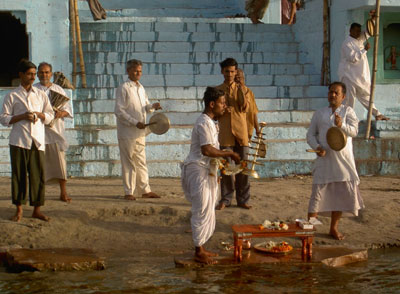 From the spring semester 2011, Lund University and Gothenburg University jointly introduce a new and exciting 15 ECTS field course in Religious Studies. The course is organized in cooperation between the Centre for Theology and Religious Studies at Lund University, and the Department of Literature, History of Ideas and Religion at Gothenburg University. The course is divided into two parts: firstly the students explore different methods and theories of conducting fieldwork in Religious studies and prepare minor research projects. Secondly the students carry out their projects in the field and write research reports. The field work can be conducted anywhere, but the two departments at Lund University and Gothenburg University provide supervision for those who travel to India. Students can attend the course at either of the two universities.
Preferably, particiants should register before 15 October 2010. Gothenburg University organized a first planning meeting for students who wish to travel to India on 21 October 2010, whereas Lund University arranges a similar planning meeting on 10 November 2010. More information in the course folder (only in Swedish)
• Uppsala University partner in South Asia related mobility programmes

Uppsala University is a partner university in two new South Asia related Erasmus Mundus Action 2 mobility programme lots, decided upon by the European Commission, through its Education, Audiovisual and Culture Executive Agency (EACEA) in July 2010. Uppsala is a partner in one of the Asia Regional Lot 11 consortiums – the one coordinated by the University of Göttingen, and also in one of the Lot 12 consortiums with South Asian partner universities, led by University of Science and Technology 2, Montpellier, France.
Besides, Uppsala University is a partner in another South-East Asia focused Lot 12 consortium, namely in the Lotusproject, led by Ghent University, Belgium.
The local coordinator for these lots at Uppsala University is Mr. Jonathan Schalk at the university's International Office. More information about Uppsala University's Erasmus Mundus Action 2 Scholarships 2010-2011.
More information about all South Asia related 2010 Erasmus Mundus Asia Regional mobility programmes.


• Lund University continues to run training programme on child rights
On behalf of the Lund University Commissioned Education (uppdragsutbildning), the Division of Sociology of Law at Lund University runs the Sida funded Advanced International Training Programme on "Child Rights, Classroom and School Management" since 2004, in collaboration with Lund University's former Dept. of Education (now integrated into the Dept. of Sociology, and the School of Social Work), and the School of Teacher Education, Malmö University.
A new contract for another 6 years was signed in 2010. The programme aims at spreading knowledge about the UN Convention on the Rights of the Child – WCPRC and support schools and authorities in ten countries in Africa, Asia and Latin Amerika to develop education focusing on the rights of children. Among the ten countries, two are in South Asia – India and Sri Lanka. In India, special focus has been put on Wayanad district in the northern part of Kerala state, from where many participants to he programme have been selected. More information about the programme.


• More information about South Asia related education at Swedish and Nordic universities
See SASNET's page, http://www.sasnet.lu.se/education.html


• International Afghanistan seminar in Stockholm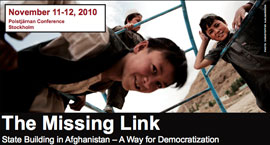 An International Seminar on "The Missing Link. State Building in Afghanistan – A Way for Democratization" will be held in Stockholm on 11–12 November 2010. The conference is jointly organised by the Swedish Committee for Afghanistan (SCA), the Folke Bernadotte Academy and the European Network of NGOs in Afghanistan (ENNA). The conference focuses on the current situation in Afghanistan, a country devastated by 30 years of conflict. Following the US led strike in 2001 which led to the defeat of the Taliban regime, high goals have been set in order to create a democratic and free Afghanistan, goals which haven't been accomplished yet. In order for Afghanistan to become a democratic and free country some key elements must be put in place, such as important state institutions, an effective and functioning parliament, and a non-corrupt and stable local governance.
Preliminary speakers include Torbjörn Pettersson, Swedish Ambassador to Afghanistan; Suleman Kakar, Former vice Education Minister of Afghanistan; Maniza Bakhtari, Ambassador of Afghanistan to the Nordic countries (based in Oslo), and Afghanistan experts such as Martine van Bijlert, Tomas Ruttig and Sari Kouvo. Venue: Polstjärnan Conference, Sveavägen 77, Stockholm. The number of seats are limited and pre-registration is needed before October 30th. More information about the Stockholm conference.

• Asian Dynamics Initiative conference on Asian Diversity in a Global Context


The Asian Dynamics Initiative (ADI) at the University of Copenhagen invites to an international three-day conference entitled "Asian Diversity in a Global Context" 11–13 November 2010. The opening day of the conference is allocated to a big public event with invited keynote speakers. The following two days will be made up of 10-12 parallel panels and workshops under the common theme "Asian Diversity in a Global Context". The goal is to generate deeper and fuller insights into the political, social, cultural and economic changes facing Asia in the 21st century. Some of the panels are specifically related to South Asia: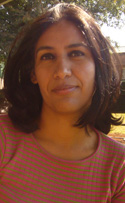 – Governing Difference: Explorations in Identity and Equality in the Global South, convened by Dr. Ravinder Kaur (photo to the right).
– The Transmission of Sanskrit Medical Literature in India, convened by Dr. Kenneth Zysk
– Indigenous people in the 21st Century Asia: Identities and Stategies for self-determination, convened by Dr. Peter B. Andersen
'Asian Diversity in a Global Context' is the third in the series of annual conferences initiated by ADI and the University of Copenhagen in 2008. ADI aims at expanding research and teaching on Asia as well as strengthening the university's global networks in studies of Asia.
More information about the Asian Diversity in a Global Context conference.

• JNU seminar on European Engagement in Afghanistan
The Centre for European Studies within the School of International Studies at Jawaharlal Nehru University (JNU) in New Delhi, India, organises an International Seminar on "European Engagement in Afghanistan" on 22–23 November 2010. The Centre for European Studies at JNU is funded by the India-EU Study Centres Programme (IESCP). The seminar is coordinated by seminar Associate Professor Gulshan Sachdeva. More information.

• Puducherry conference on South Asian unity in 2020
An International Conference on "South Asia 2020: Towards a Greater Unity and Interdependence" is held in Puducherry, India, 22–24 November 2010. It is organized by the Madanjeet Singh Institute of South Asia Regional Cooperation (MISARC), and the South Asian Studies Centre at Pondicherry University in Puducherry. The conferrence will discuss the challenges we face on the path of moving South Asia towards greater unity and interdependence. Full information.

• Fourth International Sanskrit Computational Linguistics Symposium at JNU
The Fourth International Sanskrit Computational Linguistics Symposium (4i-SCLS) will take place at the Jawaharlal Nehru University (JNU) in New Delhi, India from 10–12 December 2010. This follows three successful symposia held at INRIA, France in 2007; at Brown University, USA in 2008, and at University of Hyderabad, India in 2009. The 4th symposium will be a three-day symposium,starting with a one day workshop for Sanskrit scholars. The symposium series is intended to act as a forum for promoting interaction among the computer scientists, traditional Sanskrit scholars,and Computational Linguists working in the area of Sanskrit Computational Linguistics. More information.

• Kerala workshop on Sustainable Utilisation of Tropical Plant Biomass
The second International seminar and workshop on Sustainable Utilisation of Tropical Plant Biomass will be held at Kerala University, Karyavattom Campus 14–15 December 2010. It will be jointly organized by the Centre for Bioinformatics, and the Department of Environmental Sciences of Kerala University; Kerala Agricultural University; Kerala State Council of Science Technology and Environment; the SASNET Fermented Foods (based at Anand Agricultural University, Gujarat); and the Dept. of Food Chemistry Applied Nutrition, Lund University. The aim of the conference is to present a platform for discussing sustainable utilization of the tropical plant biomass addressing not only to the day to day needs of the human beings regarding food, shelter, health and social well-being but also covering aspects of biodiversity, environmental hazards and climatic changes in a long term perspective. Delegates are expected from India, Sri Lanka, Sweden and many other countries. The scientific committee includes Dr. Rickard Öste, Professor, Dept of Food Chemistry And applied Nutrition, Lund University; Dr. Sagarika Ekanayake, Professor, Faculty of Medicine, Jayawardenapura University, Sri Lanka; Dr. Sasikumar Punnekkat, School of Innovation, Design and Engineering, Mälardalen University (MDH), Campus Västerås; and Dr. Rajiv Thottapallil, Division for Electricity and Lightning Research, Uppsala University. More information.

• Delhi conference on Radiation Processing: Value addition for Food Products
The Shriram Institute for Industrial Research (SRI) in Delhi, India, invites to an International Conference on "Radiation Processing: Value addition for Food, Agro, Healthcare, Polymers and other Industrial Products" to be held 17–18 December 2010. The conference will have technical lectures from eminent experts of this highly specialized field in which radiation processing has the potential to value add. SRI is a independent, not-for-profit, self supporting research organisation having eminent scientists, academicians and industrialists on its Board of Governors. It is a unit of Shriram Scientific and Industrial Research Foundation.
More information about the conference.

• Fifth National Anti-Caste Conference in Aurangabad
The Fifth National Indian Anti-Caste Conference will be held at Dr. Babasaheb Ambedkar Marathwada University (BAMU) in Aurangabad, Maharashtra, India, 28 – 29 January 2011. The conference will be jointly organised by the Krantisinh Nana Patil Academy, Rajarshi Shahu Maharaj Research Centre and Tarabai Shinde Women's Studies Centred Sociology. The theme for the conference will be "Caste and Sociology". Last date for submission of abstracts is 15 December 2010. More information.

• Other conferences connected to South Asian studies arranged all over the World
See SASNET's page, http://www.sasnet.lu.se/conferences.html#conf
Important lectures and seminars in Scandinavia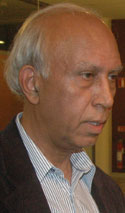 • Ishtiaq Ahmed lectures on the bloody partition of Punjab in 1947
Professor Emeritus Ishtiaq Ahmed, Department of Political Science, Stockholm University, holds a public lecture on "The Punjab Bloodied, Partitioned and Cleansed: Unravelling the 1947 Tragedy through Secret British Reports and First-Person Accounts" on Wednesday 27 October 2010, 13–15. The seminar is organised by Stockholm University's Forum for Asian Studies, being part of its Seminar Series 2010. The Forum for Asian Studies has an aim to strengthen and support social science research and education on Asia at Stockholm University.
In this lecture Prof. Ahmed, who is also Honorary Senior Fellow of the Institute of South Asian Studies at the National University of Singapore, traces the dynamics of the partition of the Punjab in the context of the partition of India. He focuses primarily on the conflicts and contradictions that evolved within Punjab politics between on the one hand Hindus and Sikhs and on the other, Muslims, which resulted in the biggest forced migration in modern history and the deaths of some 500,000 to one million people. Venue: Hall F702, Department of Political Science, Universitetsvägen 10 F, Frescati. More information.

• Uppsala lecture on Dara Shukoh and Islamic Mysticism in India
Associate Professor Amit Dey from Calcutta University, Kolkata, India, lectures at the Institute for Linguistics and Philology, Uppsala University on Thursday 28 October 2010, at 17.00. Dr. Dey, who is Head of the Dept. of History at Calcutta University, will speak about "Prince Dara Shukoh and Islamic Mysticism in India and Iran", on the prince who was once close to become a Mughal Emperor. He strengthened India's eclectic traditions and many later day thinkers were influenced by his thought. Dr. Dey tries to explore the commonalities between Indian and Persian Sufism, referring to the likes of Rumi and exploring how this sharing of mystical ideas enriched both the countries.Venue: Engelska Parken, House 9, room 3042, Uppsala. More information.
• Oslo seminar on Shifting Asian and Global Orders
The Department of Security and Conflict Management within The Norwegian Institute of International Affairs (NUPI) invites to a seminar by Prof. Ramesh Thakur, Dept. of Political Science at the University of Waterloo, Canada, on Monday 1 November 2010, at 13.00. He will speak about "China, India and Japan in the Shifting Asian and Global Orders", focusing on the fact that cooperation between the emerging leading nations in Asia will promote peace and underwrite prosperity in Asia, whereas rivalry and conflict will roil the world. The seminar is part of NUPI's ongoing The Security in Practice Seminar series, bringing together researchers, practitioners and policy-makers who share an interest in current practices within the field of stability and security operations. Venue: NUPI , C.J. Hambros plass 2 D, Oslo. More information.

• Stockholm seminar on Kolkata intellectuals and post-colonialism
A seminar on "The Kolkata intellectuals and post-colonialism" is held at the Dept. of Oriental Languages, Stockholm University on Monday 1 November 2010, at 15.00. It is organised by the department's Division of South and Central Asian Studies. The lecturer is PhD candidate Kerstin B Andersson from School of Global Studies, University of Gothenburg, who is working on a project on Intellectuals in Kolkata, India, and intellectual movements in Bengal (more information on her project). During the seminar she will discuss the relationship between the intellectual elite, post-colonialism and anti-orientalism. Kolkata has a specific position in India, being the entrance point for the British colonialism and the colonial hegemonic discourse and also focal point for criticism and contesting discourses among the Bengali population. Venue: Dept. of Oriental Languages, room 136, Kräftriket 4 A, Stockholm. More information.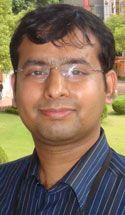 • Jagannath Panda lectures on the Chinese discourse on BRIC
The Institute for Security and Development Policy (ISDP) in Stockholm/Nacka invites to an Asia Forum seminar with Dr. Jagannath Prasad Panda, currently a guest researcher at ISDP, on Thursday 4 November 2010, 10.00–12.00. Dr. Panda will speak about "The Chinese discourse on 'Brazil-Russia-India-China' (BRIC): An Indian Perception". It deals with the abounding speculation whether the rise of BRIC will disrupt and depose the existing world order. The rise of BRIC as an organization is increasingly confirming that a change is afoot in the current world order. But this notion is only half the picture; the other half of the picture, equally important is the rise and influence of both China and India and their amalgamation under one umbrella, which is the most momentous development of the first half of the twenty-first century.
Dr. Jagannath P. Panda is Research Fellow (rank of Associate Professor) at the premier Institute for Defense Studies and Analyses (IDSA), an autonomous body of the Govt. of India, New Delhi. Interested should register their participation in advance to to Ms. Martina Klimesova. Venue for the seminar: ISDP, Västra Finnbodavägen 2, Stockholm-Nacka.
Full information about the seminar.

• Aarhus seminar on the Gujarat Earthquake
Dr. Edward Simpson from School of Oriental and African Studies (SOAS), London University, holds a guest lecture at Aarhus University, Denmark on Friday 12 November 2010, 10–12. He will speak about "Sublime aftershocks: Sociological reason in the aftermath of an earthquake in Gujarat, western India". The seminar is organised by the Contemporary India Study Centre Aarhus (CISCA). Dr. Simpson has published widely on the society and history of Gujarat in western India, most recently the co-edited collection (2010) The Idea of Gujarat: History, Ethnography and Text. Since 2001, he has been engaged with a research project looking at the long-term effects of catastrophic natural disaster (in this case an earthquake) on society in Gujarat. This research focuses, in particular, on the concentration and consequences of extreme emotions associated with catastrophic disaster, notably, terror, sublimity, nostalgia and avarice, as well as ideas about death, memory and divine retribution. Venue for the seminar: Aarhus University, building 2117, room 312. More information.

• Information about South Asia related lectures and seminars
See SASNET's page, http://www.sasnet.lu.se/conferences.html
Business and Politics
• Swedish development budget for 2011 presented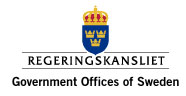 On 13 October, the Swedish government presented its budget for 2011. It includes an increase by around SEK 3.7 billion in development cooperation, where the Government will strengthen Sweden's initiatives in the areas of particular priority within development cooperation – democracy and human rights, environment and climate, and gender equality and the role of women in development. The focus on Africa will be strengthened, along with Sweden's humanitarian commitments. Additionally, there will be a special Millennium Development Goal initiative targeting children and young people, and investment in Business for Development (B4D) and Information and Communication Technology for Development (ICT4D).
In the development budget there is a continued strong commitment to democracy and human rights, to environmental and climate initiatives, initiatives for gender equality and the role of women in development, and a food initiative against hunger and malnutrition. The government has ado decided to strengthen the Government's efforts to achieve the UN Millennium Development Goal to halve poverty by 2015. In order to do that, the Government will undertake a special initiative targeting children and young people. The initiative will have a budget of SEK 500 million and will focus on children and young people's right to health, primary education (MDG 2) and employment. Part of the funding will be channelled through Swedish civil society organisations.
The focal points for the initiative will include reducing infant mortality (MDG 4) through measures to prevent and fight diarrhoea and diseases caused by polluted water and a lack of sanitation. Increased support for research on poverty-related diseases, which primarily affect children, is expected to help reduce ill health in children in the longer term as part of the initiative.
More information about the 2011 Swedish development budget.

• Information about South Asia related business and politics in Sweden
See SASNET's page, http://www.sasnet.lu.se/polbuss.html
South Asia related culture in Scandinavia
• Poetry in focus at Indian festival in Stockholm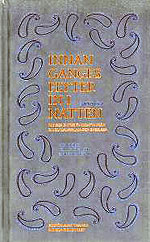 In collaboration with the magazine Karavan and Tranan publishing house, Kulturhuset organises an Indian Poetry Evening on Saturday 30 October 2010. This is a part of the ongoing India festival in Stockholm (more information). The starting point for the event will be the wonderful anthology of Indian poems translated into Swedish entitled "Innan Ganges flyter in i natten" that was published last year as a project within the framework of the Indian Library project. More information about the project.
Two of the Indian poets represented in the anthology, Sujata Bhatt and Adil Jussawalla, will be on spot, along with the editors of the volume (Tomas Löfström and Birgitta Wallin) and Swedish participants in the project – Ann Jäderlund, Marie Lundquist, Lars Hermansson, Arne Johnsson, Niclas Nilsson and Jonas Ellerström, who will read their interpretations of Indian poems they have translated for the anthology. More information about the Poetry Evening.

• More information about South Asia related culture in Sweden and Scandinavia
See SASNET's page, http://www.sasnet.lu.se/culture.html
New and updated items on SASNET web site
• Swedish departments where research on South Asia is going on:
Constantly added to the list of research environments at Swedish universities, presented by SASNET. The full list now includes 271 departments, with detailed descriptions of the South Asia related research and education taking place! Go to http://www.sasnet.lu.se/environment.html

• Useful travelling information
Look at http://www.sasnet.lu.se/travelling.html. Updated travel advises from the The British Foreign & Commonwealth Office about safety aspects on travelling to the countries of South Asia. Recent changed information on Afghanistan, Bangladesh and Pakistan.
---
Best regards,
Lars Eklund
deputy director/webmaster
SASNET/Swedish South Asian Studies Network
SASNET is a national network for research, education, and information about South Asia based at Lund University. Its aim is to promote a dynamic networking process in which Swedish researchers co-operate with researchers in South Asia and globally.
The SASNET network is open to all the sciences. Priority is given to interdisciplinary cooperation across faculties, and more particularly to institutions in the Nordic countries and South Asia. SASNET believes that South Asian studies will be most fruitfully pursued as a cooperative endeavour between researchers in different institutions who have a solid base in their mother disciplines.
The network is financed by Lund University.
Postal address: SASNET – Swedish South Asian Studies Network, Scheelevägen 15 D, SE-223 70 Lund, Sweden
Visiting address: Ideon Research Park, House Alpha 1 (first floor, room no. 2040), in the premises of the Centre for East and South East Asian Studies at Lund University (ACE).
Phone: + 46 46 222 73 40
Fax: + 46 46 222 30 41
E-mail: sasnet@sasnet.lu.se
Web site: http://www.sasnet.lu.se

Back to SASNET


---