SWEDISH SOUTH ASIAN STUDIES NETWORK

---
Newsletter 26:
17 April 2003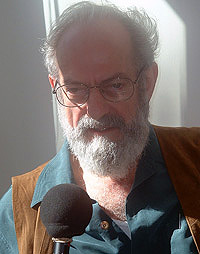 • Fruitful two days seminar on "Religious Mobilisation and Organised Violence in Contemporary South Asia"
The Graduate School of International Development Studies, Roskilde University Centre,arranged such a seminar on 3-4 April 2003 with several renowned participants. Among the lecturers and discussants were the professors Paul R Brass, University of Washington, USA (photo); Jan Breman, Amsterdam, the Netherlands; Dipankar Gupta, JNU, New Delhi, India; Ian Talbott, Coventry, UK; and Thomas Blom Hansen, Edinburgh, UK. More information on the seminar. A review of the seminar will soon appear on SASNET's web site. - Swedish Radio P1 sent a short feature from the seminar, with interviews of Dipankar Gupta and Paul R Brass, on Friday 4 April. The journalist Sören Wibeck from Swedish Radio, Malmö, made this feature which was included in the programme "Människor och Tro".
Vacant research positions/fellowships
Important lectures and workshops
Working papers on South Asia available on the Internet
New and updated items on SASNET web site
Cultural Events connected to South Asia in (or nearby) Scandinavia
• Indian dance festival at Kulturhuset in Stockholm
An Indian dance festival – "Indian Inspiration" takes place at Kilen, Kulturhuset, Stockholm, 26–27 April 2003, 11-15. Besides dance performances an open Indian room offers atmosphere, fragrances and tastes, and a workshop making gods and goddesses. The festival is arranged by Lava Kulturhuset in cooperation with the Museum of Far Eastern Antiquities. More information.
---

Best regards

Staffan Lindberg Lars Eklund

SASNET/ Swedish South Asian Studies Network

SASNET is a national network for research, education, and information about South Asia, based at Lund University. The aim is to encourage and promote an open and dynamic networking process, in which Swedish researchers co-operate with researchers in South Asia and globally.
The network is open to all sciences. Priority is given to co-operation between disciplines and across faculties, as well as institutions in the Nordic countries and in South Asia. The basic idea is that South Asian studies will be most fruitfully pursued in co-operation between researchers, working in different institutions with a solid base in their mother disciplines.
The network is financed by Sida (Swedish International Development Cooperation Agency) and by Lund University.


Postal address: SASNET – Swedish South Asian Studies Network, c/o International Office,
Lund University, P O Box 117, S-221 00 Lund
Visiting address: Gamla Kirurgen, Sandgatan 3, first floor, room no. 230
Phone: + 46 46 222 73 40
Fax: + 46 46 222 41 11 (Note: Changed number!)
E-mail: sasnet@sasnet.lu.se
Web site: http://www.sasnet.lu.se


Staff: Staffan Lindberg, director/co-ordinator &
Lars Eklund, webmaster/deputy director
Back to SASNET


---