SWEDISH SOUTH ASIAN STUDIES NETWORK

---
Newsletter 69:
9 January 2007
• Report from the Stockholm workshop


SASNET successfully held a workshop on the "Role of South Asia in the Internationalisation of Higher Education in Sweden" at Nobel Forum, Karolinska Institutet in Stockholm 28-29 November 2006. It was jointly organised by SASNET, Karolinska Institutet Medical University and the Swedish Institute, and involved sessions with representatives from 20 Swedish universities, and from the International Programme Office for Education and Training; the Swedish National Agency for Higher Education; STINT; the Government ministries of Education and Foreign Affairs; and the South Asian embassies in Stockholm. The workshop focused on experiences from masters and PhD programmes in Sweden as well as in South Asia, with an aim to promote increased academic exchange with South Asia.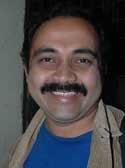 Most of the workshop presentations are now available on our web site as pdf-files. They include Mr. Sunandan Roy Chowdhury's (photo to the right) provocative keynote presentatIon, titled "The Moffusil and the Metropolitan – Higher Education's Meandering Paths". In addition to this, Jan Magnusson (a key person behind the creation of SASNET seven years ago and now a member of SASNET's board) has written a report, summarizing the two-day workshop sessions. Read the workshop report.
• Anna Lindberg appointed new SASNET Director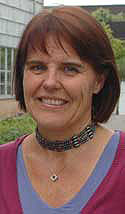 On Wednesday 20 December 2006, Lund University Vice-Chancellor (VC) Göran Bexell decided to appoint Assistant Professor Anna Lindberg (photo to the right), Department of History, Penn State University, USA, as Director/Coordinator for SASNET on a 50 % basis from 1 July 2007 to 31 December 2009. In Sweden Anna Lindberg has been affiliated to the Dept. of History, Lund University, where she defended her doctoral dissertation about "Experience and Identity: A Historical Account of Class, Caste, and Gender among the Cashew Workers of Kerala, 1930-2000" in 2001. More information about Dr. Lindberg and her research.
At its meeting in late August 2006, the SASNET board recommended the VC to appoint Dr. Lindberg for the position already from 1 January 2007. However, on 9 November the Vice-Chancellor decided to extend the appointment of Prof. Staffan Lindberg for another six months, to remain as Director/Coordinator of SASNET until 30 June 2007.
• New Board for SASNET from 1 January 2007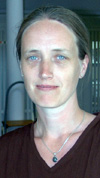 On Thursday 9 November 2006, Lund University Vice-Chancellor Göran Bexell decided the new composition of SASNET's board from 1 January 2007 to 31 December 2009. The board will be chaired by Associate Professor Gunnel Cederlöf (photo to the left), Dept. of History, Uppsala University. Besides her, the board consists of three representatives for Lund University (that funds SASNET with a third of its budget), two representatives for other Swedish universities, one representative for PhD candidates, one representative for other Nordic universities, and one representative for Swedish NGOs. The new board will have its first meeting in Lund on Monday 29 January 2007. Full information about the new board.
• More information about SASNET and its activities
See SASNET's page, http://www.sasnet.lu.se/sasnet.html
• Doctoral dissertation in Uppsala about Vallabha's Nyayalilavati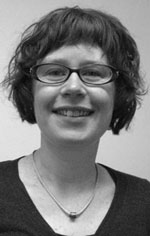 Anna-Pya Sjödin, Section of South Asian Languages and Cultures, Department of Linguistics and Philology, Uppsala University, will defend her doctoral dissertation in Indology titled "The Happening of Tradition. Vallabha on Anumana in Nyayalilavati" on Saturday 13 January 2007, 10.00. It consists of a translation and analysis of a medieval Indian text based on certain theoretical considerations on cross-cultural translation and the understanding of tradition. Faculty opponent will be Professor Purushottama Bilimoria, School of International and Political Studies, Deakin University, Melbourne, Australien. Venue: Geijersalen, Humanistiskt centrum, Engelska parken. More information, with access to full thesis.
• Articles on South Asian languages wanted for anthology
Dr. Aswini Kumar Mishra and Dr Jugal Mishra in Bhunaneshwar, India, are currently editing a volume on South Asian languages. They request scholars in the line to contribute with articles for inclusion in the coming anthology. The focus should be on any language spoken by a large number of people in South Asia. It should either spell out theoretical aspects or practical applications as the case may be. Last date for submission of texts is 31 January 2007. More details on request to Aswini Kumar Mishra.
• Papers invited for the Oxford Development Studies journal
The Oxford Policy Institute (OPI) is inviting proposals for papers to be presented at a sponsored meeting and submitted to the Oxford Development Studies journal for publication. The papers should focus on one of the following topics: • What matters for good government?; • What determines the performance of public administrations?; and • What determines the quality of public services? OPI will commission one paper on each topic. The papers are expected to deliver a comparative, evidence-based analysis of how political, economic, organisational or social institutions and their associated incentives and sanctions shape public sector performance and the quality of public services in different settings. Proposals should be sent to goodgovernment@opi.org.uk by 16 February 2007.
• More information about South Asia related research at Swedish and Nordic universities
See SASNET's page, http://www.sasnet.lu.se/research.html
• Course on Changing India and Ourselves for teachers training students in Stockholm


The Dept of Teaching processes, Communication and Learning (UKL) organises a 10 credits (15 ECTS) course titled "Changing India and Ourselves" during the Spring 2007 (January–March). The course consists of two parts, first five weeks field studies in Tamil Nadu, India, where the students should confront, analyse and reflect upon the various patterns of poverty and domination that can be found in the South and in the relation to the richer parts of the world; and then five weeks literature studies and seminars in Sweden. The course has developed out of a course titled "Changing South" that Jim Walch has run at the department since 1993.
• Uppsala University introduces Masters programme in Eurasian Studies
Beginning in the fall of 2007, a Master's Program in Politics and International Studies will be introduces at Uppsala University. It will be offered jointly by the Department of Eurasian Studies, the Department of Government and the Department of Peace & Conflict Research. The program runs over two years of full-time study, and may lead to the award of a Master's degree in Eurasian Studies, Political Science or Peace and Conflict Studies. The program's regional focus stretches from the Balkans, via Eastern Europe, the former Soviet Union (including the Caucasus and Central Asia), to China and Northeast Asia. Deadline for applications: 15 April 2007.
• Time to apply for the 2007 Master's Programme in Development Studies
Uppsala University's 60 ECTS-credits (40 Swedish points) Master's Programme in Development Studies again starts in September 2007. The programme, partly focusing on South Asia, has been designed to attract students with a special interest in development issues, and might be useful for personnel working in the foreign services, aid organisations, the UN, and non-governmental organisations. Deadline for applications: 1 February 2007. More information on the programme.
• Master's Programme in Science for Sustainable Development at Linköping University
A 120 ECTS Credits International Master's Programme in Science for Sustainable Development starts at Linköping University in September 2007. It is organised by the Faculty of Arts and Sciences, and leads to a Master in Science degree in Sustainable Development, with a specialization in one of the following areas: 1. Climate, Energy & Recycling; 2. Water & Food Security; or 3. GIS for Environmental Studies. Focus in the first two study areas will be directed to both how social changes shape the environment, and how environmental changes shape society. Dr. Julie Wilk from the Dept. of Water and Environmental Studies is one of the programme coordinators. Deadline for applications: 1 February 2007.
• Indology and South Asia related languages courses at Uppsala University
Every year, the Section for Asian and African Languages and Cultures at the Dept. of Linguistics and Philology, Uppsala University, offers South Asia related courses and study programmes in Indology (including Sanskrit), Hindi, Comparative Indo-European Philology, and Iranian languages.
– Indology studies courses (including Sanskrit) are carried out up to D-level. A new 20 credits A-level course starts every Fall semester, and includes a 5 credits course in Sanskrit text applications, 10 credits Sanskrit grammar, and 5 credits Cultural history of India. The B level course runs during the Spring 2007 and includes courses in Sanskrit, Pali and Vedic languages . C-level courses also run during the Fall semesters.
Besides being part of the study programmes, 5 or 10 credits orientation courses are also offered every semester in topics such as "Indian Religions, Culture and History"; "Indian Languages and Literature"; "Introduction to Sanskrit"; and "Introduction to Indic Philosophical Traditions". The latter course, run during the Fall 2006, involves studies about the Indic history of ideas (in present-day India, Pakistan, Bangladesh and Afghanistan) from the Vedas up to modern, postcolonial theories, but focusing on the Hindu, Buddhist, and Materialist traditions of ideas.

– Hindi studies courses are carried out up to D-level. A new 20 credits A-level course started in the Fall 2006, and a B-level course is run during the Spring 2007.

– Comparative Indo-European Philology courses are carried out up to D-level. A new 20 credits A-level course started in the Fall 2006, and a B-level course is run during the Spring 2007. An individual 5 credits orientation course about "Indoeuropean Languages" will also be organised in May 2007.

– South Asia related Iranian languages courses. Within the realia courses on A- and C-level (arranged during the Fall semesters every year) the section for Iranian Languages includes studies on the culture and history of Afghanistan. On the D-level run during the Spring 2007, the study of Dari and Tajik languages is included.
• Ljungskile folk high school again goes to Jagriti Vihara in the Fall 2007
A new World course ("Världens kurs med Indienresa 2007") on Justice, Peace and Environment, including a three weeks tour to north India, will be arranged by Ljungskile Folk High school during the period 20 August – 20 December 2007. The tour includes a three weeks stay at the village folk high school Jagriti Vihara in Ranchi, Jharkhand. More information.
• Biskops-Arnö organises course on Ecology and Global Solidarity with Framtidsjorden


Nordens Folkhögskola Biskops-Arnö organises yearly 36 weeks courses on Ecology and Global Solidarity. The current course started in August 2006, and includes a two months stay in India in January–February 2007, where the students will study local projects working against the globalisation and for an ecologically and socially sustainable society. A new course will start in late August 2007 and last until 23 May 2008. It will be carried out as a trainee programme in collaboration with the Swedish NGO Framtidsjorden and its network in Ladakh, India. The costs will be partly funded by Sida. More information.
• SOIR builds community college in Nepal in collaboration with Swedish folk high schools
The Swedish Organisation for Individual Relief, SOIR (Individuell Människohjälp – IM – in Swedish), based in Lund, is a development assistance organisation started in 1938. The organisation supports education, health and income-generating projects in many countries throughout the world, including India (especially among Tibetan refugees) and Nepal. In Nepal, SOIR since 40 years runs a school in the village Wahaki in Parbat, a remote district of western Nepal. From February 2007 this school will be expanded with new buildings, and within two years turn into a community college, that will have an academic collaboration with two Swedish folk high schools, Österlen folk high school in Tomelilla and Helliden folk high school in Tidaholm. More information about the project in a report by Janusz Lipinski, SOIR Project Organiser (as a pdf-file, only in Swedish).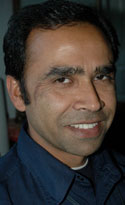 Students participating in Österlen folk high school's yearly undergraduate social science courses on India/South Asia (more information) will have the Wahaki college as their base for field studies/research in Nepal already from this year. SOIR has also employed Mr. Keshab Bhattarai (photo to the right) as the organisation's representative in Nepal, in charge of the Wahaki college and other projects that SOIR is engaged with in the country. Mr. Bhattarai is affiliated to Lund University, where he is near to complete a Masters degree in the Asian Studies programme organised by the Centre for East and South-East Asian Studies, ACE.
• Number of Indian universities not enough according to National Knowledge Commission
India will need 1,500 universities to attain a gross enrolment ratio of at least 15 per cent by 2015. This is a key observation made by the National Knowledge Commission (NKC) in its note to the Prime Minister on higher education. The Hindu 2 January 2007. Go for the article.
• More information about South Asia related education at Swedish and Nordic universities
See SASNET's page, http://www.sasnet.lu.se/education.html
Conferences and courses
• Political Cultures theme for the 12th annual Cultural Studies Workshop in Hyderabad
The Centre for Studies in Social Sciences (CSSSC) in Kolkata, India, in collaboration with the Ford Foundation, ENRECA (Denmark) and SEPHIS (the Netherlands) will hold its 12th annual Cultural Studies Workshop from 28 January 2006 to 2 February 2007, in Hyderabad, India. The broad theme for this year's workshop is "Political Cultures". It is intended to give young researchers an opportunity to share their work with senior scholars in the field, including some of the faculty of the CSSSC. It is aimed at Indian doctoral or post-doctoral students. International participants are also invited from countries of the South: their airfare and local hospitality will be covered by the CSSSC in collaboration with SEPHIS. More information.
• Nordic workshop on War, Peace and Development in Sri Lanka
A Nordic workshop on "War, Peace and Development in Sri Lanka" is held in Göteborg 29–30 January 2007. The aim of the workshop is to bring together scholars in the Nordic research environments working on issues related to the violent and longstanding conflict in Sri Lanka, and in particular on efforts for achieving peace and development. The primary focus is on paper presentations of the participants own research. The workshop will provide an opportunity for the participants to link up with other Nordic scholars studying the causes and effects of the war in Sri Lanka, peace attempts and the Nordic involvement in Sri Lanka, as well as development, reconstruction and humanitarian interventions. The workshop is a follow-up to a workshop held in Uppsala in January 2006 and is jointly organised by the Dept. of Peace and Development Research (PADRIGU), School of Global Studies, Göteborg University, and Dept. of Peace and Conflict Research, Uppsala University. Any questions, please contact Dr. Camilla Orjuela at PADRIGU.
• KTH workshop on Nanoscience in India
The National Indian Workshop on Nanotechnology & Nanoscience of Magnetic Particles for Biomedical Applications (NNMPBA-07) will be held in Bhavnagar, Gujarat, 29 January – 1 February 2007. The workshop is organized by the Centre for Excellence in Nanotechnology of Nanomagnetic Particles – CENNP at Bhavnagar University, and is funded by a Swedish Research Links programme on "Synthesis & Characterization of tailored magnetic nanoparticles for biomedical applications" currently carried out by CENNP in collaboration with the Division of Engineering Material Physics, Department of Materials Science and Engineering, Royal Institute of Technology (KTH), Stockholm. More information about the workshop (as a pdf-file).
• International AIDS Conference in Varanasi
An International AIDS Conference is held 4–6 February 2007 in Varanasi, India. The general aim of the conference is to discuss various issues related to clinical research, treatment and prevention of HIV/AIDS, to identify different strategies for management of HIV/AIDS patients, and to explore the challenges of expanding treatment and prevention in resource limited settings.. It is organised by Prof. Anand Kumar, Chairman for the Academic Committee, Department of Psychology, M.G. Kashi Vidyapith University in Varanasi.
• International Indology Conference in Goa
An International Indology Conference is held in Goa, India, 8–10 February 2007. It is organised by the the Kala Academy in Goa, and is sponsored by Motilal Banarsidass Publishers in New Delhi. The theme of the conference is 'Ancient Wisdom Brought to Modern Times – Pathway to Higher Consciousness'. Dr. L.M. Singhvi, Indology scholar and former Indian High Commissioner in UK, wil be the Chief Guest of Honour.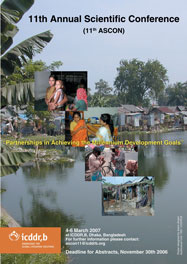 • 11th Annual Scientific Conference of ICDDR,B to be held at in Dhaka
The 11th Annual Scientific Conference of ICDDR,B (the 11th ASCON) will be held at the Centre in Dhaka, Bangladesh 4–6 March 2007, followed by the 40th Anniversary celebrations of the Demographic Surveillance System (DSS)-Matlab, from 7 to 8 March 2007. The Theme of the Conference is "Partnership in Achieving the Millennium Development Goals." Scientists, health professionals, programme managers, community organizers, and policy-makers are invited to participate in this forum providing an opportunity to disseminate and share results of research, experiences, and lessons learnt from recent research and programmes. The 11th ASCON will especially concentrate on the Millennium Development Goals (MDG) No. 1, 4, 5, and 6. Deadline for abstracts has been extended to 30 December 2006.
• Copenhagen conference about Religion in Security Politics
A conference about "Religion in Security Politics: New Themes and Challenges" will be held in Copenhagen, Denmark, 29–30 March 2007. The conference, organised by Ravinder Kaur at the Institute for Society and Globalisation (ISG), Roskilde University, and Dietrich Jung at the Danish Institute for International Studies (DIIS), aims at exploring the construction of religion, mainly 'other' religions that are framed in violence, as a civilisational threat within the current security politics discourse; and how security politics is itself being shaped anew through incursions into fields of theology, sociology, and philosophy that home religion otherwise. It also aims at exploring the politics of passion as witnessed in the Middle East and Asia, and also the frequent use of past traditions, historical events, religious prophecies, myths, folktales etc. to construct a fluent narrative of the present conflicts and disagreements. Venue: Auditorium, DIIS, Strandgade 71, Copenhagen. More information. (as a pdf-file)
• Gavin Flood keynote speaker at Södertörn conference on religion
A conference on "Religion on the Borders: New Challenges in the Academic Study of Religion" will be held at Södertörn University College south of Stockholm, 19–22 April 2007. The ambition with the conference is to gather scholars from different academic disciplines to engage in discussions on religion and borders in the past and the present, in theory and in practice. It is organized in collaboration with IAHR (International Association for the History of Religions) and SSRF (Swedish Society for the Study of History of Religions). The Keynote speakers include Professor Gavin Flood, Academic director at the Oxford Centre for Hindu Studies and Professor of Religion, University of Stirling, UK. He will lecture about "Dwelling on the Borders: Self, Religious Reading, and the Public Realm". More information.
• Papers invited for Oxford Workshop on Values and Multidimensional Poverty
A Workshop on Values and Multidimensional Poverty will be held in Oxford, UK, 29–31 May 2007. This three-day high level launch workshop is organised by the new Oxford Poverty & Human Development Initiative at Queen Elizabeth House. OPHI is a research initiative within the Dept. of International Development, Queen Elizabeth House, University of Oxford – directed by Sabina Alkire and advised by Nobel Laureate Amartya Sen (Harvard), Sudhir Anand (Oxford) and Tony Atkinson (Paris). The workshop will have two main themes: 1. Missing Dimensions of Human Development; and 2. Interpersonal Comparisons of Poverty and Well-Being. The ambition is that selected papers will be published in a special issue of a journal. Interested researchers from the global South are invited to submit paper abstracts by 15 January 2007. Travel, accommodation and subsistence at the workshop will be covered for successful applicants, who will be required to submit a completed paper by 30 April 2007. More information.
• EADI workshop in Warsaw about EU – India problems of strategic partnership


An International scientific workshop titled "The EU – India: The problems of strategic partnership and its significance for transformations in the world system" will be held in Warsaw, Poland, 31 May – 2 June 2007. The conference is being planned by the working group "Transformations in the World System – Comparative Studies of Development" of EADI, the European Association of Development Research and Training Institutes (a leading professional network for development and regional studies in Europe), and be hosted by Warsaw School of Economics. hosted by Warsaw School of Economics. The current problems of co-operation between the European Union and India will be in focus for the workshop. The conveners of the working group are Victor Krasilshchikov from the Institute of World Economy and International Relations, Russian Academy of Sciences, Moscow, Russian Federation; and Imre Lévai from the Institute for Political Science at the Hungarian Academy of Sciences in Budapest. More information.
• Imagining Collectives theme for second Tamil Studies conference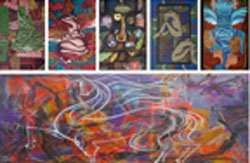 The second annual Tamil Studies Conference, titled "Imagining Collectives: Continuities, Changes and Contestations" is held in Toronto, Canada, 31 May – 2 June 2007. It is organized by the University of Toronto and the University of Windsor. Scholars are invited to submit research papers about the history of the formation, elaboration, transformation, interpretation and contestation of collectives and identities within the Tamil speaking regions of Southern India, Sri Lanka and the Diaspora throughout history and in different scholarly disciplines. More information.
• 2007 World Water Week in Stockholm 12–18 August


The World Water Week is the leading annual global meeting place for capacity-building, partnership-building and follow-up on the implementation of international processes and programmes in water and development. Plenary sessions, seminars, workshops, side events and special activities will take place under the overarching theme "Progress and Prospects on Water: Striving for Sustainability in a Changing World." The First Announcement and Call for Abstracts is now available. The abstract submittal deadline is February 1, 2007. More information.
• 36th Annual Madison Conference on South Asia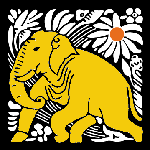 The 36th Annual Conference on South Asia will be held 11–14 October 2007 in Madison, USA. It is sponsored by the Center for South Asia at the University of Wisconsin-Madison. The Annual Conference on South Asia attracts over 500 scholars and other interested parties annually, featuring 75 or more academic panels and roundtables, as well as association meetings and special events ranging from performances to film screenings. Venue: Madison Concourse Hotel, 1 West Dayton St., Madison More information.
• Culture and the Configuring of Security theme for NIAS conference in Lund
The Second Annual Nordic NIAS Council (NNC) Conference, titled "Culture and the Configuring of Security: Using Asian Perspectives to Inform Theoretical Direction", will be held in Lund, 6–9 November 2007. Researchers (including doctoral students) and other specialists with particular interest and insights into Asian security aspects are invited to participate in the conference, that aims to break new theoretical ground by exploring a plurality of discourses and practices of security, and discussing ways of theorizing their embeddedness in social and cultural matrices. It is organised by the Nordic NIAS Council (NNC), a Nordic network comprising of universities and research institutions working on Asia, in partnership with Copenhagen Business School, Copenhagen University and Lund University. More information.
• Manchester venue for the 20th ECMSAS conference


The 20th European Conference on Modern South Asian Studies (ECMSAS) will be held in Manchester, UK, 8–11 July 2008. The ECMSAS is the largest gathering of South Asia oriented researchers in Europe, covering all fields from the humanities and social sciences to technology, natural sciences and medicine. The conference is held biannually under the aegis of the European Association of South Asian Studies (EASAS), a professional, non-profit organisation of scholars engaged in research and teaching concerning South Asia with regard to all periods and fields of study. SASNET organised the 18th ECMSAS conference in Lund in 2004 (more information about the Lund conference), and in June 2006, the 19th ECMSAS conference was arranged in Leiden, the Netherlands (read SASNET's report from the Leiden conference). Suggestions for panels at the 2008 conference are now actively considered. The conference will be hosted by the School of Arts, Histories and Cultures at the University of Manchester, and draws on the vibrant South Asian Studies programmes in Humanities and Social Sciences at the University. Go to the conference web site.
• Other conferences connected to South Asian studies arranged all over the World
See SASNET's page, http://www.sasnet.lu.se/conferences.html#conf
Important lectures and workshops
• Purushottama Bilimoria holds guest lecture at Uppsala University
Professor Purushottama Bilimoria from the School of International and Political Studies, Deakin University, Melbourne, Australia, holds a guest lecture at Uppsala University on Friday 12 January 2007, 10.15. He will lecture about "Dismantling Normativity in Indian Ethics – Vedic altarity to the Bhagavadgita alterity". Prof. Bilimoria holds a chair in Philosophy at Deakin University, but has also been visiting professor at universities in USA and has published studies on various aspects of Indian culture. Venue: Dept. of Linguistics and Philology, room 7-0042, Humanistiskt centrum, Engelska parken, Uppsala. More information.
• Sheldon Pollock lectures at Uppsala University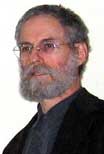 Professor Sheldon Pollock, Professor of Sanskrit and South Asian Studies, Dept. of Middle East & Asian Languages and Cultures at Columbia University, USA, holds a lecture at Uppsala University on Wednesday 24 January 2006, 14.15–16.00. He will talk about "The Language of the Gods in the World of Men: Sanskrit, Culture and Power in Premodern India", which is also the title of a book recently published (U. of California Press, 2006). The lecture is organised by the Swedish Collegium for Advanced Study (SCAS) in collaboration with the Forum for Advanced Studies in Arts, Languages and Theology (SALT) and the South Asia Seminar at Uppsala University. Venue: Library of SCAS, Linneanum, fourth floor, Thunbergsvägen 2. More information about Prof. Pollock.
• Swedish Research Council invites to seminar about World Literature
The Swedish Research Council invites to a seminar about "World Literature – Reading as a Key to Other Cultures", in Stockholm on Thursday 25 January, 10–16. The seminar deals with the understanding of literature coming from outside the Western culture, a topic also for the multidisciplinary Swedish research project "Literary History: Towards a Global Perspective" that was recently completed after 10 years, and published by Walter de Gruyter in Berlin & New York in a set of four volumes. More information about the research project. Some of the key persons behind this project, that was funded by the Swedish Research Council, now participate in the Stockholm seminar, among them Prof. Gunilla Lindberg-Wada, Dept. of Oriental Languages, Stockholm University; Prof. Margareta Pettersson, Dept. of Comparative Literature, Växjö University; and Prof. Bo Utas, Iranian Languages, Dept. of Linguistics and Philology, Uppsala University. Another invited speaker is Prof. Sheldon Pollock, Dept. of Middle East & Asian Languages and Cultures, Columbia University, USA, who will speak about "Transcultural Literary History". Register your participation before Thursday 18 January, by sending an e-mail to Jesper Wadensjö. Venue: Vetenskapsrådet, Regeringsgatan 56, Stockholm.
• Stockholm seminar about how clean water and sanitation will cut poverty in half by 2015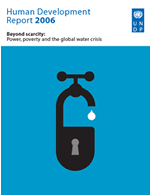 A one-day seminar entitled "Water, Power, Poverty – How clean water and sanitation will cut poverty in half by 2015" will be arranged in Stockholm on Friday 2 February 2007, 09.30–17.00. It is organised by the United Nations Development Programme (UNDP) Nordic Office and the Swedish Water House (SWH) at the Stockholm International Water Institute. The seminar is a wider follow-up of the launch of the 2006 Human Development Report, titled "Beyond Scarcity: Power, Poverty and the Global Water Crisis". Besides a large number of prominent decision- and policy-makers, Dr. Peter Svedberg, Professor of Development Economics at the Institute for International Economic Studies, Stockholm University; Mr Jakob Simonsen, Director for UNDP Nordic Office in Denmark; and Mr. Anders Berntell, Executive Director for the Stockholm International Water Institute (SIWI), are also invited. The full-day seminar will be divided into three sessions. The first, with representatives from the United Nations and Governments, feature a number of presentations along with a moderated discussion on the relationship between water, sanitation and development. The second session will focus on possible financing mechanisms for water and sanitation, the associated macro-economic perspectives as linked to water, and the role of the private sector in contributing to development. In the final session, the ambition is to have a moderated discussion with Swedish government representatives and parliamentarians on Sweden's response to the challenges presented in the HDR and in the seminar. Please confirm participation no later than January 26, 2007 to Michael Moore. Venue: Stockholm City Conference Centre/Norra Latin. More information.
Swedish Business and Politics related to South Asia
• Amnesty Business Group watchdog against human rights violations


Amnesty Business Group (ABG) in Sweden is part of the Swedish section of Amnesty International. ABGs vision is that Swedish companies will not violate human rights, as they are defined in the Universal Declaration on Human Rights. ABGs aim is to influence and educate Swedish companies to take their responsibility in respecting and defending human rights wherever they do business. Swedish companies with international subsidiaries and international operations risk being involved in human rights violations. ABG can supply a company specific analysis over the violations that may occur in various industries and countries, Go to ABGs web page, http://www.amnestybusinessgroup.se/.
• Global Reporting Initiative elevates sustainability reporting to equivalency with financial reporting


The Global Reporting Initiative was initially convened by the Coalition for Environmentally Responsible Economies (CERES), a non-profit coalition of over 50 investor, environmental, religious, labour and social justice groups. The GRI was established in 1997 with a mission to elevate sustainability reporting to equivalency with financial reporting. It has recently been established as an organisation in its own right. GRI's vision is that reporting on economic, environmental, and social performance by all organizations becomes as routine and comparable as financial reporting. GRI accomplishes this vision by developing, continually improving, and building capacity around the use of its Sustainability Reporting Framework. An international network of thousands from business, civil society, labor, and professional institutions create the content of the Reporting Framework in a consensus-seeking process. Go to its web site, http://www.globalreporting.org/
• Tetra Pak engaged in dairy and milk distribution projects in South Asia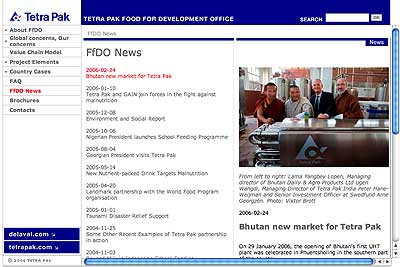 The Swedish company Tetra Pak is a world leader in processing and packaging of liquid foods, with activities in more than 165 countries worldwide. Through its Food for Development Office (FfDO), Tetra Pak is also engaged in promoting sustainable economic and social development is by building strong partnerships between governments, private industry, non-governmental organisations (NGOs), international and national development agencies. Together with Tetra Pak's sister company 'DeLaval', the FfDO also participates in integrated agricultural development projects addressing the entire food value chain from "cow to consumer". In South Asia FfDO has been engaged in dairy and milk distribution projects in Afghanistan, Bangladesh, Bhutan, India and Pakistan. A year ago, on 29 January 2006, the opening of Bhutan's first UHT plant was celebrated in Phuentsholing in the southern part of the country where Bhutan Dairy & Agro Products Ltd will market UHT milk packed in Tetra Brik Aseptic, partly based on raw milk from Bhutanese farmers (more information about the Bhutan project). Tetra Pak has been instrumental in bringing together financial partners, including Swedish risk capital company Swedfund International and Tetra Laval Credit. Arne Georgzén, Senior Investment Officer at Swedfund International says: "This is one of the very first industrial investments in Bhutan that have been financed mainly by international capital, with the exception of a few hotels and hydropower plants." More information about Tetra Pak's Food for Development Office.
• India Business Forum to be held in Stockholm

An India Business Forum will be arranged in Stockholm in April 2007. It is organised by Globe Forum, a Stockholm based company established in 2000. Behind it stands a group of professionals who believe in building strong relationships by bringing people and companies together. Its world-wide network includes some of the most prominent business leaders in the world; people with extensive experience in their respective fields of business. The 2007 India Business Forum will provide participants opportunities to interact and network with corporate leaders and gain further insight into the Indian market. The aim of the forum will be to increase the knowledge on business opportunities and business climate developments in India for Nordic companies, and to create a Nordic platform for exchange of business knowledge about India.
• Amnesty Business Group organised Business Forum in November
Another Business Forum focusing on India: "Företag, Indien & Mänskliga Rättigheter – hur blir ditt företag en del av lösningen" (Private companies, India & human rights – how can your company be part of the solution?) was held in Stockholm on 15 November 2006. Representatives from Amnesty Business Group (ABG) – organiser of the forum; the International law firm Bird & Bird; KPMG Bohlins AB; and Banco Fonder, made presentations on related issues. Read a report from the Business Forum by Nina Virkkala, trainee at ABG (as a pdf-file, in Swedish only).
• More information about South Asia related business and politics in Sweden
See SASNET's page, http://www.sasnet.lu.se/polbuss.html
South Asia related culture in greater Scandinavia
• Malayalee film only South Asian contribution at the Göteborg Film Festival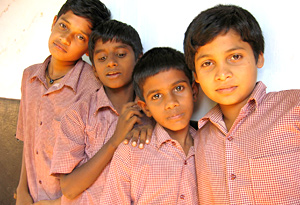 The 2007 Göteborg International Film Festival starting on Friday 26 January (and lasting to Sunday 5 February), has only one South Asian film on show. It is the Malayalee film "Life Is All About Friends" (photo from the film to the right) directed by Murali Nairi. More information on the film.
• Fourth Himalayan Film Festival to be held in Amsterdam
The fourth Himalayan Film Festival organised by the Himalayan Archive Foundation The Netherlands, will be held 10–11 February 2007 in Amsterdam. The general aim of the Himalayan Film Festival is to promote documentary cinema and to give credit to films or videos dealing with the Himalayan region in a wide sense of the term. A large number of movies & documentaries from all over the world featuring the Himalayan region will be screened. The 'Himalayan lecture' on the fourth Himalaya Film Festival will be given by the eminent Nepalese journalist Mr Kanak Mani Dixit. Venue: De Griffioen, Cultural Centre of the Free University of Amsterdam, Uilenstede 106, Amstelveen. More information.
• More information about South Asia related culture in Scandinavia
See SASNET's page, http://www.sasnet.lu.se/culture.html
New and updated items on SASNET web site
• Swedish departments where research on South Asia is going on:
Constantly added to the list of research environments at Swedish universities, presented by SASNET. The full list now includes 200 departments, with detailed descriptions of the South Asia related research and education taking place! Go to http://www.sasnet.lu.se/environment.html
---
Best regards,
Staffan Lindberg Lars Eklund
SASNET/ Swedish South Asian Studies Network
SASNET is a national network for research, education, and information about South Asia, based at Lund University. The aim is to encourage and promote an open and dynamic networking process, in which Swedish researchers co-operate with researchers in South Asia and globally.
The network is open to all sciences. Priority is given to co-operation between disciplines and across faculties, as well as institutions in the Nordic countries and in South Asia. The basic idea is that South Asian studies will be most fruitfully pursued in co-operation between researchers, working in different institutions with a solid base in their mother disciplines.
The network is financed by Sida (Swedish International Development Cooperation Agency) and by Lund University.

Postal address: SASNET – Swedish South Asian Studies Network, Scheelevägen 15 D, SE-223 70 Lund, Sweden
Visiting address: Ideon Research Park, House Alfa 1 (first floor, room no. 2040), in the premises of the Centre for East and South East Asian Studies at Lund University (ACE).
Phone: + 46 46 222 73 40
Fax: + 46 46 222 30 41
E-mail: sasnet@sasnet.lu.se
Web site: http://www.sasnet.lu.se
Staff: Staffan Lindberg, director/coordinator & Lars Eklund, webmaster/deputy director
Back to SASNET


---