SWEDISH SOUTH ASIAN STUDIES NETWORK

---
Newsletter 92:
14 January 2009
| | |
| --- | --- |
| | |

• Second edition of the Bergen Summer Research School
The second edition of the Bergen Summer Research School will be held 22 June – 3 July 2009 in Bergen, Norway. It will be dedicated to the theme of Climate, Environment and Energy. The 2009 theme will intersect with the other key topics of the Bergen Summer Research School (poverty, health, norms, values, language and culture) and will be structured around the following concepts: – Mitigation; – Adaptation; – Responsibilities: and – Opportunities. Bergen Summer Research School is an initiative of the Bergen academic milieu's (University of Bergen, Chr. Michelsen Institute, etc) commitment to produce and disseminate research-based education to address some key global challenges posed by an increasingly knowledge- based, complex, multicultural, religiously diverse, and unequal global society. The research school aims to promote dialogue across academic disciplines, the private sector, government, civil society organizations and to raise awareness and incentives for all those sectors. The north–south dimension will be always kept as a fundamental issue. BSRS 2009 will accept a maximum of 100 candidates. Deadline for applications is 15 February 2009. More information.
Important lectures and seminars in Scandinavia
• Tone Sissener lecture marks the start for Bergen South Asia Forum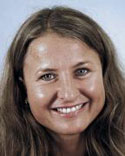 Dr. Tone K. Sissener, Chr. Michelsen Institute (CMI) will lecture on "Corporate capitalism meets democracy: an anthropology of the Indian democracy" in Bergen, Norway on Thursday 15 January 2008, 12.00–13.00. Please contact Tone Sissener for a copy of the research proposal that her lecture is based upon. The lunch seminar also marks the inaguration of the new Bergen South Asia Forum, an association of scholars working on South Asian studies in Bergen. The number of such has become quite impressive, and in order to promote scholarly exchange across academic disciplines and department locations, the Bergen South Asia Forum is established. The forum will meet approximately once a month to discuss ongoing work related to South Asia within the social sciences or humanities and get better acquainted with each other's research. Venue: Høyden, Fosswinckelsgt 18, Bergen. More information.
• Series of lectures by Uma Lele at Lund University


Dr. Uma Lele, Indian/American development economist with a PhD in Agricultural Economics from Cornell University, Ithaca, New York, holds a number of open guest lectures at Lund University during the period 2–6 February 2009. The lectures are organised by LUMID, Lund University's international Master's Programme in Applied International Development and Management, and held in conjunction with a LUMID course on Rural Development. During her 5-day stay Dr. Lele will lecture on the following topics:
– Monday 2 February, 10.15–12.00: "India's Rural Development".
– Tuesday 3 February, 13.15–15.00: "Rural Development in Africa".
– Wednesday 4 February, 10.15–12.00: "Review of the World Bank Policies and Programs on Forestry and Avoided Deforestation in the Context of Climate Change".
– Friday 6 February, 13.15–15.00: "Global Public Goods as they Affect and are Affected by Rural Development".
Venue for all lectures: Room 111, Geocentrum I, Sölvegatan 10, Lund. All of the lectures are open to the public and there is no entry fee. More information about Dr. Uma Lele.
Business and Politics
South Asia related culture in Scandinavia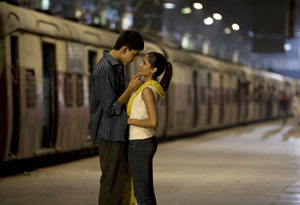 • South Asian films at 32nd Göteborg International Film Festival
The 32nd Göteborg International Film Festival, starting on Friday 23 January 2009 (and lasting tilll Monday 2 February), will show at least four films connected to South Asia. Two of them are made by Indian directors, Farah Khan's hindi film "Om Shanti Om"; and Bipin Nadkarni's marathi film "A Home in the Sky". A new sinhalese film from Sri Lanka will also be screened, "Machan" directed by Uberto Pasolino. Finally a film made in Mumbai but a US/British production, will appear, "Slumdog Millionaire" directed by Danny Boyle (photo to the right). More information on the 2009 Göteborg International Film Festival.
New and updated items on SASNET web site
---
Best regards,
Lars Eklund
deputy director/webmaster
SASNET/Swedish South Asian Studies Network
SASNET is a national network for research, education, and information about South Asia, based at Lund University. The aim is to encourage and promote an open and dynamic networking process, in which Swedish researchers co-operate with researchers in South Asia and globally.
The network is open to all sciences. Priority is given to co-operation between disciplines and across faculties, as well as institutions in the Nordic countries and in South Asia. The basic idea is that South Asian studies will be most fruitfully pursued in co-operation between researchers, working in different institutions with a solid base in their mother disciplines.
The network is financed by Sida (Swedish International Development Cooperation Agency) and by Lund University.
Postal address: SASNET – Swedish South Asian Studies Network, Scheelevägen 15 D, SE-223 70 Lund, Sweden
Visiting address: Ideon Research Park, House Alpha 1 (first floor, room no. 2040), in the premises of the Centre for East and South East Asian Studies at Lund University (ACE).
Phone: + 46 46 222 73 40
Fax: + 46 46 222 30 41
E-mail: sasnet@sasnet.lu.se
Web site: http://www.sasnet.lu.se

Back to SASNET


---