SWEDISH SOUTH ASIAN STUDIES NETWORK

---
Newsletter 105:
29 January 2010

• Robert McNamara fellowship for Manish Thapa in Uppsala


Mr. Manish Thapa (photo), Regional Coordinator for the South Asian Regional Cooperation Academic Network (SARCAN) based in Kathmandu, Nepal, has received the Robert McNamara Fellowship from the World Bank which makes it possible for him to work on his doctoral dissertaion project entitled "From Bullet to Ballot: The Politics of Peacemaking in Nepal" at the Dept. of Peace and Conflict Research, Uppsala University, during the period January – June 2010. His supervisor is Professor Thomas Ohlson. Mr Thapa has previously been a Visiting Fellow at the Kroc Institute for International Peace Studies, University of Notre Dame, Indiana, USA.

• Erroneous warning by the Intergovernmental Panel on Climate Change (IPCC)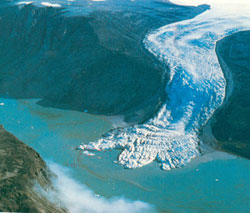 A warning that climate change will melt most of the Himalayan glaciers by 2035 is likely to be retracted after a series of scientific blunders by the United Nations body that issued it. In 2007, the Intergovernmental Panel on Climate Change (IPCC) issued a benchmark report that was claimed to incorporate the latest and most detailed research into the impact of global warming. A central claim was the world's glaciers were melting so fast that those in the Himalayas could vanish by 2035. Read the IPCC report on the issue. After facing severe doubts of the validity of these claims, the scientists behind the warning in mid-January 2010 admitted that the report was based on a speculative news story in the New Scientist, a popular science journal, published eight years before the IPCC's 2007 report. It has also emerged that the New Scientist report was itself based on a short telephone interview with Syed Hasnain, a little-known Indian scientist then based at Jawaharlal Nehru University (JNU) in Delhi.

After the news about the erroneous report was exposed, the IPPC chairman Dr. R K Pachauri (photo) came under strong attack in India, and demands have been raised for his resignation. Dr. Pachauri is also Director-General for the prestigeous Energy and Resources Institute (TERI) in New Delhi, an institute that in the recent past have procured large international funding for research based on the false claims in the 1997 IPCC Fourth Assessment Report. More information.


• INFORM network expand its Asian activities even further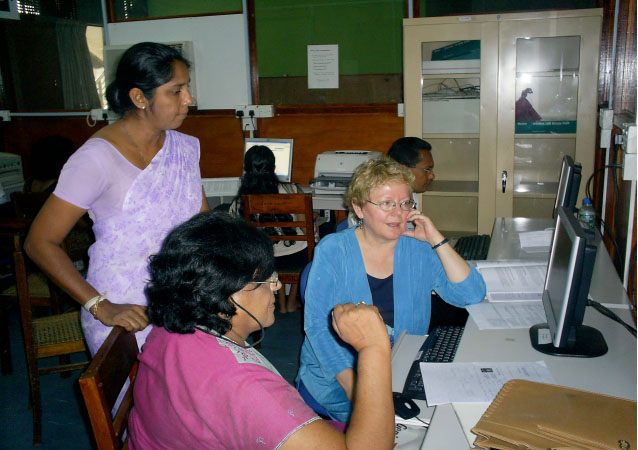 INFORM (International Network for Online Resources & Materials) is a Swedish-based networking programme that provides onsite information training in low-income countries. The programme is led by Dr Martha Garrett, researcher at International Maternal and Child Health (ICMH), Dept. of Women's and Children's Health, Uppsala University; and Anders Wändahl, a librarian at Karolinska Institutet. INFORM has been increasingly active in Asia during the past two years, partly with SASNET support, and now plans to expand its Asian activities even further.
Academic professionals who go through the INFORM training become familiar with dozens of access routes and 'gateways' into free, online information resources, as well as hundreds of specific resources to support research, teaching and practice within their own disciplines. The programme was established at the request of foreign researchers who had received their PhDs at Swedish universities and returned to their home countries, where they were frustrated by their apparent lack of access to information. Since it was established in 2004, INFORM has provided national workshops in 20 countries, as well as several regional workshops. Most of the training has been about information resources for medicine and health, although some has dealt with information resources relevant to other subjects, such as physics and mathematics.
INFORM's first training in South Asia was commissioned by Professor Kumudu Wijewardena at the University of Sri Jayewardenepura in Sri Lanka. Photo from an INFORM workshop in Sri Lanka held in 2006 above.
INFORM trainers have also been involved in information training workshops in other SASNET countries, including India (for the Reproductive and Child Health and Rights Network in Jaipur, Rajasthan), Afghanistan (for the Afghanistan Midwives Association), and Pakistan (for the Higher Education Commission at Dow Medical University in Karachi and for the Ministry of Health at the Health Services Academy in Islamabad). Grants from SASNET both in 2002 and 2007 have helped to finance some of this work. More information.
Outside the SASNET region, INFORM has provided information training in China for the Raoul Wallenberg Institute—on the topic of international law and human rights—and in Vietnam, where INFORM-trained master trainers are now providing workshops for doctors throughout the country.
INFORM's next major activity will be a regional programme in Asia. Health professionals working on reproductive health and maternal-and-child health in 10-12 Asian countries, mostly in south Asia, will receive intensive training about where to find free, high-quality materials for teaching, clinical practice and policy formulation. After the training, they will carry out their own information projects and also exchange information through an online forum. INFORM has invited SASNET to be a partner in the programme.
More information about INFORM can be found online at the programme's new website at http://www.inform-network.org. Some of INFORM's many sourcebooks are also available at the same site and can be downloaded free-of-charge.


• Swedish Chemical Engineers Award to Rajni Hatti Kaul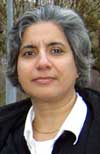 Prof. Rajni Hatti Kaul from the Dept. of Biotechnology, Lund University, receives the 2010 SKR (Association of Swedish Chemical Engineers) Award. She gets the award because of her outstanding research on sustainable technology through GREENCHEM. This is a major research program, funded by MISTRA (Stiftelsen för Miljöstrategisk Forskning) aimed at using modern biotechnology for production of biodegradable chemicals from renewable resources. The award will be distributed at a ceremony in Stockholm on 5 February 2010. More information (only in Swedish).


• Distinguished Foreign Scientist (DFS) award to Hanumantha Rao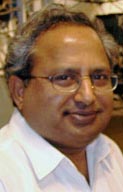 In December 2009, the Indian Council of Scientific and Industrial Research (CSIR) awarded Prof. Hanumantha Rao (photo), Division of Mineral Processing, Department of Chemical Engineering and Geosciences, Luleå University of Technology, Sweden, the title Distinguished Foreign Scientist (DFS). Prof. Rao received his award letter while visiting the Institute of Minerals and Materials Technology (IMMT) in Bhubaneshwar where he presented a course on Colloids & Interface Science to post-graduate students of a new Research Training Programme on Materials Resource Engineering initiated by CSIR. The students at this two-year programme are being paid Rs 25 000 per month during their studies, and 15 students have been chosen among 17 000 applicants. They are trained according to the needs of CSIR laboratories. Several such educational programmes have been initiated by different CSIR laboratories in the subject areas of respective laboratory interests.

Important lectures and seminars in Scandinavia
Business and Politics
South Asia related culture in Scandinavia
• Indian films at the 2010 Göteborg International Film Festival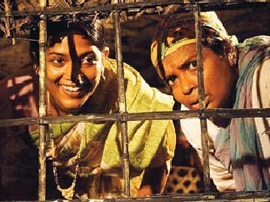 The 33rd Göteborg International Film Festival, starting on Friday 29 January 2010 (and lasting tilll Monday 8 February), will show at least six movies connected to India. They are gathered under the subtitle "Beyond Bollywood" and feature films from the states of Jammu & Kashmir, Karnataka and Maharashtra. They include Girish Kasaravalli's new film "Gulabi Talkies" (photo); Tariq Tapa's "Zero Bridge", and Sachin Kundalkar's "The Smell".
Since ten years the Göteborg International Film Festival also works in cooperation with the Swedish International Development Cooperation Agency, Sida, with a fund that supports film makers living and working in development countries. For the 2010 festival, the board of the fund has selected nine out of 70 projects for post production support. Two of them are Indian: – The Mirror, by Nilanjan Bhattacharya; and – Quarter Number 4/11, by Ranu Ghosh. More information on the 2010 Göteborg International Film Festival.
New and updated items on SASNET web site
---
Best regards,
Lars Eklund
deputy director/webmaster
SASNET/Swedish South Asian Studies Network
SASNET is a national network for research, education, and information about South Asia based at Lund University. Its aim is to promote a dynamic networking process in which Swedish researchers co-operate with researchers in South Asia and globally.
The SASNET network is open to all the sciences. Priority is given to interdisciplinary cooperation across faculties, and more particularly to institutions in the Nordic countries and South Asia. SASNET believes that South Asian studies will be most fruitfully pursued as a cooperative endeavour between researchers in different institutions who have a solid base in their mother disciplines.
The network is financed by Lund University.
Postal address: SASNET – Swedish South Asian Studies Network, Scheelevägen 15 D, SE-223 70 Lund, Sweden
Visiting address: Ideon Research Park, House Alpha 1 (first floor, room no. 2040), in the premises of the Centre for East and South East Asian Studies at Lund University (ACE).
Phone: + 46 46 222 73 40
Fax: + 46 46 222 30 41
E-mail: sasnet@sasnet.lu.se
Web site: http://www.sasnet.lu.se

Back to SASNET


---