SWEDISH SOUTH ASIAN STUDIES NETWORK

---
Newsletter 126:
2 September 2011
• SASNET website redesigned and restructured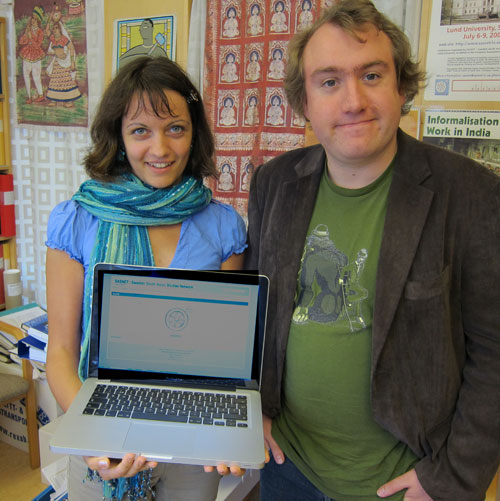 On Tuesday 6 September 2011, SASNET will launch a completely redesigned and restructured website. The layout will be cleaner and easier to navigate. The work to restructure the extensive SASNET website (with a content of nearly 1,900 web pages) has been carried out during the past 8 months by Julia Velkova at SASNET and Bernd Wunsch at the Nordic Institute of Asian Studies (NIAS) in Copenhagen (on photo).
SASNET's website will keep the the same address as before: http://www.sasnet.lu.se.
It has been more than a decade since the first SASNET website was launched with lots of enthusiasm shortly after the birth of the organization. Over the years it has been solely administered and updated by SASNET's deputy director Lars Eklund. Now it is time to consolidate the work, and that is done in collaboration with our new partner organisation NIAS. The ambition is to synchronize and exchange web based information from SASNET and NIAS in the future.
More information about the new SASNET web page.
• Doctoral dissertation about Forming Local Citizens in Bhutan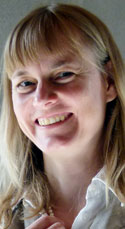 Winnie Bothe, Dept. of Political Science, University of Copenhagen, will defend her doctoral dissertation entitled "Forming Local Citizens in Bhutan: The Traditionalization of Participation – Empowerment, Domination or Subjugation?" on Friday 23 September 2011, at 14.00. It deals with the concept 'Gross National Happiness', a new development model invented by a small Himalayan kingdom of Bhutan.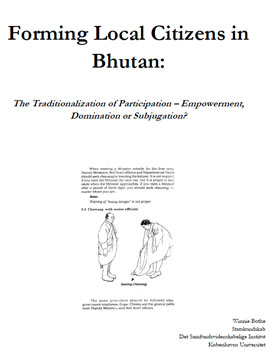 This development approach is seen by an increasing number of people as a refreshing alternative to the conventional development models that often take growth as their main target. But how is it actually practiced in Bhutan and how does this influence the way in which the rural inhabitants are constructed as citizens? The thesis addresses questions of how local governance reforms are diverted by national discourses on citizenship, ones that serve to traditionalize the local citizens into roles as supplicants rather than promoting self-determining citizens. Thus, even if donors have success in localizing governance it may not result in the form of citizenship donors would like to see.
The committee to assess the thesis consists of Associate Professor Anders Berg-Sørensen, Dept. of Political Science, University of Copenhagen; Professor Emeritus Staffan Lindberg, Dept. of Sociology, Lund University; and Professor Michael Hutt, SOAS, University of London, UK. Venue for the dissertation: Dept. of Political Science, Copenhagen University, Øster Farigmagsgade 5, entrance E.
More information.

• Academics Stand Against Poverty launch seminars worldwide


Academics Stand Against Poverty (ASAP) is an international organization of scholars and teachers that aims to increase the impact of academics on global poverty through promoting and supporting collaboration, public outreach and policy intervention. ASAP members include moral and political theorists, economists, environmental scientists, public health experts, and scholars from a range of other disciplines.
ASAP is staging a series of launch conferences in 2011-2012. The aim of these conferences is to grow the network and develop ideas for achieving positive impact, as weIl as to promote concrete poverty alleviation projects.
The US launch conference was held at Yale University in April 2011. The UK launch conference was held at the University of Birmingham in May 2011. The India launch conference will be held in New-Delhi in October 2011.
More information about ASAP.
3–4 September 2011, a meeting will also be held in Oslo. This marks the launch of the ASAP network in Norway. It will be hosted by Thomas Pogge, President of ASAP, Research Director at the UiO Centre for the Study of Mind in Nature (CSMN) and Leitner Professor of Philosophy and International Affairs
at Yale. More information about the Oslo conference.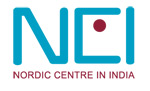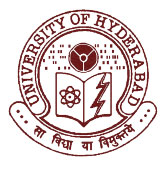 | | |
| --- | --- |
| | |
• Stockholm conference on Political regimes,
growth politics and conflict in Asia
Forum for Asian Studies at Stockholm University and the Nordic Institute for Asian Studies (NIAS) in Copenhagen jointly arrange the 5th Annual Nordic NIAS Council Conference & PhD Course in Stockholm on 21–25 November 2011. The theme for the 2011 event is "Political regimes, growth politics and conflict in Asia. Responses to changing environmental, economic and socio-cultural conditions in Asia". The primary focus of the conference is the responses to these ongoing socio-economic, cultural, economic and environmental changes in Asia. In what ways are changes being interpreted by actors in Asian societies? What are the nature and implications of the encounters produced by these recent changes? Conference participation is open to all scholars and graduate students. As this is an interdisciplinary conference we especially encourage contributions from all social science disciplines as well as interdisciplinary perspectives. Abstracts should be submitted before 1 October 2011.
The conference will be combined with workshop activities where doctoral candidates may present and discuss their research projects with senior researchers as well as other fellow doctoral candidates. The first two days will be devoted to panels and keynote speakers while the last two days will focus on workshops for doctoral students. The conference/workshop can be taken as a 7.5 ECTS credit course. More information.

Important lectures and seminars in Scandinavia
Business and Politics
South Asia related culture in Scandinavia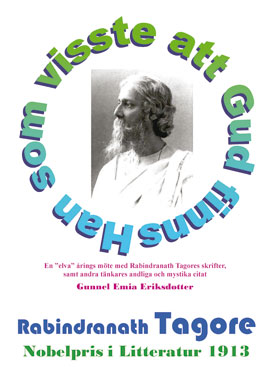 • Tagore's impact on Swedish writer theme for new book
At the Göteborg Book Fair, held 22–25 September 2011, a new book will be presented on Rabindranath Tagore and his importance for the writer Gunnel Emia Eriksdotter from Vänersborg. The book, written in Swedish, is entitled "Han som visste att Gud finns". It is unique story about the strong impact that Gurudev Rabindranath Tagore's poetry and music has made on the writer's consciousness since her childhood. The book will on display at Monter A02:66 (Recito förlag) at the Bok Fair.
More information about the book.

• Information about South Asia related culture in Sweden/ Scandinavia
See SASNET's page, http://www.sasnet.lu.se/culture.html
New and updated items on SASNET web site
---
Best regards

Lars Eklund

Deputy director/webmaster

SASNET/Swedish South Asian Studies Network

SASNET is a national network for research, education, and information about South Asia and is based at Lund University. Its aim is to promote a dynamic networking process in which Swedish researchers cooperate with their counterparts in South Asia and around the globe.
The SASNET network is open to all branches of the natural and social sciences. Priority is given to interdisciplinary cooperation across faculties, and more particularly to institutions in the Nordic countries and South Asia. SASNET believes that South Asian studies will be most fruitfully pursued as a cooperative endeavour among researchers in different institutions who have a solid base in their mother disciplines.
The network is financed by Lund University.

Postal address: SASNET – Swedish South Asian Studies Network, Scheelevägen 15 D, SE-223 70 Lund, Sweden
Visiting address: Ideon Research Park, House Alpha 1 (first floor, room no. 2040), in the premises of the Centre for East and South East Asian Studies at Lund University (ACE).
Phone: + 46 46 222 73 40
Fax: + 46 46 222 30 41
E-mail: sasnet@sasnet.lu.se
Web site: http://www.sasnet.lu.se

Back to SASNET


---