SWEDISH SOUTH ASIAN STUDIES NETWORK

---
Newsletter 111:
24 June 2010
• Final meeting for SASNET's current board


On Tuesday 11 May 2010, the current SASNET board met for the last time. The main issue for the meeting, that was held at Uppsala University, was to discuss the changed situation for SASNET since the funding from the Swedish International Development Cooperation Agency (Sida) ended on December 31, 2009.
The extensive work report for 2009 (go for it) was presented to the board by Anna and Lars, and the accounts were approved. The most important point was however the decision by the board, today representing several Swedish universities (and also with representation for NGOs and other Nordic universities, see the organisation) to dissolve itself when the current term of office is over, by 30 September 2010. The decision was unanimous, and at the same time the board thanked Lund University for its decision to give extra funding for SASNET to survive through 2010. Since SASNET has evolved a strong position among Swedish researchers nationwide, the board members hope to continue collaborative work even with a new organisation of SASNET.

• Lund University advisory reference group discusses SASNET's future
Since SASNET is now financed solely by Lund University our work (besides the upkeep of web pages and newsletters) will naturally focus more on LU than on other Swedish universities. To discuss this issue, on Tuesday 8 June, SASNET convened a meeting with a new interdisciplinary advisory reference group in charge of planning the future South Asia strategy at Lund University, as suggested by the Vice Chancellor.
The reference group members include representatives from all faculties at Lund University, but also from the university's Office of International Relations, and Lund University Commissioned Education. The June 8th meeting was the first of its kind, and aimed at presenting information about current LU collaborations with South Asia, and to discuss future aims and strategies. The SASNET staff will now follow up by developing the questions raised and a new meeting will be scheduled for October 2010.

• Farewell reception for outgoing Indian Ambassador to Sweden
On Tuesday 8 June 2010, SASNET's director Anna Lindberg and deputy director Lars Eklund participated in the farewell party for the outgoing Ambassador of India to Sweden and Latvia, Mr. Balkrishna Shetty. The reception was held at the Ambassador's residence in Stockholm (photos from the event).
Mr. Shetty, with whom SASNET has had much positive interaction during the past two years, now retires from diplomatic service and returns to Delhi. No news has been given so far about who will succeed him as Ambassador in Stockholm.

• Report from SASNET/KTH seminar on Toxic Metal Pollution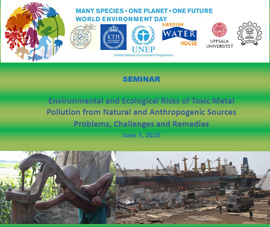 SASNET co-organised a seminar on Toxic Metal Pollution in Stockholm on the World Environmental Day 2010, that is Monday 7 June 2010. The seminar, entitled "Environmental and Ecological Risks of Toxic Metal Polution from Natural and Anthropogenic Sources. Problems, Challenges and Remedies", was held at the Royal Institute of Technology (KTH) and was organised in collaboration with the KTH-International Groundwater Arsenic Research Group (based at the Dept. of Land and Water Resources Engineering); Uppsala University; Swedish Maritime Environmental Markets (SMEM) in Uppsala, representing a group of Swedish companies with expertise in safety, health and environmental technology; and the Centre for Environmental Science and Engineering (CESE) at the Indian Institute of Technology Bombay (IITB), India. The key persons behind the workshop were Prof. Shyam R. Asolekar from CESE, Prof. Prosun Bhattacharya from KTH, and Mr. Alexander Kinigalakis, SMEM Coordinator.
Whereas Prof. Bhattacharya focused on the Arsenic problem in his seminar presentation – the same as in Lund, Prof. Asolekar spoke about "The Environmental and Ecological Implications of Trace Metal Pollution caused by Ship Dismantling and Recycling". He also moderated the concluding panel debate.
Read the conference report.

• SASNET lecture on Images of Gender on Media in Bangladesh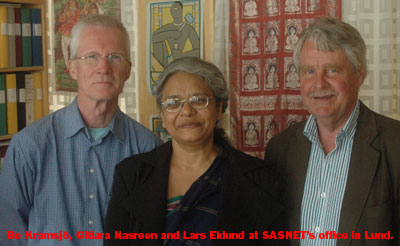 Professor Gitiara Nasreen, Professor & Chair, Department of Mass Communication and Journalism, Dhaka University, Bangladesh, held a SASNET lecture on "Images of Gender on Media in Bangladesh" at Lund University on Monday 24 May 2010. The seminar was organized in collaboration with the Department of Sociology, Lund University.
More information about the seminar.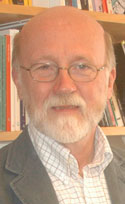 Accompanied by Mr. Bo Kramsjö, representative for Globala Skolan, she visited Lund University's Dept. of Media and Communication Studies, where Prof. Peter Dahlgren (photo) had organised a programme including meeting with students and researchers. Before the afternoon seminar at the Dept. of Sociology, Prof. Nasreen was also given an opportunity to visit SASNET's office at Scheelevägen.
Prof. Nasreen had come to Sweden on invitation by The Global School Sweden (Globala Skolan), a programme run by the International Programme Office for Education and Training and supported by Sida, in order to participate in a Sida-funded seminar on the responsibility of the rich world – twenty-four hours for global learning, held in Stockholm 20–21 May (more information), but then travelled to Lund to visit researchers and students at relevant departments at Lund University – a visit planned for by SASNET's Lars Eklund.

• Japanese researcher visited SASNET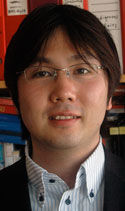 On Wednesday 2 June 2010, PhD candidate Naonori Kusakabe from the Center for South Asian Studies at Gifu Women's University in Japan visited SASNET' office in Lund, where he met with its deputy director Lars Eklund. From the spring 2010, Mr. Kusakabe is connected to the Stockholm School of Economics, and its European Institute of Japanese Studies as a Visiting researcher, first in Stockholm and then from July 2010 based at the University of Dhaka in Bangladesh. He is currently working on a comparative study of Swedish and Japanese Official Development Assistance (ODA) towards Bangladesh both now and in the past. He has spent more than four years in Bangladesh, and in 2006 he wrote his Masters thesis on "NGOs and Local People: A Case Study of Hatiya Island in Bangladesh". More information.

• SASNET seminar on micro-credits to be held in October
On Friday 22 October 2010, a one-day SASNET seminar on Micro-credits in India and Bangladesh will be held at Lund University. The seminar will be co-organised by The Swallows India Bangladesh section, an NGO based at Lund. The seminar will be moderated by Dr. Anna Lindberg, SASNET; Dr. Alia Ahmad, Dept.of Economics, Lund University; and Dr. Ranjula Bali-Swain, Dept. of Economics, Uppsala University. More information will follow.

• More information about SASNET and its activities
See SASNET's page, http://www.sasnet.lu.se/sasnet.html
• Doctoral dissertation about the Partition of India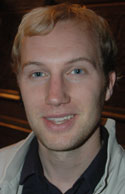 Ted Svensson, Dept. of Political Science, Lund University, defended his doctoral dissertation entitled "Meanings of Partition: Production of Postcolonial India and Pakistan" on 23 March 2010 at the Dept. of Political Science, Warwick University in UK, where he carried out his PhD programme. The thesis constitutes an analysis of the partition of British India and the ensuing state formation and state consolidation in the region. Ted Svensson argues that a study of the so-called transfer of power – and of the inclusion of the notions of 'Partition' and 'Independence' as key elements of Indian and Pakistani nation building – ought to contain a recognition of the labour by the political elites to overwrite the abyssal and ambiguous character of becoming independent and postcolonial. The external opponent at the dissertation was Prof. Jenny Edkins from Aberystwyth University, UK. More information, with an abstract.

• Doctoral dissertation on Theatre group in Orissa doing Social Work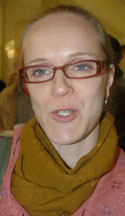 Satu Ranta-Tyrkkö, Department of Social Work Research, University of Tampere, Finland, defended her doctoral dissertation entitled "At the Intersection of Theatre and Social Work in Orissa, India: Natya Chetana and Its Theatre" on Saturday 22 May 2010. The study is an ethnography on the theatre group Natya Chetana (Theatre for Awareness) working in the state of Orissa in Eastern India, and the group's work as social work. At the same time, relying on its empirical standpoints, the study participates in the discussion on international, increasingly global social work. Although driven by social work interest, the study is strongly interdisciplinary: Besides social work, anthropological, theatre, postcolonial and South Asian studies also inform the subject matter of the work. More information, with link to full-text thesis.

• Doctoral dissertation on the Civil War in Nepal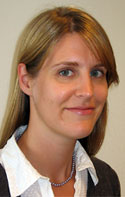 Kristine Eck, Department of Peace and Conflict Research, Uppsala University, defended her doctoral dissertation entitled "Raising Rebels: Participation and Recruitment in Civil War" on Saturday 5 June 2010. The thsis is based on fieldwork in Nepal, and tries to explain why some individuals choose to participate in rebellion, and what recruitment tactics rebel groups use to affect this decision? These questions are central to the study of civil war because rebel groups must raise troops in order to challenge the government and to survive as an organization. Faculty opponent was Stathis Kalyvas, Arnold Wolfers Professor of Political Science and Director of the Program on Order, Conflict, and Violence at Yale University, USA. Venue for the dissertation: Gustavianum (Auditorium Minus), Akademigatan 3, Uppsala. More information, including abstract.

• Donner Institute award to Ferdinando Sardella for eminent thesis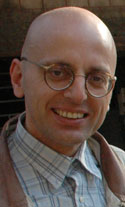 Ferdinando Sardella, Department of Literature, History of Ideas, and Religion, University of Gothenburg, has received the 2010 Donner Institute Award for Eminent Research in Religious and Cultural History. The Donner Institute is a private research institute under the auspices of the Foundation for Åbo Akademi University in Finland, and the award is given for Dr. Sardella's doctoral thesis entitled "Bhaktisiddhanta Sarasvati. The Context and Significance of a Modern Hindu Personalist", that was successfully defended at Gothenburg University in February 2010. More information about the thesis.
The award ceremony took place on Wednesday 16 June in Åbo (Turku) during an international conference entitled "Religion and the Body", organised by the Donner Institute (more information).

• Well-attended Sikh Studies conference held at Lund University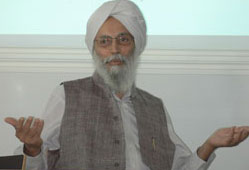 A three-day conference on "Sikhs in Europe. Migration, Identity and Translocal Practices" was held at Lund University, 16–18 June 2010. The conference was convened by Dr. Kristina Myrvold, Department of History and Anthropology of Religion; Centre for Theology and Religious Studies, Lund University. The aim was to gather leading scholars in the multidisciplinary field of Sikh studies and discuss current research projects focusing on patterns of migration, identity formations, self-representations, transmission of traditions and translocal practices among Sikhs in different parts of Europe.
While two conference days were dedicated to presentation and peer-review of papers by the members of the academic network Sikhs-in-Europe, the third conference day was a workshop for PhD students affiliated to European universities, organised by Dr. Laura Hirvi, University of Jyväskylä, Finland.
The keynote lecture on 16 June was given by Prof. Gurinder Singh Mann (photo above), Centre for Sikh and Punjabi Studies, University of Californa at Santa Barbara, USA.
More information about the conference.

• Success for Nordic South Asia Studies conference in Helsinki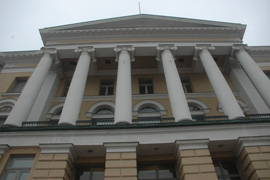 The Nordic Association for South Asian Studies, NASA, successfully arranged a conference and a PhD workshop 26–29 May 2010 in Helsinki, Finland. The theme for the conference was "Globalizing South Asia", and it was organised by the University of Helsinki. The conference brought scholars from different fields within humanities and social sciences (history, anthropology, sociology, economics, geography, environmental science, development studies and political science) together to analyze cultural, economic, political and environmental connections in South Asia. Both Nordic and non-Nordic scholars were invited to participate in the conference that was meant to stimulate networking and exchange, and to create a forum for discussions for scholars and doctoral students within and outside the Nordic countries. The conference was convened by Dr. Sirpa Tenhunen, Dept. of Social and Cultural Anthropology, University of Helsinki, and Dr. Klaus Karttunen, South Asian Studies, Dept. of World Cultures, University of Helsinki.


A peer-reviewed volume of selected papers will be published after the conference. Contributions are invited which take into account the broader context of local issues concerning culture and society in globalizing South Asia, both empirically and theoretically. Papers should be submitted to the conference organisers by the end of October 2010. The maximum length is 9000 words.
Anna Lindberg and Lars Eklund from SASNET both participated in this important Nordic conference.
Full information about the 2010 NASA conference, including full programme.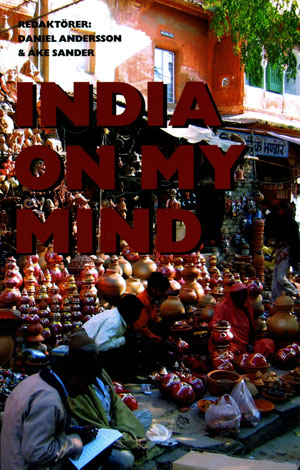 • Experiences from field study tour to India published as book
Since 2007, the Department of Literature, History of Ideas, and Religion, University of Gothenburg organises field study trips to India for students on C- and D-level, particularly to the Varanasi area due to an agreement of cooperation with the Banaras Hindu University (BHU). A concrete result of the field study tours to India is the edited volume "India on my mind" published in 2010. The book, edited by Prof. Åke Sander and Assistant professor Daniel Andersson, contains articles by students and accompanying teachers. The primary purpose is not to be a textbook on India and Indian religious traditions, but to inspire teachers and students to chose to study India and its cultures and religious traditions "in person" on location, as well as to try to show some of all that can be learned, on a personal as well as academic level, from taking part in such field studies. More information.

• South Asian Migration and Diaspora theme for Nordic Summer University
The Nordic Summer University will hold its 2010 Summer Session in Majvik, close to Helsinki, Finland, 24 – 31 July 2010. It includes a South Asia related study circle, No. 3: South Asia in the 21st Century: Explorations in Multidisciplinary Methodology. The theme for the Summer 2010 session will be "South Asian Migration and Diaspora" (coordinated by Peter B. Andersen and Igor Kotin). More information.
This South Asia workshop was supposed to also have a second separate theme, on "Religion and Conflict in South Asia", to be coordinated by Stig Toft Madsen and David Hansen. This theme has however been cancelled from the NSU 2010 Summer Session.


For more than 50 years the Nordic Summer University has been known to develop academic and intellectual debates that has involved several leading intellectuals, politicians, and scholars of the Nordic countries. The organization is sponsored by the Nordic Council of Ministers. A cluster of Nordic researchers in South Asian studies prepared a proposal for these multidisciplinary NSU seminars that was accepted in 2007. The aim was to connect presently dispersed scholars on South Asian studies and upgrade the existing mass of Nordic PhD students and younger researchers in the Nordic Summer University activities. Read the full proposal for the South Asia in the 21st Century NSU programme.

• Lund University doctoral course on Contemporary Water Governance Approaches


The LUCID Research School at Lund University invites applications for an inter-disciplinary 7.5 credits course for doctoral students, entitled "A Critical Perspective on Contemporary Water Governance Approaches" to be held during the Fall semester 2010. LUCID, Lund University's Centre of Excellence for Integration of Social and Natural Dimensions of Sustainability is a Linnaeus programme sponsored by The Swedish Research Council for the period 2008-2018. LUCID is coordinated the Centre for Sustainability Studies at Lund University (LUCSUS). It gathers seven disciplines from four faculties for together developing the scientific field of "Sustainability Science". More information about LUCID.
The aim of the Contemporary Water Governance Approaches course is to take a critical approach to current development discourses – and examine their compatibility with sustainable water governance. The course will explore approaches to water governance under the themes of normative concerns; values; power and inequality; and governance and scale. Topics covered range from rural to urban contexts; local to global water governance; and from water related laws, policies and institutions, to local practices. Case studies of water governance from the developing world will be used in order to grasp context-related factors. The ultimate outcome of the course is to enable participants to develop a well-rounded and critical understanding of what is required to govern water in a sustainable manner. The course will be held over two weeks, 20 – 25 September; and 18 – 23 October 2010. The teachers are selected experts in the field of water governance, such as Peter Mollinga from SOAS, University of London; Ashok Swain, Dept. of Peace and Conflict Studies, Uppsala University; Erik Swyngedouw, Manchester University; and Lyla Mehta, University of Sussex. Deadline for applications: 27 August 2010. More information about the course.

• UNDP report on the Millennium Development Goals achievements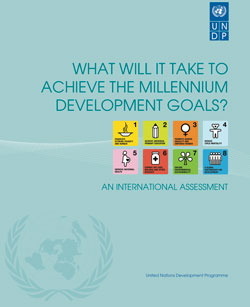 On 17 June 2010, The United Nations Development Programme (UNDP) launched an report, titled "What Will It Take To Achieve The Millennium Development Goals? An International Assessment". The report identifies a concrete action agenda to inform the outcome of the World leaders' MDG Summit in New York, to be held in September 2010. Based on evidence from 50 countries, it says that the MDGs can be achieved, and UNDP puts forward an eight-point action agenda to reduce poverty.
More information, with a link to the full report.

• SIPRI reports on the conflict in Afghanistan


On 2 June Stockholm International Peace Research Institute (SIPRI) launched the 41st edition of its Yearbook on Armaments, Disarmament and International Security. In addition to the release of its much anticipated military expenditure figures, Yearbook 2010 offers an authoritative account and analysis of recent developments in a number of security-related fields. The global financial crisis, the conflict in Afghanistan, and nuclear weapons and disarmament are among some of this year's cross-cutting security themes. More information.

• No DUO-Sweden Fellowships for South Asia collaboration


The Asia-Europe Meeting (ASEM) has initiated a new specific DUO-Sweden Fellowship Programme from 2010. It is being administered by the Swedish International Programme Office for Education and Training. The DUO-Sweden Fellowship Program aims at promoting exchanges of people between Sweden and 16 Asian countries – including India and Pakistan – on a balanced basis. Decisions regarding DUO-Sweden 2010 were taken on 7 June. Out of 43 applications, 13 were granted. None of them applies to South Asia. More information.

• Appeal for contributions to book projects
Dr Pradip Basu, Associate Professor in the Department of Political Science, Scottish Church College (affiliated to University of Calcutta) in Kolkata, India, is also Chief Editor for the Journal of Humanities and Social Sciences, a refereed international journal published annually from the 180-year old Scottish Church College. Dr. Basu now invites articles for two edited books to be published by him in 2011. The first book will focus on "The Impact of Naxalite Movement on Cinema", and the second on "Colonial Modernity and its Implications in present day India". Contributions should be submitted before 31 August 2010. Full information.

• Knowledge Must offers assistance to students and professionals


Knowledge Must is an organisation based in India (New Delhi) and Germany (Berlin) assisting students, professionals, and organisations to cross cultural boundaries, mainly between South Asia and the Western world. It offers career counselling, study and work experience, language immersion, culture-specific and process-oriented training, individualized travel arrangements, and intercultural events. More information about Knowledge Must.
Knowledge Must also runs a weblog, discussing global and intercultural communication, cultural exchange, and intercultural issues, especially between India / South Asia and the Western world. Go for the weblog.

• More information about South Asia related research at Swedish and Nordic universities
See SASNET's page, http://www.sasnet.lu.se/research.html
• Royal University College of Fine Arts offers course on Textilism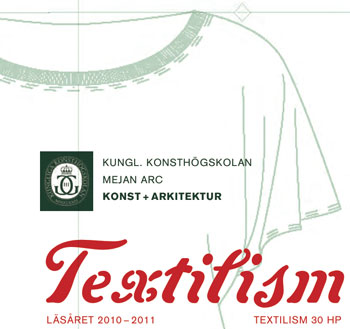 The Department of Art & Architecture at the Royal University College of Fine Arts (KKH), Stockholm organises a new South Asia related course on Art and Architecture will be organised during the academic year 2010–11. The 30 credits course is entitled "Textilism" and partly focuses on Sri Lanka. Deadline for applications was 4 June 2010.
To some extent, the course has been planned by Associate Professor Maria Lantz in collaboration with the artist Jesper Nordahl.
Jesper has spent long time in the country, and recently produced the "Katunayake FTZ/Kotmale Project", as he calls it, including a series of videos investigating the political context and impact of the neoliberal restructuring policies initiated in the late seventies by IMF and the World Bank. Jesper Nordahl completed his Master of Fine Arts (MFA) at KKH in 2000, and has since also studied for a year Sociology at Stockholm University, and in 2007 he participated in the Whitney Independent Study Program in New York.

• IIT Mumbai, IISc Bangalore and IIT Kanpur top South Asian ranking list
Webometrics Ranking of World Universities (WR) is an Internet based ranking produced by the Cybermetrics Lab, a unit of the National Research Council (CSIC) in Spain. Its ranking is based on a combined indicator that takes into account both the volume of the Web contents and the visibility and impact of this web publications according to the number of external inlinks (sitations) they receive.
The ranking is updated every six months, providing Web indicators for universities and research centres worldwide. Besides a World Ranking of 18 000 higher education institutions worldwide (with Harvard, Massachusetts Institute of Technology, Stanford and University of California Berkeley as the top four). Full information about the 2010 Ranking.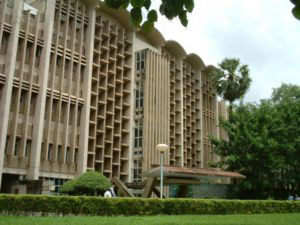 Cybermetrics Lab also offers a Regional South Asian Ranking list with the 100 top universities in the subcontinent. The three universities in top of the list for 2010 are the Indian Institute of Technology (IIT) in Mumbai (No. 461 on the World Ranking, photo)), the Indian Institute of Science (IISc) in Bangalore (565), and the Indian Institutes of Technology (IIT) in Kanpur (681). The ranking has not changed since 2004.
The top university in Pakistan is considered to be Lahore University of Management Sciences (No. 2,078 on the World Ranking); in Sri Lanka University of Moratuwa (2,610); in Bangladesh the Bangladesh University of Engineering and Technology (3,044); and in Nepal Kathmandu University (5,251). Go for the Regional Ranking list of Indian subcontinent universities (as a pdf-file).
In Sweden the Webometrics Ranking puts The Royal Institute of Technology (KTH) – No. 103 on the World Ranking, Uppsala University (107), and Linköping University (117) as the three in top.
The Web indicators used are based and correlated with traditional scientometric and bibliometric indicators and the goal of the project is to convince academic and political communities of the importance of the web publication not only for dissemination of the academic knowledge but for measuring scientific activities, performance and impact too. The ranking system follows the Berlin Principles on Ranking of Higher Education Institutions, set up by the International Ranking Expert Group (IREG) founded in 2004 by the UNESCO European Centre for Higher Education (UNESCO-CEPES) in Bucharest and the Institute for Higher Education Policy in Washington, DC.

• More information about South Asia related education at Swedish and Nordic universities
See SASNET's page, http://www.sasnet.lu.se/education.html
• Sunita Narain keynote speaker at the 2010 World Water Week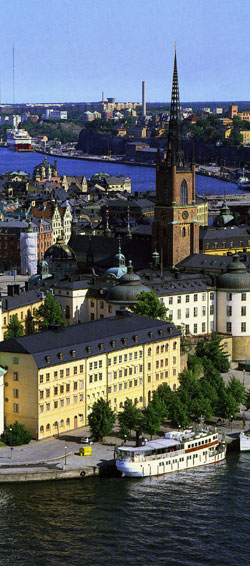 The 2010 World Water Week in Stockholm will be held 5–11 September 2010. The theme for 2010 is "Responding to Global Changes: The Water Quality Challenge – Prevention, Wise Use and Abatement". The World Water Week, organised for the 20th time by the Stockholm International Water Institute (SIWI) is the leading annual global meeting place for capacity-building, partnership-building and follow-up on the implementation of international processes and programmes in water and development, with large relevance to South Asia. It is filled with plenary sessions, seminars, workshops, side events and special activities. The Scientific Programme Committee (SPC) planning for the conference is chaired by Prof. Jan Lundqvist at SIWI (previously at the Dept. of Water and Environmental Studies, Linköping University).
Many of the workshops and seminars have special relevance for South Asia. Dr. Sunita Narain, Centre for Science and Environment, India, is a keynote speaker in Workshop No 8 on "Origins, Pathways and Accumulation of Pollutants – An Urban Perspective", a full-day workshop held on Wednesday 8 September. The workshop is convened by SIWI in collaboration with Water Environment Federation (WEF) and United Nations Educational, Scientific and Cultural Organization – International Hydrological Programme (UNESCO-IHP).
On Thursday 9 September, the International Centre for Integrated Mountain Development (ICIMOD) and International Institute for Environment and Development (IIED) organises a side event in the evening, entitled "Living with too much and too little Water in the Himalayan Region" (more information).
Venue: Stockholm International Fairs and Congress Center (Stockholmsmässan) in Älvsjö, 9 km south of central Stockholm. More information about the 2010 World Water Week.

• Copenhagen PhD workshop on Globalisation and the Role of Labour in Asia
A PhD workshop on "Globalisation and the Role of Labour in Asia" will be held in Copenhagen 11–14 October 2010. It is organised by the Doctoral School of Organisation Management Studies, at the Dept. of Intercultural Communication and Management, Copenhagen Business School (CBS), Denmark, in collaboration with the Graduate School of International Development Studies, Roskilde University. The purpose of the PhD course is to bring speakers from different disciplines and analyses of Asian labour together to get an understanding of ongoing research in different fields: sociology, anthropology, labour history, industrial relations, human resource development, cross-cultural organisation, gender relations, corporate social responsibility etc. The focus will be on interdisciplinary research, differences in theories and methods analysing Asian labour. Participants must be enrolled as PhD Students in an institution of tertiary education.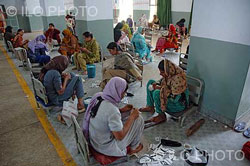 Among the issues to be addressed are the following questions:
– What is the role of labour in the global economy?
– How is Asian labour governed?
– Asian Labour in the domestic, regional and global economy: The case of the football industry in Pakistan, India and China.
– How can the role of Asian labour be empirically researched at firm, sector, national, regional and global levels of development?
– What is the effects and impact of Asian labour governance for the future of socio-economic development in Asia and the wider global economy?
The course coordinators are Associate Professor Daniel Fleming, Roskilde University, and Associate Professor Peter Wad, CBS. The synopsis must be submitted electronically no later than 11 August 2010 together with a short abstract (max 100 words) of the paper to be presented. The final paper deadline is 10 September 2010. Venue for the course: Danhostel Copenhagen Amager, Vejlands Allé 200, Copenhagen. More information.

• Stockholm International Symposium on Education For Rural Tranformation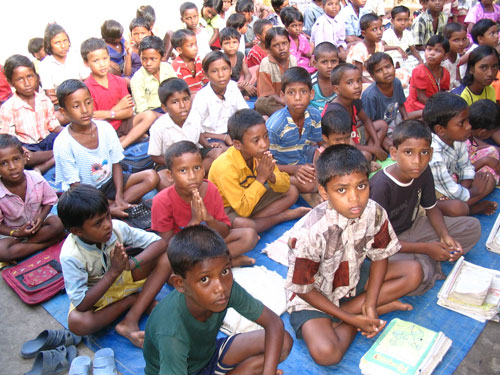 An International Symposium entitled "Education For Rural Tranformation (ERT)" will be held in Stockholm 8–10 November 2010. It is being organised by Professor Vinayagum Chinapah at the Institute of International Education (IIE), Department of Education, Stockholm University. The symposium will build upon results from an ongoing research project at IIE led by Prof. Chinapah, comparing the ERT situation in India and China (more information), but also on the ERT report that was prepared by researchers under the auspices of UNESCO International Research and Training Center for Rural Education (INRULED) in 2001 (read the report).
The papers and contributions from this ERT Symposium will later be published. Professor Zhou Nanzhao will coordinate the country thematic papers and contributions from China, Dr. Karanan Pushpanadham, for the country thematic papers and contributions from India, and Professor Vinayagum Chinapah for the international thematic papers and contributions.
Papers should be submitted before October 15, 2010. IIE will sponsor some 8-10 international participants mostly from India and China and selected invited resource persons. More information.

• Global Conclave of Young Scholars of Indian Education in New Delhi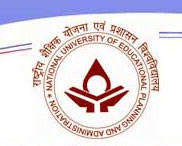 A Global Conclave of Young Scholars of Indian Education will be held in New Delhi, India 27–29 January 2011. It will be organised by the National University of Educational Planning and Administration (NUEPA) in New Delhi,which is an apex policy advisory and research organization in the field of educational planning and administration. The purpose of the Conclave is to bring together young scholars (doctoral, post-doctoral researchers, early career faculty) who are working on Indian Education across the world to share, network and to show case their research. Abstracts and papers on any aspect of Indian education may be submitted latest by August 25, 2010 along with one page CV. Abstracts and papers may be sent to nuepa.conclave@nuepa.org, or nuepa.conclave@gmail.com. Acceptance of abstracts shall be communicated by September 15, 2010. A few bursaries are available to support travel expenses. More information.

• Other conferences connected to South Asian studies arranged all over the World
See SASNET's page, http://www.sasnet.lu.se/conferences.html#conf
Important lectures and seminars in Scandinavia
• Oslo seminar on rural development projects in India


The Centre for Development and the Environment (SUM), University of Oslo, organises an open one-day seminar entitled "Achieving the MDG's? Discussing the success of 40 years of integral development in rural India" on Wednesday 23 June 2010. The seminar addresess the lessons that can be drawn from the Foundation Vicente Ferrer (FVF) integral development project in Anantapur, Andhra Pradesh India. The key speaker is Ana Palacio, former Vice-president of the World Bank, who will speak about "Future trends in development". The other participants are Dr. Hal Wilhite, Research Director at SUM; and two FVF representatives – Venkata Chalapathy Thiruveedhula, and Dasaratha Ramudu Rasineni. An open discussion follows in which the relevance of integral development projects for cooperation and development aid will be put under scrutiny. Venue: Auditorium 2, Georg Sverdrups hus (University library), Blindern, Oslo.

• Information about South Asia related lectures and seminars
See SASNET's page, http://www.sasnet.lu.se/conferences.html
Business and Politics
• Official website for Swedish support for international involvement in Afghanistan


On Wednesday 23 June 2010, Swedish Minister for Foreign Affairs Carl Bildt, Minister for International Development Cooperation Gunilla Carlsson and Minister for Defence Sten Tolgfors launched a web portal for Swedish support for international involvement in Afghanistan.
The portal will be an gateway for anyone wishing to know more about why and how Sweden is involved in Afghanistan.
The portal gathers information on how we are working in Afghanistan and the different aspects of the Swedish operation - diplomatic, military, civilian and development cooperation. It contains background information on the Swedish and international involvement and facts about the country of Afghanistan. The portal has been developed by the Government Offices in cooperation with the Folke Bernadotte Academy, the Swedish Armed Forces, the Swedish Civil Contingencies Agency, Sida and the National Police Board. Go for the new website.

• Information about South Asia related business and politics in Sweden
See SASNET's page, http://www.sasnet.lu.se/polbuss.html
South Asia related culture in Scandinavia
• Stockholm photo exhibition on the Yanadi community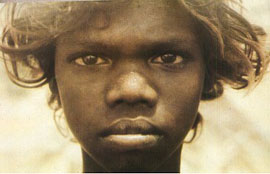 A photo exhibition on the struggle for their right to food by the indigenous Yanadi community of Andhra Pradesh, India, is on display in Stockholm during the period 4–24 June 2010. The Yanadi community consists of more than 400,000 people living in south India, mostly in the coastal district of Nellore. The majority live in huts that are usually surrounded by the fencing, preferring a semi-nomadic forest subsistence of hunting, fishing, and gathering nuts, yams, and roots. The government of India has resettled many into permanent villages, working as labourers, but many still retain their semi-nomadic lifestyle. Nearly one third of the Yanadi community still hunt, gather, fish, trap, and dig roots for their subsistence.
More information about the Yanadi community.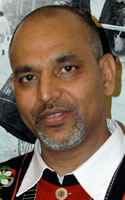 The photos are shot by Sweden based Om Prakash Singh (photo), and the exhibition has been organised by the organisation FIAN Sweden (the Swedish branch of the international FoodFirst Information and Action Network). FIAN acts as an international fact finding missions, identifying and addressing human rights violations, interviewing people threatened or affected by violations of their right to food and verifying the facts of a situation. O P Singh's photo exhibition is shown at Café Hängmattan, Södermannagatan 10, Stockholm.
More information about the exhibition (only in Swedish).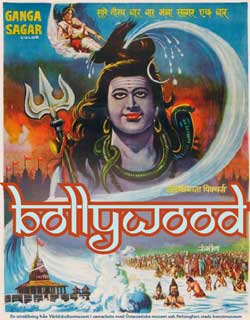 • Bollywood exhibition now moved to Kristianstad
The Bollywood exhibition previously shown at the Museum of Far Eastern Antiquities (Östasiatiska Museet) in Stockholm, and the Museum of World Cultures in Gothenburg, will now be shown at the Regional Museum in Kristianstad, during the period 20 June – 17 October 2010.
The exhibition takes off in Indian films and shows how contemporary India is connected to its past through stories and myths about love, gods and heroes. What is Bollywood? Why has it become so fantastically popular? Who are the world's most popular movie stars, really? The exhibition was inaugurated on Sunday 20 June 2010 with a speech by the Bollywood enthusiast Alexander Olin, manager of the Bollywood cinema BioCentrum in Limhamn. Venue: Regionmuseet, Stora Torg, Kristianstad.
See the exhibition poster.

• Karavan presents impressive overview of Indian literature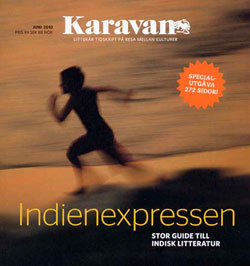 A special issue of the Swedish-language literary magazine Karavan (June 2010 issue), has been published as an impressive 272 page book presenting Indian literature. "Indienexpressen", as the volume is entitled, provides a broad panorama from Mahabharata and Ramayana to well-known novelists and poets of today. It is the first publication of its kind in Sweden. The main part of the book consists of an encyclopedia with more than one hundred portraits of Indian writers from A to Z, including longer critical essays on Salman Rushdie, Vikram Seth, Anita Nair, Krishna Sobti, Namdeo Dhasal, and Kamala Das. The special issue also includes comprehensive surveys of classical literature, modern prose and poetry in Indian languages and English, Dalit writing, drama, childrens' literature and translation. Among the contributors are well known writers from India and Sweden: Mahasweta Devi, K Satchidanandan, Sandhya Rao, Eva-Maria Hardtmann, Mirja Juntunen, Pär Jansson, Margareta Petersson, Christina Nygren, Jan Stolpe, Per J Andersson and Zac O'Yeah. The book has been edited by Tomas Löfström and Birgitta Wallin.
"Indienexpressen" is published in collaboration with the Indian Library, supported by Sida. Since 2001 the Indian Library, or Indo-Swedish Translation Project, has published more than twenty books translated from Indian languages into Swedish, and from Swedish into Indian languages. More information on the Indo-Swedish Translation Project.
"Indienexpressen" is available at Swedish book stores, but can also be ordered from the Karavan magazine.

• Swedish on-line documentary exhibition on Bangladeshi leather industry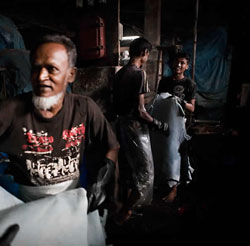 Swedish journalist Gabrielle Gunneberg and documentary photographer Amy Johansson has launched an on-line exhibition produced by the European Coalition for Corporate Justice (ECCJ) with the story "Lethal Leather – A Journey Through the Leather Industry in Bangladesh". The exhibition is part of the Rights for People, Rules for Business one-year campaign funded by the European Commission. Go for the on-line exhibition.
Both Gabrielle Gunneberg (previously Jönsson) and Amy Johansson have worked for several years in Bangladesh. Amy will however soon join the the Danish School of Media and Journalism to study documentary photography at its international programme.

• More information about South Asia related culture in Sweden and Scandinavia
See SASNET's page, http://www.sasnet.lu.se/culture.html
New and updated items on SASNET web site
• Swedish departments where research on South Asia is going on:
Constantly added to the list of research environments at Swedish universities, presented by SASNET. The full list now includes 271 departments, with detailed descriptions of the South Asia related research and education taking place! Go to http://www.sasnet.lu.se/environment.html
‡ Department of Mathematical Sciences, Chalmers University of Technology, Göteborg
& University of Gothenburg.

• Useful travelling information
Look at http://www.sasnet.lu.se/travelling.html. Updated travel advises from the The British Foreign & Commonwealth Office about safety aspects on travelling to the countries of South Asia. Recent changed information on Afghanistan, Bangladesh and Pakistan.

• Several new articles recommended for reading
Look at http://www.sasnet.lu.se/recreading.html for suggestions on interesting new articles on South Asia in International media.
Many new items added, for example Days and Nights in the Heartland of Rebellion, an essay by leading Indian democratic rights activist Gautam Navlakha and Swedish writer Jan Myrdal from a January 2010 visit to the jungles of Central India, including conversations with the leadership of CPI (Maoist). Published in the web magazine Sanhati.
---
Best regards, and a nice summer 2010
Lars Eklund
deputy director/webmaster
SASNET/Swedish South Asian Studies Network
SASNET is a national network for research, education, and information about South Asia based at Lund University. Its aim is to promote a dynamic networking process in which Swedish researchers co-operate with researchers in South Asia and globally.
The SASNET network is open to all the sciences. Priority is given to interdisciplinary cooperation across faculties, and more particularly to institutions in the Nordic countries and South Asia. SASNET believes that South Asian studies will be most fruitfully pursued as a cooperative endeavour between researchers in different institutions who have a solid base in their mother disciplines.
The network is financed by Lund University.
Postal address: SASNET – Swedish South Asian Studies Network, Scheelevägen 15 D, SE-223 70 Lund, Sweden
Visiting address: Ideon Research Park, House Alpha 1 (first floor, room no. 2040), in the premises of the Centre for East and South East Asian Studies at Lund University (ACE).
Phone: + 46 46 222 73 40
Fax: + 46 46 222 30 41
E-mail: sasnet@sasnet.lu.se
Web site: http://www.sasnet.lu.se

Back to SASNET


---