SWEDISH SOUTH ASIAN STUDIES NETWORK

---
Newsletter 101:
2 October 2009
• SASNET's future most important issue for the board


The SASNET board met in Lund on Tuesday 22 September 2009. The main issue to discuss was the future of SASNET after 31 December 2009, when the current funding period ends. Several strategies are now being pursued in order to secure additional funding to compensate for the loss of basic funding from the Swedish International Development Cooperation Agency, Sida. Since SASNET started in 2001, Sida has provided SASNET with 2/3 of its budget and Lund University with 1/3. Read the Minutes from the meeting.
SASNET's director Anna Lindberg speaks about the current financial situation in an interview made by the journalist Britta Collberg in Lund University's staff magazine LUM, No. 7/2009. Read the interview entitled "Varför hotas Sydasien-nätverket?"
• SASNET networking grants provided to 10 new projects
30 applications were received for the 2008 round of SASNET Planning Grants. On Tuesday 22 September 2009 the SASNET board approved the decisions made earlier by an independent Reference group (consisting of three eminent Nordic South Asia scholars). Networking/planning grants are now given to five new research projects. The Reference Group has also decided to give financial support to three guest lecture programmes (for inviting a guest lecturer from South Asia to visit more than one Swedish university), and two South Asia related interdisciplinary research workshops (to be held in Sweden or in South Asia). The total amount distributed was SEK 525 000.
The following researchers were awarded SASNET planning grants in order to network for new research projects:

• Pernille Gooch, Dept. of Human Ecology, Lund University (photo): "Water, Climate Change and Rural Livelihoods: Assessing Socio-economic Vulnerability and Potential Adaptive Strategies in Sikkim, India." SEK 75 000.
• Andreas Mårtensson, Malaria Research Unit, Dept. of Medicine, Karolinska Institutet Medical University, Stockholm: "Molecular characterization of Plasmodium falciparum malaria in Madhya Pradesh, India – implications for rational use of anti-malarial drugs". SEK 50 000.
• Adam Pain, Dept. of Urban and Rural Development, Swedish University of Agricultural Sciences (SLU), Uppsala: "Development of a Rural Development Network between the College of Natural Resources (CNR), Royal University of Bhutan, and the Division of Rural Development, SLU, Uppsala". SEK 70 000.
• Leslie Paul and Sadhna Alström (photo), Dept. of Forest Mycology and Pathology, Swedish University of Agricultural Sciences (SLU), Uppsala: "Development of a collaborative research project between Indian and Swedish researchers towards sustainable production of Cocos nucifera". SEK 70 000.
• Joyanto Routh, Dept. of Geology and Geochemistry, Stockholm University: "High-resolution Holocene paleoclimate records in glacial lakes from the northeastern Himalayas in Bhutan". SEK 75 000.
The following researchers were awarded SASNET planning grants in order to organise an interdisciplinary workshop:
• Willmar Sauter, Dept. of Musicology and Performance Studies, Stockholm University: "Interdisciplinary Approaches to Marginalised Performance Practices in India". SEK 75 000
• Wimal Ubhayasekera, MAX-Lab, Lund University: "Introduction to protein structures and homology modeling." SEK 50 000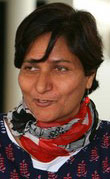 The following researchers were awarded SASNET Guest Lecture Programme grants:
• Sara Eriksén, School of Computing, Blekinge Institute of Technology, Ronneby: "Invitation of Aarti Kawlra, Principal Project Officer, Indo-UK Consortium on Advanced Communication Technology, IC&SR Project, Indian Institute of Technology Madras, Channai, India." SEK 20 000
• Anders Hydén, Dept. of Caring Sciences and Social Work, Gävle University: "Invitation of Prabhavati N Tirmare (photo), College of Social Work, Mumbai University, India." SEK 20 000
• Margareta Petersson, School of Humanities, Växjö University: "Invitation of Somdatta Mandal, Viswa Bharati University, Santiniketan, India." SEK 20 000
• Networking grants distributed to 119 projects since 2001
Since SASNET was established in 2001, a total number of 119 networking grants have been distributed to Swedish researchers working on South Asia related projects within all fields – from technology and natural sciences to humanities, social sciences and educational sciences. The researchers who have benefited from the grants belong to 20 different Swedish universities and university colleges. Out of the 119 grants awarded so far, 72 refer to networking grants to plan for new research projects/programmes; 20 to grants in order to develop new educational projects/programmes; 10 to organise interdisciplinary workshops; and 17 to the guest lecture programme.
In the evaluation of SASNET that was carried out in 2005 (go for the evaluation report), it was shown that 70 p.c. of the projects that had been given SASNET planning grants till 2004 had later been given substantial funding from other sources, such as Sida/SAREC, Swedish Research Council, Bank of Sweden Tercentennary Fund, and the European Commission. Also thereafter, SASNET's networking grants have continued to play an important role setting new South Asia related projects/programmes in motion. Go for the complete list of SASNET planning grants distributed 2001–2009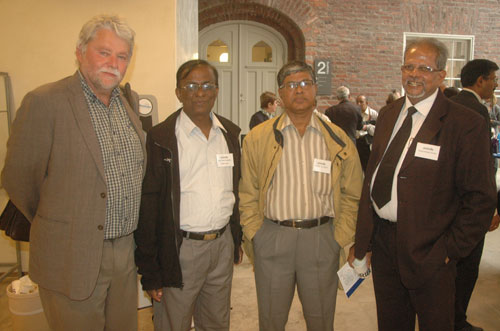 • First meeting for EURINDIA mobility programme consortium
On Monday 21 September 2009, SASNET's deputy director Lars Eklund participated in the first consortium meeting for the new Erasmus Mundus External Cooperation Window (EMECW) mobility programme entitled "EURINDIA", one of the four programme 13 lots devoted to mobility interaction between universities in Europe and India selected in 2009. This programme is administered by the Royal Institute of Technology (KTH) in Stockholm and involves another 9 universities in Europe and 8 universities in India, plus 3 associated partners. More information about EURINDIA.

The meeting was held at KTH in Stockholm, and Lars met with the programme coordinator, Ms. Alphonsa Lourdudoss (photo to the left), based at KTH, as well as representatives from the Indian partner universities. They include Anna University, Chennai; Anurag Narayan College, Gaya (affiliated to Patna University); Indian Institute of Technology (IIT) Guwahati; Indian Institute of Technology (IIT) Roorkee; National Law School of India University, Bangalore; Tamil Nadu Agricultural University (TNAU), Coimbatore; University of Kalyani, West Bengal; and University of Pune.
• EMECW programme at Lund University and Karolinska Institutet now fully running


The much larger Erasmus Mundus External Cooperation Window (EMECW) mobility programme lot 15, devoted to interaction between universities in Europe and India, that was selected by the European Commission in 2008, is now fully running. This India lot consortium was formed by 12 universities in Europe, and 8 universities in India, and came into being after a hectic groundwork by SASNET's director Anna Lindberg and deputy director Lars Eklund. The network is entirely based upon previous SASNET contacts in India as well as in Europe. The mobility lot is now coordinated by the Division of International Relations at Lund University, and has two other Nordic partner universities: Karolinska Institutet Medical University in Stockholm; and the Norwegian University of Science and Technology (NTNU) in Trondheim.
More information about the mobility lot.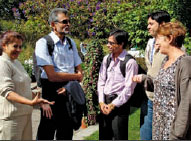 An impressive number of 53 Indian students, PhD candidates, post-docs and academic staff have arrived only to Lund University (to a large number of departments, including the Centre for East and South-East Asian Studies, Division of Chemical Physics, Dept. of Biotechnology, and Lund University Centre for Risk Assessment and Management (LUCRAM). Two students, Muditkumar Gupta and Vidyasagar Jaiswal are seen on the photo to the left, along with Vasudha Garde, Pune University; Ashok Patil, Pravara Institute of Medical Sciences; and Sidsel Hansson, Lund University. Read an article in Lund University magazine LUM No 7/09 on the successful implementation of the EMECW lot 15.
Another 20 Indian students, researchers and academic staff have come as scholarship holders to Karolinska Institutet.
A second Call for Mobility applications has been issued for this Indo-European mobility scheme coordinated by Lund University. However, it is no longer called Lot 15, but has changed name into Lot 13, and please note that this lot 13 is divided into four different programmes from 2009. 183 scholarships will be awarded for mobility starting in 2010 (with start dates between April 1 and September 1, 2010). The Call opened on 1 September 2009, and will close on 1 November. More information on the consortium web site.
• Donation of Gandhi books by the Embassy of India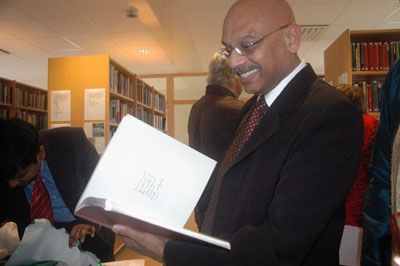 The Mahatma Gandhi Book Collection (part of the Karl Reinhold Haellquist Memorial Collection) was formally inaugurated by the Indian Ambassador to Sweden, Mr. Balkrishna Shetty, on Thursday 10 September 2009. On behalf of the Indian government, the Ambassador also took the opportunity to donate to Lund University and SASNET another 120 volumes of Mahatma Gandhi literature, either works written by Gandhi himself or books focusing on him.
The function, including a puja ceremony by Ms. Bubu Munshi-Eklund, took place at Lund University's Asia Library at Scheelevägen 15. A large number of Lund University professors and researchers, and also Indian students and guest researchers who have come to Lund University through the Erasmus Mundus External Cooperation Window India lot 15, participated. Lund University was officially represented by the Assistant Vice-Chancellor, Prof. Sven Strömqvist.
The daily newspaper Sydsvenskan carried a report from the inauguration, and also Lund University magazine LUM in its issue No. 8/2009. See the newspaper reports. (as a pdf-file).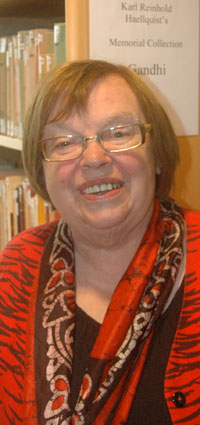 Ms. Inger Sondén Haellquist (photo) was the guest of honour since she is the person who in 2004 donated the extensive private book collection of her late husband, Karl Reinhold Haellquist, to Lund University. This collection, consisting of nearly 7 000 volumes of South Asia related literature, was selected by Lund University researchers Neelambar Hatti and Jan Magnusson, and has since been catalogued by SASNET. A small part of the collection, primarily the Mahatma Gandhi collection, is exhibited in the Asia Library. More information about the Karl Reinhold Haellquist Memorial Collection.
After the inauguration ceremony, and the presentation of the new book donation by the Indian Ambassador, a 45 minutes documentary on the life of Mahatma Gandhi was shown. The film, entitled "Mahatma – A Great Soul of the 20th Century", has been jointly produced by the Public Diplomacy Division, Ministry of External Affairs, Government of India; and the Gandhi Films Foundation.
Not only the book collection was inaugurated. Also SASNET's web site on the Mahatma Gandhi collection (www.sasnet.lu.se/gandhi) was officially launched. The web site has been prepared for SASNET by the librarian Erik Svanström.
• Great interest for SASNET's seminar on Mahatma Gandhi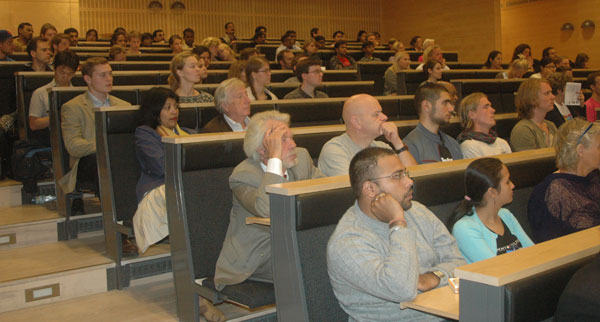 SASNET's seminar on the Role of Mahatma Gandhi in Today's Society became a major success. More than 120 people, Lund University professors, researchers and students but also many interested persons from outside the academic world, gathered for the seminar featuring David Arnold, Professor of Asian and Global History at the University of Warwick, UK, and the Indian Ambassador to Sweden, Mr. Balkrishna Shetty. The two-hour seminar was held on Thursday 10 September 2009, at Lund University's Centre for Languages and Literature (SOL-Centrum) and was moderated by SASNET's Director, Dr. Anna Lindberg. The Ambassador, Mr. Balkrishna Shetty, was the first speaker, and he gave a personal narrative on Mahatma Gandhi's life, the important role he has played in history, and the basic values that he stands for, values that should still play an important role. Prof. David Arnold came next. His presentation, entitled "Gandhi: The Mahatma and the Machine", differed in its specific focus on Mahatma Gandhi's complicated relation to machines. Whereas Gandhi was well-known for his resentment against modern industrial inventions that robbed people of their employment, he was still very much dependent on the radio, microphones, and trains, in order to reach out to the masses with his message. Full information about SASNET's Gandhi seminar.
• Nepalese students gathered for SASNET's seminar with the Ambassador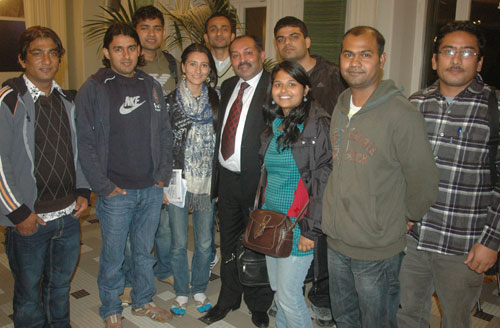 A joint SASNET/UPF (Association of Foreign Affairs at Lund University) seminar on "Political Transitions affecting the Peace Process in Nepal" was held in Lund on Wednesday 23 September 2009. Anjoo Sharan Upadhyaya, Professor of Political Science and Director, Centre for the Study of Nepal at Banaras Hindu University (BHU) in Varanasi, India, participated in the seminar along with Mr. Vijaykant Lal Karna, Nepalese ambassador to Scandinavia (based in Denmark) who is also a political scientist by profession, having worked at Tribhuvan University for 20 years.
The audience consisted of more than 70 people, mostly Lund University students, but also visiting Nepalese students (see photo with the Ambassador and a gathering of these). Dr. Leif Bjellin from the the Dept. of Cell and Organism Biology, Lund University, was the moderator for the seminar. More information.
• Ishtiaq Ahmed and Rubya Mehdi participated in SASNET's Pakistan seminar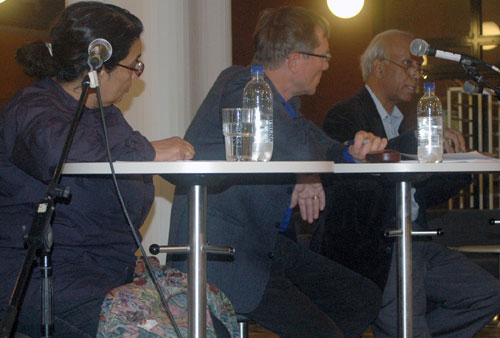 The joint SASNET/UPF (Association of Foreign Affairs at Lund University) seminar on "Contemporary Pakistan: Islamism, Human Rights and Terrorism", held in Lund on Wednesday 16 September 2009, drew an audience of more than 100 people. The speakers were Prof. Ishtiaq Ahmed, working as Visiting Research Professor at the Institute of South Asian Studies (ISAS), National University of Singapore; and Dr. Rubya Mehdi, University of Copenhagen. Ishtiaq is currently on leave from the Dept. of Political Science, Stockholm University. At ISAS, he is working on a research project entitled "Is Pakistan a Garrison State?" He is also in the process of completing a major study based on first-hand accounts of the partition of the Punjab in 1947. Ishtiaq has taught and carried out research on issues of human rights, women's rights and minorities extensively in South Asian contexts in general and in Pakistan in particular. Rubya Mehdi is a senior researcher at the Carsten Niebuhr Institute, Dept. of Cross-Cultural and Regional Studies, University of Copenhagen. She is one of Denmark's leading experts in Islamic law, and has conducted research in Denmark for 20 years. She is also a visiting professor with the Higher Education Commission of Pakistan, and she was involved in the Protection of Women Act 2006, which was passed to improve the situation of women in Pakistan. Dr. Stig Toft Madsen was the moderator for the discussion. More information.

• Hectic seminar month for SASNET
During September 2009, SASNET also organised two other seminars in collaboration with partners at Lund University. Dr. Ruby Sain from the Dept. of Sociology, Jadavpur University, India, held an open lecture at Lund University on Wednesday 16 September 2009. It was jointly organised by the School of Social Work at Lund university, Vårdalinstitutet and SASNET. Dr. Sain, who mostly works on health, illness, ageing, religion and research methodology issues, talked about "Depression – a social problem of the elderly population in India". She came to Sweden on a SASNET guest lecture programme grant,and while in Lund she also visited SASNET's root node office. More information.
On Thursday 24 September, Professor Priyankar Upadhyaya from Benaras Hindu University (BHU), Varanasi, India, held a lecture on "Religious Peace Building in India". This seminar was jointly organised by the Dept.of History of Religions, Lund University, and SASNET. Prof. Upadhyaya is Director at the Malaviya Centre for Peace Research at BHU. During September 2009 he was based at the International Peace Research Institute (PRIO) in Oslo. More information.
• More information about SASNET and its activities
See SASNET's page, http://www.sasnet.lu.se/sasnet.html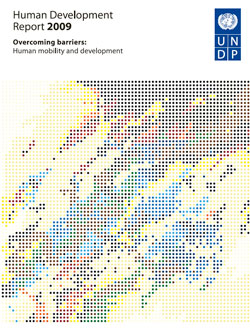 • Human Development Report 2009 published on Monday
The Human Development Report 2009 will be launched on Monday 5 October 2009. The report, Overcoming barriers: Human mobility and development, investigates migration in the context of demographic changes and trends in both growth and inequality. It also presents more detailed and nuanced individual, family and village experiences, and explores less visible movements typically pursued by disadvantaged groups such as short term and seasonal migration. The starting point for the HDR 2009 (which is the 20th yearly HDR report) is that the large inequalities in the global distribution of opportunities are a major driver for movement of people. The main message is that mobility has the potential to enhance human development - among movers, those who stay and destination communities. In practice, however, processes and outcomes can be adverse to movers, and there is an important role for better policies and institutions at the national, regional and international levels. More information about HDR 2009.
As usual a comparative Human Development Index is included in the report. In the HDR 2009, among the South Asian nations Maldives ranks highest as no. 95 among a total number of 182 countries, Maldives has climbed 4 positions since last year. Sri Lanka ranks as no. 102, up by 2 positions. Bhutan ranks as no. 132, ahead of India on no. 134 (down by 2 positions). Pakistan is ranked as no. 141 (also down by two), Nepal no. 144, Bangladesh no. 146 (up by 1), and finally Afghanistan as no. 181. Just like previous years Norway tops the list, this year before Australia and Iceland. Sweden still ranks as no. 7. Study the Human Development Index 2009.
• DevNet announces grants for seminar activities on sustainable development


DevNet, The Swedish Development Research Network on Nature, Poverty and Power, has launched a grants programme to support seminar activities on sustainable development at Swedish universities. Devnet is a national Swedish research network on sustainable development based at the Uppsala Center for Sustainable Development (jointly managed by Uppsala University and the Swedish Agricultural University, SLU). The network is financed by a Sida research network grant for the period 2009–2011. Four grants of SEK 10 000 each have now been announced. The seminar activities should have a focus on the concerns and interests of people living in poverty, highlighting the interrelation between poverty, power and the use of natural resources. Especially newly examined researchers and PhD students at Swedish universities and university colleges are invited to apply. Last date for application is October 31, 2009. More information.
• Reports on Afghanistan published by the Swedish Defence Research Agency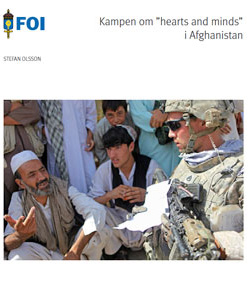 The Swedish Defence Research Agency (FOI) is involved in a research programme on Asian Security Studies. Within this broad framework, FOI has initiated a number of sub-projects dealing with India, Pakistan and Afghanistan. During the past two years FOI has also organised a number of workshops and conferences on Afghanistan and Pakistan in Stockholm, to which participants have been invited from different Swedish universities, research institutes and government agencies. As a result, FOI now issues reports. In January 2009, a report by Kristina Zetterholm, entitled "Pakistan – Consequences of Deteriorating Security in Afghanistan" was published, and in September 2009, FOI published an interesting report on the information war in Afghanistan between the Taliban and the Afghanistan government supported by western troops, entitled "Kampen om 'hearts and minds' i Afghanistan". It is written (in Swedish only) by Dr. Stefan Olsson, a political scientist previously working at Uppsala University. He has an interest in the information war in Afghanistan between the Taliban and ISAF/Nato, but is also working with issues concerning crisis management in the European Union. More information.
• Amartya Sen inaugurated Nalanda-Sriwijaya Centre in Singapore


On 11 August 2009, the Institute of Southeast Asian Studies in Singapore established a new Centre, named the Nalanda-Sriwijaya Centre. It will undertake research on historical interactions among Asian societies and civilizations. The Centre aims to serve as a forum for comprehensive study of the ways in which Asian polities and societies have interacted over time through religious, cultural, and economic exchanges as well as diasporic networks. The Centre was officially inaugurated by Nobel Laureate Professor Amartya Sen and Singapore Foreign Minister George Yeo. The Centre also plans to examine the manifestations of hybridity, convergence and mutual learning in a globalizing Asia. It sees the following as its major aims:
– To develop the "Nalanda idea" of building for contemporary Asia an appreciation of Asian achievements and mutual learning, as exemplified by the cosmopolitan Buddhist centre of learning in Nalanda, as well as the "Sriwijaya idea" of Southeast Asia as a place of mediation and linkages among the great civilizations.
– To encourage and develop skills needed to understand the civilizations of Asia and their interrelationships.
– To build regional research capacities and infrastructure for the study of the historical interactions among the civilizations and societies of Asia.
The Centre, which is headed by Professor Tansen Sen, is an affiliate project of the program to revive Nalanda University in Bihar, India, a Buddhist university which thrived from the 7th to the 13th centuries. The revived University is a joint undertaking by the regional East Asia Summit (EAS) grouping of countries, and the project will be discussed at their next Summit, scheduled to be held on 25 October 2009 in Phuket, Thailand.
Go to the web page of the Nalanda-Sriwijaya Centre.
• BASAS supports numerous autonomous research groups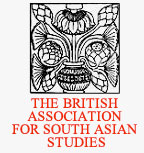 The British Association for South Asian Studies (BASAS) supports a number of autonomous research groups. These groups – effectively think tanks with members from many European and South Asian nations – are designed to generate distinctive research initiatives that may be submitted to grant-awarding bodies in the UK. These are the current Research Groups (September 2009):
– Ancient and Mediaeval Gandhara, convened by Dr Nasim Khan and Dr Cameron Petrie
– Circle of Tibetan and Himalayan Studies, convened by Dr Ulrich Pagel
– Contemporary Economics and Business: International Business, Trade and Investment, convened by Professor Rajneesh Narula, Professor Kunal Sen, Mr. Arif Zaman, and Mr. Mohammad Razzaque
– Diaspora and Development, convened by Pushpa Arabindoo
– Early Modern South Asia, convened by Professor Christopher Minkowski and Dr Polly O'Hanlon
– Geography and Environment, convened by Professor Graham Chapman, Professor Kunal Sen and Dr. Arif Zaman
– Landscape, Population and Subsistence, convened by Dr Dorian Fuller and Dr Michael Petraglia
– Pakistan Studies Group, convened by Steve Lyon and Kaveri Harriss
– Ports and Indian Ocean Exchanges, convened by Dr R Tomber and Prof P J Cherian
– PRASADA, convened by Dr Adam Hardy
– Relics and Relic Worship in the Early Buddhism of India and Burma, convened by Professor Janice Stargardt
– Social Science and Science of Climate Change in South Asia, convened by Dr Emma Mawdsley and Professor Barbara Harriss-White
– South Asian Governmentalities, convened by Deana Heath and Stephen Legg
– South Asian Language and Literature, convened by Dr Imre Bangha
– South Asian Medicine, convened by Dr Dominik Wujastyk
– Vidisha Research Group, convened by Dr Michael Willis
– Writing British Asian Cities, convened by Dr Seán McLoughlin, Dr William Gould, Dr Ananya Kabir, and Dr Emma Tomalin.
Full information about BASAS Research Groups.
• Gothenburg University dissertation about marine phytoplankton in Indian Ocean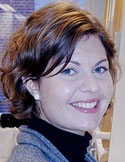 Karolina Härnström, Division of Marine Botany, Department of Marine Ecology, Gothenburg University, defended her doctoral dissertation thesis entitled "Bloom dynamics and population genetics of marine phytoplankton – Community, species and population aspects" on Friday 25 September 2009. The faculty opponent was Dr. Tatiana Rynearson, University of Rhode Island Graduate School of Oceanography, Coastal Institute, Narragansett, Rhode Island, USA. The general aim of this thesis was to study marine phytoplankton dynamics at community, species and population level. Karolina has focused on the interaction between water mass and sediment, both in temperate waters and in a tropical area (Mangalore, India) investigating the importance of resting stages and small-scale hydrographical changes for the phytoplankton community structure as well as population genetics and microevolutional processes of population dynamics. The results from coastal south-west India show that benthic resting stages contribute to blooms by resuspension, germination, and proliferation as planktonic cells in the water column, and thus, the cells can influence the phytoplankton community in the water column. There can be an alternation of the species composition if a plankton community is seeded by resting stages or by planktonic cells, and geographically the strategies of seeding can differ within the same species. More information.
• University of Bergen dissertation about Teyyam in South India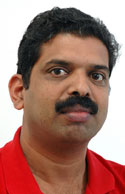 Dinesan Vadakkiniyil, Dept. of Social Anthropology, University of Bergen, defended his PhD thesis entitled "Teyyam: The Poiesis of Rite and God in Malabar, South India" on Friday 25 September 2009. First opponent was Prof. Jean-Claude Galey, Director of Studies, Ecole des Hautes Etudes en Sciences Sociales, Paris, France; and the second opponent Prof. Don Handelman, Dept. of Sociology and Anthropology, Hebrew University of Jerusalem, Mt. Scopus, Israel. More information.
• Columbia Undergraduate Journal of South Asian Studies launched
The Columbia Undergraduate Journal of South Asian Studies (CUJSAS) is a brand new web-only academic journal based out of Columbia University, USA. The journal is a space for undergraduates to publish their original research on South Asia (Bangladesh, Bhutan, India, Maldives, Nepal, Pakistan, Sri Lanka) from both the social sciences and humanities. As such, CUJSAS is multi-disciplinary, which primarily reflects the movement of the field of South Asian studies to avoid notions of academic provincialism. CUJSAS now invites undergraduate students at a college or university, or someone that has attained his/her undergraduate degree within the past year, to deliver papers for its inaugural issue. More information.
• NIAS Press provides guide to how to getting published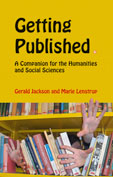 "Getting Published. A Companion for the Humanities and Social Sciences" is the title of a new book by Gerald Jackson & Marie Lenstrup, published by NIAS Press in Copenhagen. The book provides a valuable practical guide to success as an academic author with clear step-by-step guidance on how to plan and produce a manuscript, get it accepted for publication, work through book production, and promote the book for maximum success. This handbook is unique in its international outlook, its focus on the humanities and social sciences, and its integration of issues surrounding new technology, Open Access, etc. It aims to maximise would-be authors' chances of success in the race to get published. The key concerns are to increase authors' knowledge and understanding of how the academic publishing industry works; to show authors how they can integrate this understanding into every stage of their work on a publication project; and through this to give them control over the fate of their work. The book also discusses the current state and challenges of academic publishing and indicates where new technology is taking the industry.
Gerald Jackson has guided hundreds of authors through to publication as editor in chief of NIAS Press, Denmark, and is committed to keeping the Press at the forefront of technological developments. Marie Lenstrup has worked in academic book marketing for many years and now runs ASBS, Netherlands, a consultancy and marketing agency for academic publishers. More details about the book.
• The Historian invites for research papers
The Dept. of History, GC University, Lahore, Pakistan invites research papers for publication in The Historian, a referred bi-annual research journal. The next issue (Volume: 8 Number. 1, January-June 2010) is intended to examine the relationship between culture(s) and the Pakistani state. The papers should examine the institutional and pedagogical practices in the post-partition Pakistani society. We would keenly welcome theoretically innovative papers analyzing the nexus of culture and the state-craft in the contemporary Pakistan. Possible areas of study may be:
Institutional Matrix in Pakistan (Military, Police, Bureaucracy); Education as a controlling technology; Extremism, Modernity and Tradition; Pakistani Bureaucracy/Military as a cultural Elite; and Pakistani institutionalization and cultural homo/heterogeneity. Contributors may also discuss other themes with the editor Dr Tahir Kamran, The Historian, before submitting their papers. Deadline for mailing papers is 15 December 2009. to the editor. More information.
• Time to apply for funding from Endangered Archives Programme


The Endangered Archives Programme at the British Library is now accepting applications for the next round of funding. The deadline for receipt of preliminary grant applications is 6 November 2009. Since it was established five years ago, the Programme has so far funded 120 projects in 52 countries in grants totalling £3.3 million. The Programme is funded by Arcadia (formerly known as the Lisbet Rausing Charitable Fund, a grant-making fund established in 2001), in pursuit of one of its charitable aims to preserve and disseminate cultural knowledge and to promote education and research.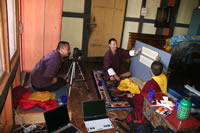 The aim of the Programme is to contribute to the preservation of archival material worldwide that is in danger of destruction, neglect or physical deterioration. The focus of the Programme is on the preservation and copying of important but vulnerable archives throughout the world. More information.
In South Asia, 26 projects in Bhutan, India and Nepal are currently supported by the Endangered Archives Programme. They include projects on digital documentation of manuscripts at Drametse and Ogyen Choling monasteries in Bhutan (photo from Drametse); a digital archive of north Indian classical music at Jadavpur University in Kolkata; and a project to preserve historic and rare monographs and periodicals in Nepal. More information about the South Asian projects.
• More information about South Asia related research at Swedish and Nordic universities
See SASNET's page, http://www.sasnet.lu.se/research.html
• 50 foreign universities want to set up campuses in India
As the Indian government prepares to allow entry of foreign education providers in the higher education sector, about 50 foreign universities – mostly from the US, UK and Australia – have expressed interest in setting up campuses in the country. The universities have approached the Ministry of Human Resource Development during the summer of 2009. The Foreign Education Providers Bill, a proposed legislation to allow entry of foreign universities in India, is yet to be approved by Parliament. The proposed Bill has been holding fire after being cleared by the Union Cabinet in February 2007. Read a report by Pallavi Singh for LiveMint & The Wall Street Journal, 20 September 2009.
• Information about South Asia related education at Swedish and Nordic universities
See SASNET's page, http://www.sasnet.lu.se/education.html
• Delhi workshop on Livelihoods and the Environment
An International Workshop on "Livelihoods and the Environment: Debating inter disciplinary perspectives" will be held in New Delhi, India, 15–16 October 2009. It is jointly organized by CSSP/Jawaharlal Nehru University (JNU), the Dept. of History/University of Delhi, and the Dept. of History/Uppsala University. The workshop convenors are Dr. Mahesh Rangarajan, Delhi University, Dr. Gunnel Cederlöf, Uppsala University, and Dr. Rohan D'Souza, JNU. The workshop aims at bringing together some of the new and exciting work in the field, especially from Sweden and India. The emphasis will be on enabling a dialogue across disciplines, with a special accent on reviewing ongoing work by younger scholars. The idea is to offer a platform for thought, reflection, debate and dialogue for an understanding of the linked challenges of nature, knowledge, ecology and academic enquiry. Swedish confirmed participants are Dr. Katrin Uba, Dept. of Government, Uppsala University, Dr. Seema Arora Jonsson, and Sriskandarajah, both from the Dept. of Rural and Urban Development, Swedish University of Agricultural Sciences (SLU), Uppsala, and Dr. Beppe Karlsson, Dept. of Cultural Anthropology and Ethnology, Uppsala University. Venue: Jawaharlal Nehru University (JNU), New Delhi.
• 5th Asia and Pacific Conference on Reproductive and Sexual Health and Rights


The 5th Asia and Pacific Conference on Reproductive and Sexual Health and Rights will be held in Beijing, China, 17–20 October 2009. The conference, following the successful conferences in Manila, Bangkok, Kuala Lumpur and Hyderabad, is being organized under the sponsorship of and in collaboration with China Family Planning Association (CFPA), International Planned Parenthood Federation (IPPF), IPPF East & South East Asia and Oceania Region (ESEAOR), and China Population Association (CPA), and co-sponsored by United Nations Population Fund (UNFPA), Partners in Population and Development (PPD) and National Population and Family Planning Commission of China (NPFPC). Topics to be covered are Sexual & Reproductive Health and Rights (SRHR); Gender , Sexuality and Culture; Youth empowerment and participation; Linkages of HIV/AIDS and RTI/ STIs prevention with SRHR; Ensuring access to SRHR for poor people and poverty alleviation; and Ageing and SRHR. More information.
• Goa conference on Indian Ocean as a Visionary Area
The second conference on the international network project "The Indian Ocean as a Visionary Area" will be held in Panjim, Goa, India, on 19–21 November 2009. The activities of the Research Network on "The Indian Ocean as Visionary Area: Post-Multiculturalist Approaches to the Study of Culture and Globalisation" (coordinated by the Dept. of Society and Globalisation, Roskilde University, Denmark) include three international conferences in South Africa, India and Denmark, one held in Witwatersrand in January 2009, and teh following two to be held in November 2009, and May 2010. The theme for the Goa conference will be 'Connecting Histories across the Indian Ocean: Religion, Politics and Popular Culture', and it is convened by Pamila Gupta, Preben Kaarsholm and Rochelle Pinto. Venue: The Sun–n–Sand Hotel, Panjim, Goa. The deadline for submission of papers accepted for presentation is 15 October 2009. More information about the conference.
• Roskilde PhD seminar on Migration, Theory and Subaltern Agency
A Doctoral Students' and Research Seminar on "Migration, Theory and Subaltern Agency" will be held at Roskilde University, Denmark, 24–25 November 2009. The seminar will be jointly organised by the Dept. of Culture and Identity, Roskilde University, and the Copenhagen Doctoral School in Cultural Studies, Copenhagen University. Doctoral students and scholars are invited to attend this seminar on central interdisciplinary discussions on theoretical, practical, and aesthetic representations of migration.They will receive feedback from experienced readers during the seminar. Papers must be submitted no later than 2 November. Full information.
• ASEFUAN Dialogue meeting on Sustainable Development and Climate Change


The ASEFUAN Dialogue on Sustainable Development and Climate Change will be held 24–27 November 2009 in Barcelona and Madrid, Spain. It is co-organised by ASEFUAN (Asia-Europe Foundation University Alumni Network) and Casa Asia. A total of 70 young experts representing the 43 ASEM process members states (including India and Pakistan) will be invited to attend the event. The project aims at providing space for younger generations in Asia and Europe to voice their opinions on what model of development should be pursued in the coming decades. The application process will be open until the 4th of October 2009. Those wishing to apply should be a senior undergraduate student or graduate student or young professional in any of the following fields: Urban Planning, Economics, Engineering, Political Science, Social Sciences, Forestry, Agricultural Studies, Environmental Studies or Development Studies. He/she should also have above-average academic records, and a demonstrated record of scholarship and leadership in their discipline. More information.
• PRIO seminar on Pakistani Migration and Transnationalism


The International Peace Research Institute, Oslo (PRIO) in Norway organizes a workshop entitled 'Pakistani Migration and Transnationalism', 14–15 January 2010. The workshop will gather 8-12 scholars who have worked specifically on issues relating to migration from Pakistan. Workshop participants will be selected on the basis of an abstract, to be submitted no later than October 26, 2009. Selected candidates will be expected to circulate their manuscript before the workshop to inform the discussion. These texts (published or unpublished, drafts or final papers) should be submitted by mid-December. The workshop is related to a research project at PRIO entitled 'Remittances from Immigrants in Norway' (RIN), led by Senior Researcher Jørgen Carling. A large component of this project is a case study of remittance sending and transnationalism between Norway and Pakistan, conducted primarily by Researcher Marta Bivand Erdal. More information,including instructions for applying.
• Hyderabad conference on Education, State, and Globalisation
A Conference on "Education, State, and Globalisation: Issues and Challenges" will be held in Hyderabad, India, 4–5 February 2010. The conference, part of a Special Assistance Programme (SAP) financed by the Indian University Grants Commission, will be held at the Department of Sociology, University of Hyderabad. It seeks to encourage discussion on the political economy of globalization of education and its impact. The objective of the conference is to provide a platform for scholars to carry out a critical evaluation of the political agendas and policy reflections on education in South Asian countries. South Asian scholars working on the issues related to education are encouraged to send their abstracts for the conference. Abstracts should be submitted before October 15, 2009. Venue: School of Social Sciences, University of Hyderabad, Central. More information.
• Kolkata seminar on Muslim Situation in India
A three-day Seminar on "Muslim Situation in India: Contemporary Questions" will be held in Kolkata, India, 24–26 February 2010. It is organised by the Centre for Studies in Social Sciences (CSSSC) in collaboration with the Indian Council of Social Science Research (ICSSR), and the Eastern Regional Centre (ERC), Kolkata. The seminar discusses questions involving Muslims that need dispassionate investigation, taking into account a whole range of issues which animate any discussion on the Muslim situation in the country. The contemporary challenges and their historical antecedents can be explored through a variety of approaches in the social sciences and humanities to arrive at a more informed understanding of the Muslim question – social and political realities, actual and perceived grievances, as well as the crucial role of the government, which is expected to ensure that the benefits of its policies reach all sections of the population and not merely to the well-entrenched dominant communities. In particular, the organisers wish to examine the problem of the lack of quality education, joblessness, poverty, religious assertiveness, social and cultural prejudices, as well as the widespread sense of discrimination, on the one hand, and complaints of pampering, on the other. Venue: CSSSC, 1, Baishnabghata Patuli Township, Kolkata 94.
• Delhi seminar on Hindu Organizations in Education, Health and Development Work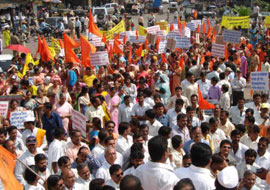 An International Seminar on "Hindu Organizations in Education, Health and Development Work" will be held 3–4 March 2010 in New Delhi, India. It is organised by the Centre for the Study of Developing Societies (CSDS) in Delhi. This seminar is the sixth part of a two year network project on the 'Public representation of a religion called Hinduism', funded by the Arts and Humanities Research Council in the UK. The Delhi seminar will focus on the many Hindu organizations involved in education and development work, both in India and the diaspora (primarily in the context of the project's three major country foci: India, the US and the UK). This includes guru shishya parampara, akhaadas and sampradyas; organizations set up in the late 19th and early 20th century for social and religious reform; institutions set up during the freedom movement, as well as after Independence, as part of nation building endeavors by leading freedom fighters; schools and hostels set up by caste groups to promote "modern" education among their respective caste brethren; institutions built by sect leaders for development work and to provide education and health care; organizations working among scheduled tribes and scheduled castes, mainly to combat Christian missionary activity and counter the influence of NGO's supported by western funding agencies; institutions set up to promote Hindu culture through Yoga, ayurveda and other Indic knowledge systems.
Previous meetings of the research project have been held held at Jawaharlal Nehru University in Delhi, the Centre for the Study of Developing Societies in Delhi, at Wabash College, Crawfordsville, USA, University of Houston-Clear Lake, USA, University of Manchester, and Unuversity of Houston (in November 2009). The final seminar in the project will be held at the University of Bonn, Germany, in July 2010 (forming a panel at the 21st European Conference on Modern South Asian Studies, to be held 26th to 29th July 2010.
Last date for submissions of papers for the Delhi seminar is 15 November 2009. More information.
• Delhi seminar on Contextualizing Geographical approaches to Studying Gender
An international seminar on "Contextualizing Geographical approaches to Studying Gender in Asia" will be held at the University of Delhi on 3–5 March 2010. It will be organised by the Dept. of Geography, Delhi School of Economics, in collaboration with the College of Asia and the Pacific at Australian National University (ANU). The seminar also has the support of International Geographical Union (IGU) commission on Gender and Geography. Apart from providing a forum for Asian geographers to critically examine the contexts that shape their work on gender, the seminar also aims to initiate a productive dialogue between them and other Asian feminists as well as those based overseas. Deadline for subnission of abstracts is 15 November 2009. More information.
• SASA 2010 conference on South Asia and the West: Entwined, Entangled and Engaged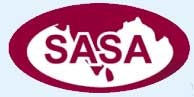 The South Asian Studies Association Conference 2010 will be held 10–11 April 2010 at the University of Southern California in Los Angeles, USA. The theme for the conference will be "South Asia and the West: Entwined, Entangled and Engaged". Co-hosting the SASA 2010 conference are the University of Southern California's Office of Religious Life and Asian Pacific American Student Services. This is one of the world's premier research and teaching universities, boasting the largest South Asian student population of any university in America. Papers are invited on topics exploring cultural and religious interchanges, entertainment cross-fertilization, economic globalization, and the diaspora experience. More information.
• PhD workshop on Study of Local Politics in Developing Countries
A PhD Workshop on "Theoretical and Methodological Approaches to the Study of Local Politics in Developing Countries" will be held at Roskilde University (RUC) in Denmark, 5–7 May 2010. It is organised by the Graduate School of International Development Studies at RUC. The workshop develops and discusses the theoretical and methodological aspects of studying local politics in developing countries with the aim of covering a wide range of social science issues, among others decentralisation, democratisation, resources access and control, conflict occurrences, migrations, border issues and the configuration of local powers. Common to all these themes are how a good researcher strives to produce worthy, original and insightful work where there is perhaps already an abundance of existing literature. Deadline for the PhD student to send applications is 1 November 2009. Venue: Bymose Hegn, Helsinge. More information.
• Singapore conference on Rabindranath Tagore's Asian Voyages
The Nalanda-Sriwijaya Centre at the Institute of Southeast Asian Studies in Singapore organises a conference entitled "An Age in Motion: The Asian Voyages of Rabindranath Tagore", on 7–8 May 2010. The keynote speaker will be Professor Sugata Bose, Gardiner Professor of Oceanic History and Affairs, Harvard University, USA. It focuses on Tagore's many journeys to the countries of Asia, beginning in 1916 with a visit to Burma and in 1922 when he travelled to Sri Lanka. Longer visits followed to China and Japan in 1924; Singapore, Malaya, Indonesia and Thailand in 1927; China, Japan and Indo-China in 1929; in addition to many countries in the Middle East and Europe. Wherein lay the rationale for these voyages? Were they simply voyages of discovery by a Nobel Laureate and his associates? Was there some overt political aim? Or was proselytizing for new understandings and new sensitivities an essential element? To what degree was the inculcation or stimulation of pan-Asianist sentiments an integral element of the Tagore voyages? Were the voyages steps in the promotion of universalism? Paper proposals are invited from scholars engaged in any aspect of relevant studies, to be sent before 15 November 2009. More information.
• 44 panels at the 21st ECMSAS conference in Bonn


On behalf of the European Association for South Asian Studies (EASAS), the University of Bonn will host the 21st European Conference on Modern South Asian Studies (ECMSAS) on 26–29 July 2010. A total number of 44 panels have been accepted for the conference (see the full list). Researchers from Europe and all over the world are now invited to suggest papers for presentation. Please contact the convener of the specific panel your paper might fit into. Conveners are to decide whether a paper will be accepted or not. Any participant has to register for the conference and take care for accomodation. More information available on the conference web site.
• Chiang Mai conference on Asian Borderlands


The 2nd Conference of the Asian Borderlands Research Network will be held at Chiang Mai University (RCSD) in Thailand, 5–7 November 2010. The theme for conference will be "Asian Borderlands: Enclosure, Interaction and Transformation". The background is that whereas borderland studies have quickly developed in Africa, Europe and North America, the field is still in its infancy in Asia. The Chiang Mai conference intends to encourage scholarship that looks across Asian borders. It takes its cue from an important new book by James C. Scott, The Art of Not Being Governed: An Anarchist History of Upland Southeast Asia (Yale UP, 2009). In this book, Scott focuses on the mountainous regions of the Himalayas and its lower ranges that run from the Central Highlands in Vietnam, most of Laos, Northern Thailand, Southwest China, Northern Burma, Northeast India, Eastern Bangladesh, Bhutan, Nepal and Tibet. The 200 million people living in this huge region (over 15 million km2) are geographically dispersed and culturally diverse, yet they share crucial cultural, economic and social characteristics: hill agriculture, physical mobility, relatively egalitarian social structures, as well as commonalities in material culture and outlook. National borders often appear utterly arbitrary to them as many groups spill across two or more national borders. In this way they distinguish themselves from the lowland populations who dominate the states in which they live. Scott refers to this region as 'Zomia', a term coined by Willem van Schendel (2002/2005).
Conceptually innovative papers, based on new research, are invited. Panels will be considered that have a thematic focus, are of a comparative character, and involve scholars affiliated to distinct research institutions. Deadline to send in abstracts and/or panel proposals is 1 December 2009. More information.
• Other conferences connected to South Asian studies arranged all over the World
See SASNET's page, http://www.sasnet.lu.se/conferences.html#conf
Important lectures and seminars in Scandinavia
• Gothenburg seminar on Indian Philosophy and Religion
The Department of Literature, History of Ideas, and Religion, Gothenburg University, arranged an open seminar entitled "An Introduction to Indian Philosophy and Religion" on Thursday 24 September 2009. The seminar was organised in collaboration with the International Forum for the Study of Society and Religion (IFSSR), a joint initiative by the Faculty of Arts at the University of Gothenburg; Jadavpur University, Kolkata; Oxford Center for Hindu Studies, UK; and University of Århus, Denmark. More information about this newly formed network that had its first conference in Kolkata in June 2009. The Gothenburg seminar featured two visiting lecturers from Jadavpur University, Prof. Piyali Palit, Dept. of Philosophy; and Prof. Ruby Sain, Dept. of Sociology. More information.
• Oslo seminar on seminar on Climatic and Environmental Challenges in the Himalaya region
The Norwegian Committee for Tibet and Norge-Nepalforeningen jointly organise a seminar on Climatic and Environmental Challenges in the Himalaya region, in Oslo on Monday 5 October 2009, 18.30–21.35. Participants include Halvor Dannevig from the CICERO Centre for Climate Research. Currently, CICERO is preparing a research report on Climate Change in the Himalayas, in collaboration with the United Nations Environment Programme (UNEP), Grid Arendal, and the Norwegian Institute for Natural Science (NINA). This report will be presented at the Copenhagen Climate Change Summit 2009 to be held in December. Venue: Amalie Skram-salen, Litteraturhuset, Wergelandsveien 29, Oslo. More information.
• Lund University Development Research Day 2009
Lund University Development Research Day 2009 will be held on 13–14 October 2009. The focus for this year is "Development and Conflicts over Resources in Africa", but students and researchers are welcome to present their development related research also from other parts of the world. Presentations from Minor Field Studies (MFS) projects are extra welcome. The first day is devoted to a plenary session on Africa, whereas on the second day there will be parallel sessions where students and researchers present theses and research projects. The Hydén Award for Best Thesis on Democratisation and Development in the Third World will also be presented. If you as a Lund University student/researcher are interested to present your research, please submit the title and abstract by e-mail to Ann Åkerman at Lund University Centre for Sustainability Studies (LUCSUS) not later than Wednesday 7 October. Venue: Room Världen, Geocentrum 1, Sölvegatan 10. More information.

• Uppsala conference on Climate Change, Power and Poverty
A one-day Climate Change, Power and Poverty Conference will be held in Uppsala on Wednesday 14 October 2009, 08.30–17.00. It is organised by DevNet, The Swedish Development Research Network on Nature, Poverty and Power, based at the Uppsala Center for Sustainable Development (jointly managed by Uppsala University and the Swedish Agricultural University, SLU). The conference is an opportunity to discuss interconnections between climate change, power structures and poverty with hopes to influence efforts for better approaches to the multiple dimensions of climate change. This conference is timely in that it coincides with a period in which Sweden is acting chair of the European Union and precedes the United Nations Climate Change Conference in Copenhagen, scheduled for 7–18 December 2009. Keynote speakers include the activist and Rhodes Scholar Dr. Kumi Naidoo (photo) from South Africa. He is chair of the Global Campaign for Climate Action (GCCA). He has recently been appointed as Director General of Greenpeace International. More information.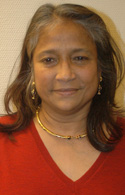 • Naila Kabeer lectures at Lund University
Professor Naila Kabeer from the Institute of Development Studies, University of Sussex in Brighton, UK, will hold an open seminar at Lund University on Monday 2 November 2009, 13.15–15.00. She will talk about "Development NGOs and the struggle for democratic values in Bangladesh: 'changing the habits of the heart'". Prof. Kabeer is a social economist specialising in gender, poverty and social policy issues. She has done extensive research, teaching, training and advisory work in the fields of gender, poverty, household economics, labour markets and social protection. The seminar is jointly organised by the Centre for East and South-East Asian Studies (ACE) and The Swallows India Bangladesh. Venue: Room Alfa 1010, ACE, Scheelevägen 15, Lund. More information.
• Copenhagen seminar with Jadavpur University film researcher
Dr. Abhijit Roy from the Dept. of Film Studies, Jadavpur University, Kolkata, India, will hold an open lecture entitled "Betty comes to India: Television, globalization and popular discourses of 'change" in Copenhagen on Thursday 12 November 2009, 10.00–12.00. He has been invited to Denmark for the film festival CPH:DOX 2009, but Dr. Roy will also also visit the Section for Indology, Dept. for Cross-Cultural and Regional Studies, University of Copenhagen, organising the seminar in collaboration with the Asian Dynamics Initiative (ADI). In his presentation, Dr. Roy tries to map the vision of the 'modern' in Indian soap opera in an effort to complicate the popular binary of tradition/modernity and to broadly draw attention to the way the post-colonial negotiates the Global. He focuses on a serial, called Jassi Jaisi Koi Nahi. Venue: Nordic Institute of Asian Studies (NIAS), Leifsgade 33, 3rd floor, Copenhagen. More information.
Business and Politics
• Information about South Asia related business and politics in Sweden
See SASNET's page, http://www.sasnet.lu.se/polbuss.html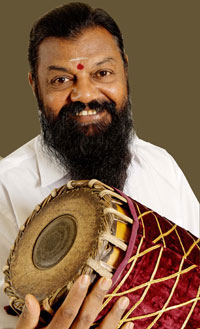 South Asia related culture in Scandinavia
• Karaikudi R. Mani on concert tour in Sweden
The Mridangam maestro Karaikudi R. Mani and his group of South Indian musicians, Sruthi Laya, visit Sweden in the beginning of October 2009. On Thursday 1 October they performed at Kulturhuset in Stockholm, and the following day, Friday 2 October, at 20.00, they perform at Inkonst, Bergsgatan 29, Malmö. Karaikudi is accompanied by B V Balasai on South Indian Flute, and U P Raju on Electric Mandoline. The concert will be introduced with a Bharata Natyam dance performance by Srimati Rajeswari Sainath, and Vayavashi. They dance to rhytms composed by Karaikudi. More information about Karaikudi.
• Asian Dance Academy invites to varied programme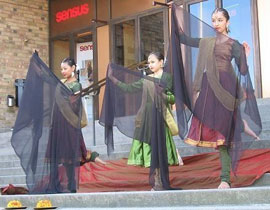 The Asian Dance Academy in Stockholm (Den Asiatiska Dansakademin, DADA) organises a concert programme with Ghunghuroos, a dance group consisiting of girls from India, Nepal, Bangladesh, Pakistan and Sweden, on Thursday 8 October 2009, at 19.00. The concert programme entitled "TAAL" also features the Tabla maestro Debasish Mukherjee from Kolkata, India, and a Kathak dance performance by Veronica Tjerned. DADA is an association transcending national and religious borders with an aim to promote Asian dance, music and culture in Sweden, an initiative taken by Ms. Tjerned. Venue for the programme: Vår Teater Farsta, Farstagången 8, Stockholm. More information (as a pdf-file)
• More information about South Asia related culture in Sweden and Scandinavia
See SASNET's page, http://www.sasnet.lu.se/culture.html
New and updated items on SASNET web site
• Swedish departments where research on South Asia is going on:
Constantly added to the list of research environments at Swedish universities, presented by SASNET. The full list now includes 256 departments, with detailed descriptions of the South Asia related research and education taking place! Go to http://www.sasnet.lu.se/environment.html
ƒ Lund University Centre for Risk Assessment and Management (LUCRAM), Lund University

ƒ Swedish Defence Research Agency (FOI), Stockholm
• Useful travelling information
Look at http://www.sasnet.lu.se/travelling.html. Updated travel advises from the The British Foreign & Commonwealth Office about safety aspects on travelling to the countries of South Asia.
---
Best regards,
Lars Eklund
deputy director/webmaster
SASNET/Swedish South Asian Studies Network
SASNET is a national network for research, education, and information about South Asia based at Lund University. Its aim is to promote a dynamic networking process in which Swedish researchers co-operate with researchers in South Asia and globally.
The SASNET network is open to all the sciences. Priority is given to interdisciplinary cooperation across faculties, and more particularly to institutions in the Nordic countries and South Asia. SASNET believes that South Asian studies will be most fruitfully pursued as a cooperative endeavour between researchers in different institutions who have a solid base in their mother disciplines.
The network is financed by Sida (Swedish International Development Cooperation Agency) and by Lund University.
Postal address: SASNET – Swedish South Asian Studies Network, Scheelevägen 15 D, SE-223 70 Lund, Sweden
Visiting address: Ideon Research Park, House Alpha 1 (first floor, room no. 2040), in the premises of the Centre for East and South East Asian Studies at Lund University (ACE).
Phone: + 46 46 222 73 40
Fax: + 46 46 222 30 41
E-mail: sasnet@sasnet.lu.se
Web site: http://www.sasnet.lu.se

Back to SASNET


---