SWEDISH SOUTH ASIAN STUDIES NETWORK

---
Newsletter 124:
13 June 2011
• Julia Velkova back at SASNET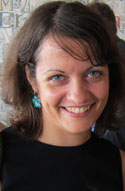 From 1 July 2011, Ms. Julia Velkova (photo) works full-time for SASNET as assisting webmaster, in charge of SASNET's web development. This work is carried out in close collaboration with the Nordic Institute of Asian Studies (NIAS) in Copenhagen. Julia is also in charge of the final preparations for the SASNET/NIAS joint conference for young Nordic scholars to be held in Falsterbo 16–18 August 2011, and involved in planning for a number of conferences/dance performances in commemoration of Rabindranath Tagore to be held in the Nordic countries during September.
Julia has already worked with the previous Falsterbo conferences in 2009 and 2010, and she was Acting Deputy Director for SASNET for a period during Lars' absence earlier this year. She has a background from Bulgaria, where she has obtained an MA degree in Eastern Philosophy and Culture with focus on India. A few weeks ago, she completed her second masters degree in Communication for Development at the School of Arts and Communication, Malmö University.
Julia has a keen interest in developing the relations between South Asia and Europe, as well as working with projects for social change through art and technology. Besides, she has experiences from project assignments with the Gothenburg Dance & Theatre Festival, and the free theatre group Aktör & Vänner where she was responsible for the coordination of international collaborations, fundraising and website maintenance. Finally and not the least important, she has 10 years of experience of working with IT for development in the Balkans, former Soviet states and Europe, as well as with overall project coordination.

• SASNET visits to South Asia related researchers in Gothenburg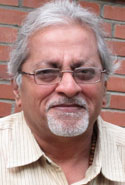 On Friday 27 May 2011, SASNET's deputy director Lars Eklund visited Gothenburg, in order to learn about two interesting projects with strong relevance to South Asian studies at the University of Gothenburg.
In the morning, a meeting was organised at the School of Business, Economics and Law by Professor Ramnath Narayanswamy (photo), one out of three Indian researchers currently based at the Dept. of of Business Administration as part of the Visiting Professors programme. Another Indian visiting professor also attended the meeting, Associate Professor Ashok Thampy, as well as the program coordinator, Dr. Robin Biddulph, the Head of the International Visiting Professors Programme at the School, Dr. Sara Stendahl, and Ingela Palmgren, Director, Corporate Relations, School of Business, Economics and Law.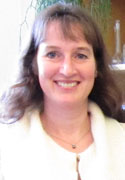 From the School of Business, Economics and Law, Lars Eklund proceeded to the Nordic School of Public Health (NHV), this time accompanied by Julia Velkova, currently working on a project basis for SASNET. They went to NHV in order to meet Dr. Alexandra Krettek (photo), Associate Professor of Cardiovascular Prevention at Sahlgrenska Academy, University of Gothenburg; and Professor Göran Bondjers, former Dean of the Faculty of Medicine, Sahlgrenska Academy.
A meeting was organised to present University of Gothenburg's new collaboration project with three partner universities in Nepal – Kathmandu University, Tribhuvan University, and Patan Academy of Health Sciences. The interdisciplinary project, headed by Dr. Krettek, involves researchers from several departments and is entitled "Collaboration between GU and Nepali Institutions: Strengthening Health Education, Supporting Research, Monitoring Health". It is based on previous Linnaeus Palme exchange programme experiences with Tribhuvan University, but seeks to include additional Nepali institutions and programmes for both education and research. It is one out of a number of new international projects initiated by University of Gothenburg as part of a long-term ambition to create a profile as 'The Global University'.
Read Lars' report from the 27th May Gothenburg meetings.

• SASNET participation in Go:India project kick-off meeting at Gothenburg

On Tuesday 7 June 2011, SASNET's deputy director Lars Eklund and assistant webmaster Julia Velkova visited University of Gothenburg, to attend the first day of the kick-of conference for its Go:India project, another international project initiated by University of Gothenburg as part of a long-term ambition to create a profile as 'The Global University'. Second and third day of the conference, SASNET's director Anna Lindberg came from Lund to participate in the meetings dealing with planned activities for the coming three years, including, among other things, joint conferences, writing of joint research projects, teacher and student exchange. More information below.

• Report from SASNET visit to Skövde University seminar meeting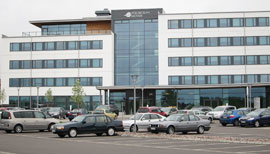 On Monday 16 May 2011, SASNET's deputy director, Lars Eklund visited Skövde University to attend a seminar meeting organised by Professor Abul Mandal, School of Life Sciences. The aim was to discuss Skövde University's ongoing partnership programmes with both University of Rajshahi University, Bangladesh (a Linnaeus Palme exchange collaboration programme), and two universities in Pune, India, involved in a Sida funded Partner driven collaboration project on Urban Indian Development. Professor Mandal, who coordinates both programmes, organised the joint meeting to discuss how to proceed with them.
The meetings were attended by the Vice Chancellor at Skövde University, Professor Sigbritt Karlsson, and Ms. Sofia Henningsson, International Coordinator at the university. Ms. Sadia Sharmin from the Embassy of Bangladesh in Stockholm also participated.
Read Lars' report from the meeting.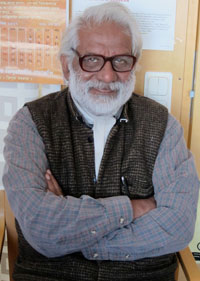 • Dipak Malik visited SASNET at Lund University
After attending the Go:India kickoff conference at Gothenburg University, and holding a lecture for Hindi students at Stockholm University, Prof. Dipak Malik from Gandhian Institute of Studies in Varanasi came to Lund, and visited SASNET's office on Monday 13 June 2011. Prof. Malik has been a member of SASNET's South Asian reference group and has a strong attachment to Lund and Lund University. During his stay in Lund he met colleagues from the departments of Sociology and Social Work, besides having discussions with Anna Lindberg and Lars Eklund from SASNET.

• Courtesy visit to SASNET by Dr. Sudipta De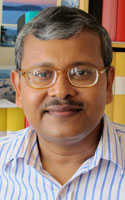 Associate Professor Sudipta De from the Dept. of Mechanical Engineering, Jadavpur University, Kolkata, India, visited SASNET's office in Lund on Tuesday 14 June 2011. Dr. De has been involved in collaborative research for many years with Prof. Mohsen Assadi at the Dept. of Energy Sciences, Lund University. He has also spent time at the Royal Institute of Technology (KTH) in Stockholm, as a scholarship holder under the Erasmus Mundus Action 2 programme India4EU (coordinated by Politecnico di Torino, Italy). During his visit to SASNET he met deputy director Lars Eklund.

• More information about SASNET and its activities
See SASNET's page, http://www.sasnet.lu.se/sasnet.html
Kick-off start for Go:India project at University of Gothenburg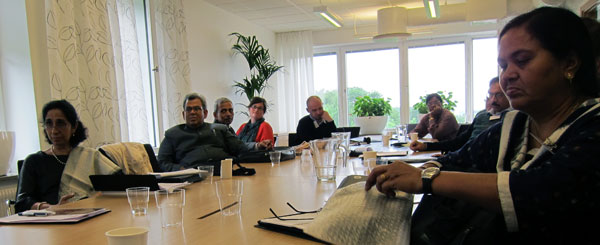 University of Gothenburg has launched a new project entited Go:India. This will be a three year project (2011 – 2013), intended to build a platform for co-operation within the areas of research, teaching and education between its Swedish partners, consisting of researchers at University of Gothenburg's Faculty of Arts (Dept. of Literature, History of Ideas and Religion); Faculty of Fine, Applied and Performing Arts (School of Photography, and the School of Design and Crafts); Sahlgrenska Academy (Global Health, Institute of Biomedicine); and the Faculty of Social Sciences (Dept. of Social Work), and their collaboration partner institutions in India.
These are Banaras Hindu University (BHU) in Varanasi; Sarai/Centre for the Study of Developing Societies (CSDS) in Delhi; Gandhian Institute of Studies in Varanasi; Jadavpur University in Kolkata; Punjabi University in Patiala; Visva-Bharati University in Shantiniketan; Tata Institute of Social Sciences (TISS) in Mumbai; Srishti School of Art, Design and Technology in Bangalore; and Union Biblical Seminary in Pune.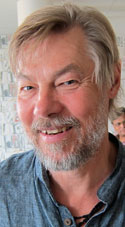 The project director is Prof. Åke Sander (photo), Dept. of Literature, History of Ideas, and Religion.

The Go:India project is only one of a number of new international projects at University of Gothenburg. They are part of a long-term ambition to create a profile such as 'The Global University' at University of Gothenburg (GU) – more information. This notion is based on the university's action plan for internationalisation 2008-2012. This plan focuses on the development of exchange, at all levels, with universities in other countries where special attention should also be given to developing a long-term and sustainable strategic collaboration with partners in for example South Asia. The cooperation efforts should be clearly linked to values of international solidarity and global responsibility, and must be of a different character than traditional student mobility.
More information on the Go:India project web site.
On 7–9 June 2011 the Go:India project arranged its first joint event in Gothenburg, a Kick-off conference where representatives from all the partner institutions met to discuss and plan the details of the planned activities for the coming three years, including, among other things, joint conferences, writing of joint research projects, teacher and student exchange. Lars Eklund, Anna Lindberg and Julia Velkova represented SASNET at the three-day meeting. The event was inaugurated by Prof. Clas Alvstam from the School of Business, Economics and Law – being the Vice Chancellor's Advisor on International Affairs. See the programme for the meeting.
See Lars Eklund's photos from the first day.
As a means to broaden the scope for connections between the University of Gothenburg and Indian universities and colleges, the Go:India project has also recently established the Gothenburg-India Academic Network (GIAN). A network aiming to go beyond the go:India project and include more partners. More information.

• Aga Khan University delegation visited Uppsala and Karolinska


A seven-member delegation from the international and private Aga Khan University's (AKU) campuses in Karachi , Pakistan and Nairobi, Kenya visited Sweden on 9–11 June 2011. They came to visit Uppsala University's Department of Women's and Children's Health, hosted by Prof. Lars-Åke Persson, on June 9th, and the Department of Public Health at the Global Health Unit, Karolinska Institutet in Stockholm, hosted by Prof. Bo Lindblad and Prof. Vinod Diwan (who is chairman of the Karolinska International Research and Research Training Committee, KIRT), on June 10th.
The visits are part of planning for a new Centre of Excellence in Neonatal-Maternal-Child Health (NMCH) at AKU. The delegation wants to learn how KI and Uppsala University have organized the continuum of Reproductive Health and MCH programs from the academic point of view. They also like to discuss how current collaboration should proceed; initiatives are planned to be extended to both South Asia (Pakistan, Afghanistan, Tajikistan) and East Africa (Kenya).
Aga Khan University has had an official research and research training program with KI since 19 years (more information). Nine of the faculty at AKU Karachi currently have PhDs from KI, all have returned to Karachi and three of them hold interim chairs.
The Pakistani delegation was headed by Mr. Allaudin Merali, Vice President, Health and Operational Services, responsible for AKU's operational functions across all locations, including: AKU Hospital in Karachi and affiliated health services in Pakistan and Afghanistan. Among the participants are also Prof. Zulfiqar A. Bhutta, Noordin Noormahomed Sheriff Professor and Founding Chair of the Division of Women and Child Health at AKU in Karachi. Prof Bhutta was a member of SASNET's South Asian reference group till 2008.

• Post-doc funding for Uppsala project on Hinduism and Globalisation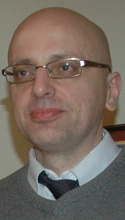 On 26 May 2011, the Swedish Research Council awarded Dr. Ferdinando Sardella, History of Religions, Faculty of Theology, Uppsala University, a scholarship for two years to continue his work as a post-doc on a new research project on modern Hinduism and globalization. The project is entitled "Hinduism and Globalisation: A Return Journey, focusing on Vaishnavism – the leading religious culture of Hindu India. Interestingly, an important element of Vaishnava culture concerns the mutual influence of Indians and Europeans through the migration and transformation of religious movements. The primary purpose of this project is to explore through archive sources and interviews the growth of a modern Hindu movement in Sweden known as the Gaudiya Math with particular focus on Stockholm, where it is well represented, but insufficiently explored. A secondary purpose is to investigate the impact of the movement in the area in West Bengal as it returned there. More information about the project.

• Doctoral dissertation on cold acclimation in plants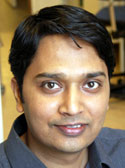 Aakash Chawade, Department of Plant and Environmental Sciences, Gothenburg University, defended his doctoral dissertation entited "Unravelling the complexity of cold acclimation in plants" on Friday 10 June 2011, at 10.00. Mr. Chawade has been working with Prof. Olof Olsson on projects related to understanding processes involved in the cold acclimation mechanism in Arabidopsis thaliana, oats and rice. One of the projects have focused on Cold stress in Oryza sativa – rice – in Nepal. Rice is a staple for a large part of the human population and more so in the Asia. It can be grown on the plains as well as on the hills. In-spite of possessing the functional CBF genes in the genome, rice is a chilling tolerant but cold sensitive plant. Some of the rice cultivars are however better chilling tolerant than the rest. Aakash's goal in this project has been to study and characterize rice genes that could improve the freezing tolerance of rice. Hence, he has studied four different rice genes by over-expressing them in Arabidopsis thaliana.
The faculty opponent is Professor Tapio Palva, Department of Biological and Environmental Sciences, University of Helsinki, Finland. Venue: Lecture hall, Botanhuset, Carl Skottbergs gata 22 B, Gothenburg.

• Doctoral dissertation on Buddhism, war and nationalism in Sri Lanka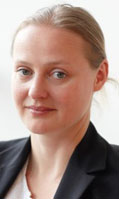 Iselin Frydenlund, Dept. of Culture Studies and Oriental Languages (IKOS), University of Oslo, will defend her doctoral dissertation entitled "Canonical Ambiguity and Differential Practices: Buddhist Monks in Wartime Sri Lanka" on Wednesday 15 June 2011, at 09.15. This study analyses the relationship between Buddhism, war and nationalism, focusing on the Sri Lankan civil war (1983–2009). Based on a combination of historical analysis and field data, it explores the ambiguities and flexibility of Buddhism in relation to war. Theravada Buddhism provides space for competing discourses about the state and violence, but it does not have a systematic just-war tradition similar to those of Christianity or Islam. During Sri Lanka's civil war, Buddhist monks were in favour of a military solution to the conflict, and this dominant militarist position co-existed with a normative discourse on nonviolence. Thus, the Buddhist concept of nonviolence should not be confused with pacifism. A pacifist discourse does exist, but it represents a minority position. In her thesis, Iselin Frydenlund argues that understanding monastic views on war, nationalism and inter-ethnic relations requires taking specific local contexts into account. Her field data show that discourses of peace and inter-ethnic harmony were more predominant among monks in the war zones compared to the dominant nationalist discourses among monks at the political centre, but also that monks in the war areas were closely linked to nationalism and state activity. Thus, the rapidly shifting social realities of Sri Lanka make it impossible to reduce monks' views and practices to a single grand theory of Buddhism or nationalism.
The evaluation committee consists of Professor John C. Holt, Bowdoin College, USA; Professor Jonathan Spencer, University of Edinburgh, UK; and Professor Anne Stensvold, University of Oslo.
Venue: Auditorium 2, Eilert Sundts hus, Blindern, Oslo.
More information about the thesis.

• Doctoral dissertation on HIV among women selling sex in Lahore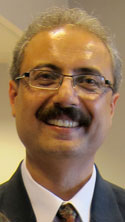 Mohsin Saeed Khan, Division of Global health (IHCAR), Dept. of Public Health Sciences, Karolinska Institutet (KI), Stockholm, will defend his doctoral dissertation entitled "Poverty of Opportunity for Women Selling Sex in Lahore, Pakistan: Knowledge, Experiences and Magnitude of HIV and STIs" on Wednesday 15 June 2011, at 13.00. The opponent is Prof. Eric Sandström, KI. The main aim with the thesis is to estimate the magnitude and severity of HIV / STIs among women selling sex along with their health seeking behaviour and the level of preparedness of the health system for management of HIV/STIs.
Mr. Khan has 17 years of public health experience working for Government of Pakistan and multilateral, bilateral and international NGOs including World Bank, UNFPA, UNHCR, UNICEF, CIDA, DFID, GTZ, EC, British Council and National AIDS Control Program as a Health Systems Specialist. During 2009, Mr. Saeed Khan was also a member of SASNET's South Asian Reference Group.
Venue: Rockefeller, KI, Nobels väg 11, Solna.
More information, with link to full-text thesis.

• Doctoral dissertation on game-related archaeological finds at Mohenjo-daro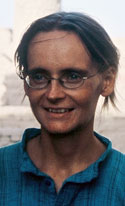 Elke Rogersdotter, Department of Historical Studies/Archaeology, University of Gothenburg, defended her doctoral dissertation entitled "Gaming in Mohenjo-daro – an Archaeology of Unities" on Saturday 5 February 2011. The faculty opponent was Dr. Eva Myrdal, the Museum of Far Eastern Antiquities, Stockholm. The thesis deals with the traditionally neglected concept of 'play and pleasure' and its impact on past social structures. The thesis examines game-related finds with the aim of reaching and discussing the social influence of the dimension of play in an ancient settlement. The finds originate from the Bronze Age Indus Valley settlement of Mohenjo-daro in Sindh, Pakistan, the largest, urban settlement of the Bronze Age Indus Valley cultural complex (Integration Era ca. 2600-1900 BC). The site has produced a number of game-related artefacts (dice, gaming pieces and others). Selected finds have been analyzed through museum studies in Karachi and Mohenjo Daro, as well as via elderly, written sources such as field reports.
Read the full-text doctoral thesis.

• ISP at Uppsala University celebrates its 50th anniversary with seminar


A one-day seminar to celebrate the 50th Anniversary of International Science Programme (ISP) at Uppsala University will be held on 26 September 2011. When it started in 1961, it was called the International Seminar for Research and Education in Physics. Over the 50 years since then, the programme has developed from a fellowship programme into a capacity building programme, not only in Physics, but also in Chemistry (since 1970) and Mathematics (since 2002). ISP gives long term support to the establishment of viable research teams in developing countries, including South Asia. Regional cooperation and networking are also important parts of the activities.
The seminar aims to highlight experiences drawn in the past 50 years from different perspectives, and to indicate the way forward.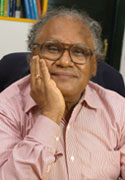 Invited speakers include Professor C.N.R. Rao (photo) from Jawaharlal Nehru Centre for Advanced Scientific Research in Bangalore, India, who will talk about "Developing Countries in the International Year of Chemistry"; and Professor Hans Rosling, Karolinska Institutet, Stockholm, who will talk about "ISP and the world". Dr Anders Granlund, Head of the Unit for Research Cooperation at the Swedish International Development Cooperation Agency (Sida); and Mr Tomas Kjellqvist, Research Manager at Blekinge Institute of Technology (BTH), and former director of the Secretariat for Research Cooperation at Sida, will also participate.
Venue for the seminar: Ihresalen, Engelska Parken, Thunbergsvägen 3H, Uppsala.
Full information on ISP's seminar page.

• More information about South Asia related research at Swedish and Nordic universities
See SASNET's page, http://www.sasnet.lu.se/research.html
• Students protest against military training in Sri Lanka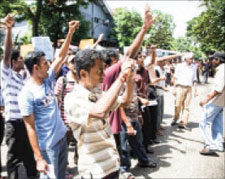 Srilankan University students' unions have voiced concerns over the government's move to introduce a compulsory 'leadership training programme' under the military to all new entrants from 2011. The Inter University Students' Federation (IUSF) says there were doubts over the government's move, as military leadership skills could not be applied to civil society.
IUSF Convener, Sanjeewa Bandara told The Sunday Leader newspaper that university students had doubts as to why the government has suddenly decided to give leadership and disciplinary training to students at military establishments.
"We all know the crimes committed by army deserters and had they adhered to a strict disciplinary code, they would never commit the offences they have been accused of, which include robbery, murder and rape," he said, adding that it was hilarious to see students being given disciplinary training by such an institution.
According to Bandara, students who were earlier sent to university are now being sent to military camps.
Bandara made these comments in response to a statement made by Higher Education Ministry Secretary Dr. Sunil Jayaratne that students who qualify for university education would have to undergo leadership training at a military establishment. Read more in Sunday Leader 24 April 2011.

• Indan universities look for NRI talent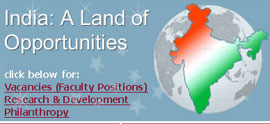 As part of its strategy to entice talent into higher education and research, the Indian government is targeting top-level people of Indian origin working in the West and making it easier for them find out about job opportunities in the country. With huge expansion in the number of young people in higher education projected for the next few years and some 48% to 52% of academic and research posts vacant across publicly-funded state and central universities, the need for academic talent has become pressing.
Hosted by India's Education Ministry a new website is being launched which will provide updates about vacancies in faculty positions across all of India's higher education institutions.
Go for the new website.
The website will also provide information about reforms in higher education and keep academics and researchers of Indian origin posted about important policies and legislation such as the Foreign Education Providers Bill currently being considered by parliament, to allow in more overseas private institutions. If that bill is passed this year, some are predicting an influx of foreign institutions that may entice academic talent from public universities, exacerbating the current shortage. Indian academics working abroad, commonly known as Non-Resident Indians or NRIs and overseas-born Persons of Indian Origin, PIOs, can register and become part of India's global human resources, an education ministry official said. Read more in an article written by Alya Mishra, entitled "New efforts to attract global academic talent" (posted in University World News 15 May 2011).

• SOAS introduces MA programme in Anthropological Research Methods and Nepali


The School of Oriental and African Studies (SOAS), University of London, UK introduces a 2 years MA programme in Anthropological Research Methods and Nepali from September 2011. It will be offered jointly by the Department of Anthropology and the Department of South Asian Languages and Cultures. It is intended for students who wish to conduct doctoral-level research in Nepal, or in preparation for professional employment in e.g. a government agency or international NGO.
This is the only Masters-level programme offered anywhere in the world that provides students who intend to proceed to conduct anthropological research (broadly defined) in Nepal with the necessary skills (disciplinary, linguistic, methodological). Applicants will need to produce documented evidence of language learning ability (a language A level or equivalent, or successful completion of an undergraduate language course). More information.

• More information about South Asia related education at Swedish and Nordic universities
See SASNET's page, http://www.sasnet.lu.se/education.html
• Oslo conference on water-related security challenges on the Indian subcontinent


The joint Norwegian-Indian activity project on water-related security challenges on the Indian subcontinent (INDSEC) organizes a workshop in Oslo on 14–15 June 2011. INDSEC seeks to inspire high-quality academic research on various aspects of water security by bringing together experts with complementary skills and area competence on perhaps the world's most challenging region in this context: South Asia. A follow-up workshop is scheduled for Delhi in October. INDSEC is sponsored by the Research Council of Norway's INDNOR program.


Former Indian Ambassador to Afghanistan, now researcher at Institute for Defense Studies and Analyses (IDSA) in Delhi, Mr. I.P. Khosla (photo), will give an introductory speech on "Hydrodiplomacy in South Asia". Other speakers include Tridivesh Maini from Observer Research Foundation, who will talk about "From conflict to cooperation: Indo-Pak water issues"; Sreeradha Datta,also from IDSA, who will talk about "Indo-Bangladesh water sharing: dispelling fears and building trust"; and Rohan D'Souza, from Jawaharlal Nehru University in Delh,i who will talk about "From conflict to securitization: The making of another hydraulic paradigm in India".
Venue for the workshop: Operasjonssentralen in the Red Cross building adjacent to the International Peace Research Institute (PRIO), Hausmanns gate no. 7, Oslo. More information.

• Oslo conference on South Asian Festivals on the Move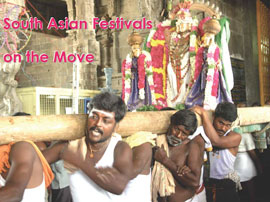 A Conference entitled "South Asian Festivals on the Move" will be held in Oslo, Norway 23 – 25 June 2011. It is organised by the "Staging Religion" project, jointly run by the Asia and Europe in a Global Context Cluster of Excellence at Heidelberg University, Germany, and the Dept. for Culture Studies and Oriental Languages (IKOS) at Oslo University. The proceedings of the workshop will be published as a volume in the series "Ethno-Indology" (Harrassowitz) in 2012. In addition, they will be published in a more visually oriented special issue of the magazine Marg. Venue: Rådsalen, Lucy Smiths hus, Blindern, Oslo.
More information.

• Kathmandu conference on Better Governance


An International Conference entitled "In Search of Better Governance: Challenges and Prospects" will be held in Kathmandu, Nepal 29–30 June 2011. It is organised as part of the joint Norwegian-Nepalese research project "Governance Matters: Assessing, Diagnosing and Addressing Challenges of Governance in Nepal", run by the Central Department of Public Administration (CDPA) at Tribhuvan University in Kathmandu, and the Dept. of Administration and Organization Theory, University of Bergen, Norway. The project is funded by the Norwegian Council of Universities' Committee for Development Research and Education (NUFU), an organisation supporting cooperation between universities, university colleges and research institutions in Norway and developing countries.
The Kathmandu conference focuses on the fact that pursuit for better governance has assumed prime position in developmental discourse as well as reform initiatives of all organizations working for the public welfare. It includes such issues as service delivery and responding to citizens' needs and demands. However, a universally accepted and agreed upon definition of 'governance' still remains elusive.
More information about the conference.

• Aarhus workshop on Welfare and Well-being in Modern South Asia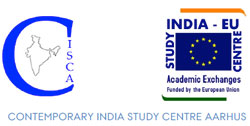 A Workshop on "Welfare and Well-being in Modern South Asia" will be held at the Aarhus University, Denmark, on 29–30 June 2011. It is organised by the Contemporary India Study Centre Aarhus (CISCA) at the Department of History and Area Studies. For this workshop researchers are invited to contribute with papers focusing on the concept of 'Welfare', a key concept in South Asia since decolonization. One of the major sources of legitimacy of the new states in the region was the promise to establish 'welfare-states', which would extend social services to the entire population. The purpose of this workshop is to illuminate and compare attempts by state and non-state agents across South Asia to provide welfare and secure individual and collective experiences of well-being from a cross-disciplinary perspective. Any contribution related to the development of welfare and well-being in South Asia is welcome, but as one of the core areas of CISCA is 'children, aging and health', the organisers are particularly interested in contributions dealing with aspects of childhood, aging and health care. More information.

• Copenhagen Summer University on Decoding India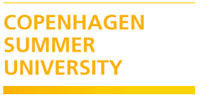 As part of the 2011 Copenhagen Summer University academic programme, a 3-day course entitled "Decoding India! - How to make Sense of a Paradox" will be held 15 – 17 August 2011 at the University of Copenhagen, Frederiksberg Campus. This course aims to open the theme of India's rise as a global power and the paradoxes that underpin the phenomenon. It offers an insight into the fast transforming social-political landscape both conceptually and empirically. The workshop sessions will focus on the structures and forms of 'power' and the ways in which cultural signs - social status, 'connections' and 'clout' across religion, caste and ethnic divides - of power are recognized and practiced. It is aimed at businesses, media, NGOs and foreign policymakers who interact with 'Official India', and seek to acquire and enhance their understanding of the cultural underpinnings of this interaction. The course director is Associate Professor Ravinder Kaur, Department of Cross-cultural and Regional Studies, University of Copenhagen. Final date for registration is passed, but there are still some empty seats on the course open for registration. More information.

• Sunita Narain keynote speaker at Stockholm World Water Week 2011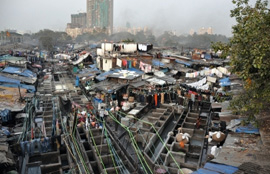 The 2011 World Water Week in Stockholm will be held 21–27 August 2011. The theme for 2011 is "Responding to Global Changes – Water in an Urbanising World". The21st World Water Week is as usual organised by the Stockholm International Water Institute (SIWI).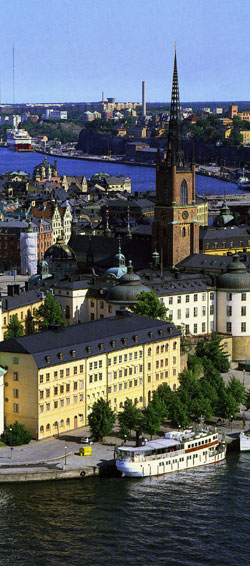 It is the leading annual global meeting place for capacity-building, partnership-building and follow-up on the implementation of international processes and programmes in water and development, with large relevance to South Asia. The conference is filled with plenary sessions, seminars, workshops, side events and special activities.
The Scientific Programme Committee (SPC) planning for the conference is chaired by Prof. Jan Lundqvist at SIWI (previously at the Dept. of Water and Environmental Studies, Linköping University), and also includes Prof. Paul Appasamy, Katunya University, India.
Venue: Stockholm International Fairs and Congress Center (Stockholmsmässan) in Älvsjö, 9 km south of central Stockholm.
At the 2011 World Water Week eight workshops will be held. They focus on: – Cities in a 3-D Landscape Perspective – Hidden Risks; – Need for a Paradigm Shift: New Technologies and New Lifestyles: – Water for Sustainable Urban Growth; – The Urban Shadow ; – Regulatory and Social Contexts for Institutional Performance; – Financing Urban Infrastructure; – Adapting Cities to Climate Variability and Change; and – Urban Inequities: Service Delivery and Social Development.
South Asian keynote speakers and invited panellists include Dr. Sunita Narain, Centre for Sceince and Environment, New Delhi; Mr. Subodh Kumar, Municipal Commissioner of Mumbai; and Ms. Sheela Patel, Chair of Shack/Slum Dwellers International.
Full information on the WWW 2011.

• TISS/Bergen workshop on Indian Cosmopolitanism and its Paradoxes
A workshop on "Indian Cosmopolitanism and its Paradoxes" will be held in Mumbai, India 8–9 September 2011. It is jointly organized by the Tata Institute of Social Sciences (TISS) in Mumbai, and the Dept. of Social Anthropology, University of Bergen, Norway. The workshop focuses on social conflicts in India, and the organizers invite papers that reflect the tension between these research orientations in order to rethink the last decade's marked emphasis on cosmopolitanism in political philosophy and social anthropology from an Indian regional context. Research-based papers from a wide range of disciplines, including social anthropology, sociology, history, religious studies and archaeology, are welcome. Deadline for submitting abstracts is 8 August 2011. Venue: TISS campus, Mumbai. More information.

• Ghent conference on Post-Independence Hindi Literature


An International Conference on Post-Independence Hindi Literature will be held in Ghent, Belgium, 3–5 October 2011. The theme for the conference is "'Indianness' in Nayi Kavita (New Poetry) and the Hindi Novel". These genres, originating in the late pre-Independence period (1940s), developed in the decades following India's Independence and are thought to mirror the broader prevailing postcolonial societal issues, especially mohbhang ('disenchantment' after decades of optimism and hope for the new India), as well as India's engagement with global concerns (World War II, Marxism, etc.). The conference is organised by the Dept. of Languages and Cultures of South and East Asia at University of Ghent. More information.

• BHU/NTNU conference on Scholarly Pilgrimages to Banaras


The Norwegian University of Science and Technology (NTNU) in Trondheim organises a conference entitled "Banaras Revisited: Scholarly Pilgrimages to the City of Light" on 7–8 October 2011. It is part of NTNU's big India – NTNU 2011 event (more information).
The conference is organised by Dr. István Keul at the university's Dept. of Archaelogy and Religious Studies. It focuses on India's rich religious traditions by looking at religious life in the city of Banaras (Varanasi, Kashi), the most important center of Hinduism. The scholars participating in the conference have conducted long periods of fieldwork in Banaras, and are leading experts in their respective fields. They are invited to give an overview of the topics they have been (recently) working on, elaborate on their theoretical perspectives and methodologies, and reflect on their repeated personal encounters with the city and its inhabitants. Venue: Rica Nidelven Hote, Trondheim. More information.

• Delhi conference on Buddhist Linkages in South and Southeast Asia
The International Conference on Buddhist Linkages in South and Southeast Asia: Perspectives and Prospects (BLSSEA 2011) will be held in Delhi, India, 7–9 October 2011. It will be hosted by the Dept. of Buddhist Studies, University of Delhi. BLESSA 2011 will address a range of important issues and themes relating to the Buddhist Linkages in South and Southeast Asia. Abstracts should be submitted before 30 June 2011. More information.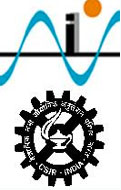 • Goa conferece on Conference on Asian Marine Geology
The 7th International Conference on Asian Marine Geology (ICAMG) will be held from 11 to 14 October 2011 in Goa, India. The first ICAMG was held in Shanghai, China in 1988. So far six ICAMG's have been held in various cities of Asia to promote exchange of ideas and new information on Asian Marine Geology. This is the first ICAMG conference being held in South Asia. All previous ICAMG's have provided excellent good opportunities for scientist to meet and exchange ideas and share information and to plan for new collaborations. Abstracts should be submitted before 31 July 2011. More information.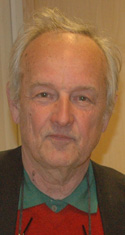 One of the sessions, No 3, focuses on the issue of "The Illusive Sea Level Threat in the Indian Ocean", and is convened by Prof. Emeritus Nils-Axel Mörner, Stockholm (previsusly at the Unit of Palegeophysics and Geodynamics, Stockholm University). It will be devoted to observational facts regarding sea level changes, the possible driving forces in climate, the behaviour of glaciers and where to direct the limelight with respect to urgent human problems. The session will most probably be followed by a field trip to one of the islands in the Indian union territory Lakshadweep (Lackadive Islands).

• Varanasi seminar on Practice-based Knowledge in the 21st Century
An International Indo-Swedish Seminar on "Practice-based Knowledge in the 21st Century" will be held in Varanasi, India, 14–16 November 2011. It is being organized by the Dept. of Philosophy & Religion, Faculty of Arts at Banaras Hindu University (BHU), under the auspices of the BHU-Gothenburg University collaboration within the GO:India programme. The aim of this conference is to see and reflect on new sides of the social worlds and the social and humanistic sciences in India and Sweden using the perspectives of practice based knowledge developed within social work, religious work, health care as well as in the arts and philosophy, in order to identify and generate new interesting platforms for academic cooperation. Abstracts should be submitted before 15 September 2011. More information.

• Nordic conference on development research in Copenhagen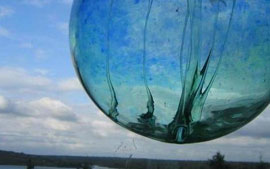 A Nordic conference on 'Future of Development Research: Exploring the Nordic perspective(s)?' will be held in Copenhagen, Denmark, 24–25 November 2011. It is jointly organised by the Dag Hammarskjöld Foundation in Uppsala; the Nordic Africa Institute in Uppsala, the Finnish Society for Development Research (FSDR), the Norwegian Association of Development Researchers (NFU), and the Association of Development Researchers in Denmark (FAU). A number of Nordic institutions working in the field of development research are also involved, in Sweden the School of Global Studies & Gothenburg Centre for Globalization and Development, both at Gothenburg University. Venue for the conference: Copenhagen Business School (CBS), Dalgas Have, Copenhagen.
Conference information by FAU, or by NFU


The theme of the conference's workshop no. 9 is "Nordic Perspectives on South Asian Development". The workshop is organised by Kenneth Bo Nielsen, Centre for Development and the Environment, University of Oslo; Dayabati Roy, Dept. of Cross-Cultural and Regional Studies, University of Copenhagen; and Annika Wetlesen, Dept. of Sociology and Human Geography, University of Oslo. The Deadline for submitting abstract is 1 August 2011. Please send them to fau@diis.dk, and NOT to the workshop organisers. Hopefully many among the Nordic South Asianist community will extend their full support to this rare pan-Nordic initiative and come to Copenhagen in November.
See the call for papers for the South Asia workshop.

• Bangalore conference on Spiritual Challenge in Management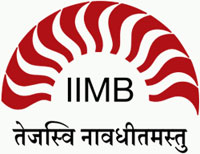 The Indian Institute of Management Bangalore (IIMB) hosts an international conference on "The Spiritual Challenge in Management: What is to be Done?" at the IIMB Campus in Bangalore on 9–11 January 2012. The conference is organised in collaboration with the Journal of Management, Spirituality and Religion. It is convened by Prof. Ramnath Narayanswamy, IIMB, and Prof. Yochanan Altman, Bordeaux Management School (BEM), France. The conference will address and question a key issue of our times: the adequacy of the current paradigms of management for the future of mankind and our planet. The positioning of the conference in India is signaling the issue we are questioning: is the Western model of management the best suited for the challenges we face? What can West and East learn from each other? And how does the new epoch of spirituality fit into these new emerging agendas? More information on the conference web page.

• Kolkata conference on Asian Religions & The World
The 'Focus Asia Organisation' of Kolkata, India convenes an international conference "Asian Religions & The World" on 23–25 January 2012. The objective is to provide a common platform for the exchange of ideas & views among those, who are seriously engaged in the study of religions and associated topics. The academic periphery of the upcoming conference includes the growth, evolution and changes of the religions, interactions among them and their role in the modem world particularly in the background of globalization. The 'Focus Asia Organization' is a voluntary body, formerly known as "Society for Indian Culture & Heritage". More information.

• 22nd ECSAS conference in Lisbon, Portugal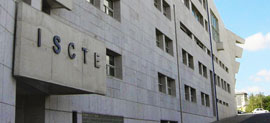 The 22nd European Conference on South Asian Studies (ECSAS) is scheduled for 25-28 July 2012 at the University Institute of Lisbon (also known as ISCTE-IUL) in Portugal. Decisions about panels are expected to be announced during June 2011. The main conference organiser is Professor Rosa Maria Perez, of the Department of Anthropology, supported by a local scientific steering committee. The venue of the conference will be on the university's main campus in Lisbon.
The biannual ECSAS conference is the largest gathering of South Asia oriented researchers in Europe, covering all fields from the humanities and social sciences to technology, natural sciences and medicine. The conference is held biannually under the aegis of the European Association of South Asian Studies (EASAS), a professional, non-profit organisation of scholars engaged in research and teaching concerning South Asia with regard to all periods and fields of study. (SASNET organised the 18th ECMSAS conference in Lund in 2004.) Full information on the conference page.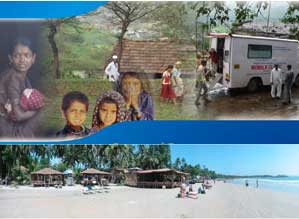 • Pravara conference on Challenges for Health in Global Villages
The 18th International Congress of Rural Health & Medicine will be held from 5 - 8 December 2012 at Panjim, Goa. The congress is organised by the Pravara Institute of Medical Sciences at Deemed University, Loni, India, in collaboration with the International Association for Rural Health and Medicine, Japan and the congress theme will be "Challenges for Health in Global Villages". The congress aims to promote a dialogue among NGOs, academics and government on global issues related to rural health in connection to the achievement of the Millenium Development Goals. Prof. Ingalill Rahm Hallberg, Assistant Vice Chancellor of Lund University (and Professor in Health Care Science), Prof. Peter Lindqvist from the Swedish Agricultural University (SLU), and Mr. Lars-Olof Lindgren, Ambassador of Sweden to India, are members of the advisory committee comprised of delegates from more than 10 countries. Early bird registration closes on 31 July 2011. For the latest news about the congress check its website.
More information (as a pdf-file).

• Other conferences connected to South Asian studies all over the World
See SASNET's page, http://www.sasnet.lu.se/conferences.html#conf
Important lectures and seminars in Scandinavia
• Stockholm seminar on India's Challenges of Inclusive Growth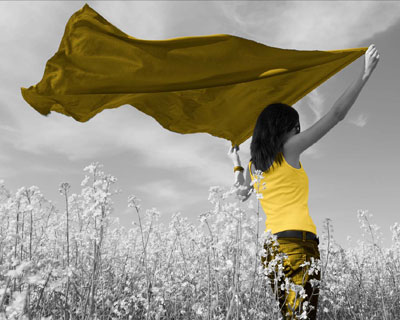 The Swedish Agency for Growth Policy Analysis, the Swedish Embassy in New Delhi, the Embassy of India in Stockholm, and KTH Royal Institute of Technology invites to a public panel discussion on "India's Challenges of Inclusive Growth and New Opportunities in the Indian Research- and Innovation System", on Tuesday 14 June 2011, 10.30–12.30. Three influential persons within the Indian innovation system are visiting Stockholm and will give their view of the situation, and three distinguished researchers from KTH Royal Institute of Technology will talk about their research and how it may be important for the development in India.

The visiting delegation consists of Dr. Samir Brahmachari (photo), former Professor at Indian Institute of Science (IISc) in Bangalore, Founder-Director of the Institute of Genomics and Integrative Biology, and currently the Director General of the Council of Scientific and Industrial Research (CSIR); Mr. Arun Maira, member of the Indian Planning Commission and the National Innovation Council; and also Mr. Sam Pitroda, Advisor to the Prime Minister of India on Public Information Infrastructure & Innovations, and head of the National Innovation Council, Government of India.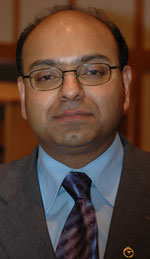 The KTH researchers are Dr. B. Venkatesulu, post-doc at the School of Electrical Engineering; Prof. Prosun Bhattacharya (photo), Dept. of Land and Water Resources Engineering; and Dr. Robert Lagerström, Industrial Information and Control Systems.
Inaugural speeches wil be given by H. E. Mr Ashok Sajjanhar, Ambassador of India to Sweden and Latvia; H. E. Mr Lars-Olof Lindgren, Ambassador of Sweden to India; and Prof. Peter Gudmundson, President, KTH Royal Institute of Technology. The seminar is moderated by Prof. Ramon Wyss, Vice-President of International Projects at KTH.
In conjunction with the panel discussion the photo exhibition "Swedish Innovations, Indian Interpretations" will be on display. It is the result of a photo competition arranged by the Swedish Embassy in New Delhi. Indian photographers were invited to interpret Swedish innovations in a creative way. A large number of photographers responded to the challenge and submitted their pictures.
Venue: KTH, Hall F2, Lindstedtsvägen 26, Stockholm.
Full information about the seminar.

• Oslo seminar on India-Pakistan Relations After 26/11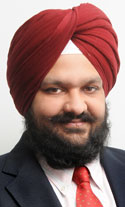 The International Peace Research Institute (PRIO) in Oslo invites to a public presentation and dialogue seminar on India-Pakistan Relations After 26/11 with Tridivesh Singh Maini on Wednesday 15 June 2011, at 13.30. Former Indian Ambassador to Afghanistan Mr. I.P. Khosla will be the discussant.
Tridivesh Singh Maini has authored 'South Asian Cooperation and the Role of the Punjabs', and co-authored 'Humanity Amidst Insanity: Hope During and After the Indo-Pak Partition' with Tahir Malik and Ali Farooq Malik. He is also one of the editors of " Warriors after War: Indian and Pakistani Retired Military Leaders Reflect on Relations Between the Two countries, Past Present and Future", being published by Peter Lang. This book is a collection of interviews with retired army officials from India and Pakistan.
Ambassador Khosla has written extensively on security issues including non-traditional security, as also on other matters relating to India's external interests, particularly India's relations with South Asian neighbors, and SAARC. He is currently Member Secretary of the Indian Council for South Asian Cooperation and Editor- in- Chief of South Asian Survey, the biannual journal/publication of the Council.
Please RSVP to Dr. Jason Miklian at PRIO if you are interested in attending or have any questions about the event. Venue: PRO's Philosopher's Hall, Hausmanns gate no. 7, Oslo.

• Oslo seminar on War Reporting in India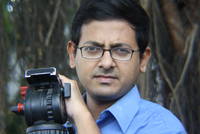 The International Peace Research Institute (PRIO) in Oslo invites to another public presentation and dialogue seminar on the following day, Thursday 16 June 2011, at 14.00. The Indian journalist Arijit Sen will hold a presentation on "Reporting on Conflict in India: Hidden Wars and Hidden Media". In particular, Arijit will focus on challenges of conflict reporting in Northeast India, and show brief clips of his reporting in the conflict zone of Manipur. Following his presentation there will be a question and answer period for further discussion or dialogue.
Arijit Sen reports from the conflict zones of Northeastern India and bordering regions, as the Senior Special Correspondent for CNN-IBN, India's leading 24 hour news channel. Arijit has been a journalist since 1999, specializing in political economy, rural development and governance. Since 2007, he shifted focus to armed conflict, militancy and secessionist movements, reporting exclusively from the 8 states comprising India's North Eastern frontier. Arijit's extensive travels in the region include special reports from Assam, Manipur, Nagaland, Mizoram, Arunachal Pradesh, Meghalaya, Sikkim and Tripura as well as forays into the porous India-Bangladesh border, Myanmar and Bhutan. His reports include extensive coverage of Indian General elections, the Dalai Lama's visit to the Tawang Monastery (Arunachal Pradesh) as well as an award winning news documentary on extra-judicial 'fake' encounters in Manipur (September 2009). His bold reportage has won the News Television Award for Best News Documentary (2010) and the Ramnath Goenka award for Excellence in Journalism (2008-9). More information on Arijit's work can also be found at the Reuters Institute for the Study of Journalism.
Please RSVP to Dr. Jason Miklian at PRIO if you are interested in attending or have any questions about the event. Venue: PRIO's Philosopher's Hall, Hausmanns gate no. 7, Oslo.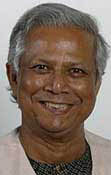 • Stockholm breakfast seminar with Mohammad Yunus
The Swedish International Development Cooperation Agency (Sida) invites to a breakfast seminar on social business with Grameen Bank founder Professor Muhammad Yunus from Bangladesh on Friday 17 June 2011, at 08.00. Yunus will speak about his work to create a poverty-free world. Having pioneered micro-financing, which has helped build economically sustainable opportunities for the world's poor, this work led to Professor Yunus and Grameen Bank earning the Nobel Peace Prize in 2006.
The breakfast seminar is hosted by BookHouse Editions – Dr. Yunus' Swedish publisher – Sida – which is now expanding its Business for Development, B4D Programme – and Social Entrepreneurship Forum – a Swedish based NGO that promotes and empowers social entrepreneurs in Sweden and abroad. The seminar will be followed by book signing. Pre-registration necessary. Venue: Oasen, Sida, Valhallavägen 199. More information.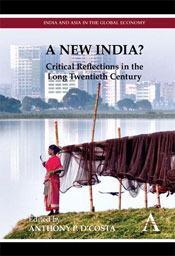 • Book launch seminar at Copenhagen Business School
A book launch seminar willl be held at Copenhagen Business School (CBS) on Friday 17 June 2011, 15–17, to present the volume "A New India? Critical Reflections in the Long Twentieth Century", edited by Anthony D'Costa, Professor in Indian Studies and Research Director at the Asia Research Centre, Department of International Economics & Management at CBS. This volume critically examines the notion of a 'new' India by acknowledging that India is changing remarkably and by indicating that in the overzealous enthusiasm about the new India, there is collective amnesia about the other, older India. The book argues that the increasing consolidation of capitalist markets of commodity production and consumption has unleashed not only economic growth and social change, but has also introduced new contradictions associated with market dynamics in the material and social as well as intellectual spheres.Besides a
The book launch seminar includes presentations not only by Prof. D'Costa, but also by Prof. Kjeld Erik Brødsgaard, Director of Asia Research Centre, CBS; Prof. Sushil Khanna, ICCR-CBS Visiting Professor, who will talk about "The Red Queen Paradox of A 'New' and the 'Other' India"; and Prof. Ravinder Kaur, Director of Centre for Global South Asian Studies, University of Copenhagen, who will talk about "India: The Archaeology of the 'New'".
The talk and reception is open to the public and free of charge.
Register in beforehand to arc@cbs.dk. Venue for the seminar: room SV.087 (ground floor, west), CBS, Dalgas Have 15, Frederiksberg (Copenhagen). More information.

• KTH seminar with Prof. Mohammad Yunus
KTH Royal Institute of Technology in Stockholm invites to an open seminar on rural development through e-Health and e-Learning with Dr. Muhammad Yunus, Bangladeshi economist, founder of the Grameen Bank, and Nobel Peace prize winner in 2006, on Saturday 18 June 2011, 18.00–20-00.
The School of Technology and Health at KTH has had projects with Grameen Communications to empower the rural people using ICT tools. The projects have developed rural ICT centres of international standard with the most modern ICT facilities in rural Bangladesh. Today, the rural ICT centres are delivering regular e-Health and e-Learning services. Through video conference system the disadvantaged women, health workers, teachers and students in the rural areas are getting the benefits from the experts from the respective disciplines.
Besides Dr. Yunus, the participants are Dr. Björn Pehrsson, Dr. Björn-Erik Erlandsson, Dr. Mannan Mridha, Dr. Heikki Teriö, and Mr. Rustam Nabiev. The seminar is followed by a presentation of Social business by Dr. Mohammad Yunus and Jan Lapidoth. They willl discuss how non-resident Bangladeshis can promote social business in Bangladesh and how Yunus Centre in Dhaka can cooperate with such initiatives. Venue: Aula A, KTH-Forum, Isafjordsgatan 39, Kista. More information.

• Copenhagen lecture on cultural borders in Tranquebar
Professor Will Sweetman, Dept. of Religion, University of Otago, New Zealand, holds a guest lecture at Copenhagen University on "Crossing cultural borders then and now – In the fish market at Tranquebar and in the archive" on Tuesday 21 June 2011, at 14.30. It is being organised by Prof. A. R. Venkatachalapathy and Prof. Esther Fih from the Tranquebar Initiative of the Danish National Museum, and Alternative Spaces at University of Copenhagen. Prof. Sweetman will focus on the gulf which separates contemporary scholars from their subjects in Tranquebar under Danish rule. It is as great as that between the different cultures represented in Tranquebar in that period. Moreover those cultures were multiple; just as missionaries sought to exploit differences among Hindus, so missionary reports of Indian society were exploited by different groups in Europe. These differences and the challenges they present for cross-cultural understanding will be illustrated by an examination of a collection of Tamil texts assembled by the Protestant missionary, Bartholomäus Ziegenbalg, in Tranquebar in the first decade of the eighteenth century. Venue: The Cinema Lecture Hall, The National Museum, Ny Vestergade 10, Copenhagen. More information.

• Tagore anniversary event at University of Heidelberg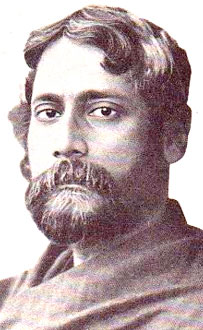 The Dept. of Modern South Asian Languages and Literatures at the South Asia Institute (SAI), University of Heidelberg, Germany, organises a day-long Rabindranath Tagore 150th birth anniversary event including seminars and cultural programmes on Friday 1 July 2011. The programme includes presentations by Barnita Bagchi (IDSK Kolkata/Utrecht University) who will talk about "Rabindranath and Utopia: Some Considerations"; Tanika Sarkar (JNU, Delhi) who will talk about "Love, Nation and the World in Tagore's Writings: Rabindranath as a Rebel in his Times and Ours"; and Alokeranjan Dasgupta (SAI, Heidelberg) who will talk about "Why Magnifying the Magnificent: Tagore's Poetry". Introductory remarks will be given by Dr. Hans Harder. Full information.

• Esther Fihl lectures on Danish expeditions along the Silk Road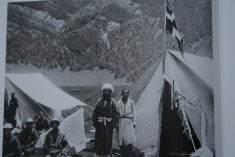 Professor Esther Fihl from the Dept. of Cross-Cultural and Regional Studies (ToRS), University of Copenhagen gives a public lecture on "Danish expeditions along the Silk Road – Collecting objects from the Steppes to the High Pamirs 1896-1899" at the National Museum in Copenhagen on Wednesday 6 July 2011, at 14.30. The lecture will be followed by a short presentation in the exhibitions of objects from Central Asia by Esther Fihl. The seminar is part of a two-week summer school on 'History, Identity and Religion in Contemporary Central Eurasia' (more information) organised by the Asian Dynamics Initiative(ADI) during the period 4-15 July 2011.
More information about the lecture.

• Information about South Asia related lectures and seminars
See SASNET's page, http://www.sasnet.lu.se/conferences.html
Business and Politics
• Information about South Asia related business and politics in Sweden
See SASNET's page, http://www.sasnet.lu.se/polbuss.html
South Asia related culture in Scandinavia
• Jatin Das art exhibition in Skinnskatteberg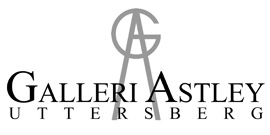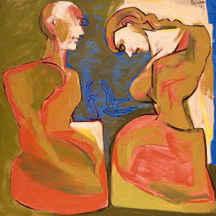 An exhibition of the eminent Indian painter Jatin Das will be held at Gallery Astley in Uttersberg, Skinnskatteberg, Sweden, during the period 17 July – 21 August 2011.
Jatin Das, hailing from Mayurbhanj in Orissa, has been painting for 50 years. After studies at the Sir JJ School of Art, Bombay, under Professor S.B. Palsikar, he has held over 55 one-man exhibitions in India and abroad and has participated in numerous national and international shows and artist camps. He has also done several murals and sculpture installations. He works in oil, watercolour, ink, graphics and conté. His works now feature in several public and private collections in India and abroad.
In addition to being a professional artist, Jatin Das has extensively lectured at innumerable art and architectural colleges and museums, both in India and abroad on contemporary and traditional art forms. He has taught at the Jamia Milia Islamia University's School of Planning and Architecture and the prestigious National School of Drama, both in Delhi. He is the settler and founder chairman of the JD Centre of Art, which is being built in his home state, Orissa. He is the only artist who has taken up a project of this kind. Several of Jatin Das' works have been donated to charity in India and abroad. He has very actively led the relief and rehabilitation work of a village in Orissa, affected by the super-cyclone of 1999.
More information on the artist's home page.
More information about the exhibition in Sweden, that has been made possible through support from the Embassy of India in Sweden.

• Indian Dance Festival week in Stockholm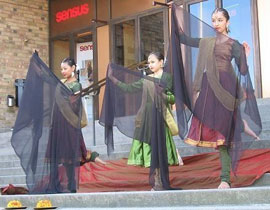 An Indian Dance Festival Week was held in Stockholm 9–12 June 2011. It was being organised by the Asian Dance Academy (Den Asiatiska Dansakademin, DADA), an association promoting Asian dance, music and culture in Sweden, led by the professional Kathak dancer Veronica Tjerned.
Visitors to the festival week are given a chance to learn some of the traditional Indian classical dance forms – Odissi, Kathak, Chhau, and Kuchi podi, as well as learning to sing Hindustani classical music. The instructors during courses, held in collaboration with SENSUS, are Ulrika Larsen (Odissi), Edith Humle (Chhau), Veronica Tjerned (Kathak), Anaya Dutta (Hindustani song), and Jamuna Levander (Kuchi podi). More information.
During the period 13–17 June 2011, DADA also offers a summer intensive course in Kathak dance for young people from 6 to 22 years of age. The course, that is held in Husby near Stockholm, will also work on choreography and composition with inspiration from Rabindranath Tagore' poetry, as a celebration to the poet's 150th birth anniversary.
DADA also arranges yearly summer camps with training in Indian classical Kathak dance and Hindustani music (on Tablas, Harmonium or Vocal), at Helsingegården in Järvsö, 320 km north of Stockholm.
More information on DADA's web page.

• Grand Indian mela week in Trondheim in October


The Norwegian University of Science and Technology (NTNU) in Trondheim will organize an India 2011 event from 1 to 9 October 2011. The event has been designed to strengthen cooperation between Norway and India in culture, research, higher education and business development. It will be built on the foundation laid by similar events organized at NTNU – Poland 2006 and Japan 2002.
In close cooperation with various institutions and participants, NTNU will offer a broad cultural, research and economic programme. Participants will be able to get a glimpse and feel of Indian art, culture and many other aspects of India through exhibitions, concerts, films and other events. In addition, there will be technical seminars and scientific lectures with participants from both countries. This event will provide the opportunity for one-to-one meetings between those involved in trade and research in Norway and India. The organisers are confident that this initiative will contribute to the realization of the India Strategy that has been formulated by the Norwegian government.
SASNET will of course post information about interesting seminars and conferences in connection with India – NTNU 2011 on our conferences page, and information about exciting cultural events on our culture page.
Full information on the India – NTNU 2011 web page.
Sufi dhol maestros on Scandinavian tour
Gonga Sain, master of the purest form of percussion music, the Sufi Kalam Dhol, is currently on tour to Scandinavia along with his student partner Mithu Sain. They are Sufi dhol playesr from Lahore, Pakistan, where they can be heard live every Thursday night at the Hazrat Baba Shah Kamal Shrine.
In Denmark they perform at several festivals concerts in Copenhagen and elsewhere, including a show at the Roskilde Festival on Friday 1 July 2011, and at Aarhus Jazz Festival on 15 July. In Sweden they perform in Malmö, at Sommarscen Malmö, on Sunday 26 June, and in Norway they perform at the Oslo Mela on 28th July. The Scandinavia tour has been organised by PhD candidate Ida Sofie Matzen at the Dept. of Anthropology, University of Copenhagen, and some doing academic research on on Sufism. More information.

• More information about South Asia related culture in Sweden/ Scandinavia
See SASNET's page, http://www.sasnet.lu.se/culture.html
New and updated items on SASNET web site
• Swedish departments where research on South Asia is going on:
Constantly added to the list of research environments at Swedish universities, presented by SASNET. The full list now includes 280 departments, with detailed descriptions of the South Asia related research and education taking place! Go to http://www.sasnet.lu.se/environment.html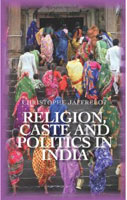 • New books related to South Asian studies
New additions now made, including "Unruly Hills: Nature and Nation in India's Northeast", by Beppe Karlsson, Dept. of Social Anthropology, Stockholm University; and "Religion, Caste & Politics in India" by Christophe Jaffrelot, Centre d' Etudes et de Recherches Internationales (CERI-Sciences Po/CNRS) in Paris.
Go for the page!
---
Best regards

Lars Eklund

Deputy director/webmaster

SASNET/Swedish South Asian Studies Network

SASNET is a national network for research, education, and information about South Asia and is based at Lund University. Its aim is to promote a dynamic networking process in which Swedish researchers cooperate with their counterparts in South Asia and around the globe.
The SASNET network is open to all branches of the natural and social sciences. Priority is given to interdisciplinary cooperation across faculties, and more particularly to institutions in the Nordic countries and South Asia. SASNET believes that South Asian studies will be most fruitfully pursued as a cooperative endeavour among researchers in different institutions who have a solid base in their mother disciplines.
The network is financed by Lund University.

Postal address: SASNET – Swedish South Asian Studies Network, Scheelevägen 15 D, SE-223 70 Lund, Sweden
Visiting address: Ideon Research Park, House Alpha 1 (first floor, room no. 2040), in the premises of the Centre for East and South East Asian Studies at Lund University (ACE).
Phone: + 46 46 222 73 40
Fax: + 46 46 222 30 41
E-mail: sasnet@sasnet.lu.se
Web site: http://www.sasnet.lu.se

Back to SASNET


---